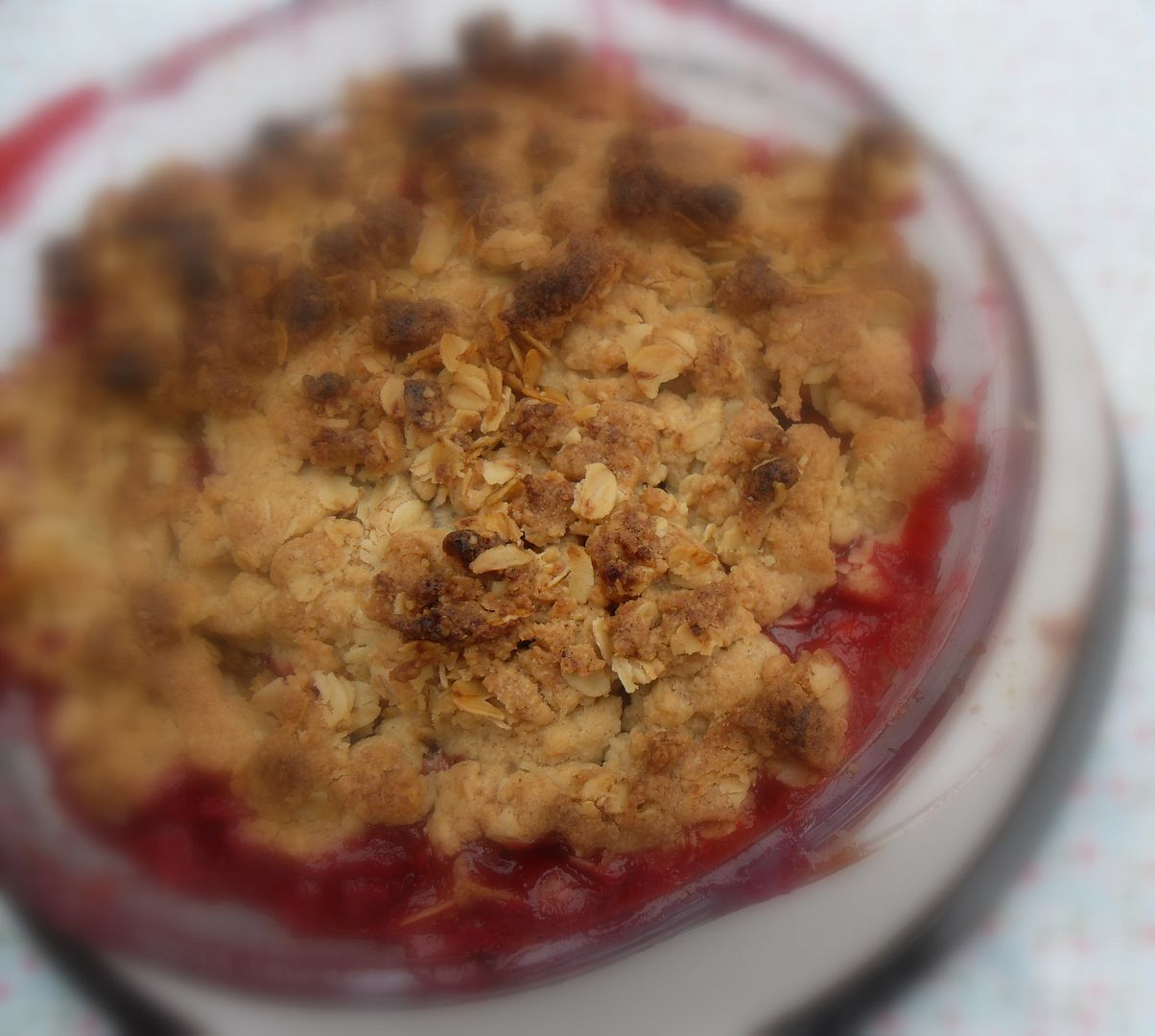 There is no dessert that Todd loves more than a good crumble. Apple. Blueberry. Strawberry rhubarb . . . if it has crumble in the name, Todd loves it. Well, maybe not as much as the memory of his mother's apple pies, but almost!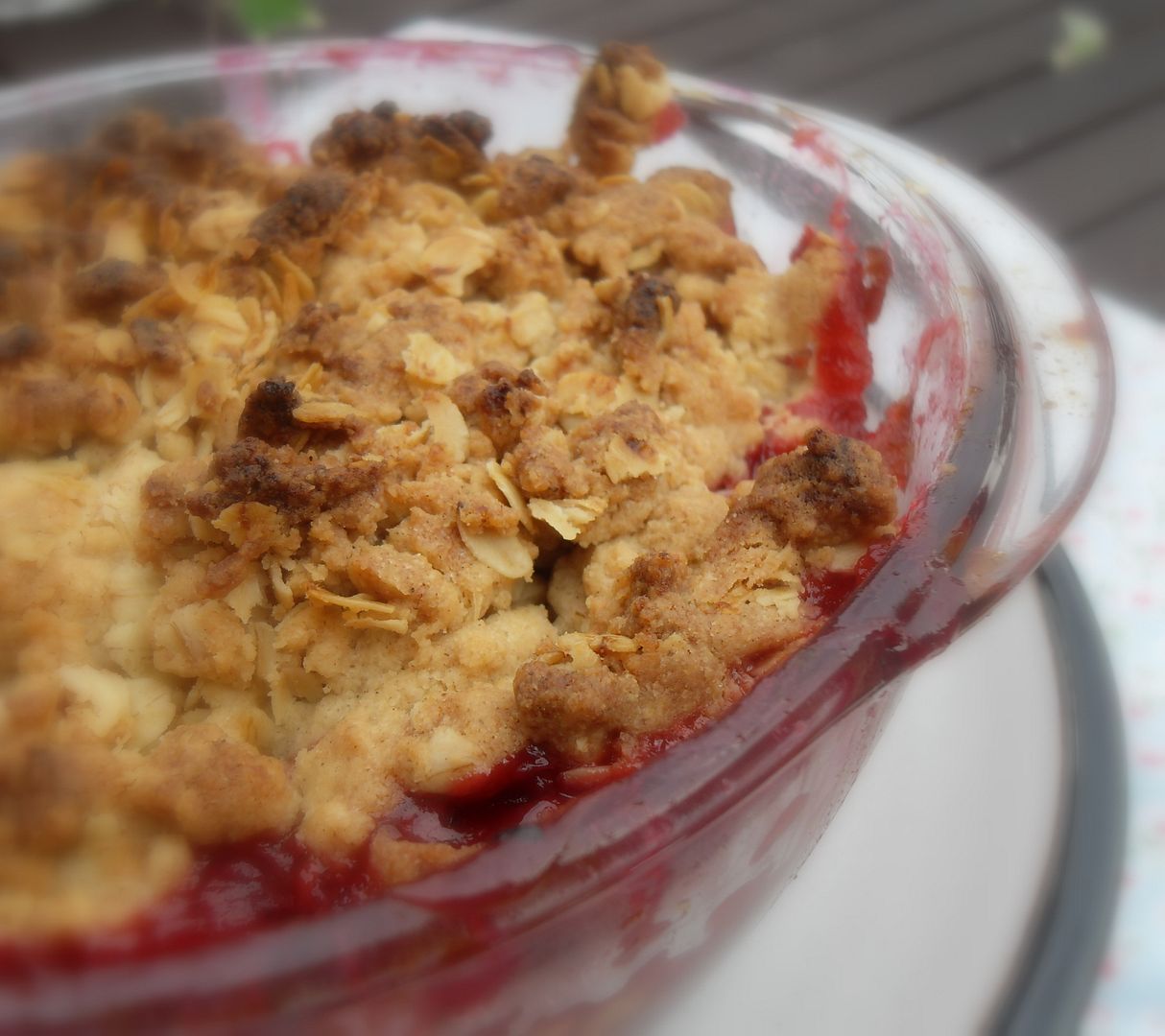 I think that next to Apple Crumble (which is right up there with apple pie for him) he loves Blackberry and Apple Crumble the best. And this is a particularly lovely version.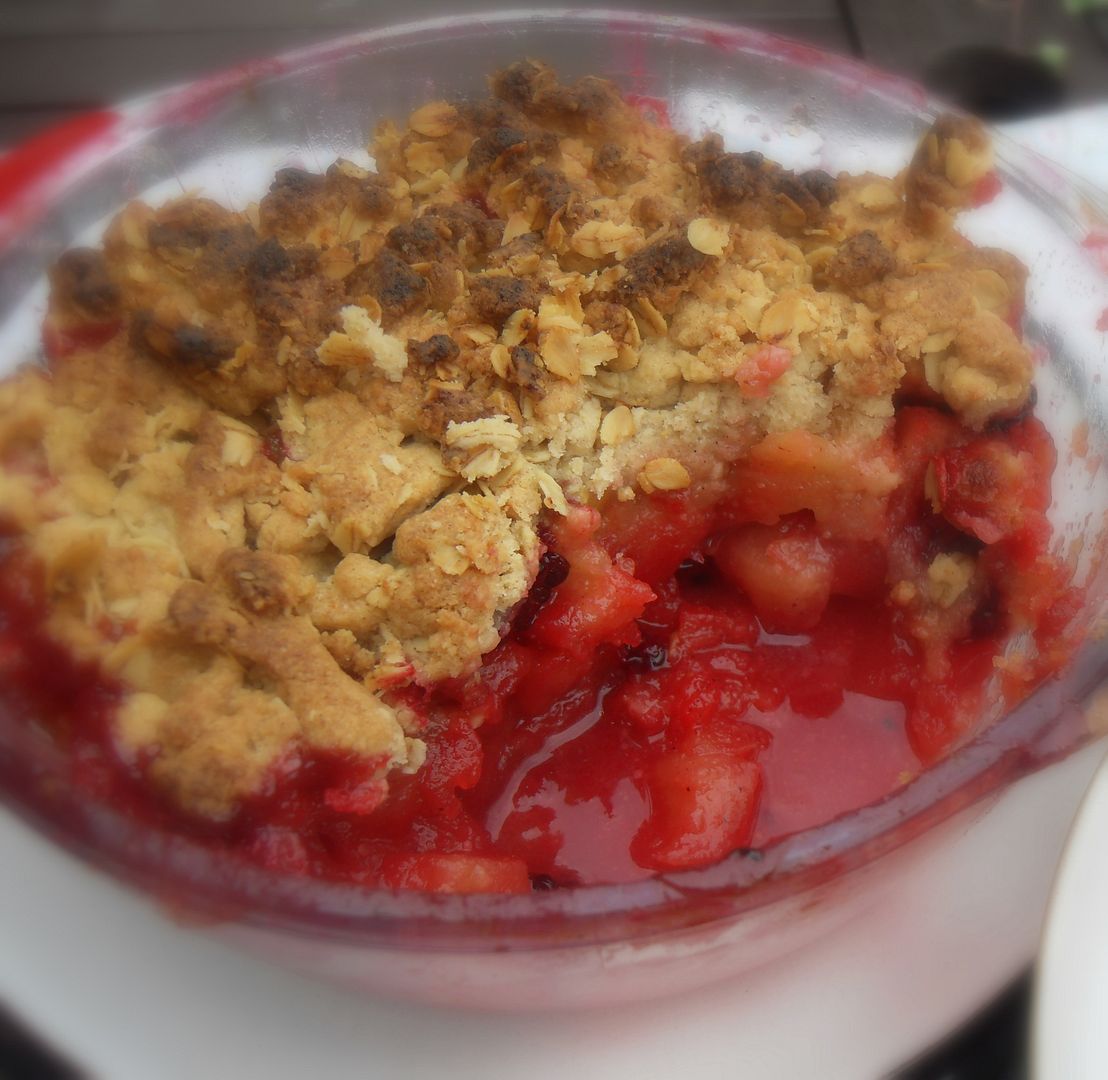 The filling is composed of not just one, but two varieties of apples. A good cooking apple (over here I would suggest Bramley apples), and a good eating/dessert apple. (Cox is nice)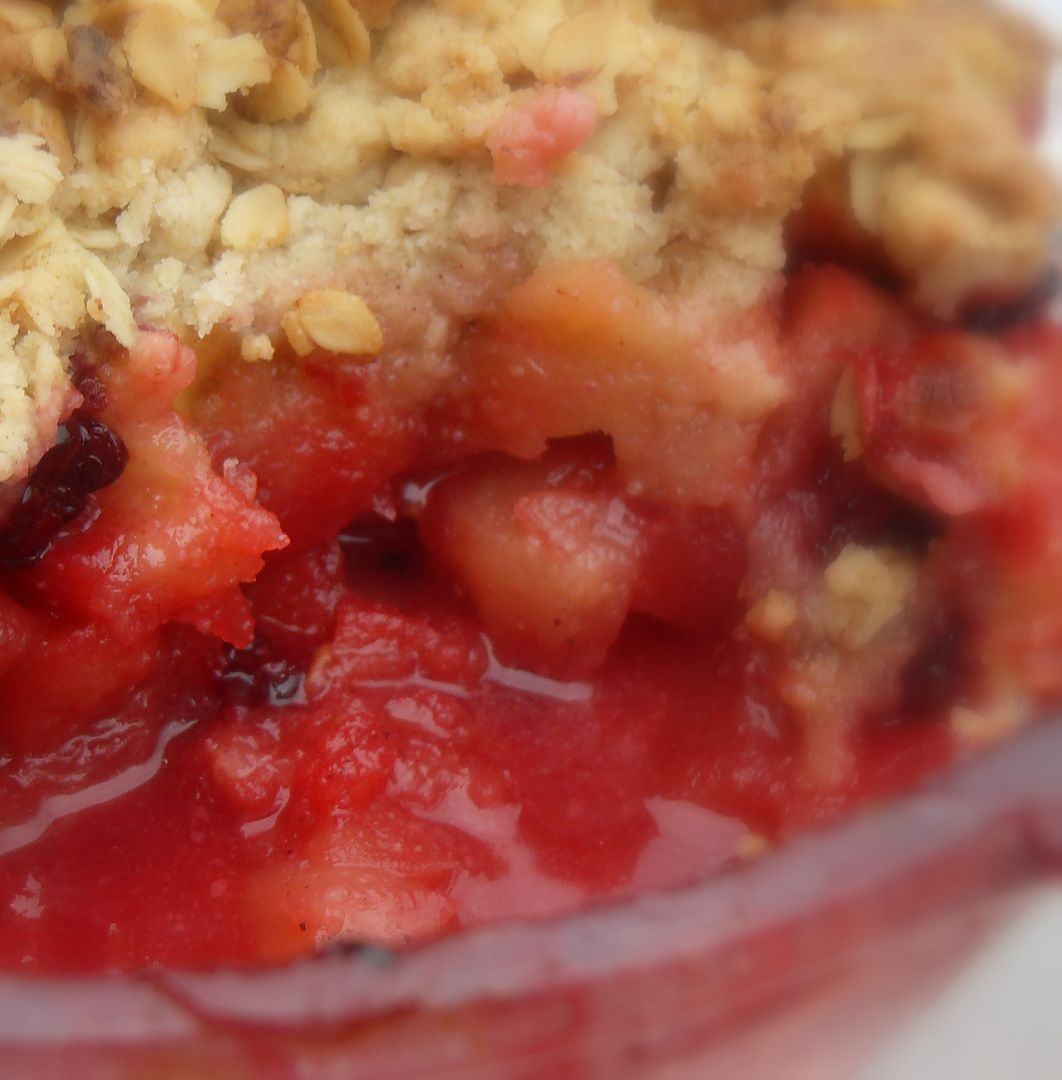 I then like to add a bit of spice . . . along with some sugar. (I used demerara, but you could use the equivalent of soft light brown sugar.) Cinnamon, nutmeg, ginger and cloves. But that isn't my only secret to deliciousness here . . .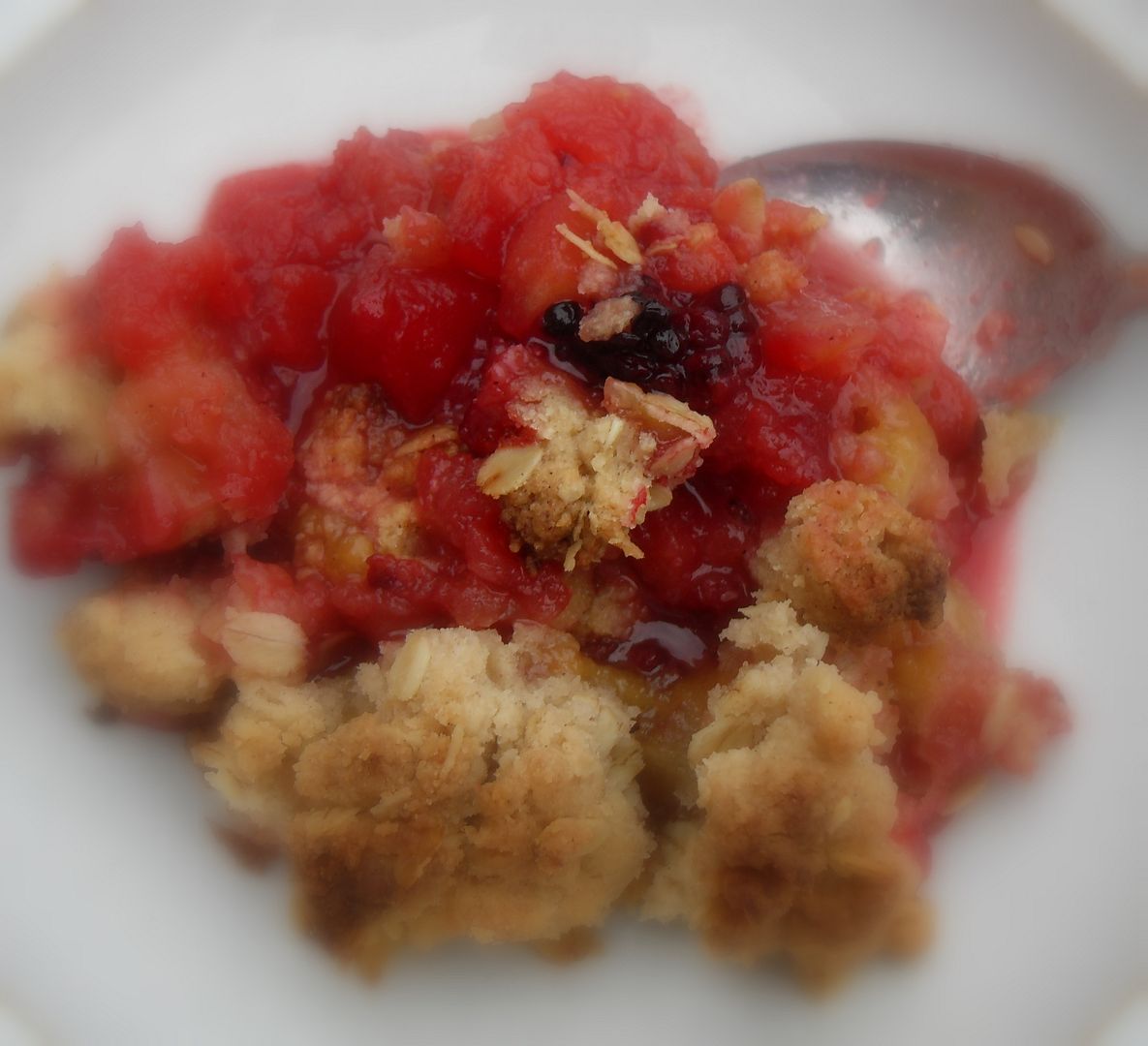 I also add a layer of crumbled marzipan before I put on that oaty buttery topping! I think the flavour of buttery toasty oats cannot be beat, unless you add a tiny bit of warmth from some home sweet home spicy cinnamon . . . along with a hint of lemon via some finely zested lemon peel.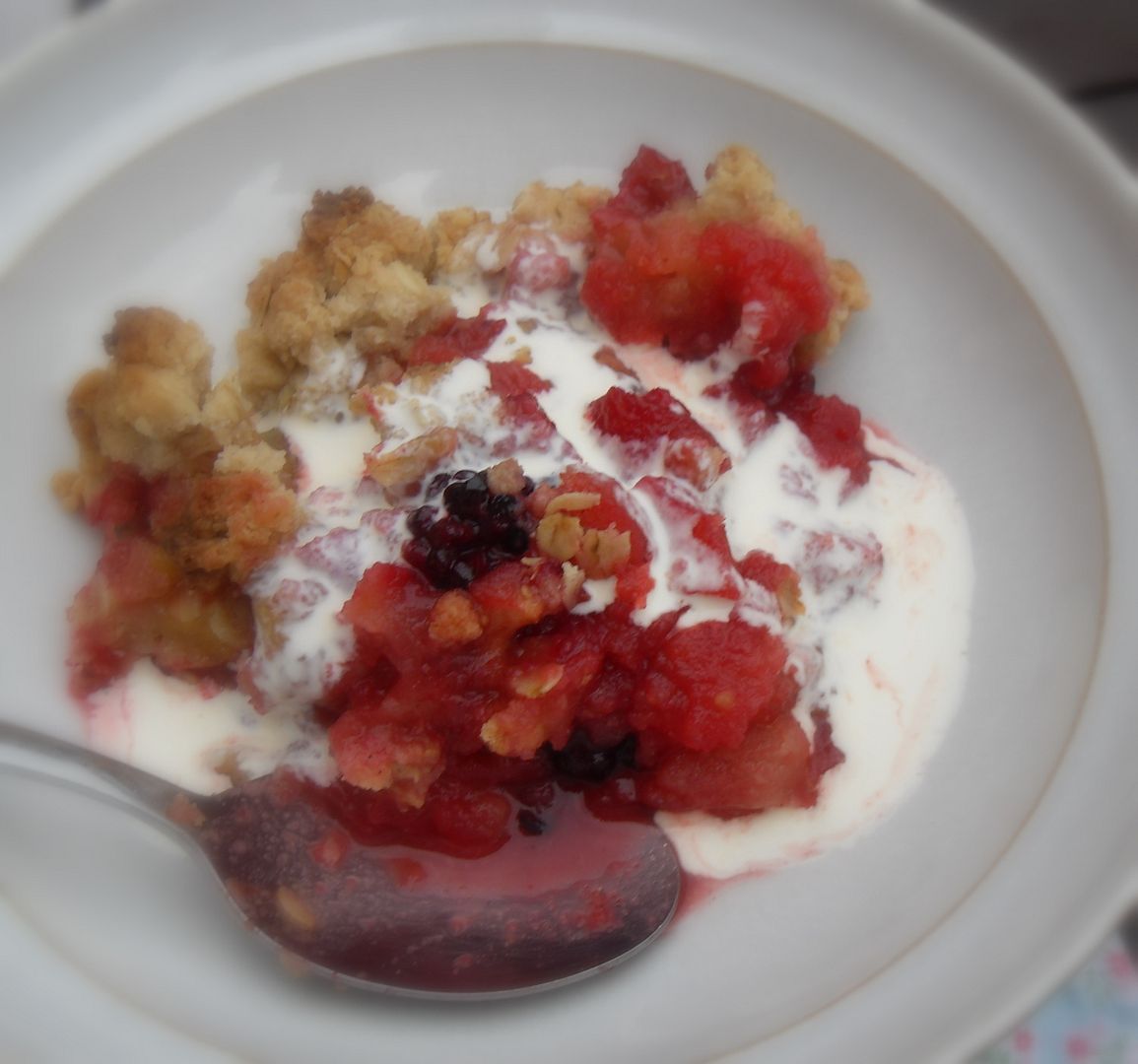 Oh my, this is deliciously scrummy! The tartness of the fruit, all spicy and slightly sweet . . . the colour . . . ruby and deep purple . . . those moreishly tasty pockets of marzipan which melt down into all that ruby tart/sweet goodness . . . and that buttery oaty spicey lemony crumble topping . . . G-O-R-G-E-O-U-S!!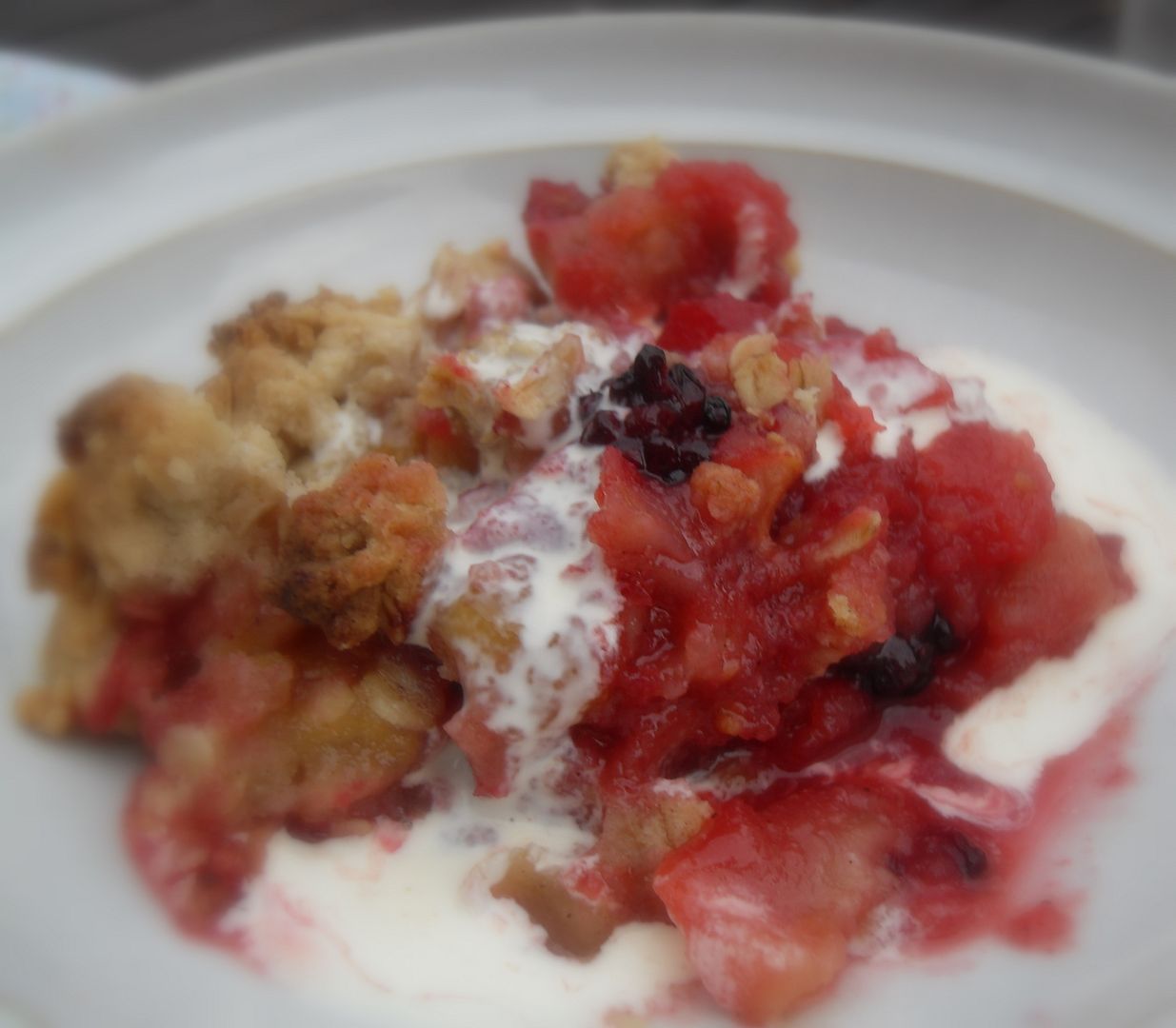 If you only make one crumble this year, and you
really
should . . . let it be this one. Seriously. It
is
truly fabulous!!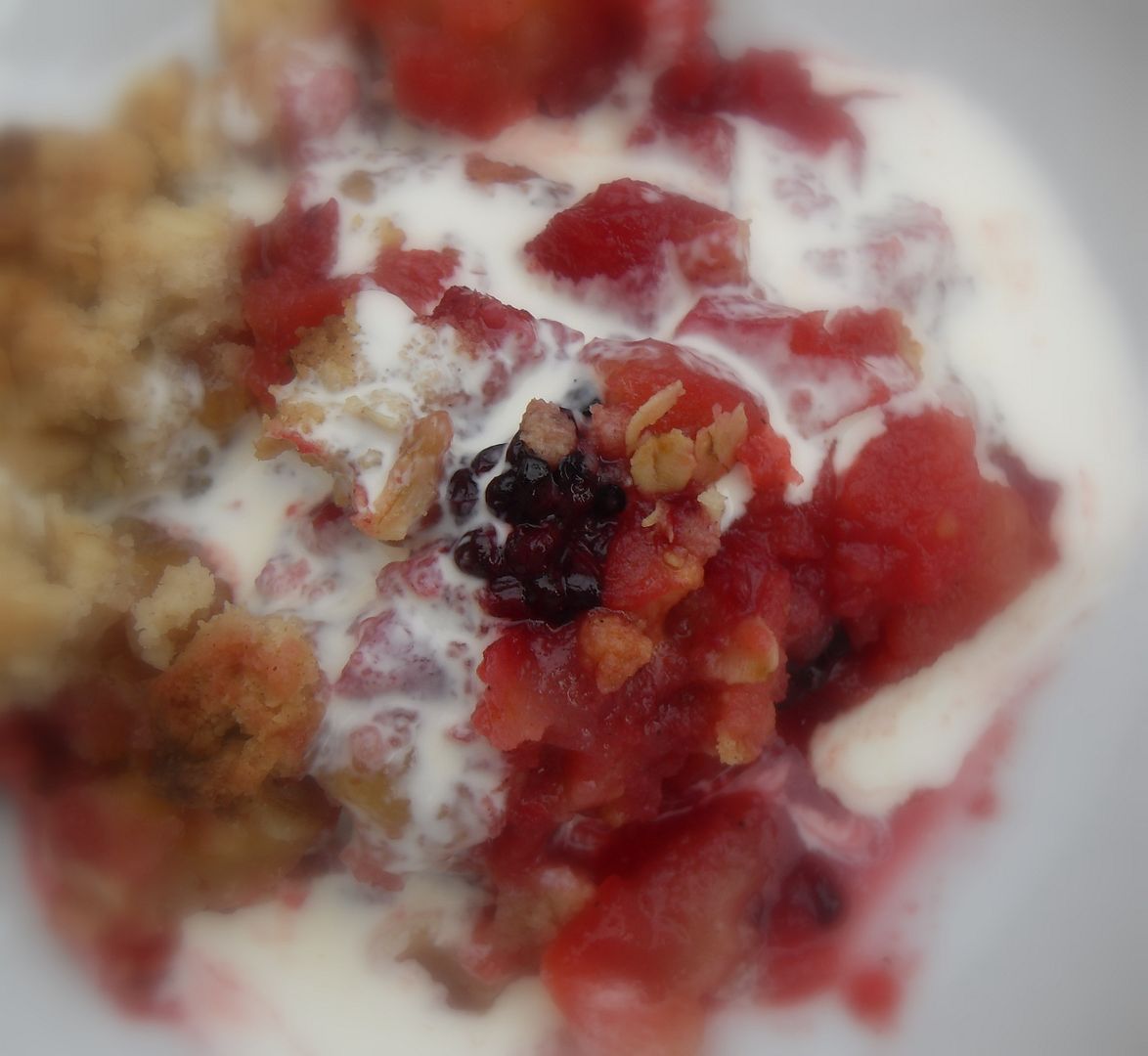 *Blackberry, Apple and Almond Crumble*
Serves 6 to 8
Printable Recipe
This is one very scrummy crumble! From it's delicious filling of apples, blackberries and marzipan, to it's buttery oaty topping, this is a winner all the way around!
3 Bramley apples (large cooking apples)
2 eating apples
the juice of one lemon
200g blackberries (about a heaped cup
-
full)
1/2 tsp ground ginger
a pinch of ground cloves
1/4 tsp ground nutmeg
1/2 tsp of ground cinnamon
100g demerara sugar (1/2 cup, turbinado sugar)
200g marzipan (about 1/2 lb crumbled)
For the topping:
200g chilled butter, diced (about 7 ounces)
250g plain flour (2 1/2 cups)
50g demerara sugar (1/4 cup, turbinado)
1 tsp ground cinnamon
the grated zest of two unwaxed lemons
100g rolled oats (1 cup)


To serve:
pouring cream
warm Custard
or Ice Cream

Preheat the oven to 200*C/400*F/ gas mark 6. Peel, core and dice all of the apples. Place into a large baking dish. (1.6 litre or 2 quarts) Squeeze the lemon juice over all. Stir together the sugar and spices. Stir into the apples and then gently fold in the blackberries. Set on a baking sheet.

Measure the flour into a large bowl. Whisk in the cinnamon. Rub in the butter to make a coarse crumbly mixture. Stir in the sugar, oats and lemon zest. Set aside.

Chop up the marzipan and sprinkle evenly over top of the fruit. Crumble the flour mixture evenly over top.

Bake for 45 minutes, until the topping is golden and the fruit is juicy, tender and bubbling. Allow to sit for 5 to 10 minutes to cool, then spoon out into serving dishes and serve warm with pouring cream or custard. (or ice cream!)