For nearly 100 years, people have been flocking to Yorkshire for a taste of Bettys. Bettys was founded by Frederick Belmont, a Swiss baker and confectioner who came to England in search of opportunities to develop his craft skills. He opened his first Café Tea Rooms in Harrogate in 1919 and named it 'Bettys'. The reason why remains a mystery to this day.
Lots of things have changed since then. They now have six
Café Tea Rooms
in Yorkshire and the Bettys name has become famous the world over. They have also added a mail order service which delivers deliciousness to homes from Tunbridge Wells to Tokyo, and they share their knowledge and passion for food through
Bettys Cookery School
.
But in other ways, they are unchanged. Still family-owned, they believe in doing business in a way that is fair to people and kind to the planet. And at their Craft Bakery in Harrogate they still practice the artisan skills that Frederick Belmont brought to Yorkshire from Switzerland nearly 100 years ago.
Its now Great British Bake Off Season here in the UK, and in honor of that each week Betty's will be sharing a delicious recipe, plus a video and their baking tips to go with each recipe. The kind of thing you won't find in any cookery book!
This week they sent me some delicious Fondant Fancies to enjoy eating while we enjoy watching the GBBO! I can't wait to get stuck in. They look delicious!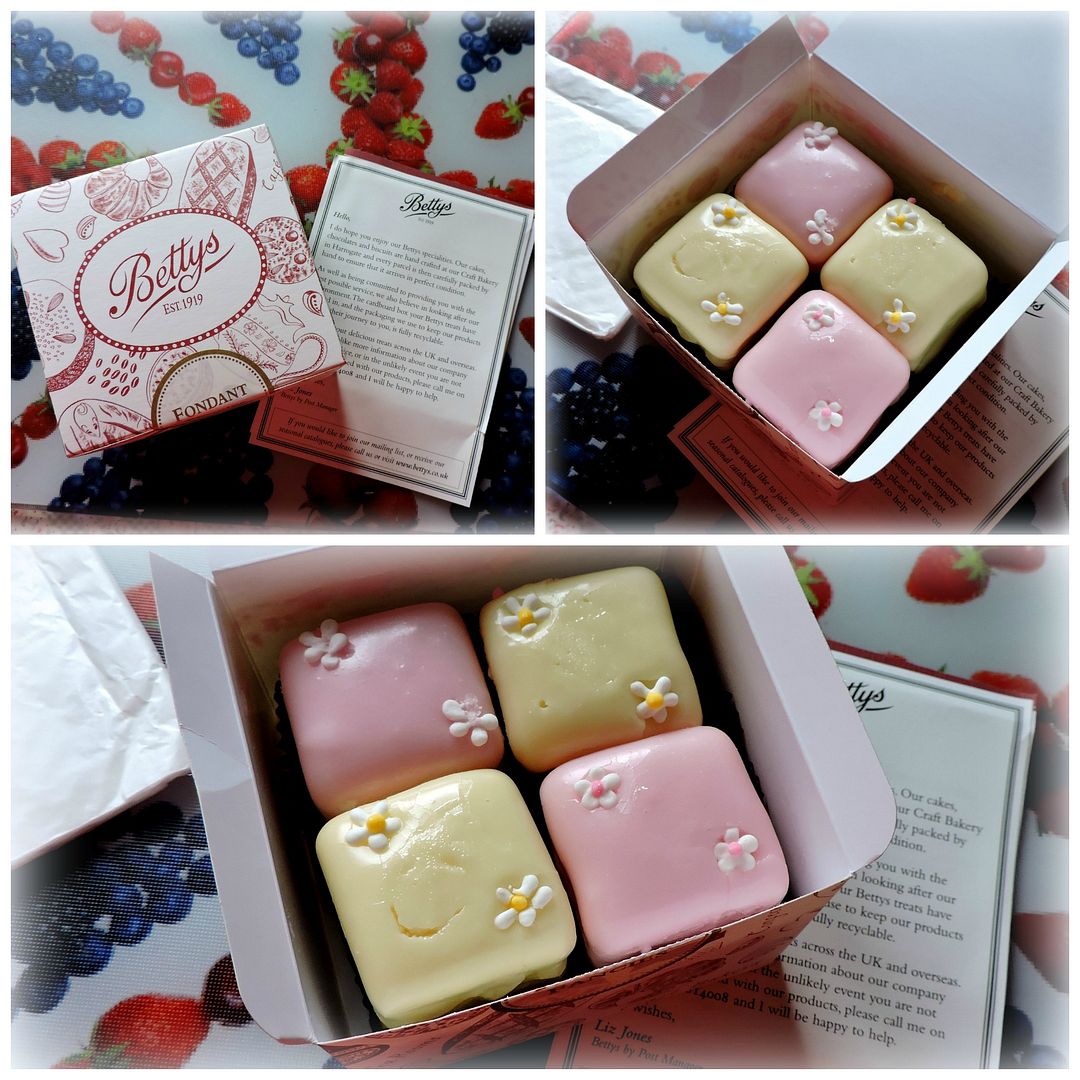 This week they are tackling Choux Pastry with a recipe, a video and their handy tips for success in making this type of pastry. I know that making Choux Pastry can be a bit of a challenge for most people. This is the first in a series of three videos/tips that they will be sharing with us, with the end result being a Croque en Bouche. Next week we will be shown part 2, piping and the week after that spun sugar!
*Choux pastry, the Bettys way*
Ingredients
130ml water (4.5 fluid ounces)
130ml whole milk (4.5 fluid ounces)
pinch of caster sugar
pinch of salt
110g butter, cubed (7 1/2 TBS)
140g plain flour (1 cup)
3 eggs (medium), beaten
Method
1. Place the water, milk, sugar and salt together in a heavy based pan over a moderate heat. Add the butter and bring to the boil.
2. As the liquid comes up to the boil, remove from the heat and stir in all the flour in one go. Using a large spoon, beat quickly until all the flour is combined and a thick paste forms.
3. Return to the heat and cook for a further 1-2 minutes until the paste forms a cohesive ball, dries out and comes away from the sides of the pan.
4. Remove from the heat, place into a mixing bowl and allow it to cool slightly for a few minutes.
5. When cool, gradually add the egg a little at a time, beating after each addition. Continue until you get a dropping consistency and a stiff batter has formed (you may not need all of the egg).
BAKING HINTS FROM BETTY'S
Chop Chop
Chop up the butter so it melts faster.
Large chunks reduce the temperature of the liquid and will mean more evaporation – this will change your recipe.
Chute the flour in quickly.
Slowly bring it all together.
Stir it Up
Use a high temperature and keep the mixture moving to create a 'choux ball'.
Look for a residue of flour sticking to the bottom – this means it's cooked out.
'Paint' the bowl with the mixture. This cools the mix to the right temperature to add the egg.
Add eggs gradually. Otherwise you'll saturate the mixture and the egg will sit on the surface.
Look for a fluid consistency.
Helping Hands
Use a damp tea towel as your extra pair of hands - it secures your bowl while you're mixing.
Use an electric mixer to add ¾ of the egg (adding a little at a time). Then switch to a wooden spoon –this will help you feel the consistency and work out when the batter is formed.
When the mixture grips the bowl, add more egg.
Egg is nature's ingredient. It's about how the mix is behaving, not what the recipe says. You may need more or less.
To tell if your choux is ready, lift the mixture out of the bowl on a spoon. You're looking for an elongated 'V' shaped tear.
Find out how to pipe your choux in next week's episode of Bettys Baking Secrets.
www.bettys.co.uk/bakingsecrets