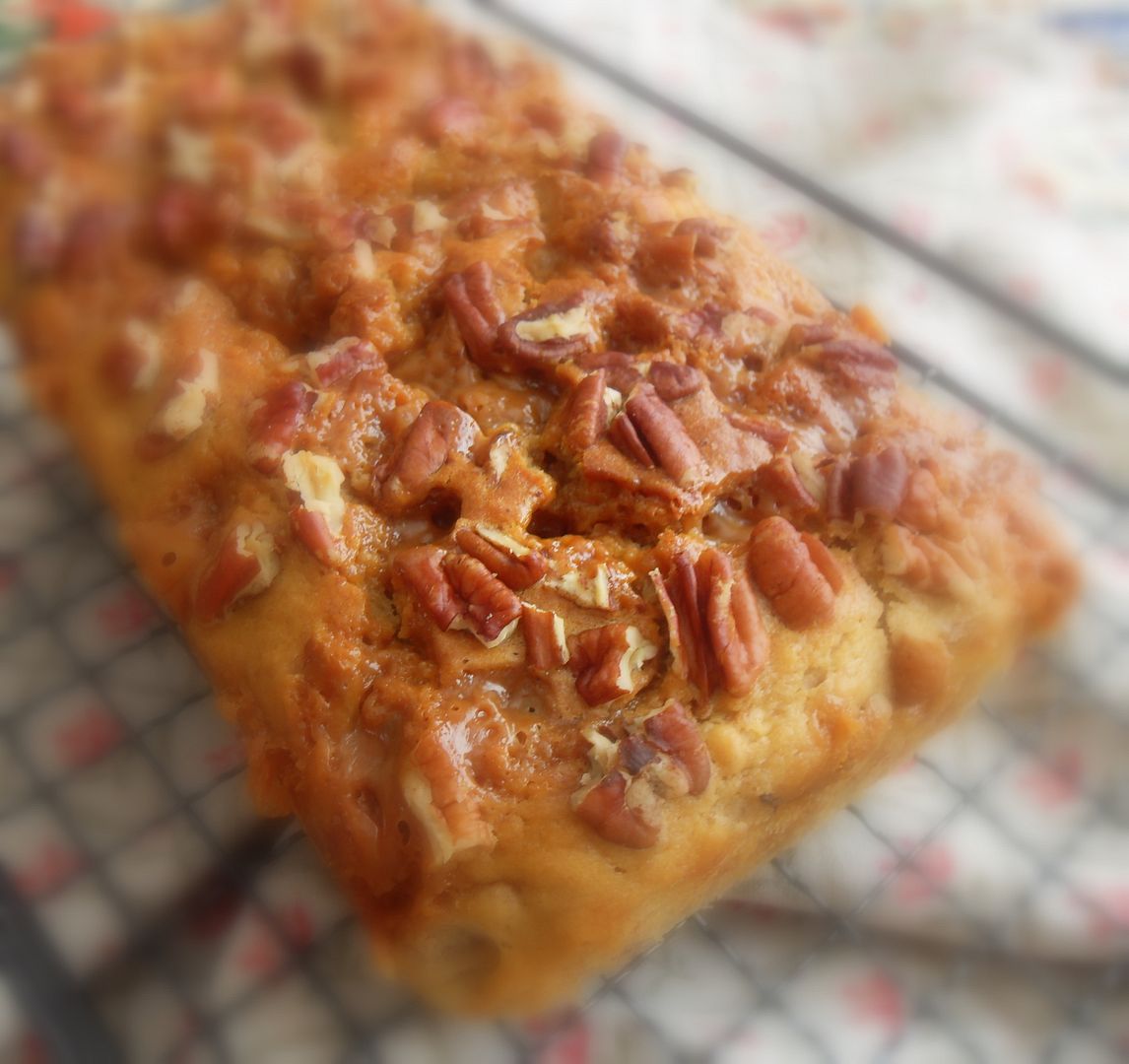 mmm . . . mmm . . . mmm . . . This was my ABSOLUTELY favourite kind of day . . . no, the sun did not shine, nor was it really, really hot. It was kind of muggy actually and humid, so weatherwise not great. It was my favourite day in another kind of way, in a tasty baking kind of way . . .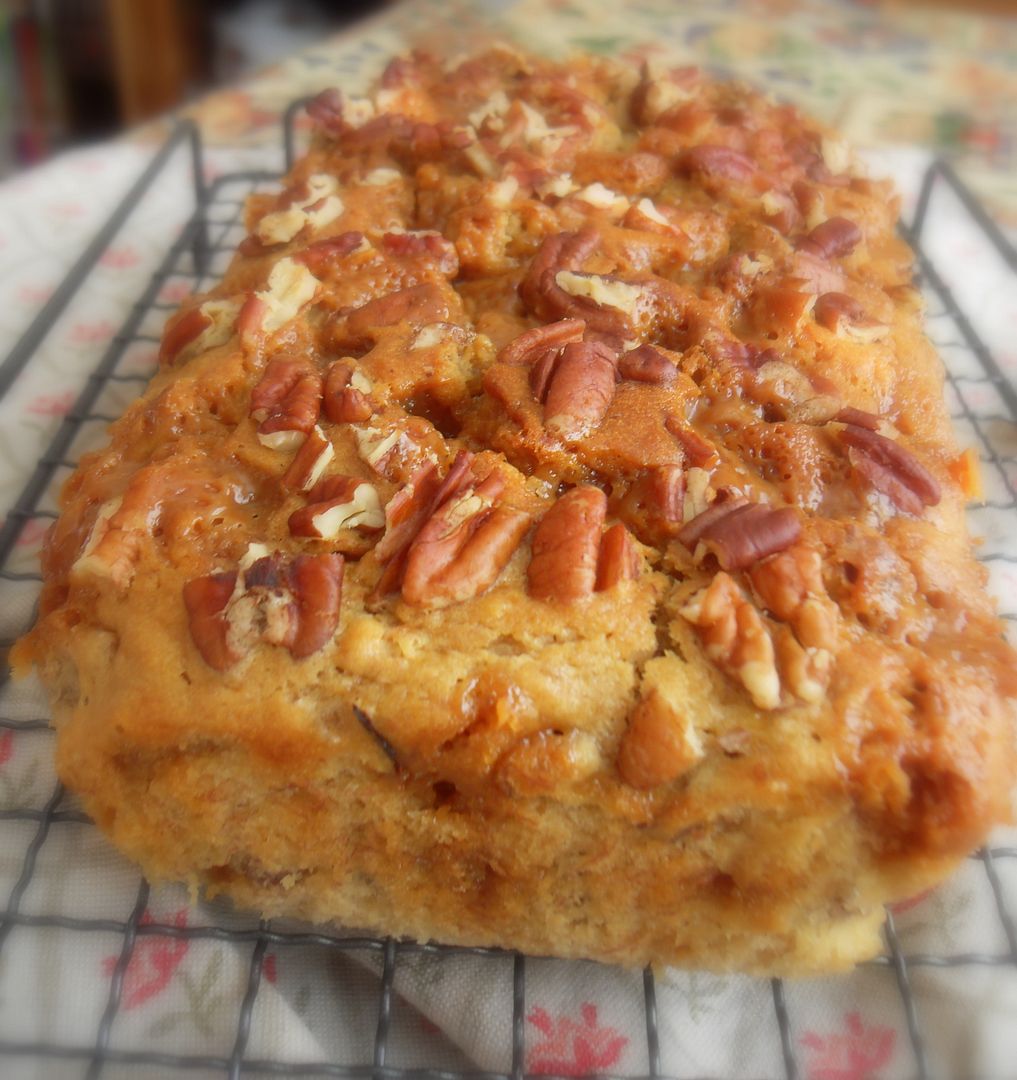 In an
"I've bought too many bananas and they are not getting eaten up before they've turned all spotty!"
kind of day.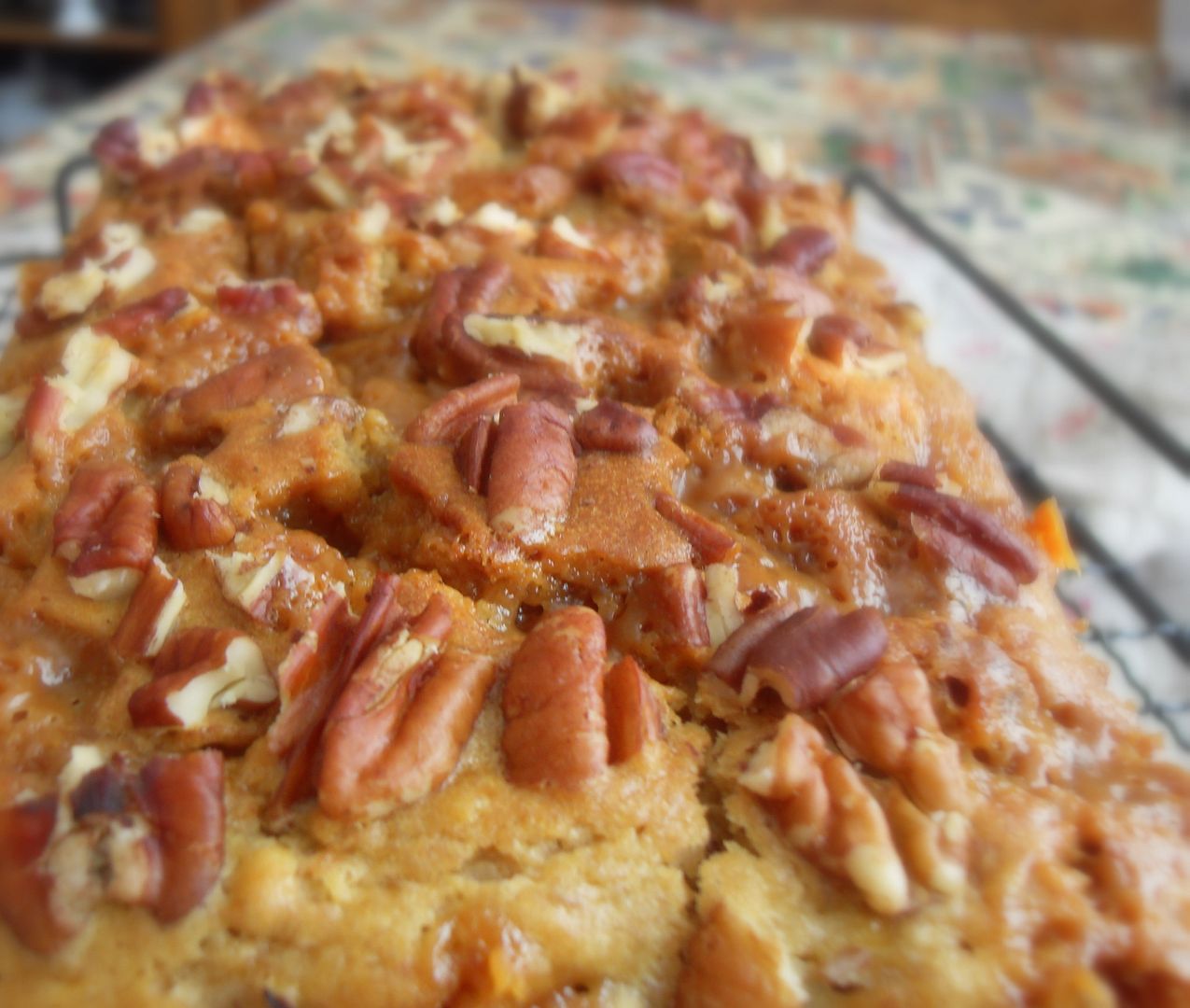 A
"Let's turn the oven on and crack out the whisk and bowls!"
kind of a day.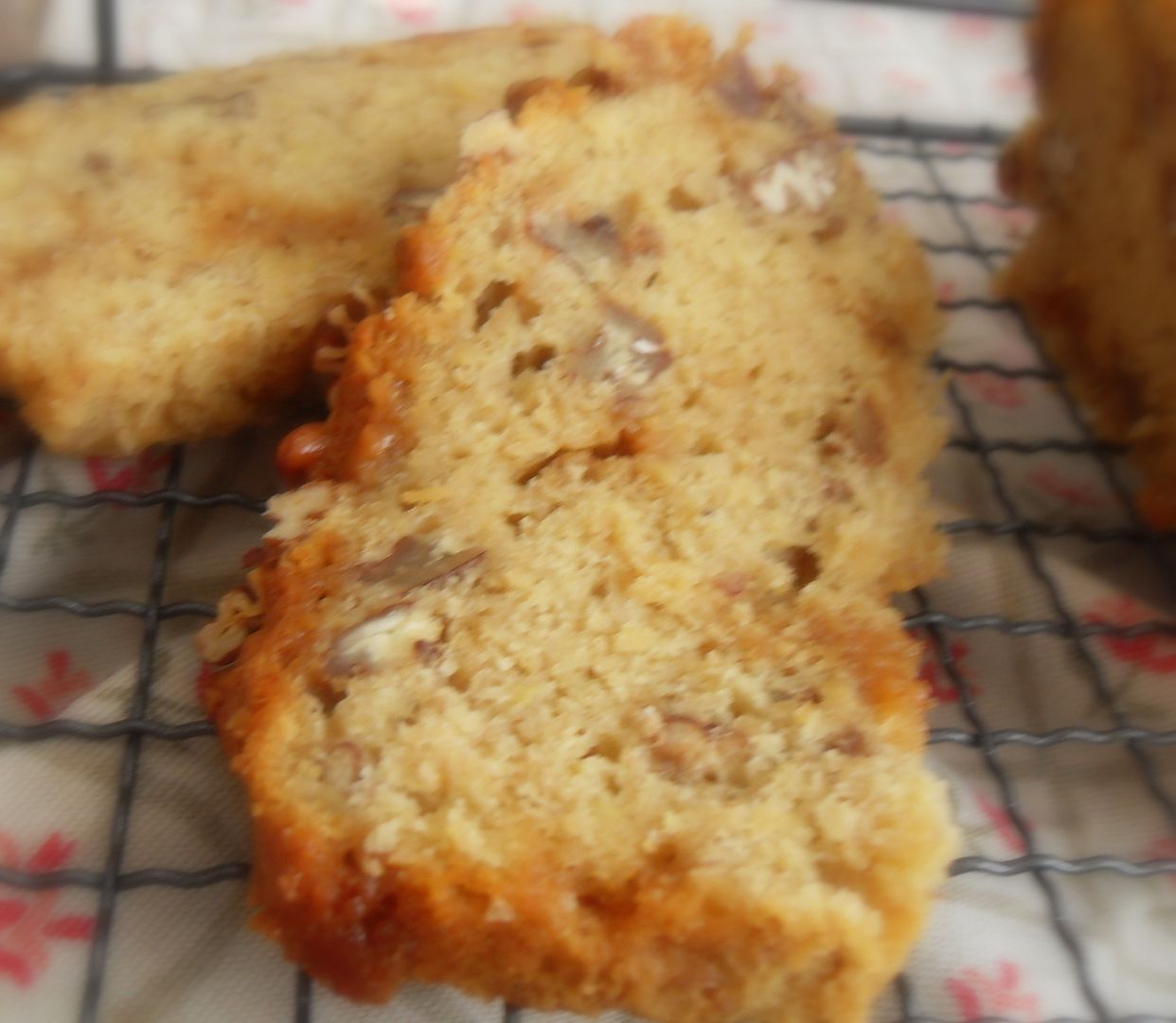 A
"Let's turn up the volumn on the banana bread, and stretch what I can do with it!"
kind of day.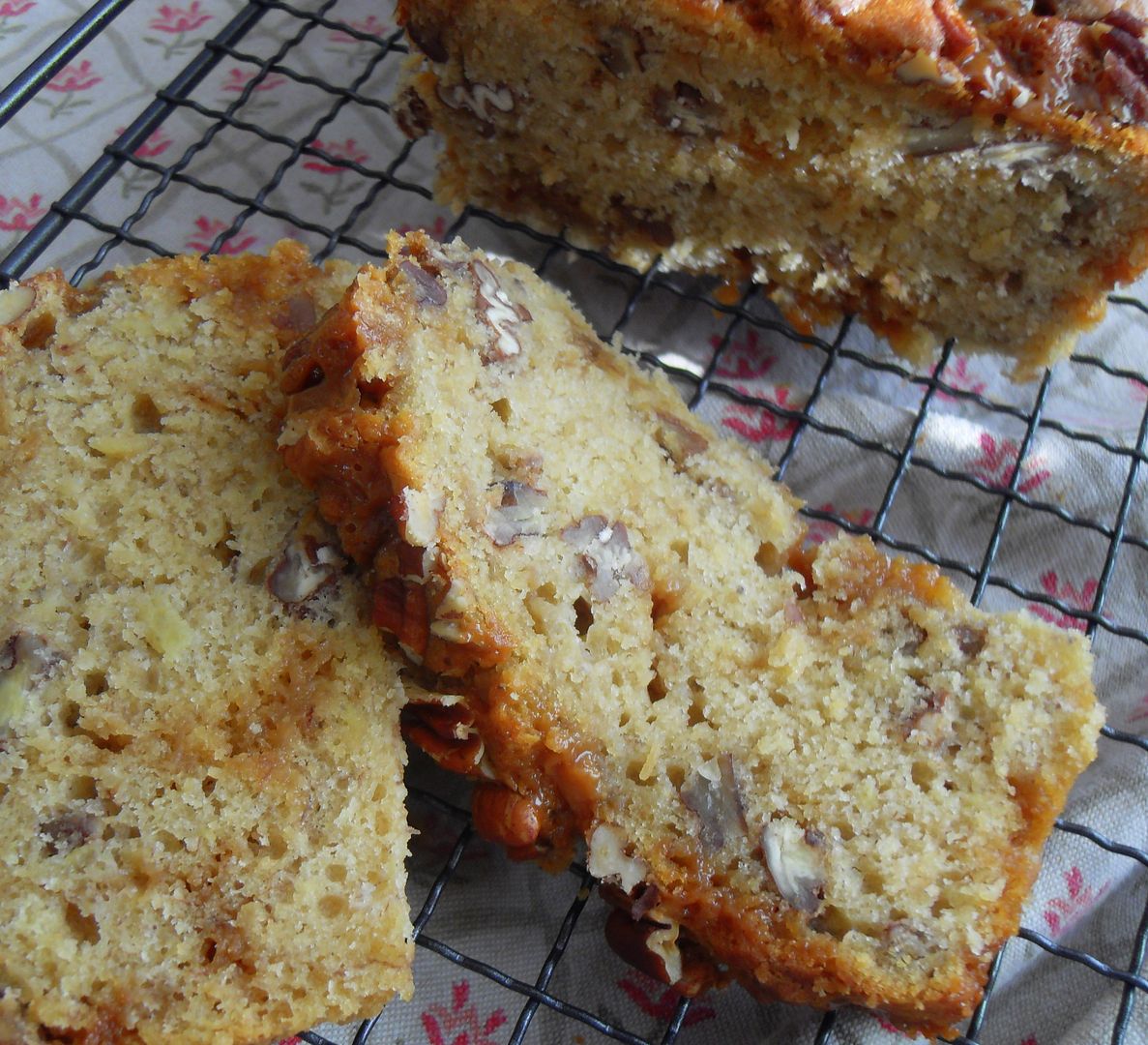 A
"Scrummy, toffee, nutty, fudgily moreish banana bread!"
kind of day.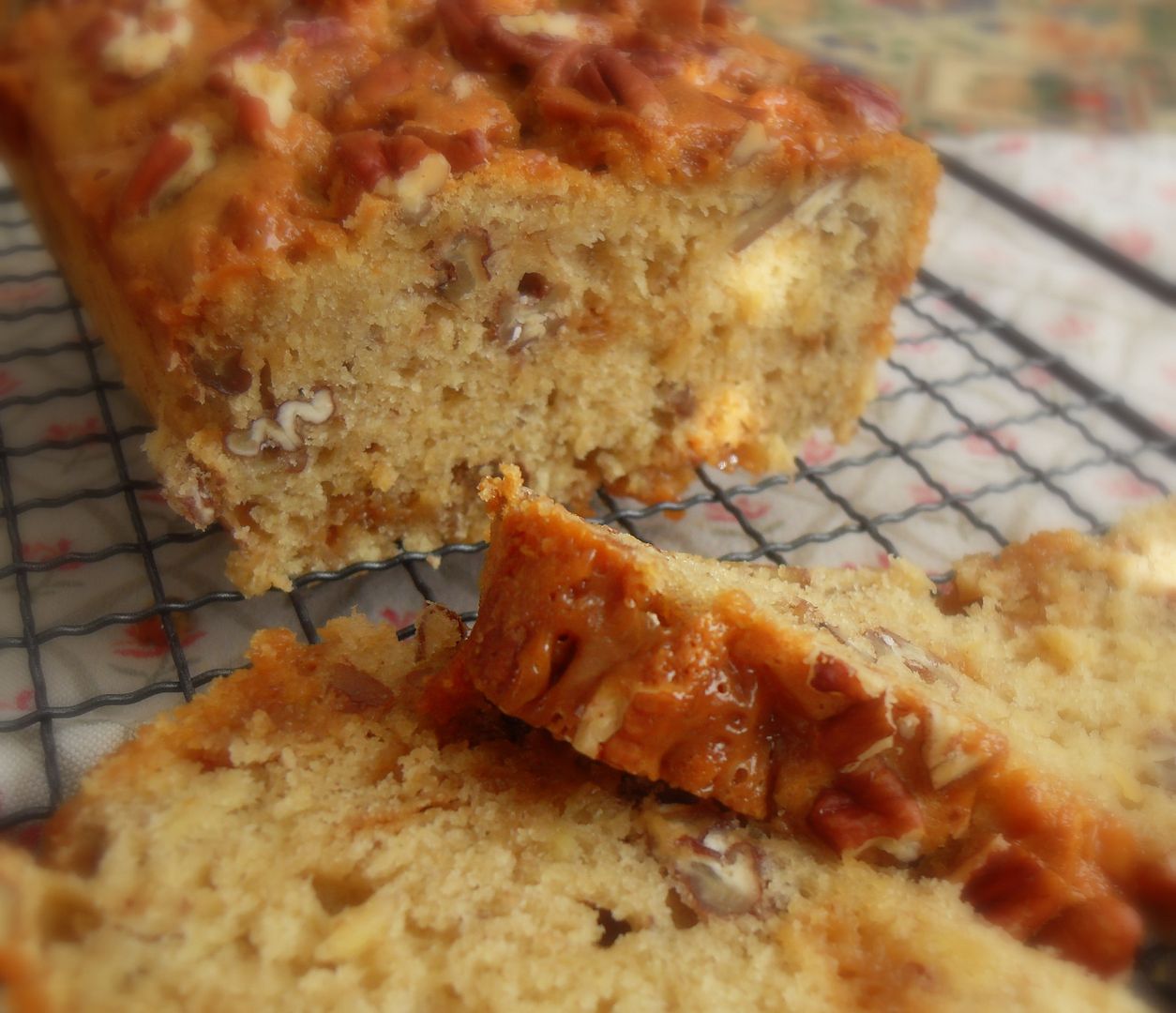 Got lots of ripe bananas and looking for something tasty to do with them???? This
could
be
Y
O
U
R
kind of day!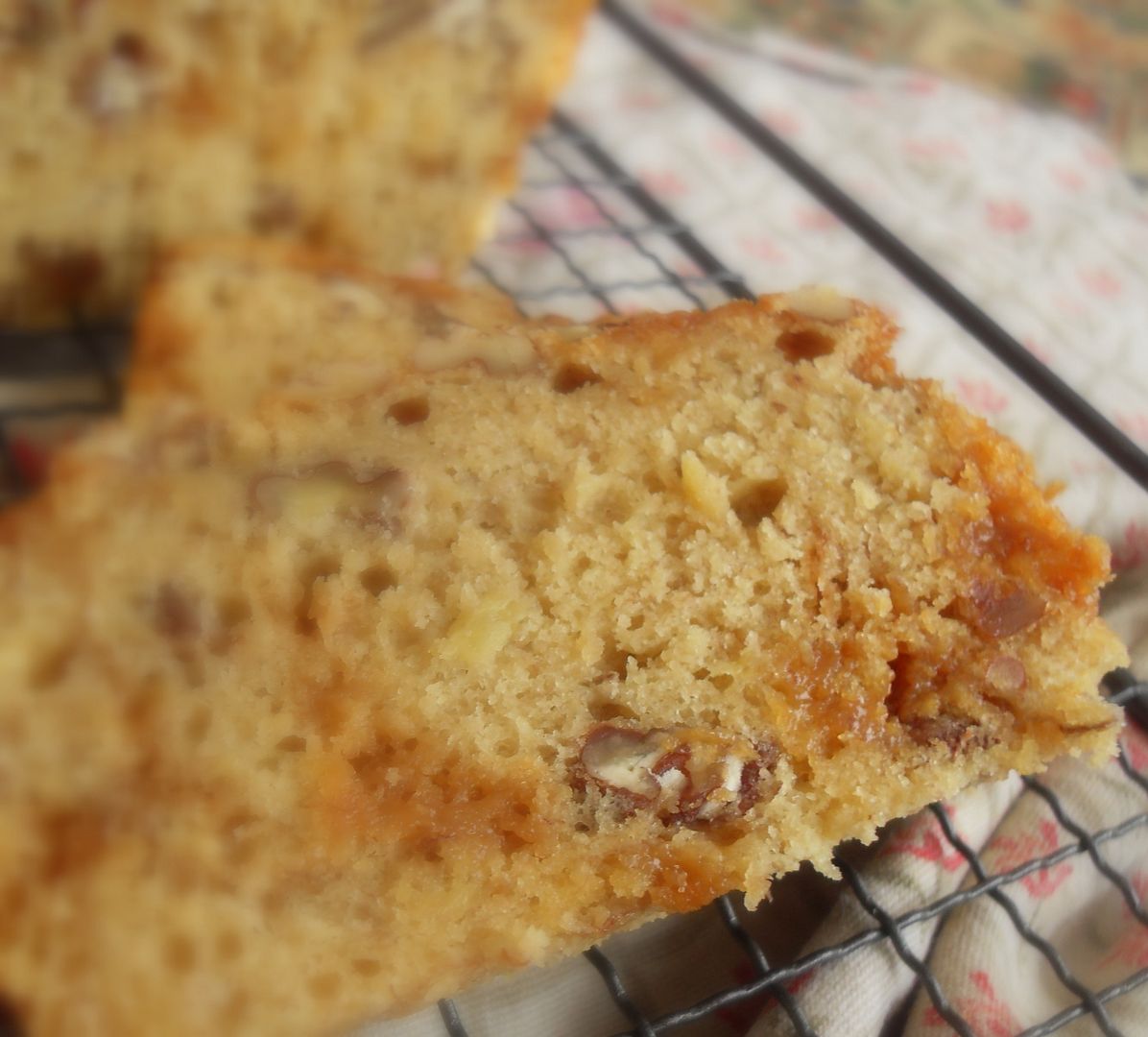 *Toffee Banana & Toasted Pecan Loaf*
Cuts into 10 slices
Printable Recipe
A super moist and fudgy banana loaf chock full of pecans and chewy toffee bits. Very scrummy!
20 chewy toffees, unwrapped and cut into bits
(Soft toffees that you can chew and don't have to suck)
2 ripe bananas, peeled and mashed (Approx. 8 ounces)
2 medium free range eggs, beaten
125g of butter melted (1/2 cup)
125g greek yoghurt (1/2 cup)
1/2 tsp rum extract
1/2 tsp vanilla extract
115g light muscovado sugar (1/2 cup packed soft light brown sugar )
200g of self raising flour (scant 1 1/2 cups)
1/2 tsp baking powder
100g of toasted pecan nuts coarsely chopped (1 cup)
Preheat the oven to 160*C/325*F/ gas mark 3. Butter and line an 8 by 3 inch loaf pan. Set aside.
Mash the bananas in a bowl. Beat in the eggs, butter, yoghurt and extracts. Mix well. Stir in the sugar. Whisk together the flour and baking powder. Fold into the liquid mixture along with the 2/3 of the pecan nuts and 1/2 of the toffee bits. Spoon into the prepared pan and level the top. Sprinkle the remaining nuts and toffees over top.
Bake for 55 to 60 minutes, until well risen and the top feels springy. Remove from the oven and allow to cool in the tin on a wire rack. Once cool, peel off the paper and cut into slices to serve.
Note - This is lovely tucked into lunches, sliced and spread with cream cheese. Scrummy yummy!
Bon Appetit and enjoy!