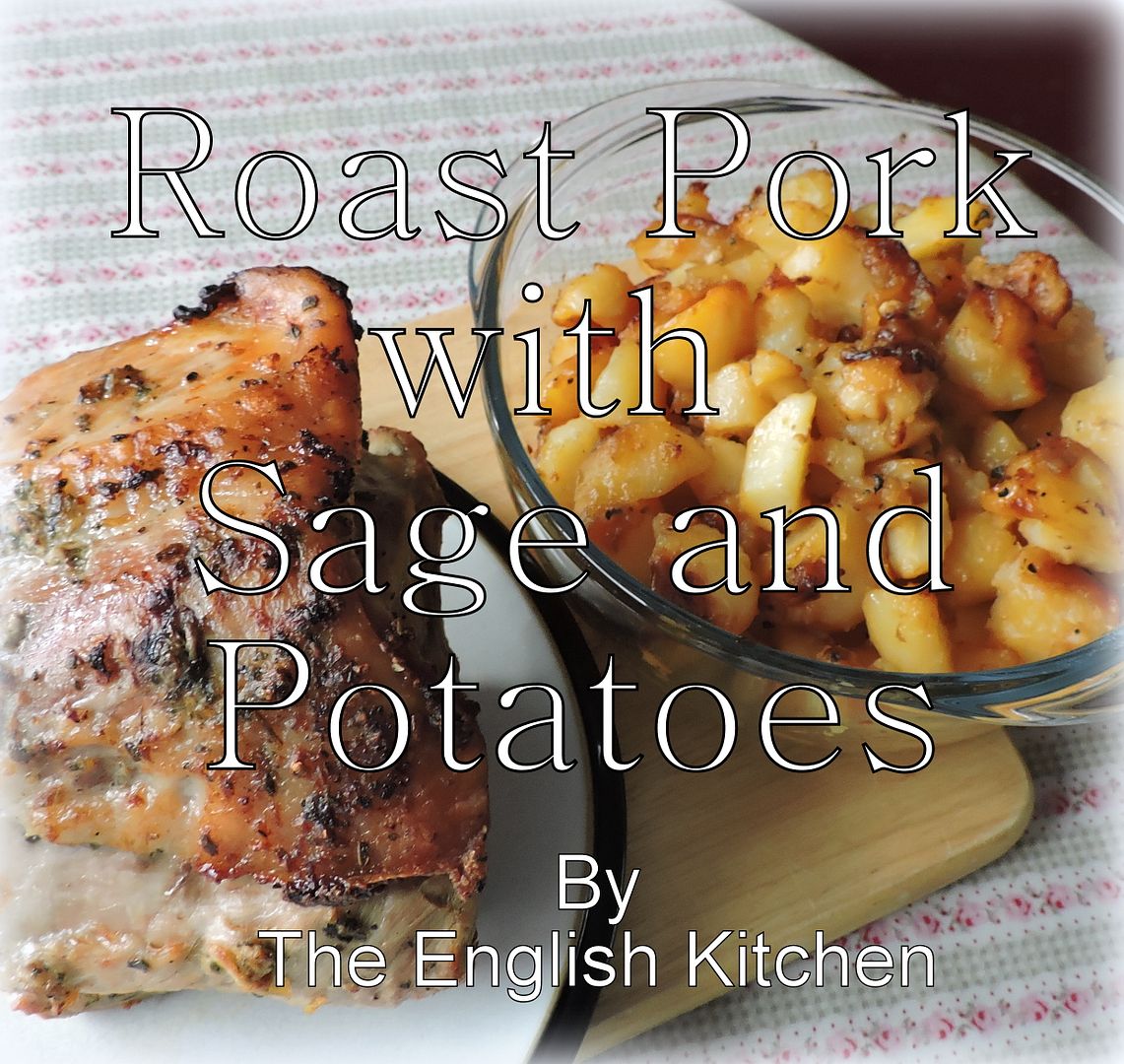 This is a lovely roast that I cooked a month or so ago and am just getting to show you now. I figured now that temperatures are cooling down a bit the timing would be better.
I didn't want you to give up on this delicious recipe because it was too hot outside! This is a real winner!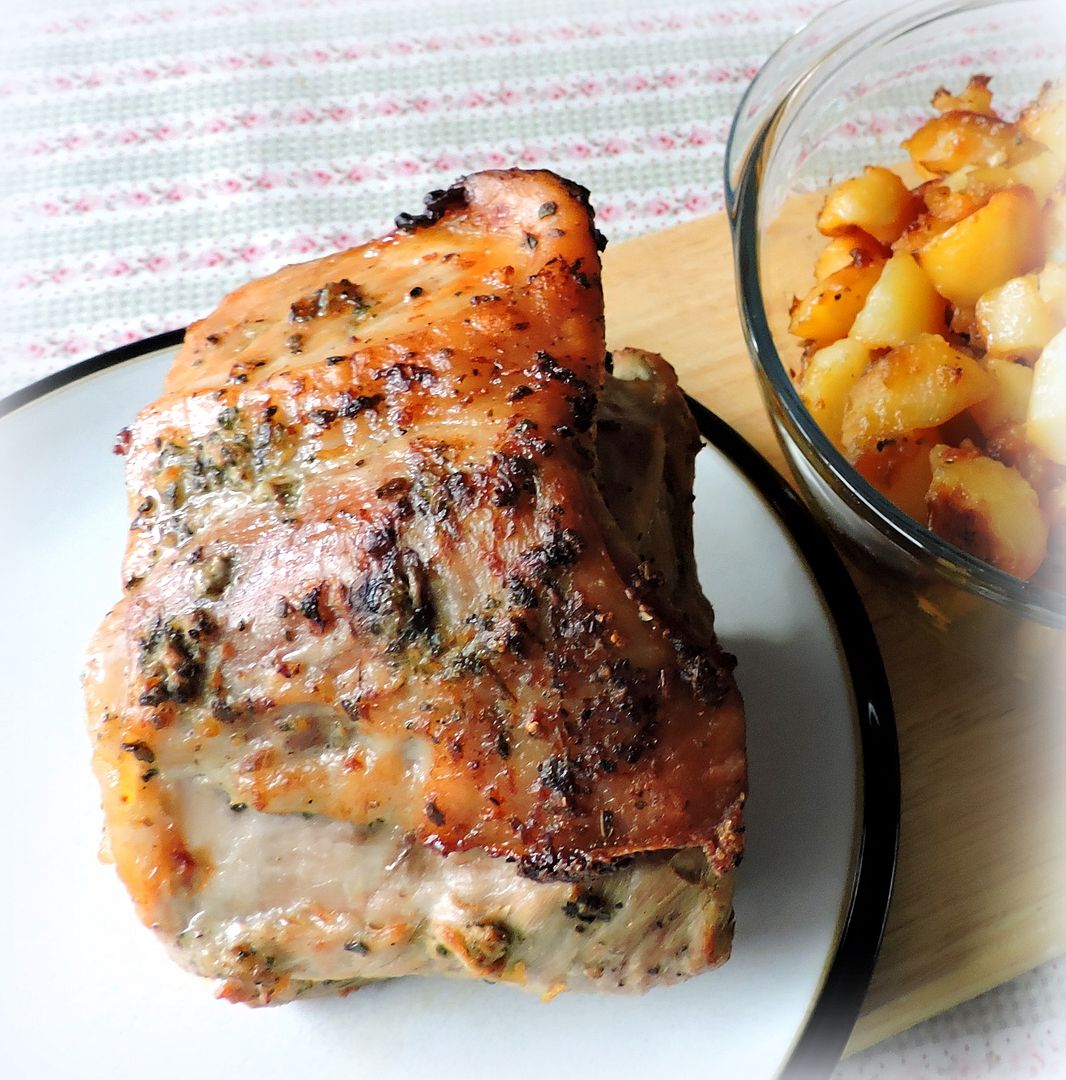 Red meat isn't something we eat a lot of in this house, and so when we do I make sure its really good, like this delicious Roast Pork with Sage and potatoes.
This was amazingly delicious to say the least.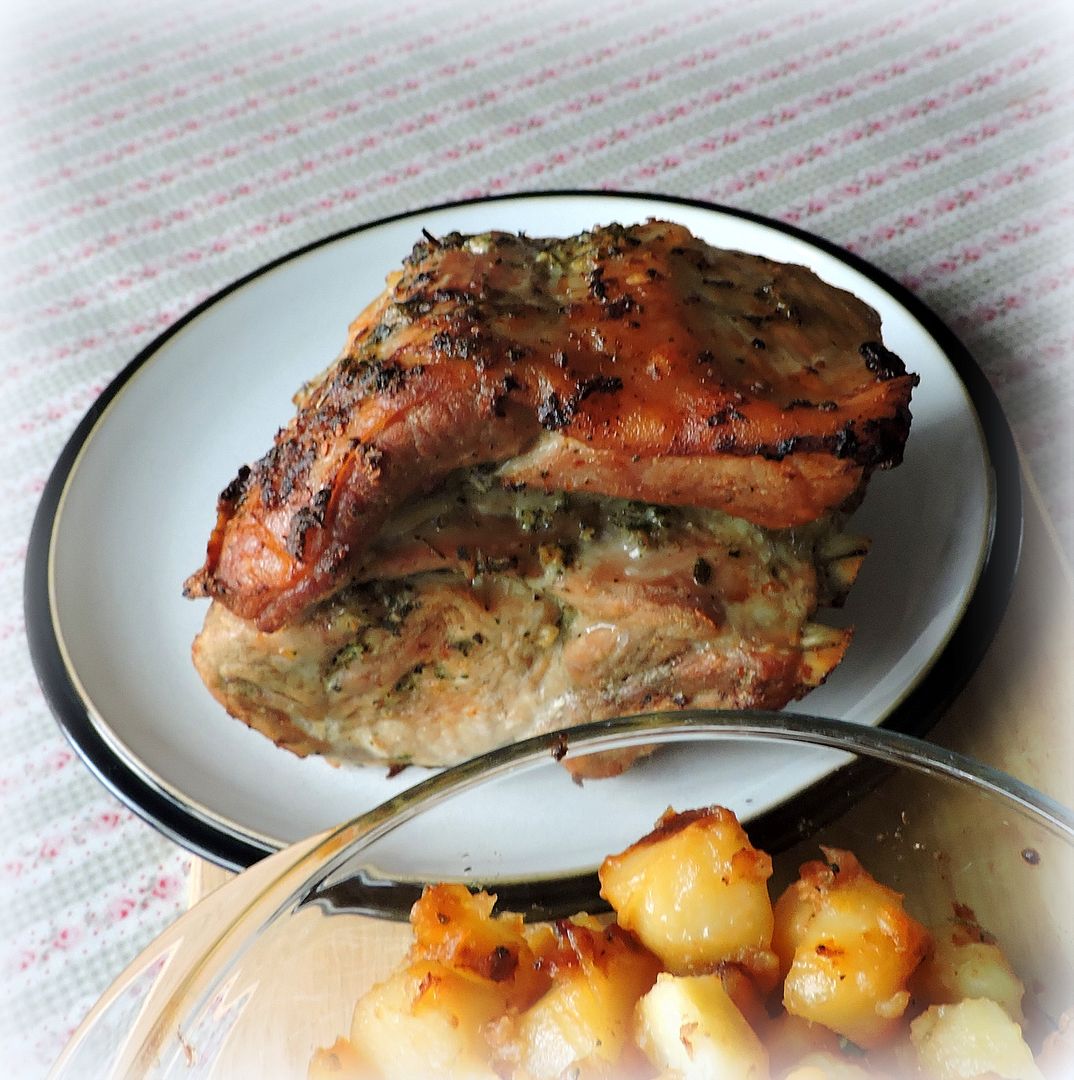 The pork gets rubbed with a mix of sage and garlic before roasting that really gives it a nice flavour.
That same herb and garlic mix is used to toss together with potatoes that are roasted along with the pork.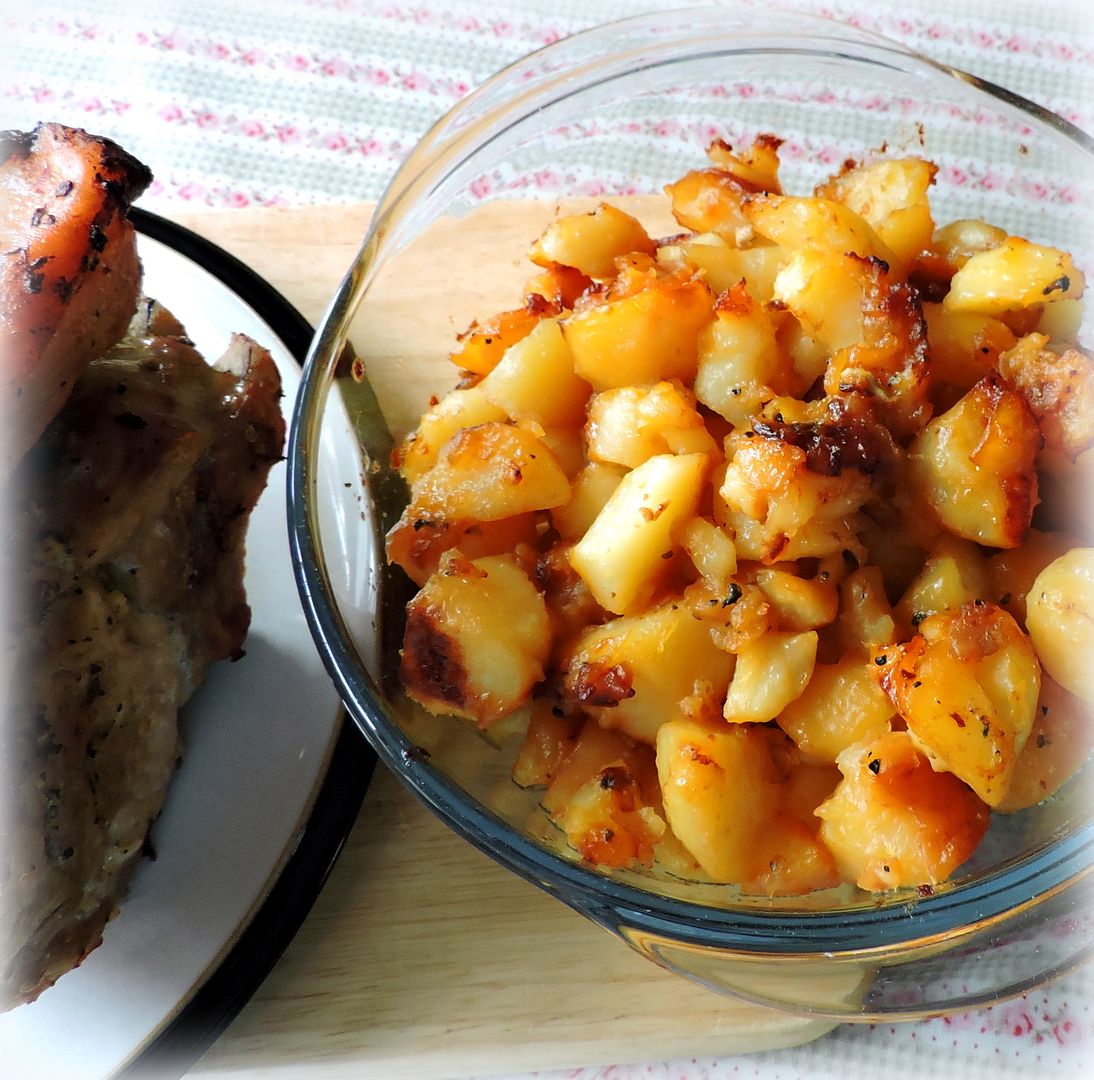 Oh boy are they some delicious . . . nothing I love better than potatoes which have been roasted to perfection.
Sticky and golden, roasted in succulent meat juices with herbs and garlic. Sooo so so good!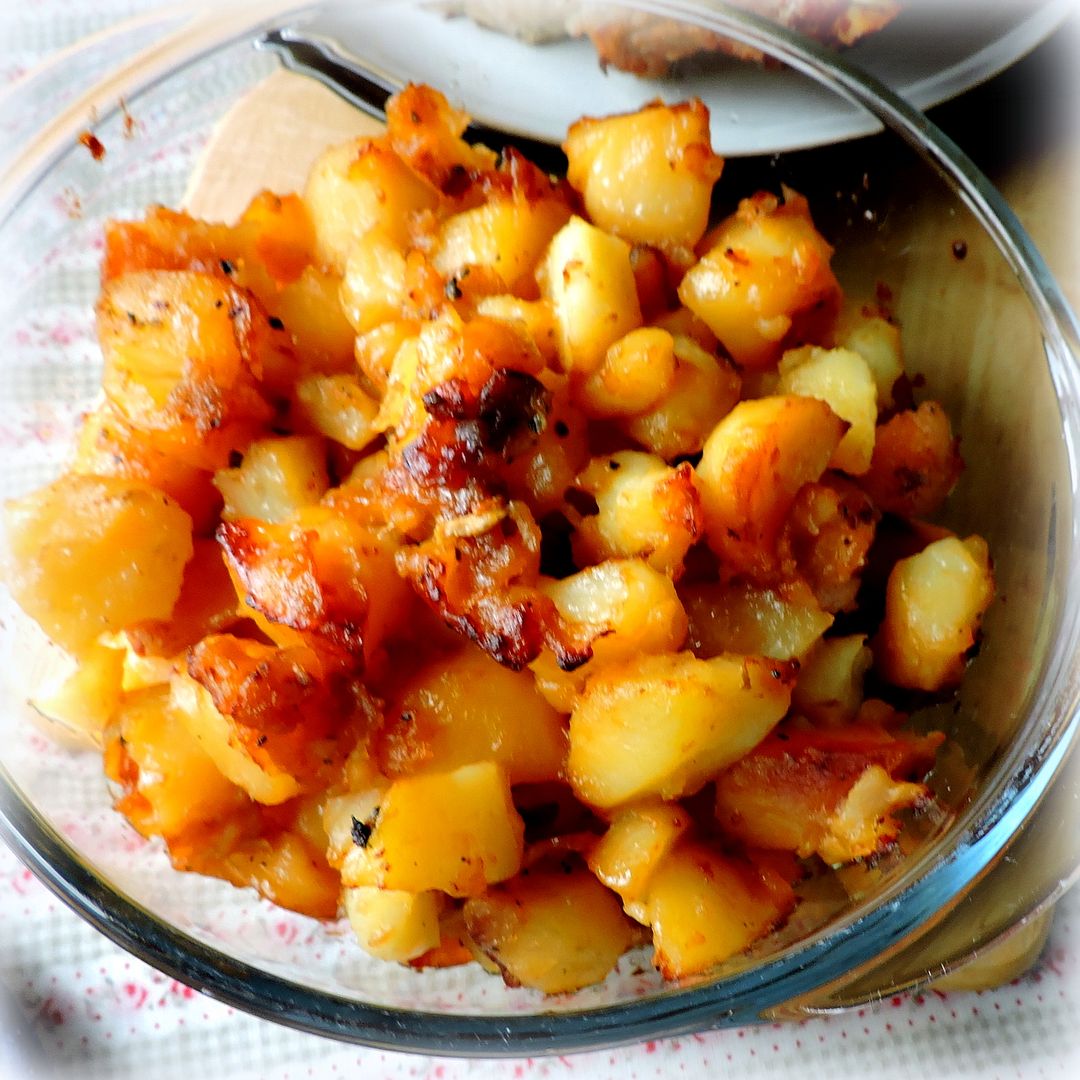 SOOOO, sooooo good. Thinking back on just how good makes me want to lick the screen.
I sure do love my potatoes! I'm a potato nut for sure! These ended up being exceptional.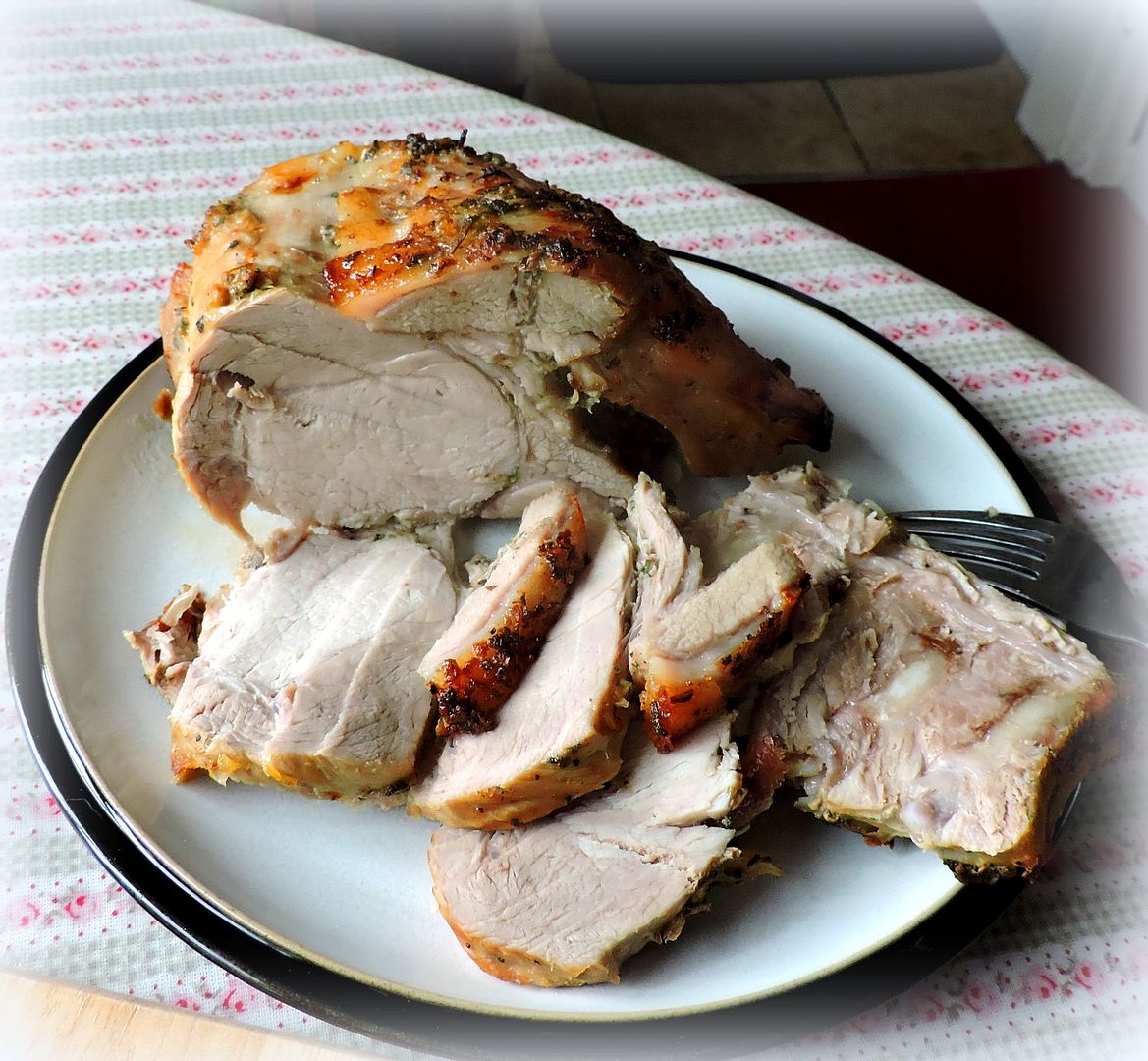 The meat ends up succulent and tender and so wonderfully flavoured . . .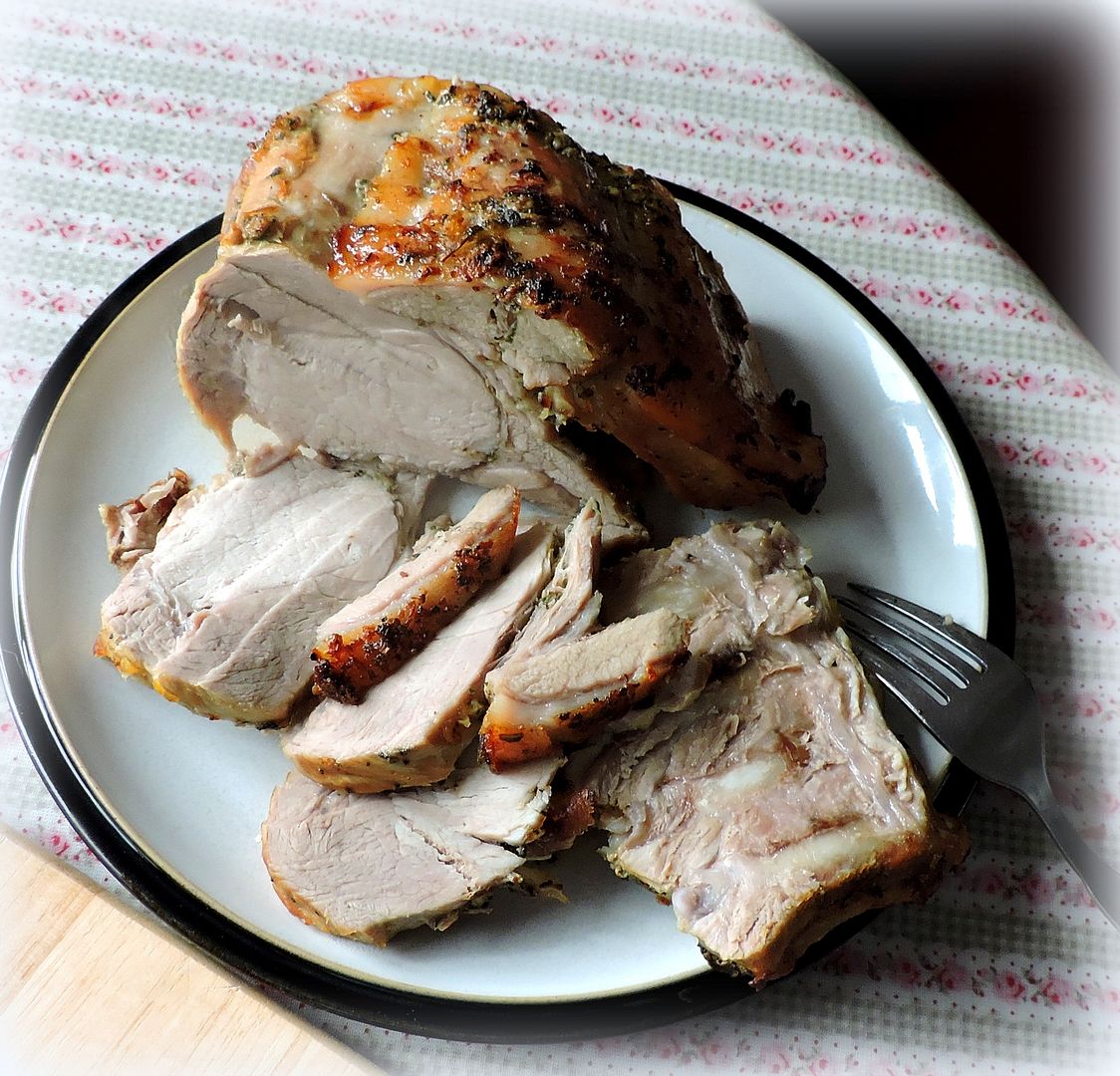 The fat on the edge . . . beautiful golden and crisp . . . and if you use a bone in rib loin roast, you get the finger licking tasty spare-rib parts, also beautifully flavoured.
Altogether with a few vegs on the side this was the perfect roast.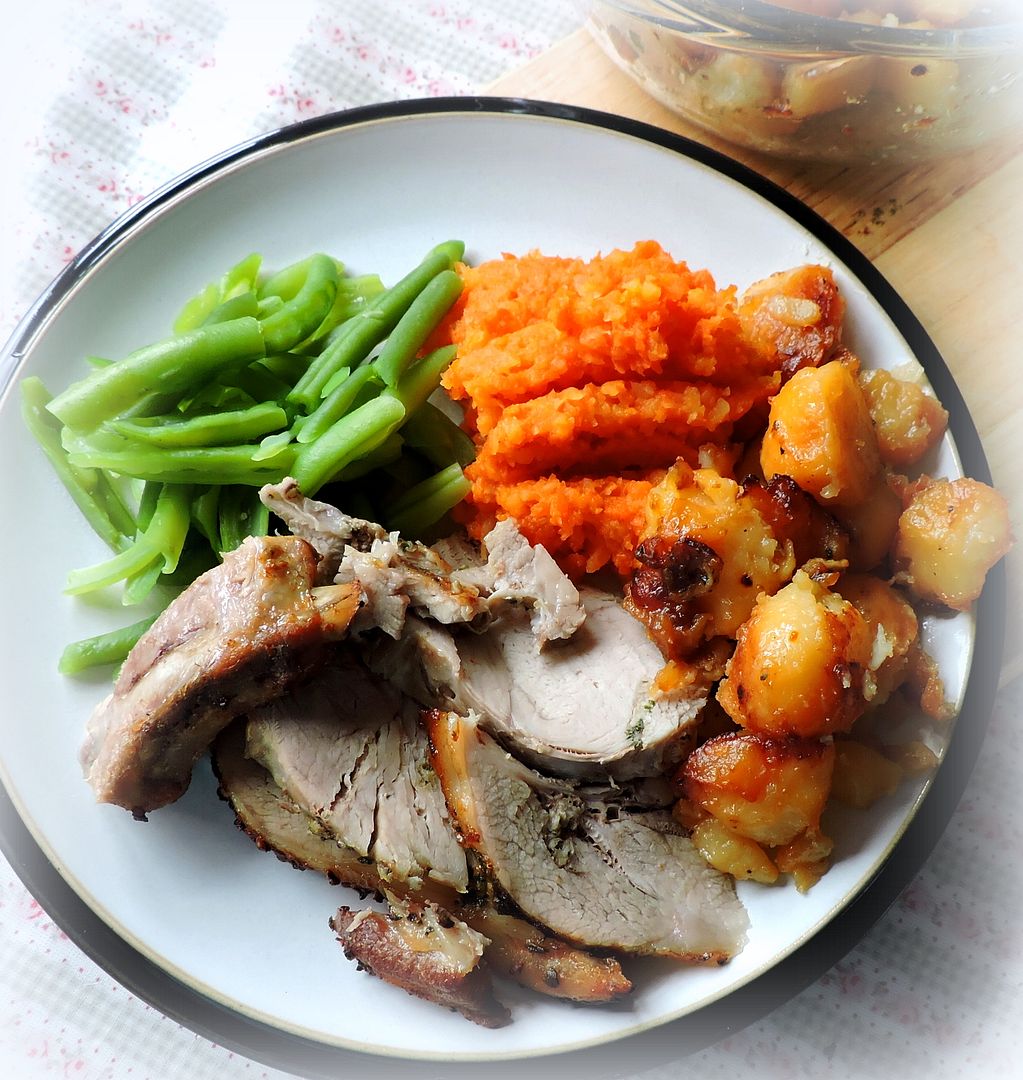 *Roast Pork with Sage and Potatoes*
Serves 6
This is simple to make and makes a great Sunday roast. Pork and sage have a beautiful affinity for each other. You want a firm waxy potato for this, not one which will disintigrate.
2 TBS minced garlic
2 TBS minced fresh sage leaves or 2 tsp dried sage
1 tsp fine sea salt
1/2 tsp freshly ground black pepper
2 pounds of potatoes, peeled and cut into 1 inch pieces
3 TBS olive oil
one 3 to 4 lb bone in pork loin roast (or a 2 to 3 lb boneless one)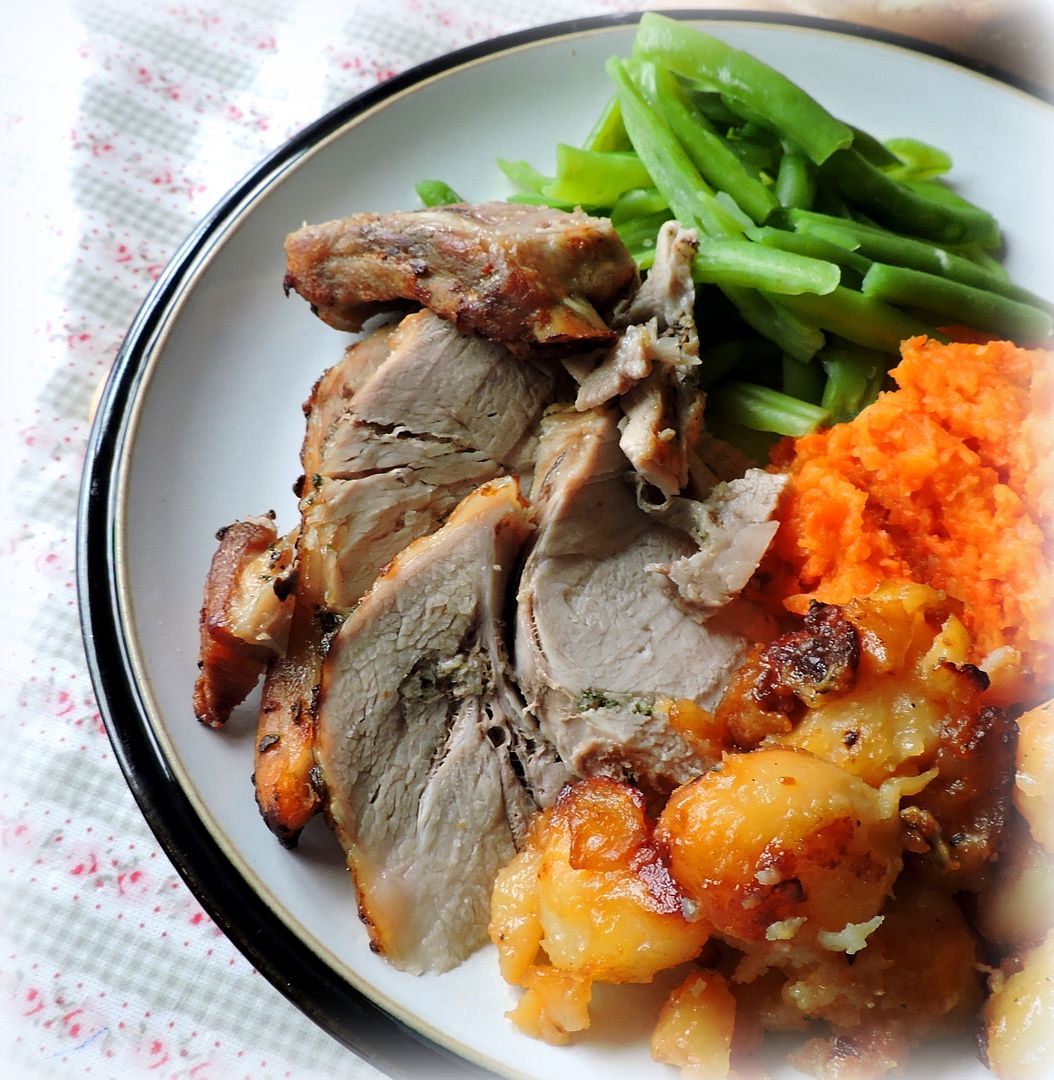 Preheat the oven to 220*C/425*F/ gas mark 7. Have ready a roaster (with a lid) large enough to hold everything.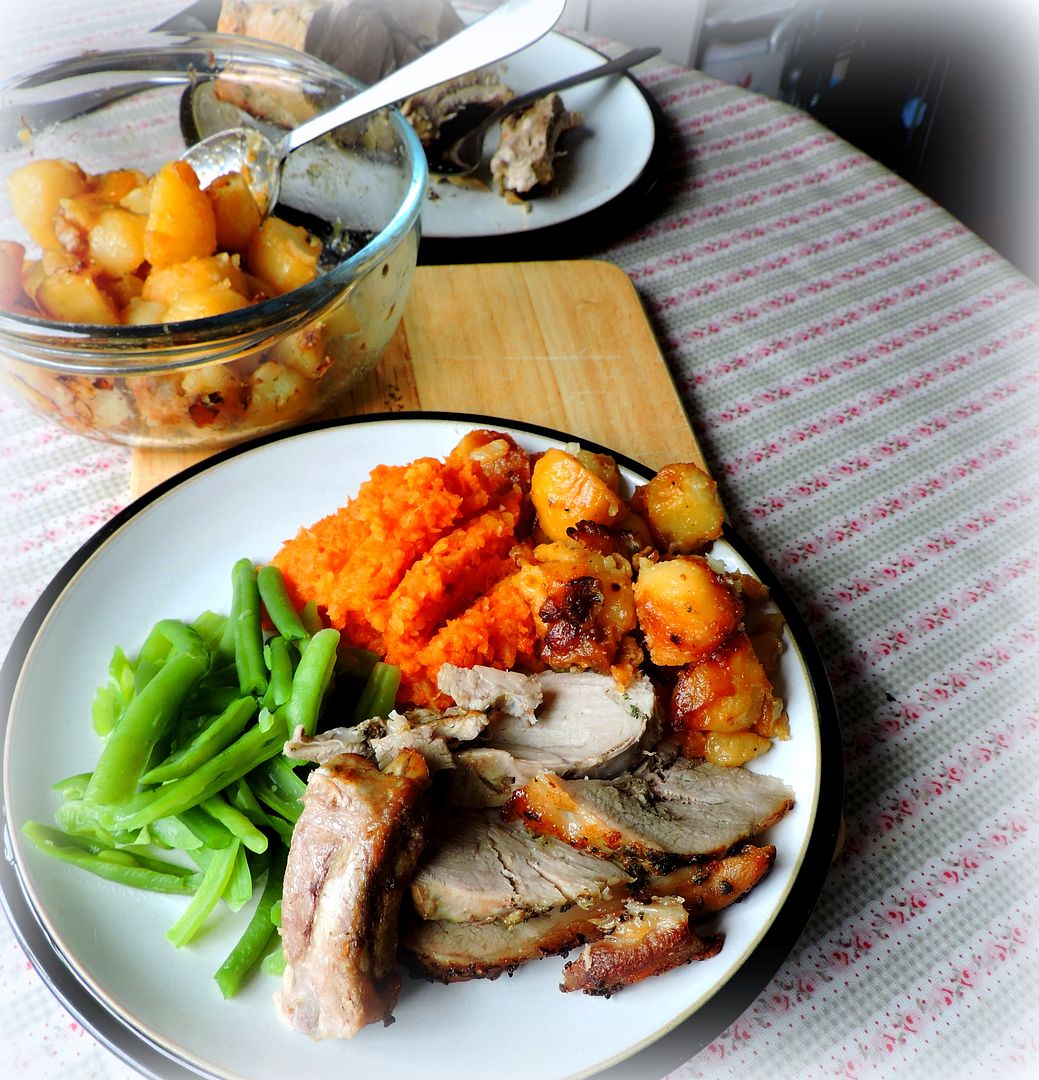 Mix together the garlic, sage, salt and black pepper. Put the potatoes into the roaster along with 1 tsp of the herb/garlic mixture and 2 TBS olive oil. Toss all together to coat the potatoes. Cover and put in the oven while you prepare the pork.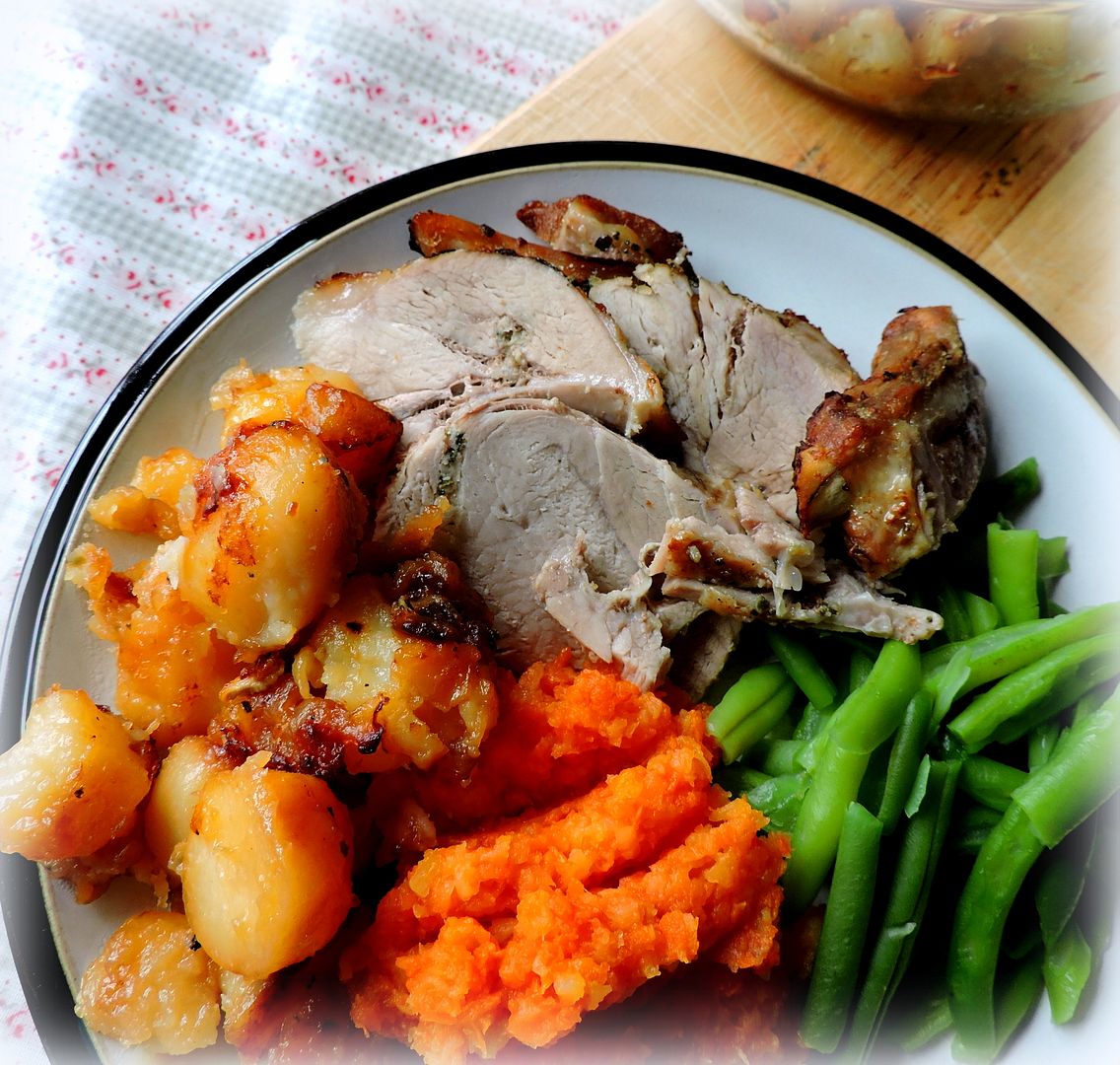 Take a sharp knife and cut slits down into the pork, large enough to get your finger into them. Reserving about 1 tsp of the garlic/herb mixture, push the remainder down into the slits. Spread the reserved tsp of garlic herb mixture over the outside of the roast. Remove the roaster from the oven and nestle the pork roast down into the potatoes. Drizzle with the remaining TBS of oil. Cover and return to the oven.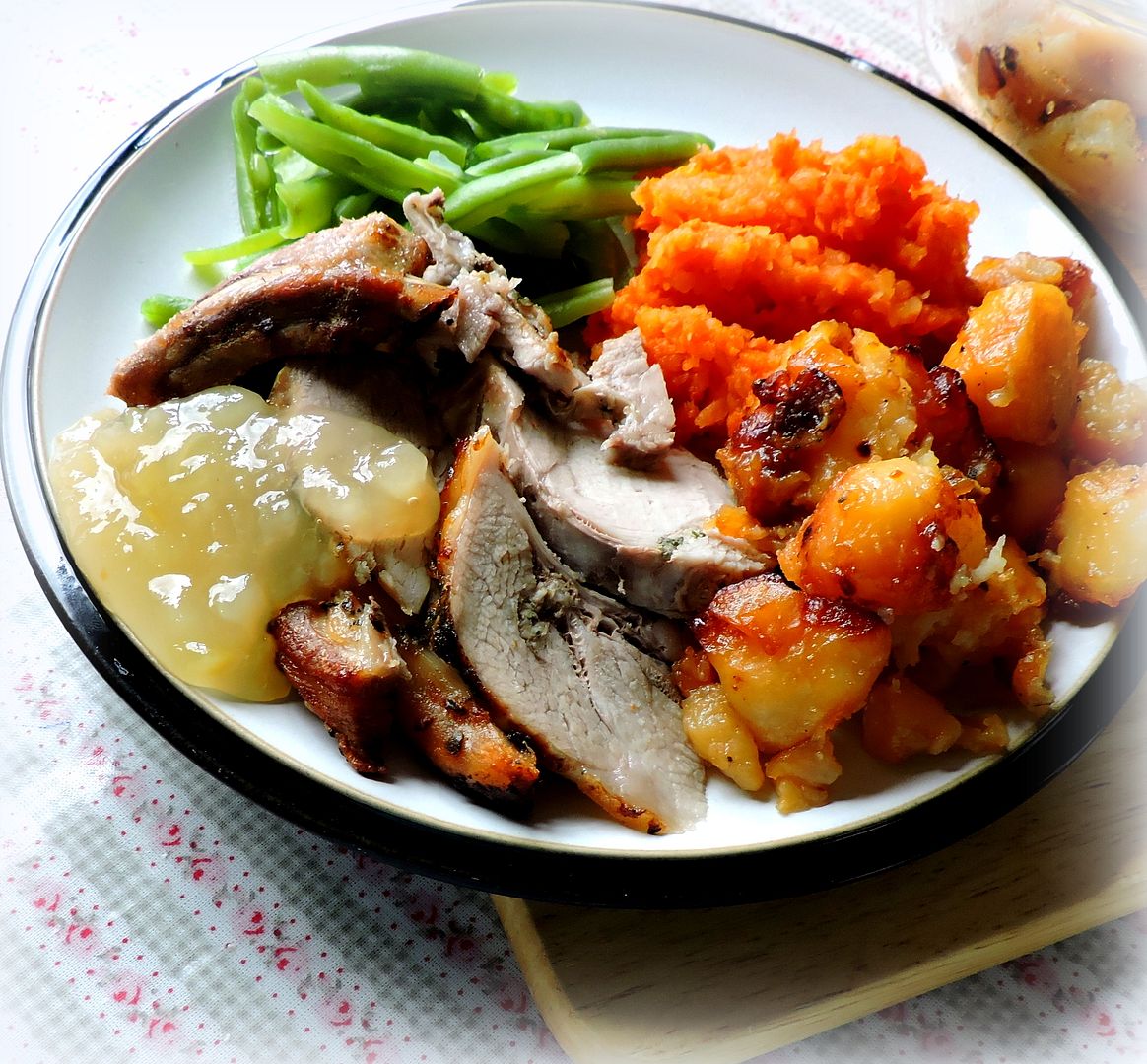 Roast for 1/2 hour. Remove from the oven and reduce the oven temperature to 170*C/325*F/ gas mark 3. Stir the potatoes up from the bottom. A few may be stuck, but unstick them if you can. Baste the pork with some of the pan juices. Cover and return to the oven.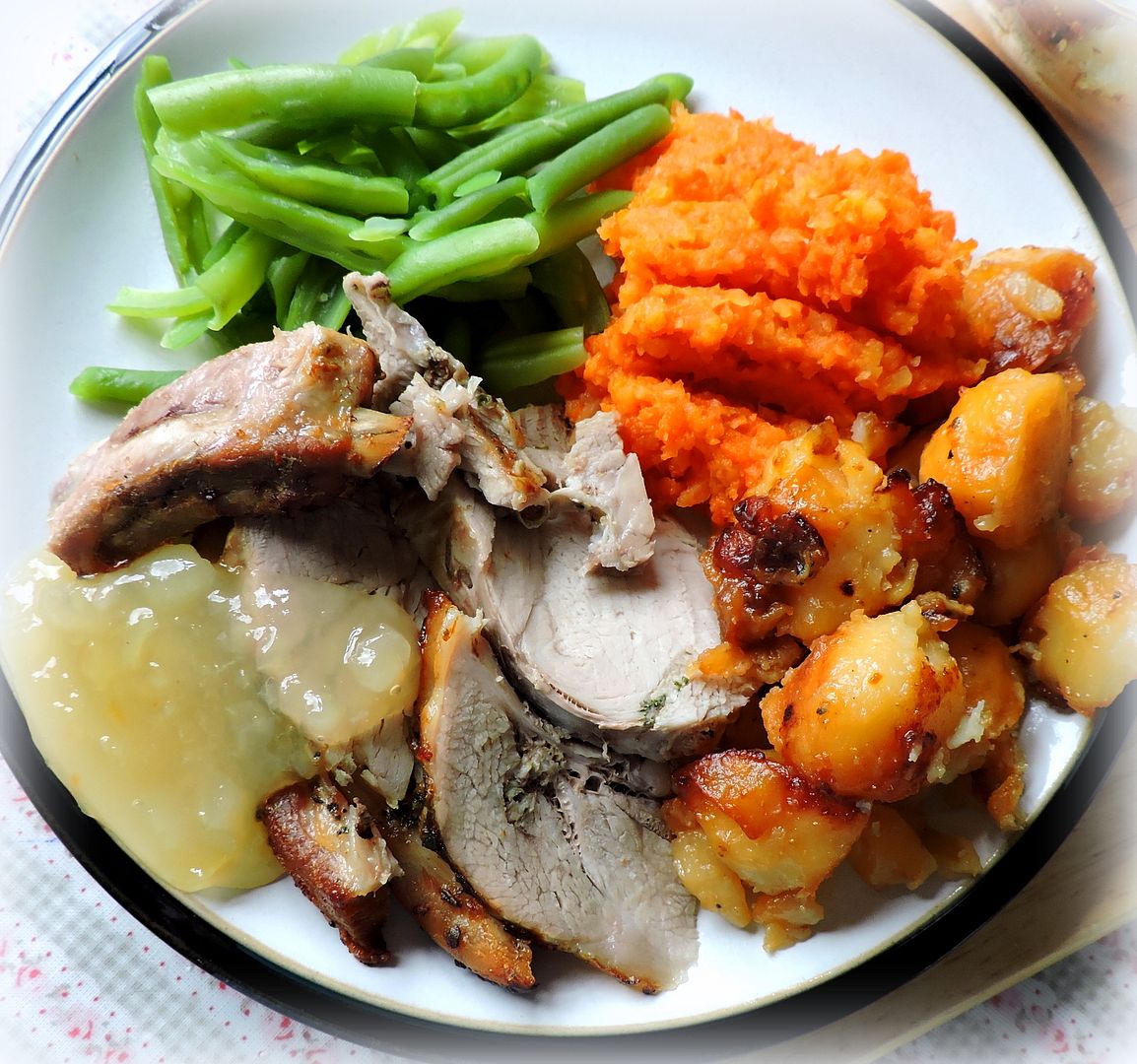 Roast for another 1 1/2 hours, basting and stirring the potatoes every fifteen minutes or so. The roast is done when the internal temperature is 62*C - 65*C/145*F-150*F. Uncover during the last half hour of roasting.
Remove the meat to a warm platter and tent lightly to rest. Stir the potatoes once more and turn the oven up to 220*C/425*F/ gas mark 7 to brown them off for about 10 minutes.
Carve the meat and serve with the potatoes, and you favourite side dishes. Don't forget the applesauce!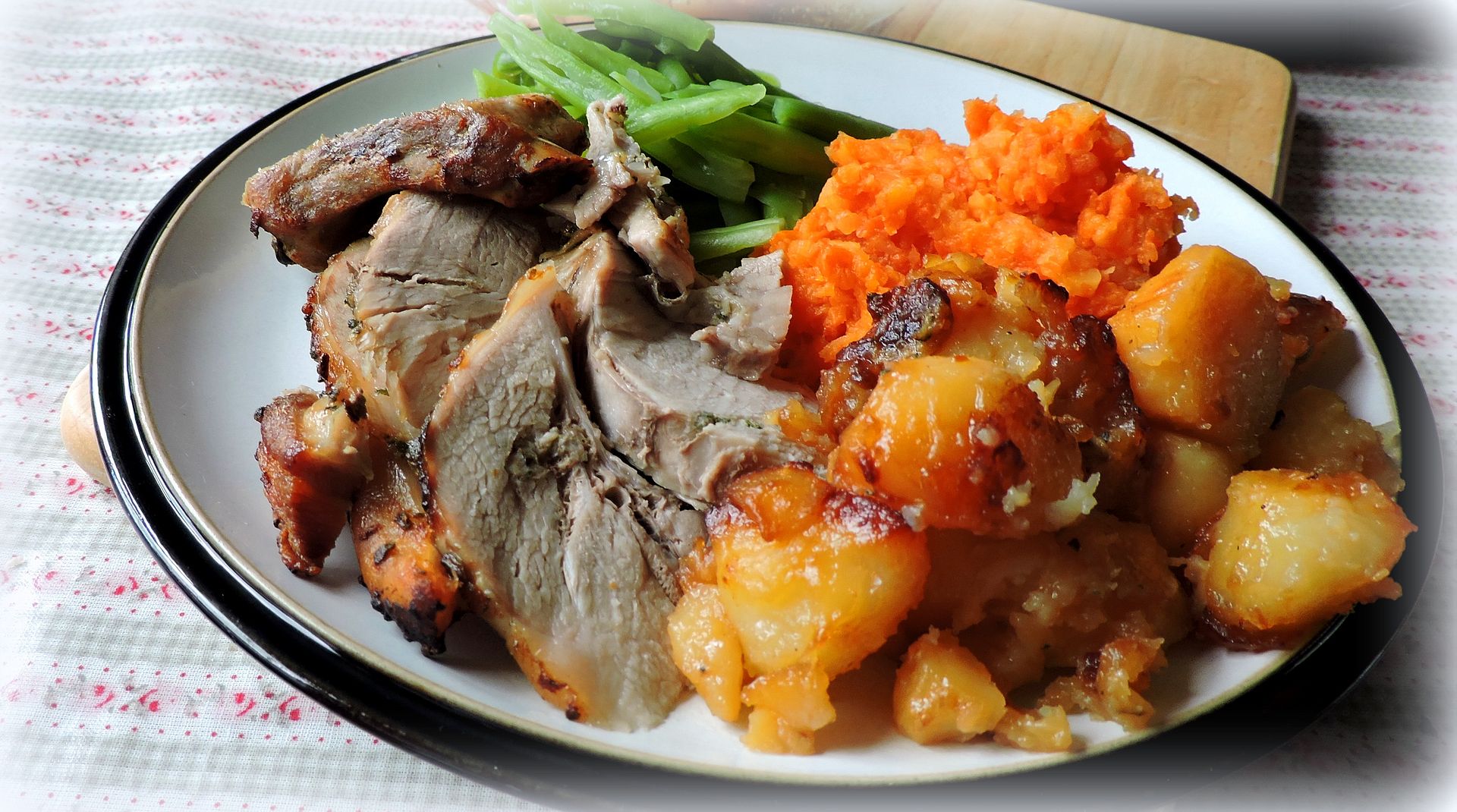 Tune in tomorrow to see what I did with the leftovers! Bon Appetit!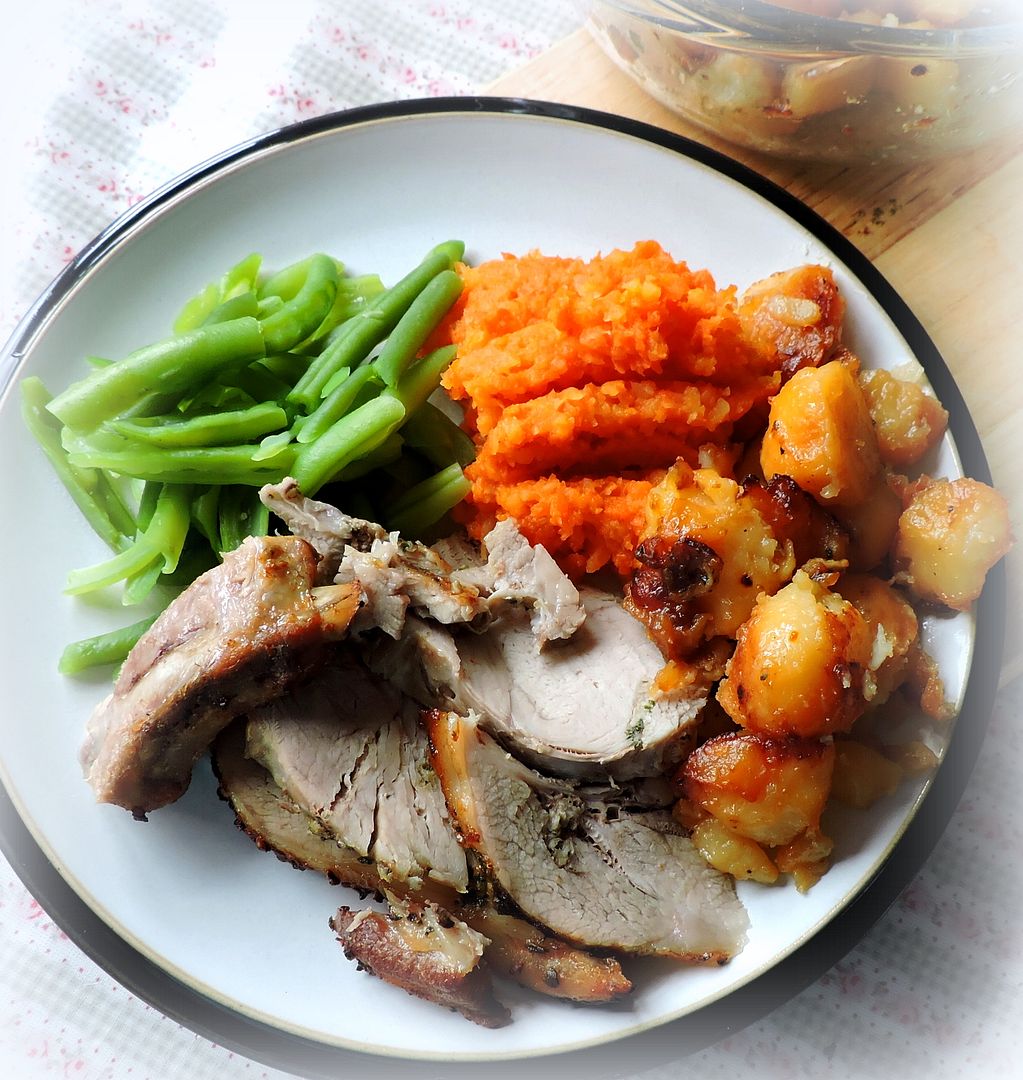 This content (written and photography) is the sole property of The English Kitchen. Any reposting or misuse is not permitted. If you are reading this elsewhere, please know that it is stolen content and you may report it to me at mariealicejoan at aol dot com.