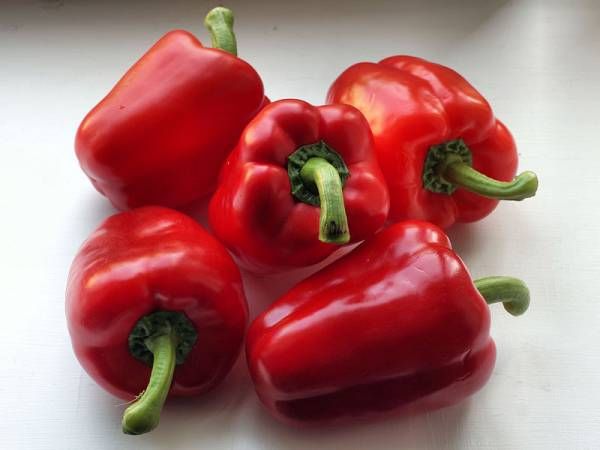 When my veggie box came this week, there were two lovely big and fat red peppers inside, amongst other things of course! I have always loved the flavours of peppers . . . raw and with dips, sliced and sauteed and in omelets (I like to use more than one colour in these), sliced and sauteed with beef strips to make pepper steak . . . the possiblities are endless. I never run out of ideas on how to use them!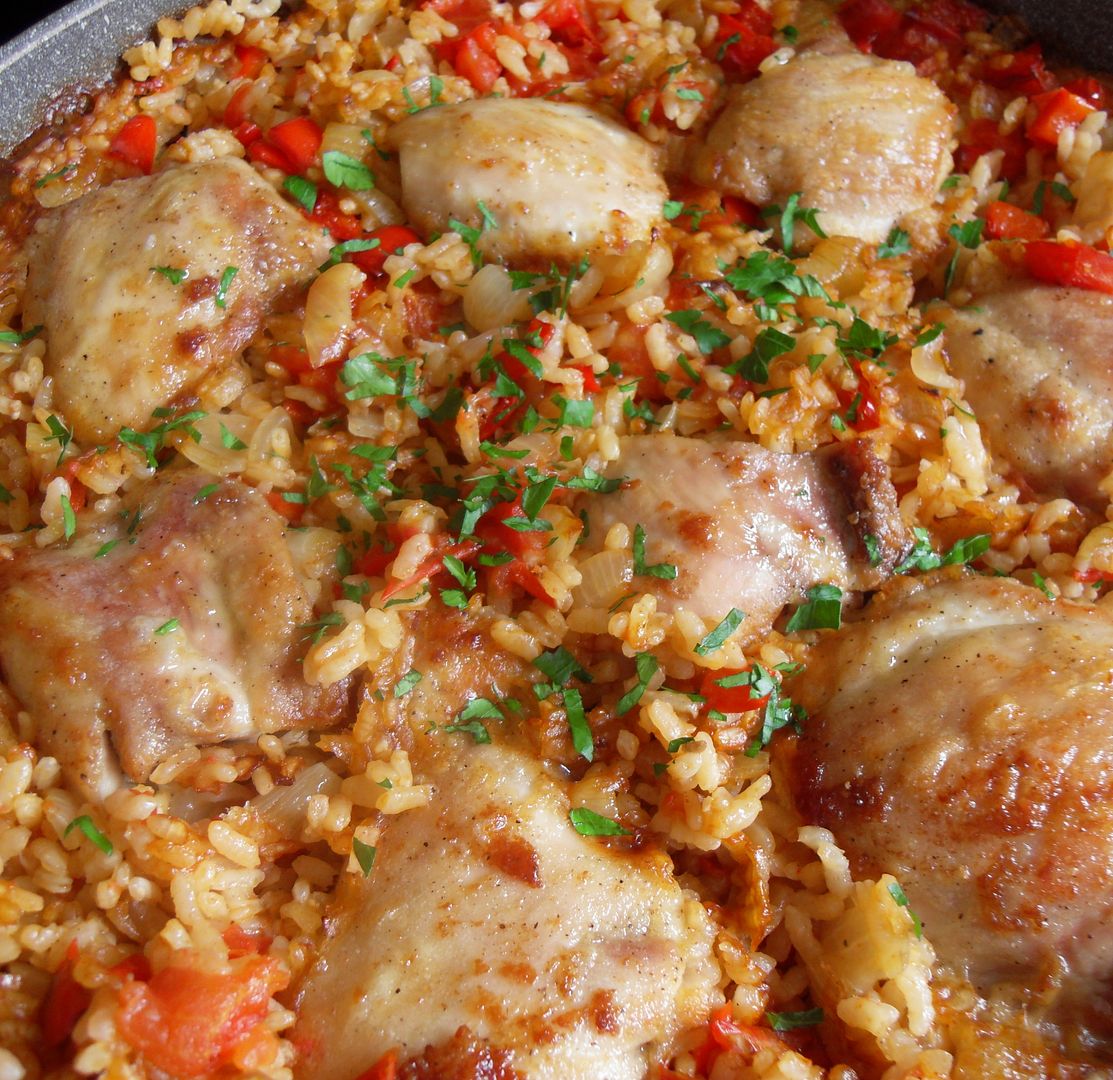 I actually love all kinds of sweet peppers, although in all honesty the green ones are a bit harder for me to digest these days. I have no idea why. Most of the peppers we get here in the UK come from green houses in Holland, so its a real treat to get locally grown fresh ones.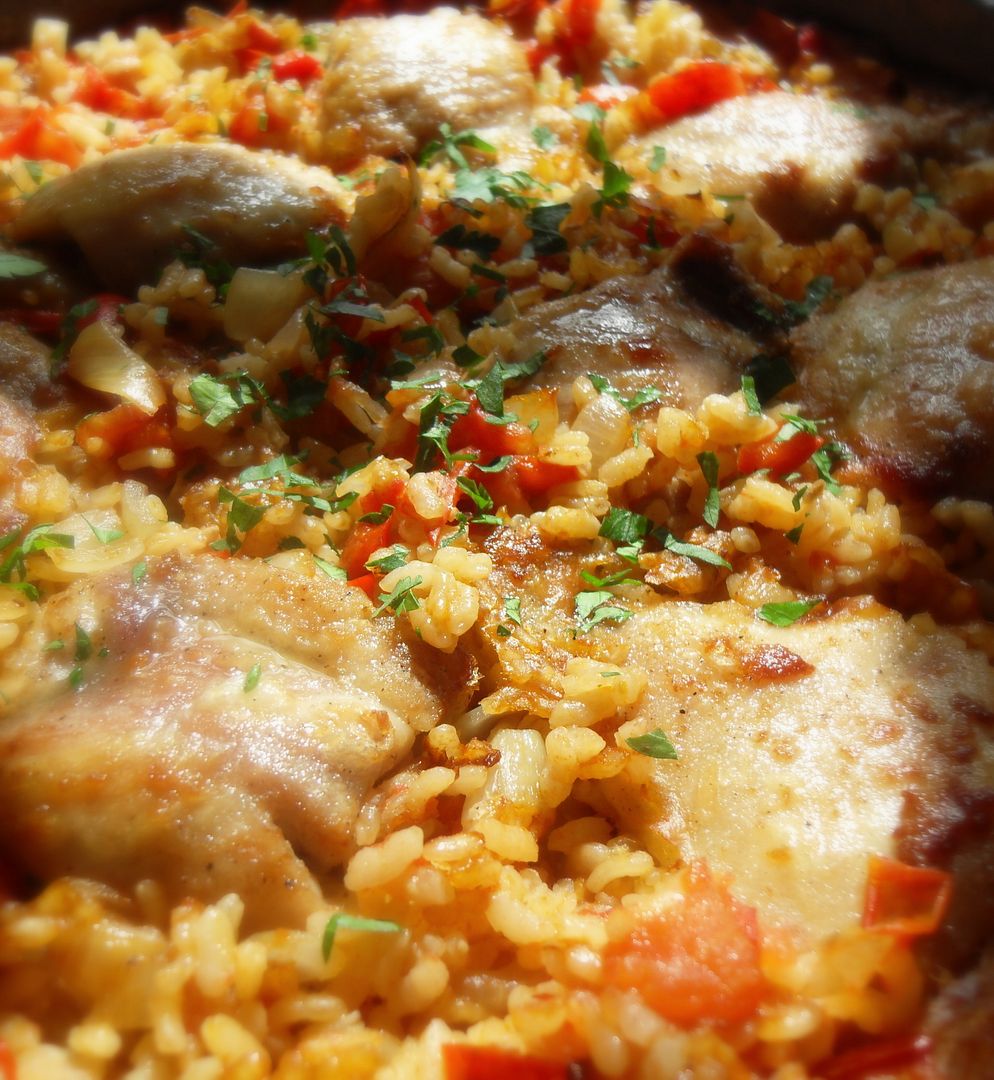 I love this way of preparing chicken. Its a dish which is loaded with Spanish flavours. I have never been to Spain actually. I am probably one of the few Brits who hasn't! But I hope to one day. I love Spanish Tapas . . . who doesn't like tapas! So I am sure I would love the food there.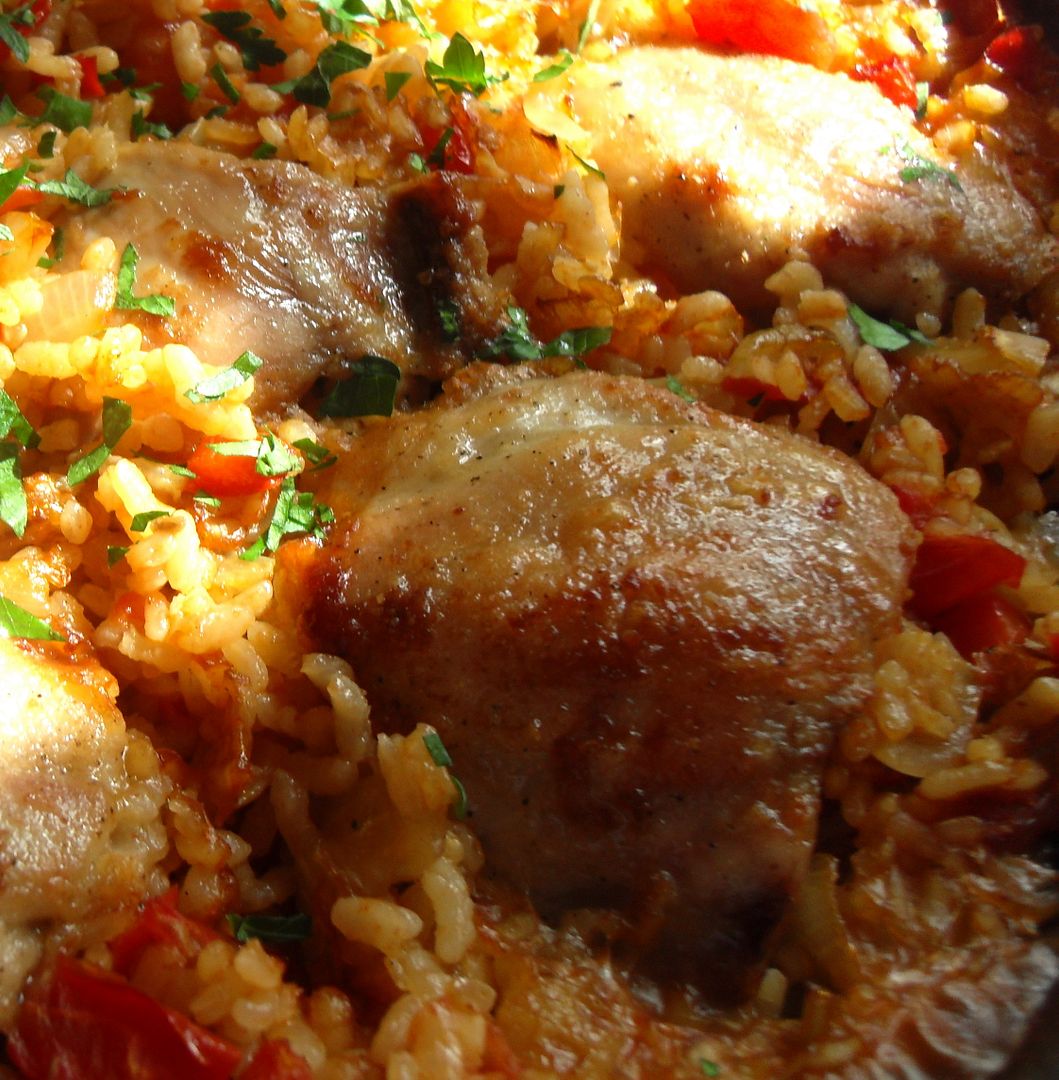 This recipe has smoked paprika, and paella rice, but feel free to use any short grained rice in it's place. I have never used long grain, but I expect it might work as well, although the cook times might differ a bit. I love the spark and earthy smokiness of smoked paprika. I have also used fresh tomatoes from our garden along with the peppers, and of course onions. Altogether this is a really delicious one pan meal that I think everyone will love! Chicken, peppers and rice are truly a delicious combination, don't you think??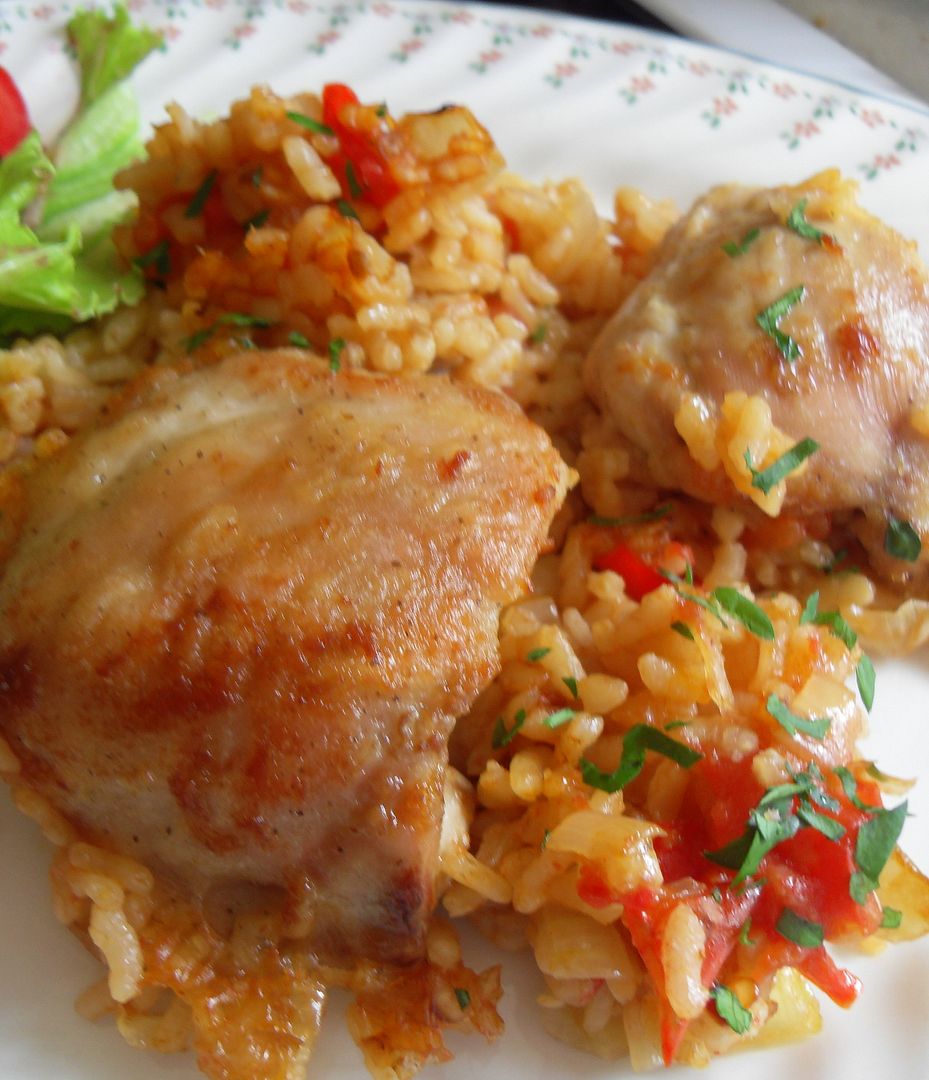 *Chicken and Pepper Rice*
Serves 4
Printable Recipe
Delicious, easy, impressive and filled with wonderful Spanish flavours like smoked paprika, peppers and tomatoes. A one dish meal that everyone will love.
1 TBS olive oil
8 meaty chicken thighs (bone in, skin on)
1 large onion, peeled and chopped
2 fat cloves garlic, peeled and minced
1 red pepper, seeded and chopped
1 medium tomatoes, chopped
1/2 tsp smoked paprika
250g Bomba Paella Rice (19 TBS)
75ml dry white wine (2 1/2 fluid ounces)
400ml of chicken stock (generous 14 fluid ounces)
chopped fresh flat leaf parsley to garnish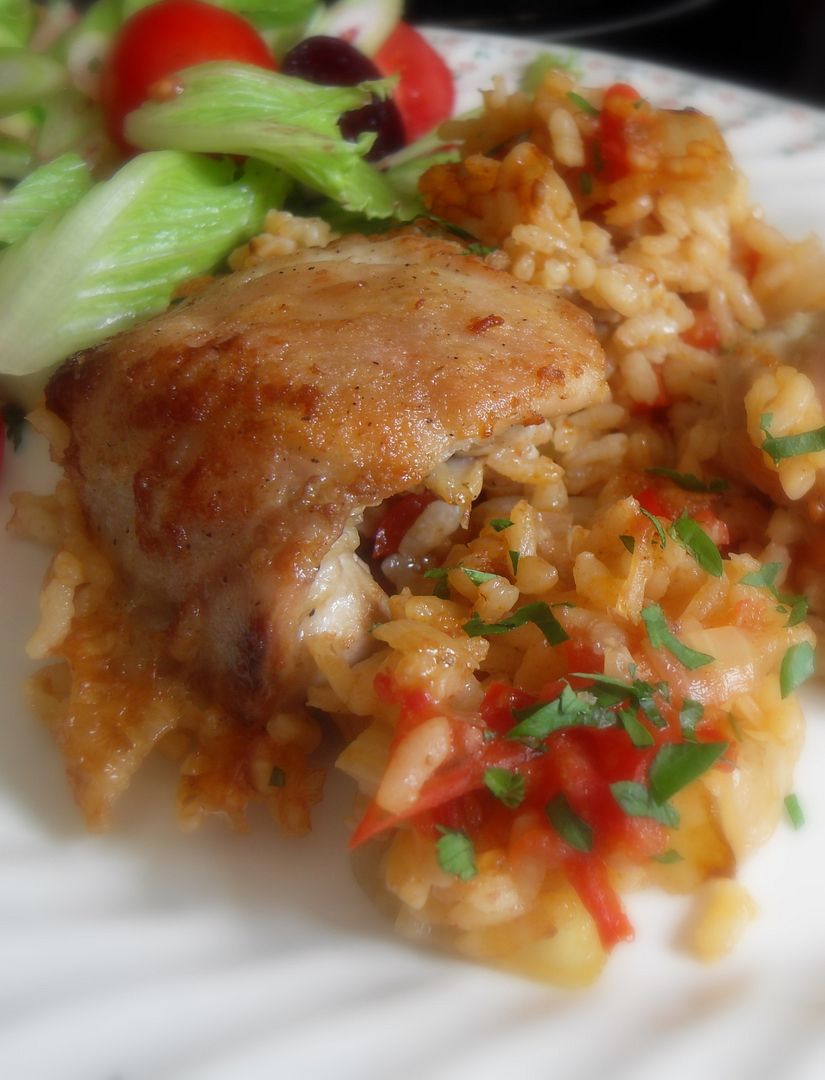 Pre-heat the oven to 180*C/350*F. Heat the oil in a large oven proof deep skillet or saute pan. Add the chicken and brown for 10 to 12 minutes until golden on all sides. Remove and set aside. Pour off all but 1 TBS of the fat. Add the onion, garlic, and red pepper to the pan. Cook for 5 minutes, stirring until soft and golden. Stir in the tomatoes, paprika, and rice. Coat in the oil. Add the wine and stock. Season to taste with some salt and pepper. Bring to the boil, then reduce heat and simmer, stirring, until the rice is no longer soupy, but not dry. Sit the chicken thighs on top of the rice, cover and transfer the pan to the oven for 20 to 25 minutes, until the chicken juices run clear and the rice is tender. Fork through the rice and sprinkle with the chopped parsley. Serve.
All you need is a salad on the side for a complete meal!
Bon Appetit!