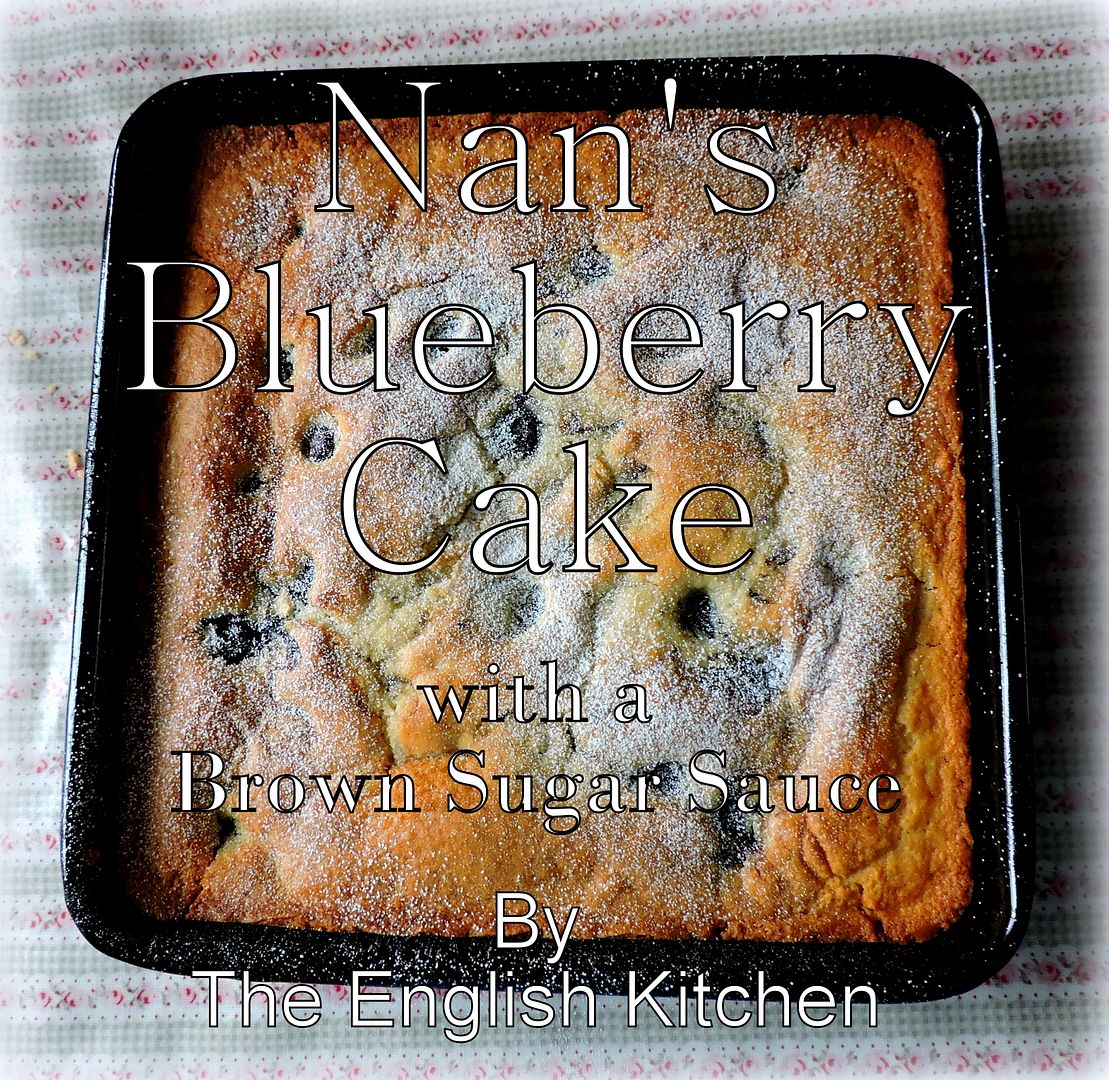 I was supposed to get a large order of frozen curries to trial on Friday and I had to go through the freezer to make room for them. I realised I had an awful lot of blueberries and decided to bake Todd a delicious blueberry cake with some of them. I also sent half of it over to our friend Doreen, who is celebrating her 86th Birthday this weekend! This is a very old recipe, but fabulously delicious!
There are actually two parts to it. First you have a lovely moist cake, studded with sweet blueberries . . .
It really is delicious, all on it's own . . . especially served slightly warm.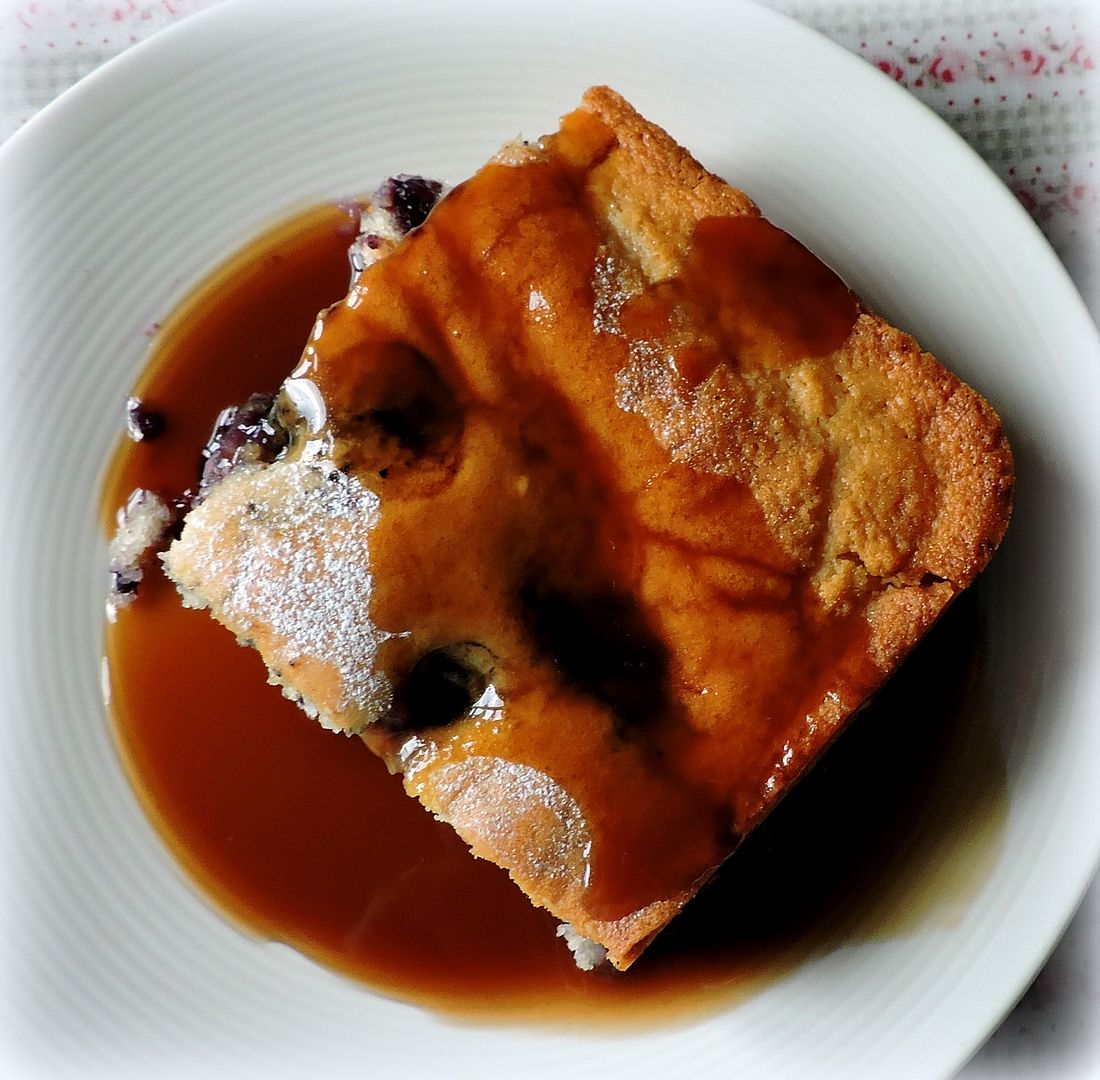 The second part is the delicious brown sugar sauce which you spoon over the cake to serve . . . rich and almost caramel flavoured . . .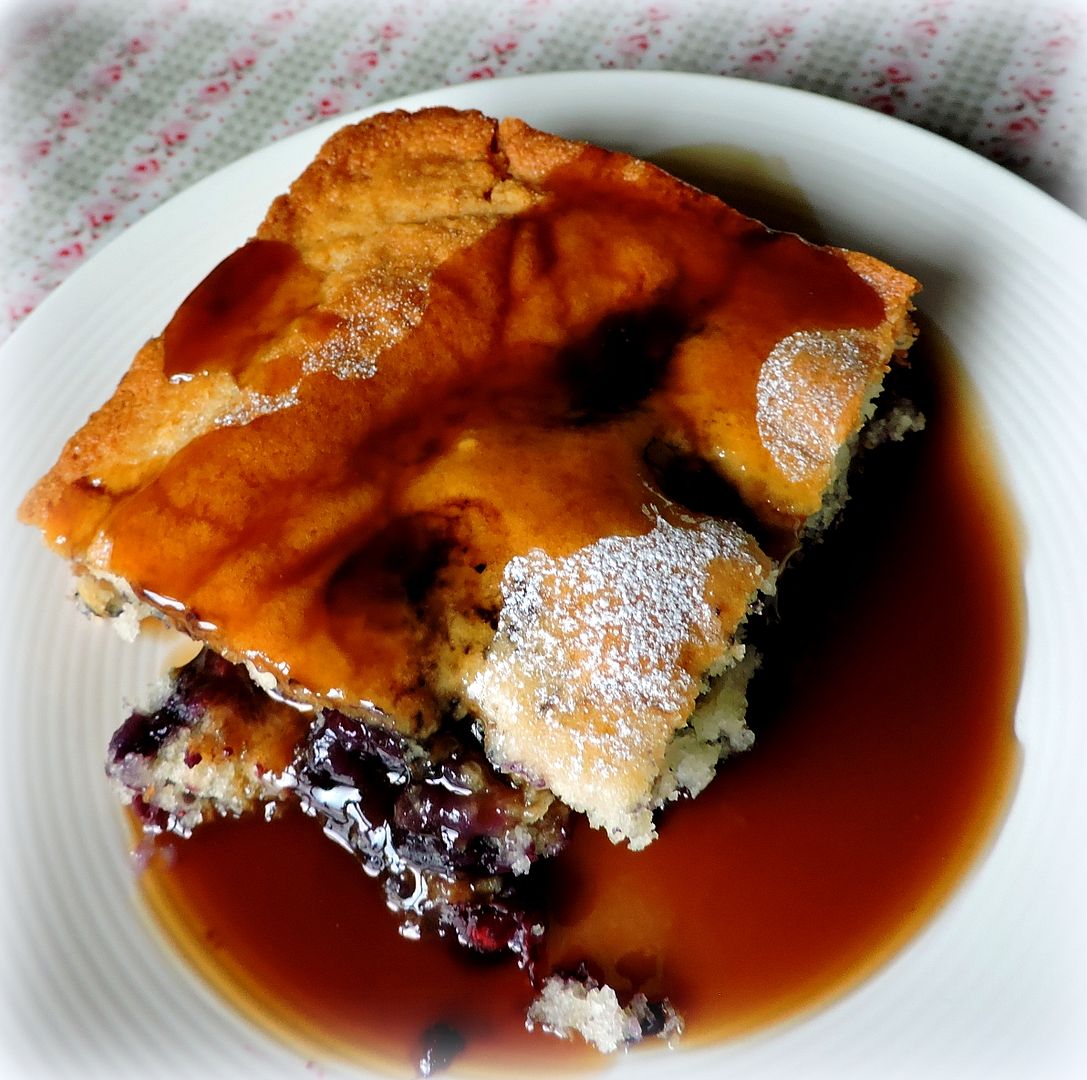 In fact I would call this quite simply . . . FABULOUS.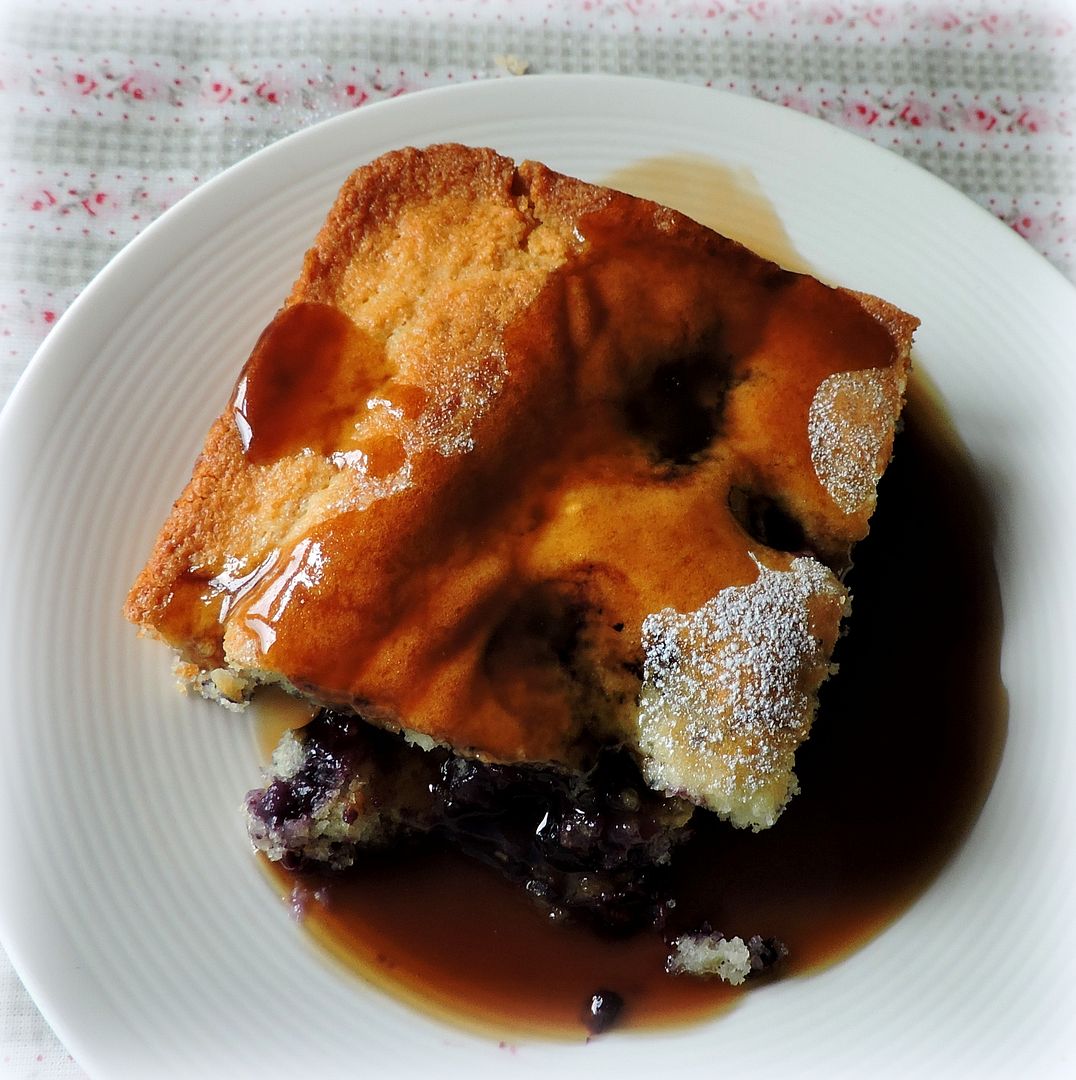 This might be a simple old fashioned cake, but it is anything but ordinary!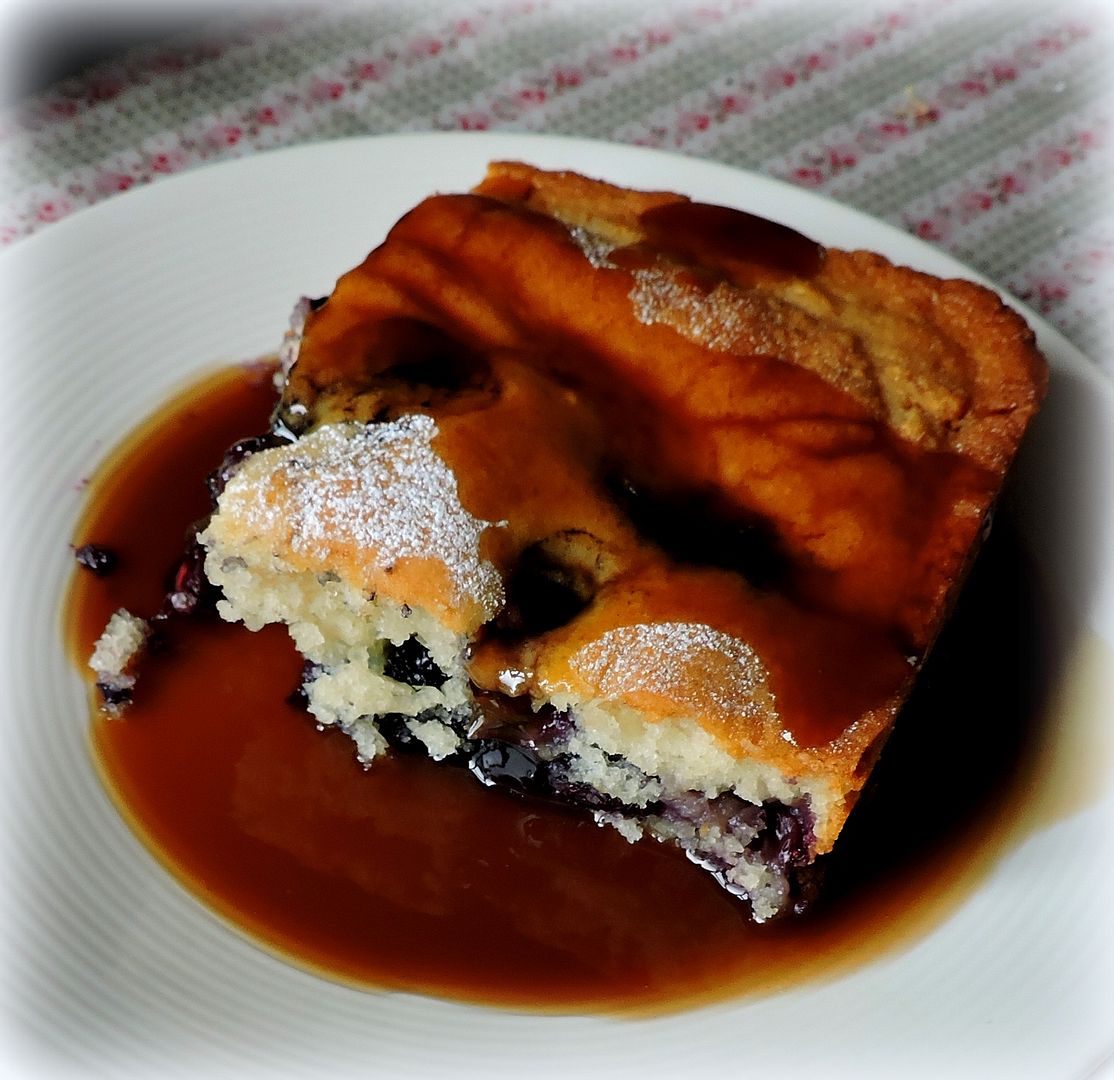 *Nan's Blueberry Cake*
with a brown sugar sauce
Serves 8
This is very simple and very delicious. Old fashioned family cooking.
55 g solid white vegetable shortening (1/4 cup, Crisco or the like)
145g of white sugar (3/4 cup)
1 large free range egg
1 tsp vanilla
280g plain flour (2 cups)
4 tsp baking powder
1/2 tsp salt
225ml milk (1 cup)
150g blueberries (1 1/2 cups) divided
For the sauce:
220g soft light brown sugar (1 cup packed)
1 1/2 TBS plain flour
pinch salt
225ml boiling water (1 cup)
1 TBS butter
1/2 tsp vanilla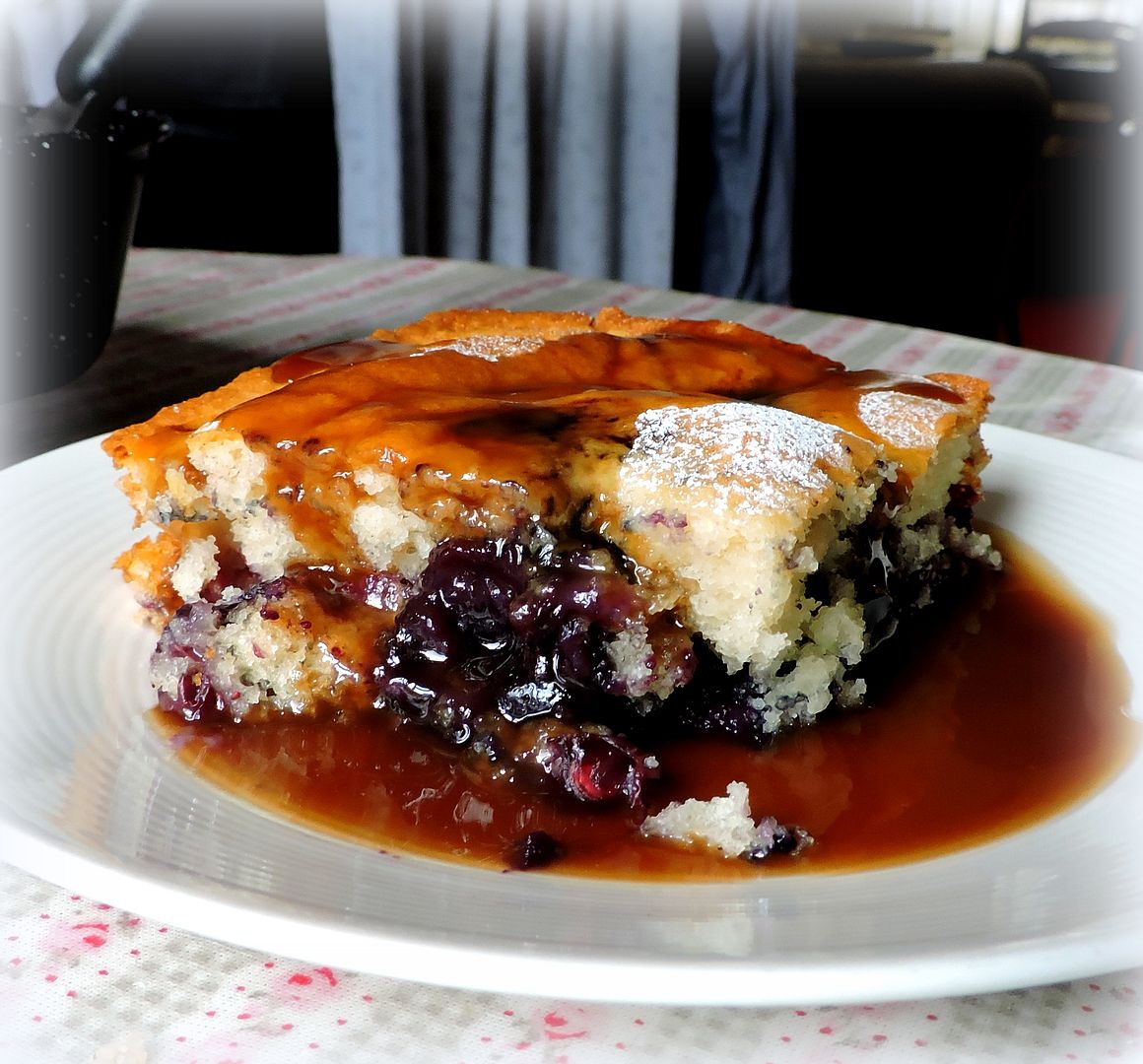 Preheat the oven to 180*C/350*F/ gas mark 4. Butter a 9 inch square baking tin. Set aside.
Whisk the dry ingredients for the cake together. Cream the shortening and sugar together until light and fluffy. Beat in the egg. Whisk together the milk and vanilla. Add the dry ingredients to the creamed mixture alternating with the milk mixture, beginning and ending with dry. Fold in 3/4 of the blueberries. Spread in the prepared pan. Sprinkle the remaining berries on top.
Bake for 35 to 40 minutes until golden brown and the centre is set.
While the cake is baking make the sauce. Whisk the flour and sugar together in a saucepan. Stir in the boiling water and cook over low heat until the mixture bubbles and thickens. Whisk in the butter and vanilla.
Serve the cake warm, cut into squares, with some of the brown sugar sauce spooned over top.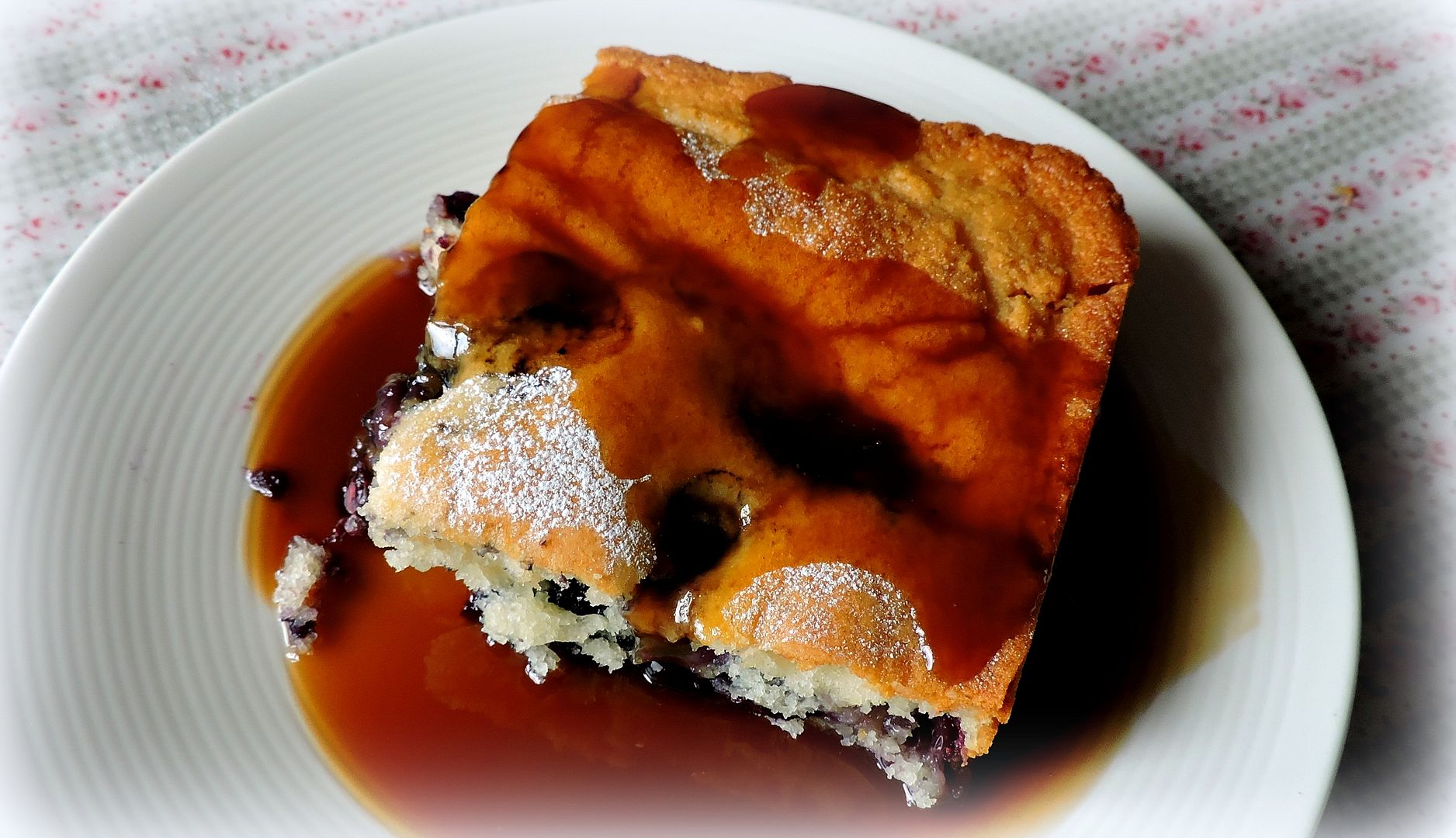 The cake on its own is faabulous, but this delicious brown sugar sauce takes it over the top. I think you will find also that the sauce is good on other things, like ice cream, apple cake, etc.
I hope you will try this! Bon Appetit!