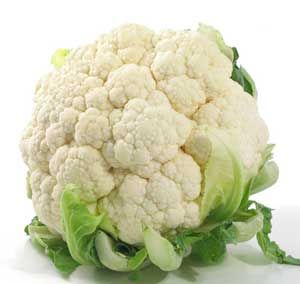 I am a person that really loves vegetables. I always have done, and none more so than those in the brassica family . . . cabbage, broccoli, cauliflower . . .
I think of them all cauliflower is my absolute favourite. All white and tasty, I love it raw and I love it cooked, on it's own, or in a soup. Anyway you cut it, or cook it, I just love cauliflower.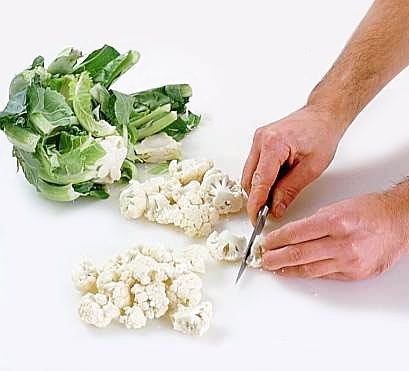 It's not a vegetable that I ever had when I was growing up. We never had broccoli either. I was an adult before I had either one, and I think my first taste of broccoli was in a Chinese stir fry, and it was absolute love at first bite.
Cauliflower cheese has to be one of my favouritest of the favouritest ways of eating cauliflower . . . you get the lovely bite of the cauliflower slathered in rich cheese sauce and the tasty crunch of buttery bread crumbs . . . all together in one delicious mouthful.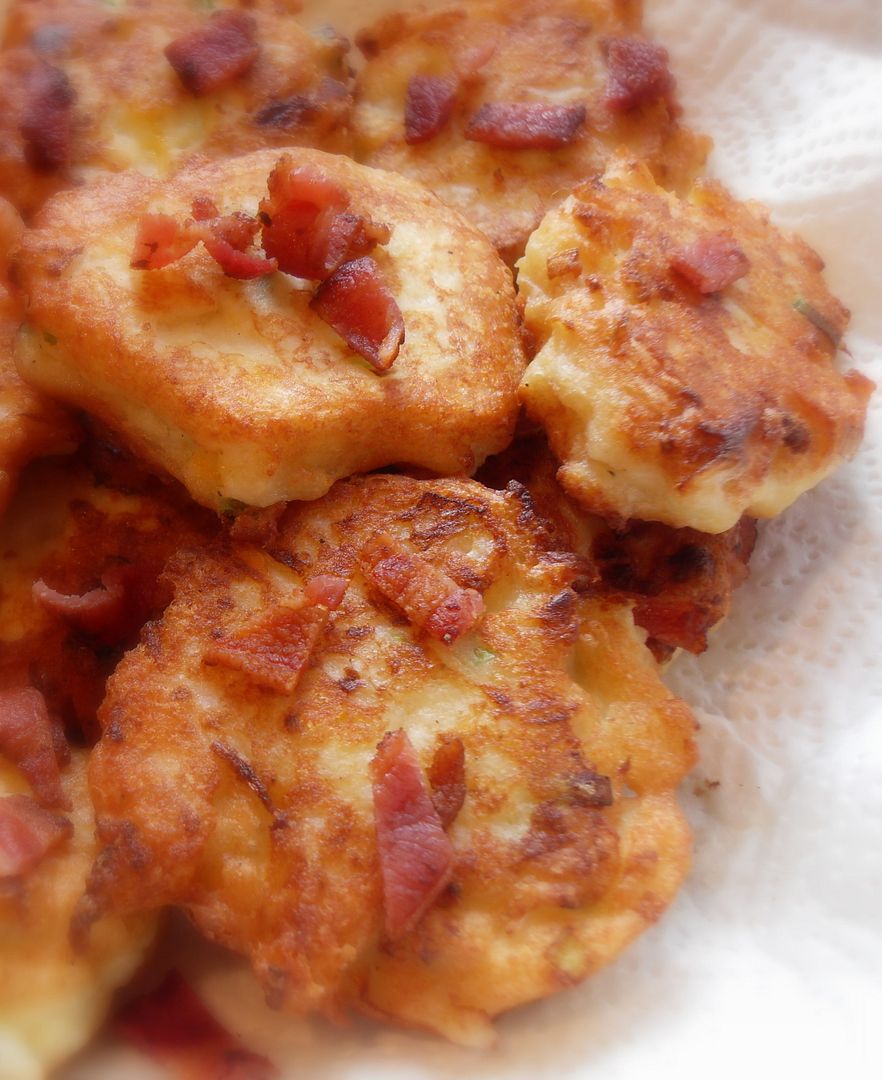 It's an unbeatable combination, and yes . . . come to think about it . . . I
DO
say that about a lot of things . . .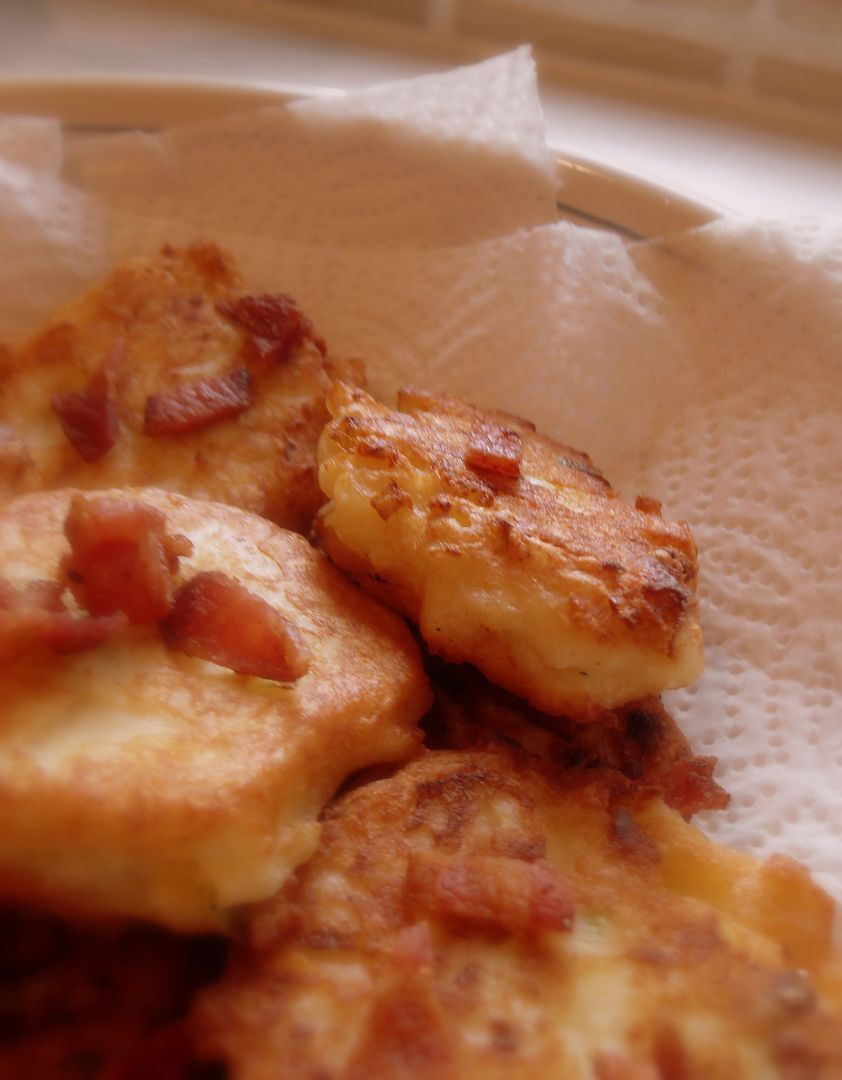 And then I discovered these.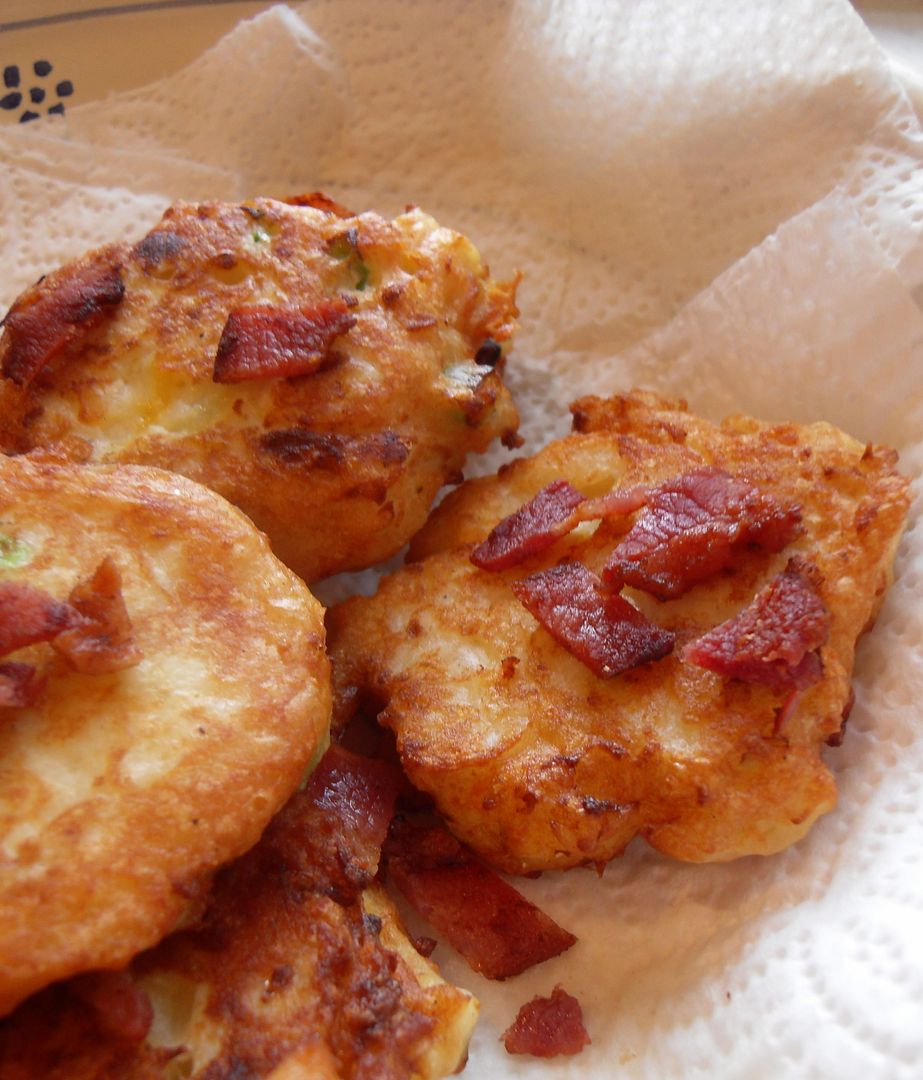 Cauliflower Cheese fritters.
Mashed potato, egg, chopped spring onion, cauliflower and cheese . . . deep fried and sprinkled with crispy bacon bits . . . need I say more?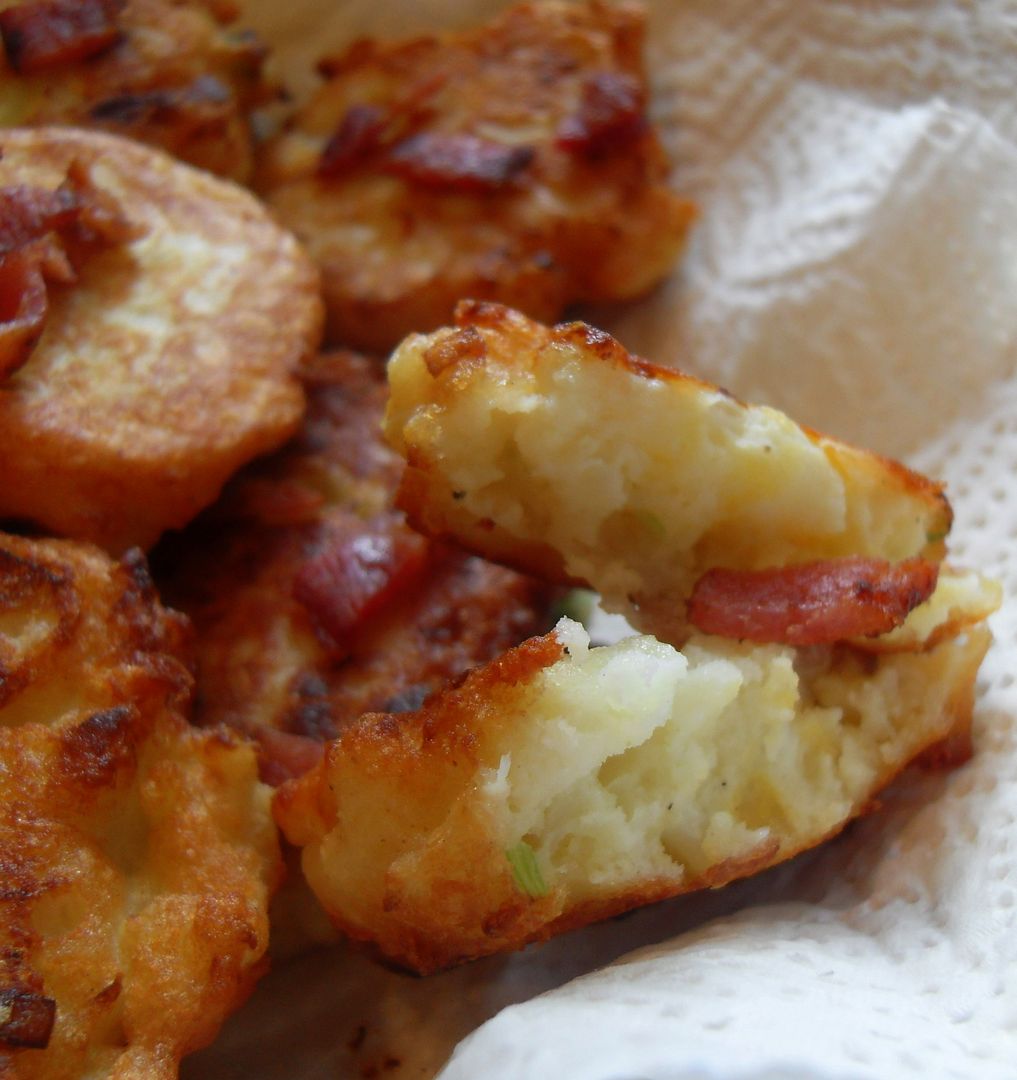 *Cauliflower Cheese Fritters*
Serves 4 people, approx 8 fritters
Printable Recipe
If you like cauliflower cheese you are going to love these fritters!!! Cauliflower, two types of cheese, spring onion and sprinkled with chopped crispy bacon. These are just wonderful!
8 ounces of floury potato, peeled and diced (1/2 pound)
8 ounces cauliflower florets (1/2 pound)
2 ounces finely grated parmesan cheese (1/3 cup)
1 ounces grated red leicester cheese* (1/4 cup)
1 spring onion, finely chopped
salt and black pepper to taste
1 large egg, plus one egg white
oil for frying
To serve:
crispy cooked bacon, chopped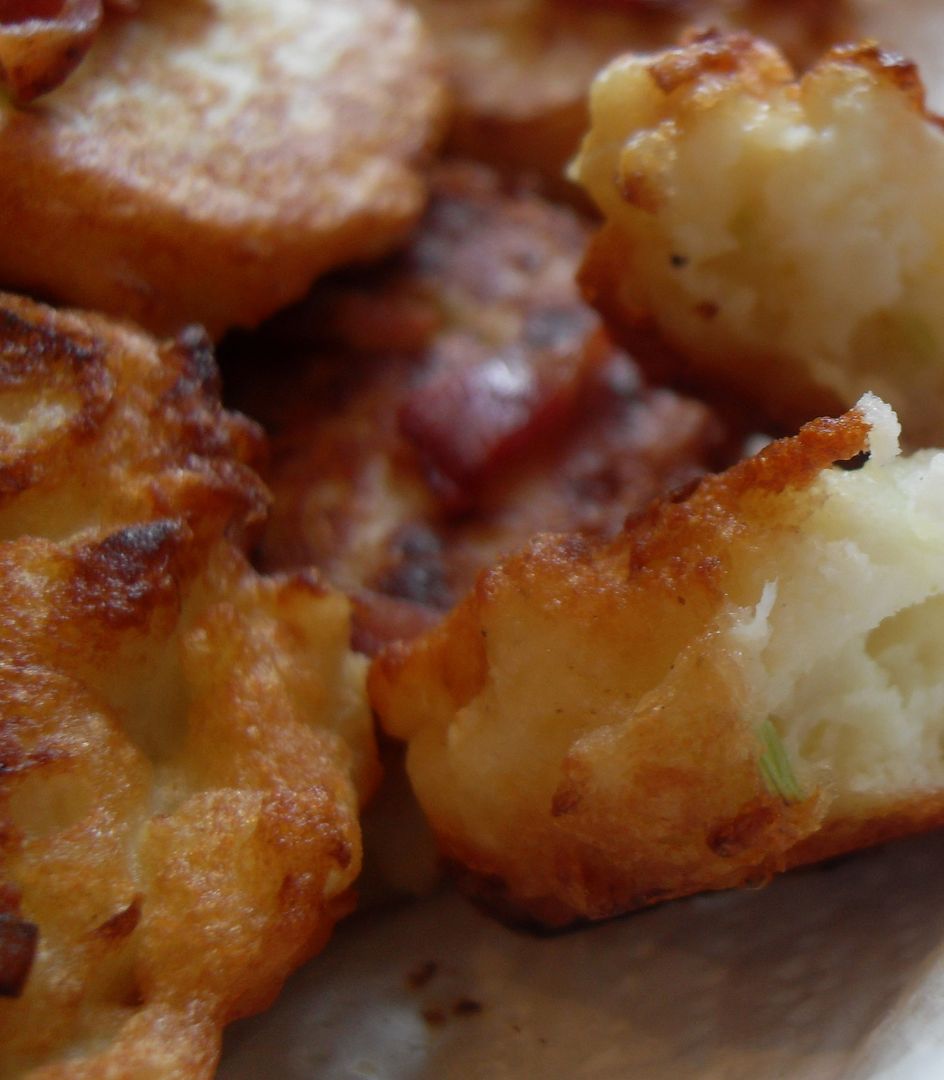 Place the potatoes in a pan of salted water to cover. Bring to the boil and cook until tender, about 10 minutes. Drain well and mash until smooth. Set aside.
Place the cauliflower in a pan of salted water to cover. Bring to the boil and cook until tender, about 10 minutes. Drain well and set aside.
Beat the egg yolk into the mashed potatoe, along with the cheeses and spring onion. Season with some salt and pepper, remembering that Parmesan is quite salty. Whisk the egg whites until soft folds form. Fold them into the mashed potato along with the cauliflower.
Heat some oil in a frying pan over medium high heat. Once hot, drop the fritter mixture into the hot oil and cook for 3 to 5 minutes, until nicely browned on both sides, turning once halfway through the cooking time. Serve at once, sprinkled with some crispy bacon bits. Delicious!
Note* I added the Leicester cheese for colour. You can add a strong flavoured cheddar if you wish instead, coloured or not.
I have a bonus recipe for today. They have shut down my blog A Year From Oak Cottage because I was no longer paying for the domain. Sad, but true. SO I am bringing the recipes I used to share over there here. Today . . . Chicken Salad Pie. Delicious.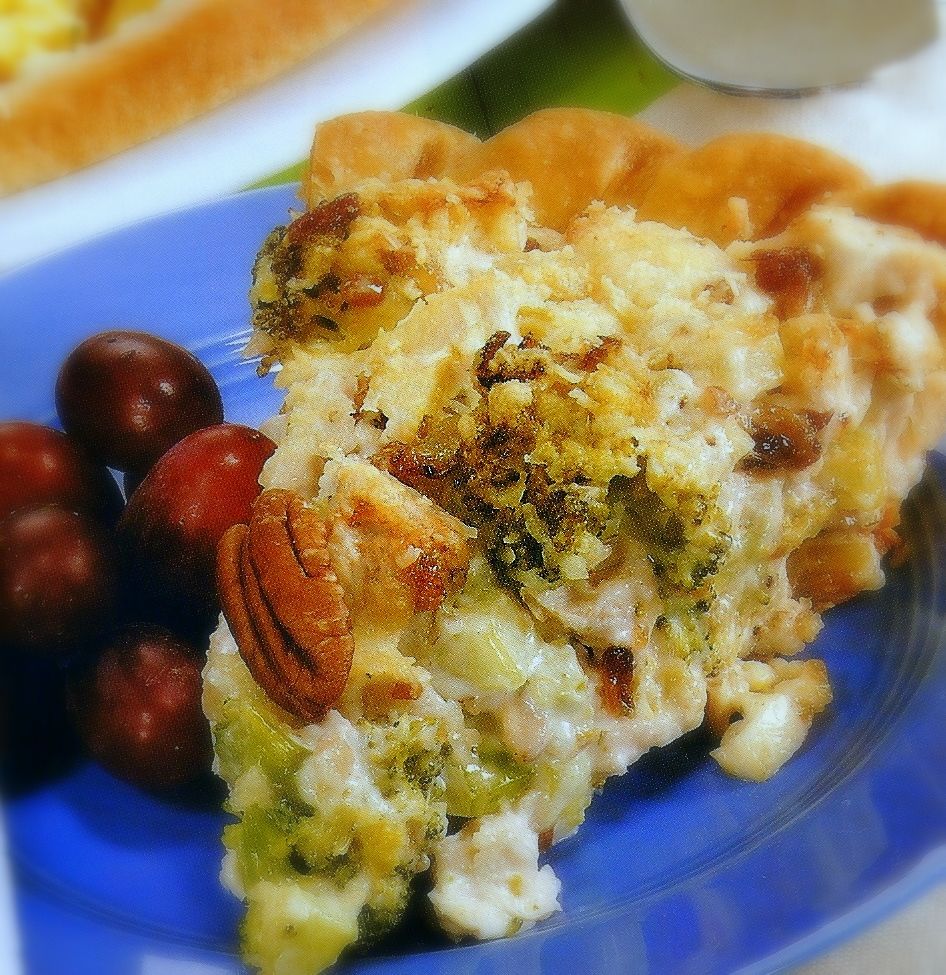 *Chicken Salad Pie*
Serves 8
Printable Recipe
Everyone's favourite chicken salad, except in a pie!!
pastry for a single crust 9 inch pie
2 cups cubed cooked chicken
2 cups chopped celery
2 cups frozen broccoli florets
1/2 cup chopped toasted pecans
1/4 cup minced onion
1/2 tsp dried tarragon leaves
1 1/2 cups mayonnaise
3 TBS dry white wine (or chicken broth)
1 1/2 tsp lemon juice
1/4 cup grated Parmesan Cheese
To garnish:
8 toasted pecan halves
red grapes
Preheat the oven to 220*C/425*F/ gas mark 7.
Line a 9 inch glass pie pan with the pastry, Trim and flute edges as desired. Do not prick the crust. Bake for 8 minutes. Remove from the oven and reduce the oven temperature to 200*C/400*F/ gas mark 6.
Combine all the remaining pie ingredients in a large bowl, with the exception of the cheese, mixing all together well. Spoon this mixture iinto the partially baked crust. Sprinkle with the Parmesan cheese.
Return to the oven and bake for 25 to 35 minutes longer, until golden brown and bubbling. Remove from the oven and allow to cool for 5 minutes before cutting into wedges to serve. Garnish each wedge with a toasted pecan half and a small cluster of grapes if desired.
Have a great Friday! Bon Appetit!