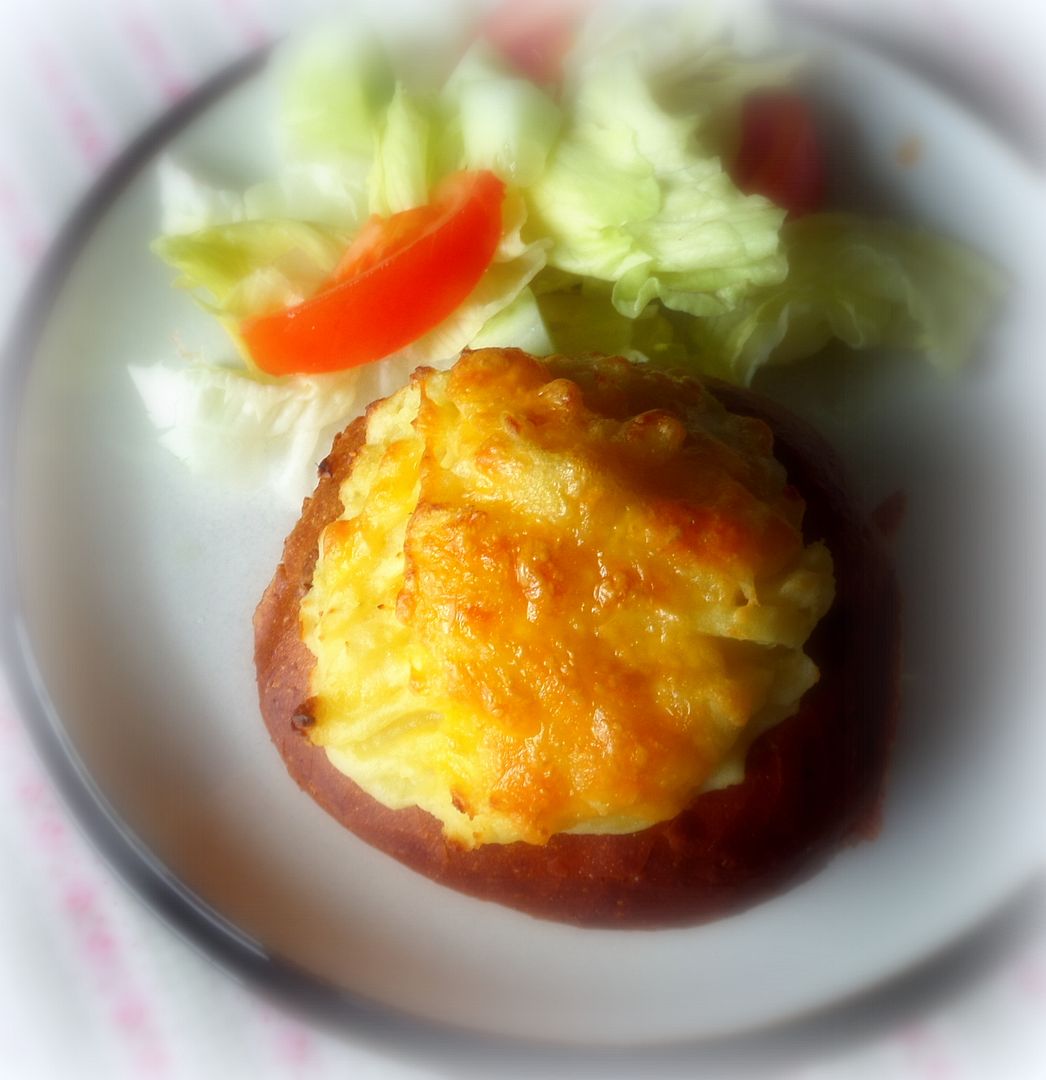 Do you remember these delicious
Crusty Lasagna Buns
? Tasty meaty lasagna sauce, stuffed into a bun, slathered with cheese and baked until the cheese oozes and the sauce is bubbling up. Oh so good with a salad on the side. Nom! Nom!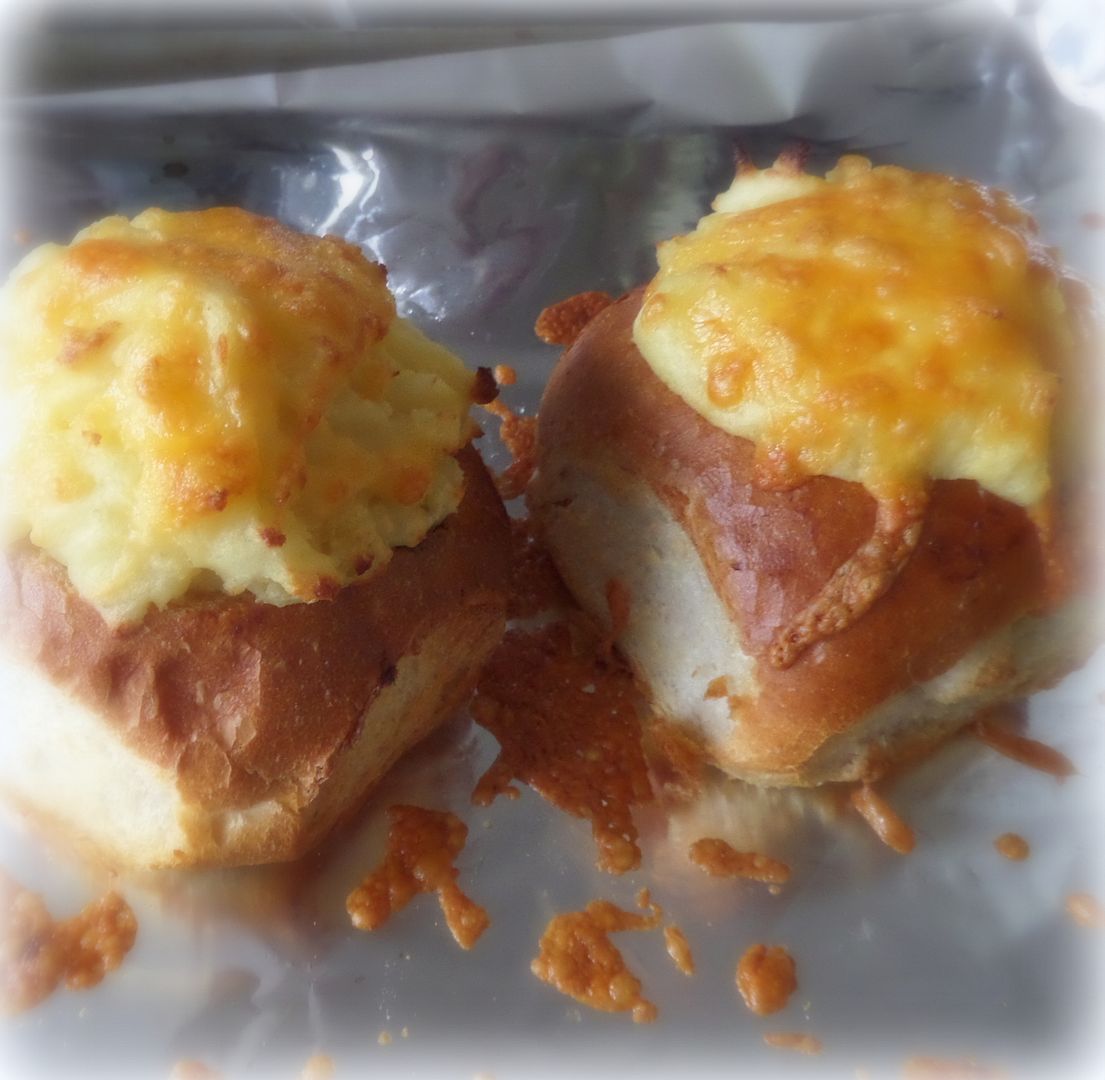 I got to thinking about those today and the wheels started turning and then the light went on. I thought, how about a Crusty Shepherd's Pie Bun??? Doesn't that sound scrummy! It does to me too!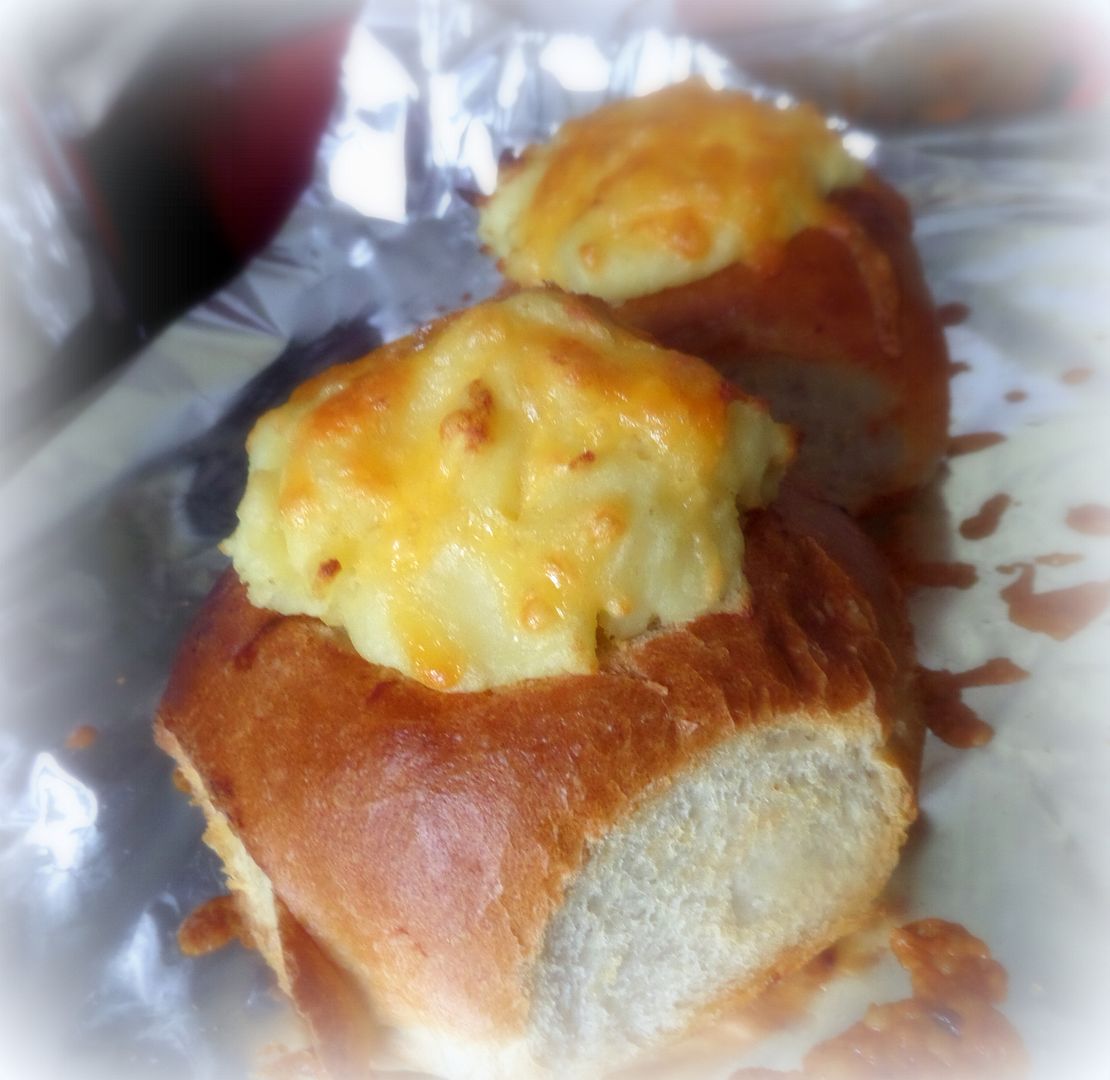 You know there is a huge difference between Shepherd's Pie and Cottage Pie. Most people seem to think they are interchangeable, but they really are not.
Shepherd's Pie = Lamb (Which only makes sense as Shepherds take care of sheep!)
Cottage Pie = Beef (So called for that lovely "Thatch" of potato which covers it!)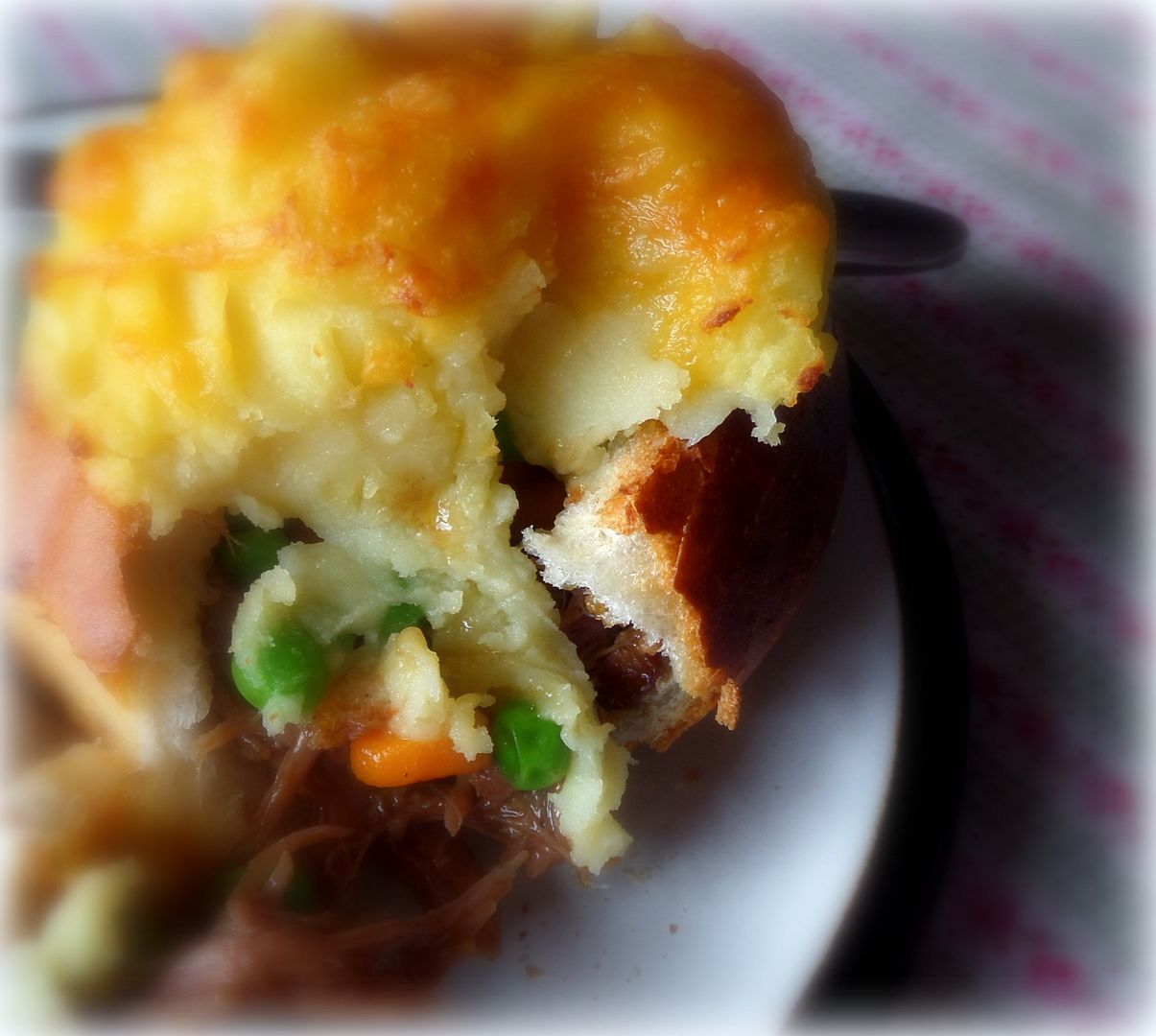 So anyways, I decided to create a delicious Shepherd's Pie bun with a delicious lamb filling on the bottom, topped with vegetables and creamy mash, stuffed into a crusty bun and then covered with some grated strong cheddar cheese, then baked until it's all bubbling and golden brown.
Sounds scrummy eh? I'll let you in on a secret. It was. ☺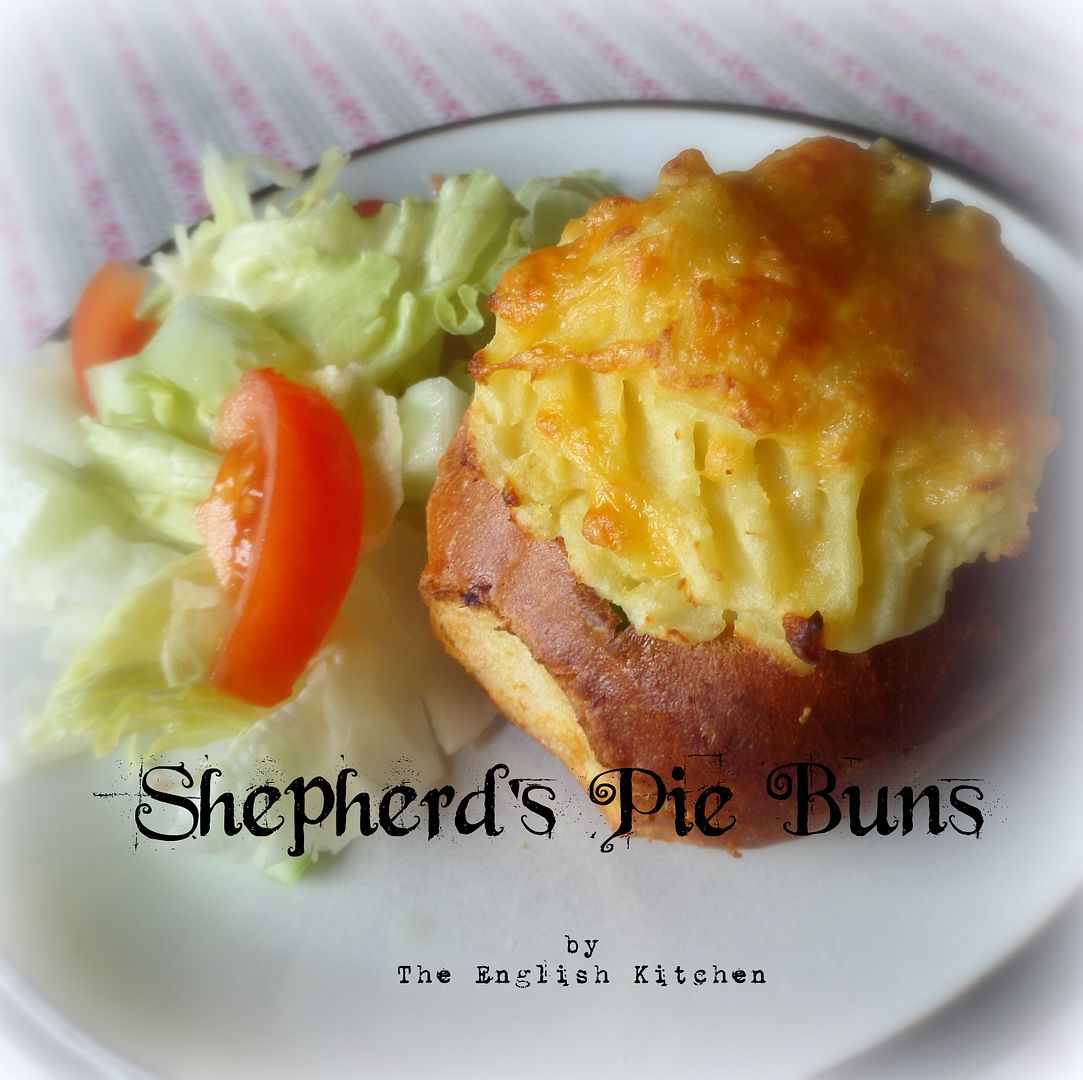 *Shepherd's Pie Buns*
Serves 4
One of your favourite family dinners in a bun. Deliciously different, with a tasty meat filling of minced lamb, topped with vegetables and a fluffy mash, sprinkle with cheese and baked in a crusty bun.

For the meat layer:
1 TBS oil
1 shallot, peeled and finely chopped
1 small carrot, peeled and grated
1 stick of celery, trimmed and minced
1 sprig of fresh thyme
375g (about 3/4 pound) of minced lamb
60ml of red wine (1/4 cup)
1 TBS tomato ketchup
1/2 tsp Worcestershire Sauce
1/2 lamb bouillion cube, crumbled
sea salt and black pepper to taste


1 cup cooked peas and carrots
For the mash:
1 pound of large floury potatoes (In the UK a Maris Piper is ideal, in North America
I would use a russet or idaho)
2 ounces unsalted butter (1/4 cup, or one half stick)
60ml of milk or cream, gently heated (/4 cup)
fine seasalt, freshly ground pepper and freshly grated nutmeg


4 large crusty buns
a handful of grated strong cheddar cheese

Heat the oil for the meat layer in a large saucepan. Add the vegetables and thyme, and cook over about 8 minutes over low heat, stirring from time to time, until glossy and beginning to soften. Add the lamb mince and increase the heat. Cook, stirring constantly, until the meat changes colour and separates. Add the wine, ketchup, Worcestershire Sauce, crumbled bouillion cube and some salt pepper to taste. Simmer over a low heat for 15 to 20 miknutes. It should still be somewhat juicy. If it isn't add a bit of broth. Check the seasoning and adjust as needed. Keep warm.

Peel and quarter the potatoes then place the potatoes into a pot of lightly salted water to cover. Bring to the boil and cook for 20 to 25 minutes until fork tender. Drain well in a colander and then return them to the hot pot. Cover with the lid and give them a good shake, which will help to break them up. Add the butter and warmed cream or milk, adding the latter a little at a time, whilst mashing the potatoes, only adding as much as is needed to give you the correct consistency. Season to taste with salt, pepper and nutmeg. The potatoes should be light, fluffy and creamy. Keep warm.
Preheat the oven to 200*C/400*F/ gas mark 5. Have ready a baking tray. Cut a thin sliver off the tops of each of the crusty rolls. Using your fingers remove as much of the insides of the buns as you can, without tearing the outside. You should have a thin shell. Place them onto the baking tray. Divide the meat filling between each of the four rolls, Pressing it down lightly. Divide the cooked vegetables between each bun, placing them on top of the meat filling. Divide the mashed potatoes amongst each bun, piling it on top of the vegetables and roughing it up with a fork. Sprinkle the cheese over top of all and then place the baking tray in the oven.
Bake for 10 to 15 minutes, until the cheese is golden brown and everything is piping hot. Serve immediately.
No, you are not imagining things. This is a repost from an earlier date, year, etc. My main computer got fried yesterday. If you want to know how that happened you will have to skip over to my main blog where I am going to shortly tell the story. In any case, I have lost everything. Boo hoo. Colour me sad. I need to learn how to use a cloud. That way it won't happen again. See you tomorrow, hopefully with something new. Bye for now!