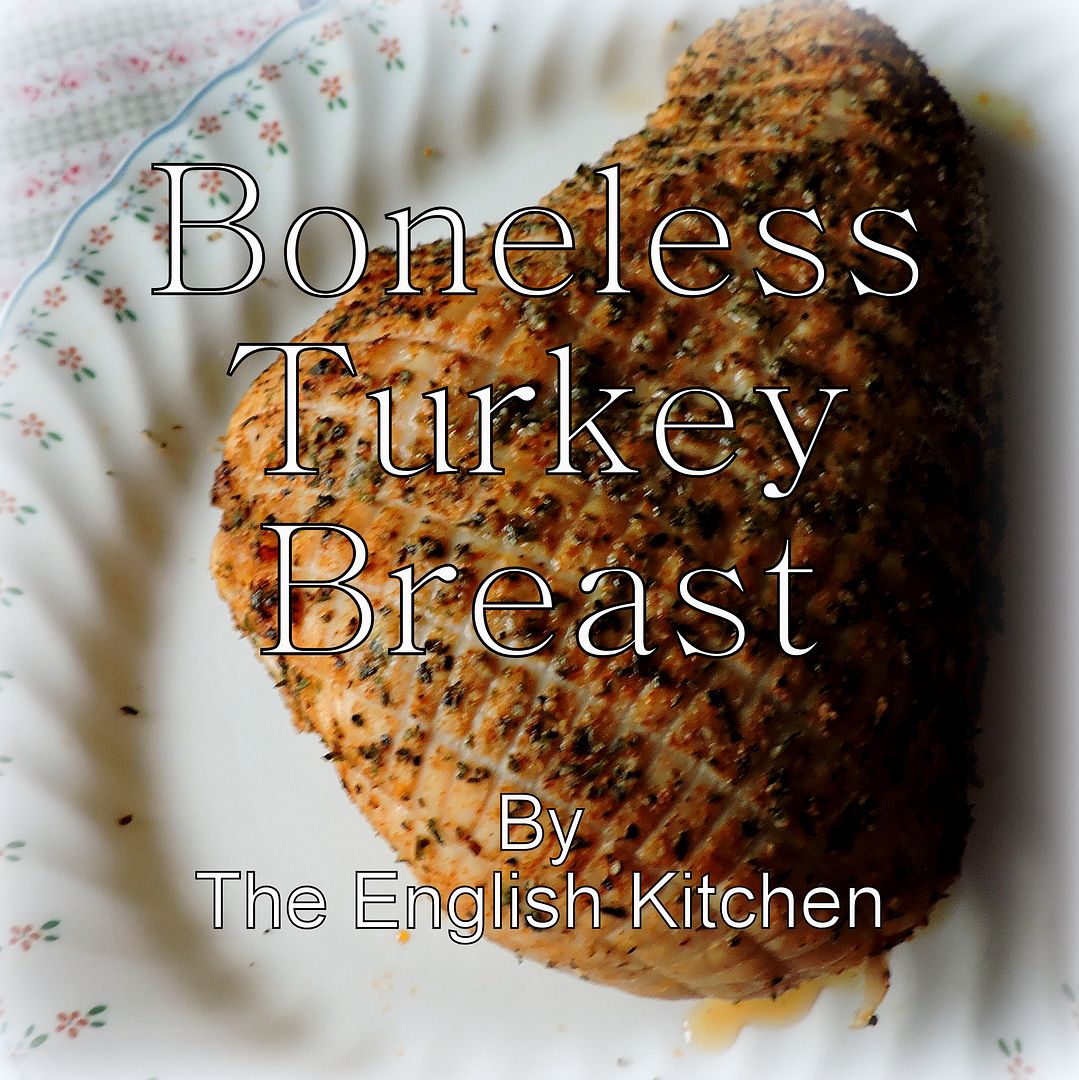 The Canadian Thanksgiving is coming up in just a few weeks now and the American about a month or so later and then of course Christmas is on top of that. If you are a small family that don't want to cook a whole turkey, or a larger family that wants a bit extra on top of the family turkey, or even if you just want to cook some turkey to have for the week ahead to use in sandwiches or casseroles, I have a real winning recipe for you here today. This always results in a moist and well flavoured roast, which is perfect sized for all of those needs!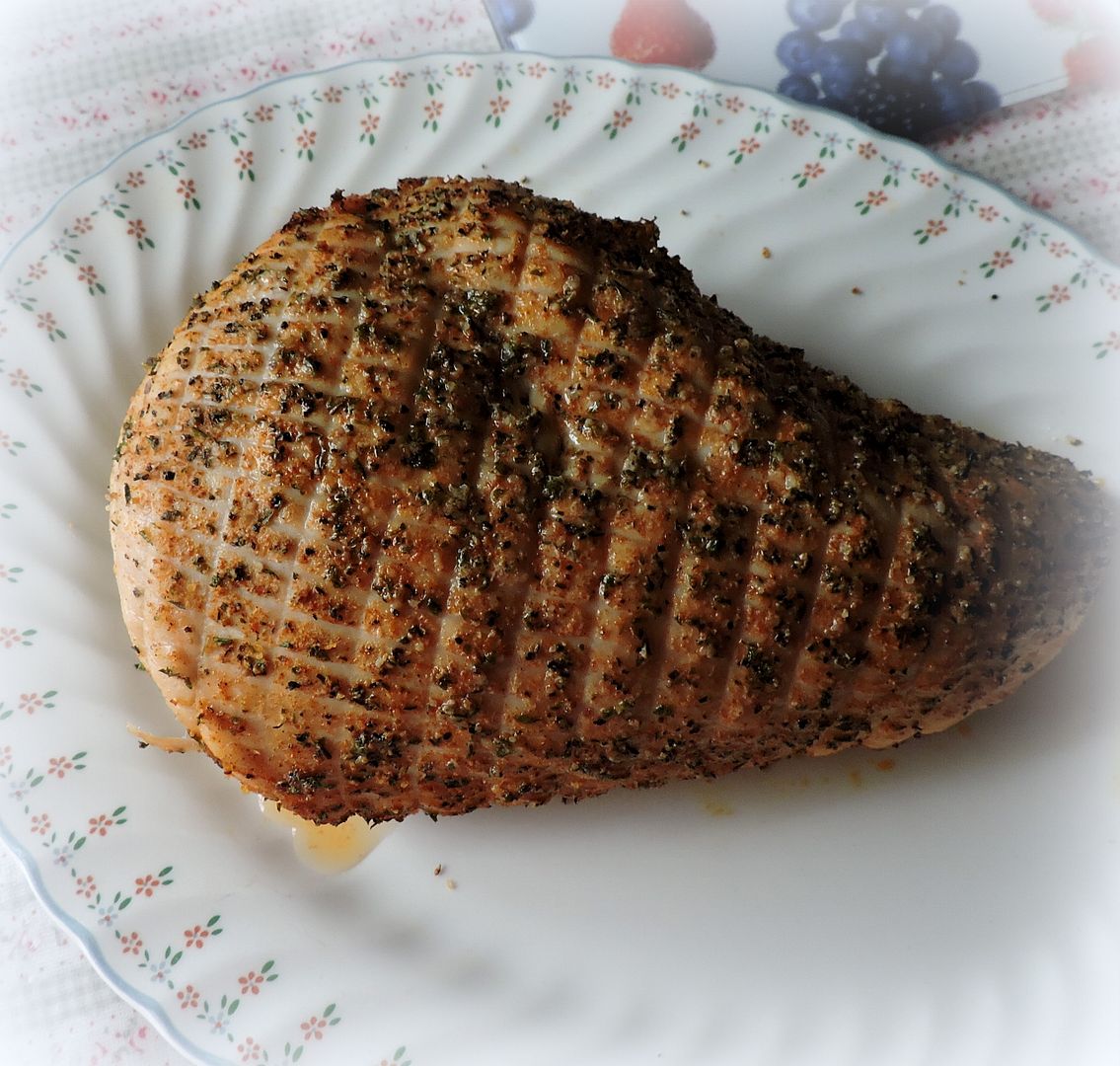 White turkey meat is a very lean meat and can oftimes turn out dry and lacking in flavour. And when you take the bone and skin away, the risk of that is even higher. I can totally guarantee that if you follow my instructions exactly you will end up with a perfectly cooked and moist piece of white turkey meat!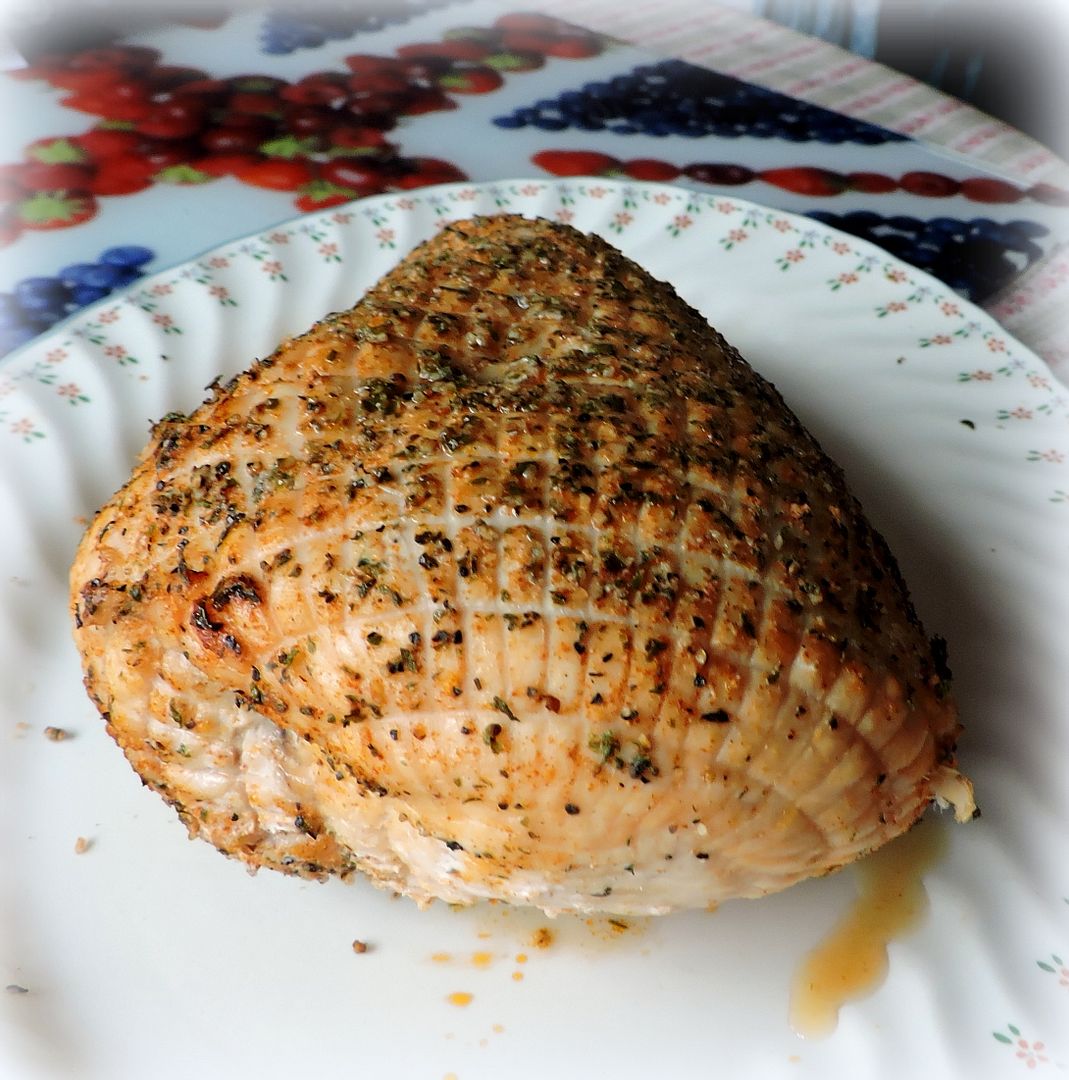 I use a piece of boneless turkey breast about 2 1/2 pounds in weight and covered with an elastic netting. I start off with a delicious spice rub . . . seasoned salt, sweet paprika, onion and garlic powders, sage, parsley, marjoram and thyme, along with some coarse black pepper. I mix this with a bit of olive oil and rub it all over the meat.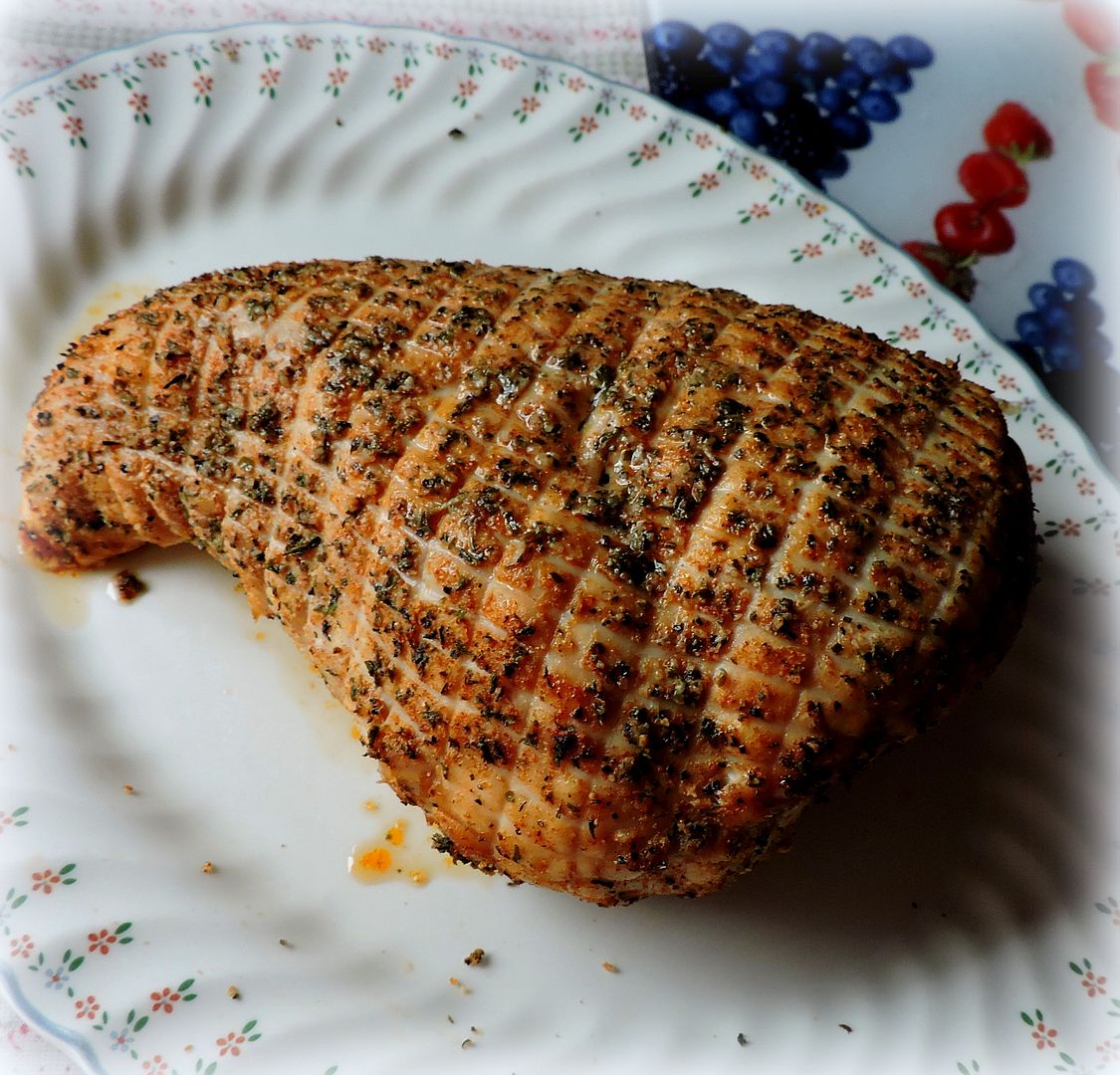 This then gets placed into a small roaster and covered tightly with foil and roasted for about an hour and a half. I remove the foil after that time and roast it until the juices run clear. Mine took an additional half hour the other day, but if you have a roast of this size it should not take any longer than that.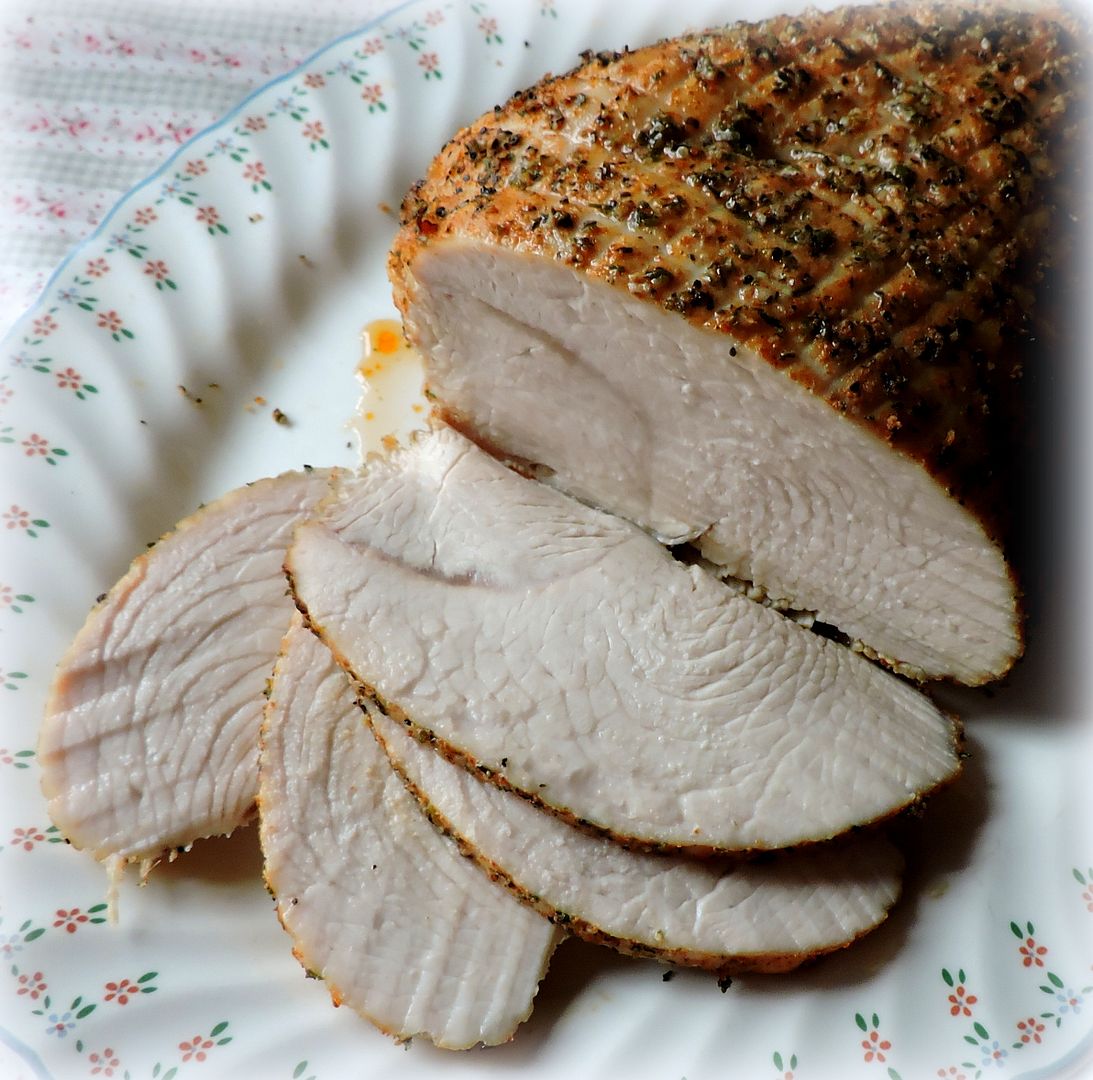 Loosely tented and left to rest while you make some gravy, the end result as you can see is a perfectly tender and moist turkey breast. Filled with flavour. There is no waste whatsoever and you have a nice piece of meat that is ready to be served with your favourite vegetables on the day and then in sandwiches/casseroles/salads for a day or so after. It's win/win/win!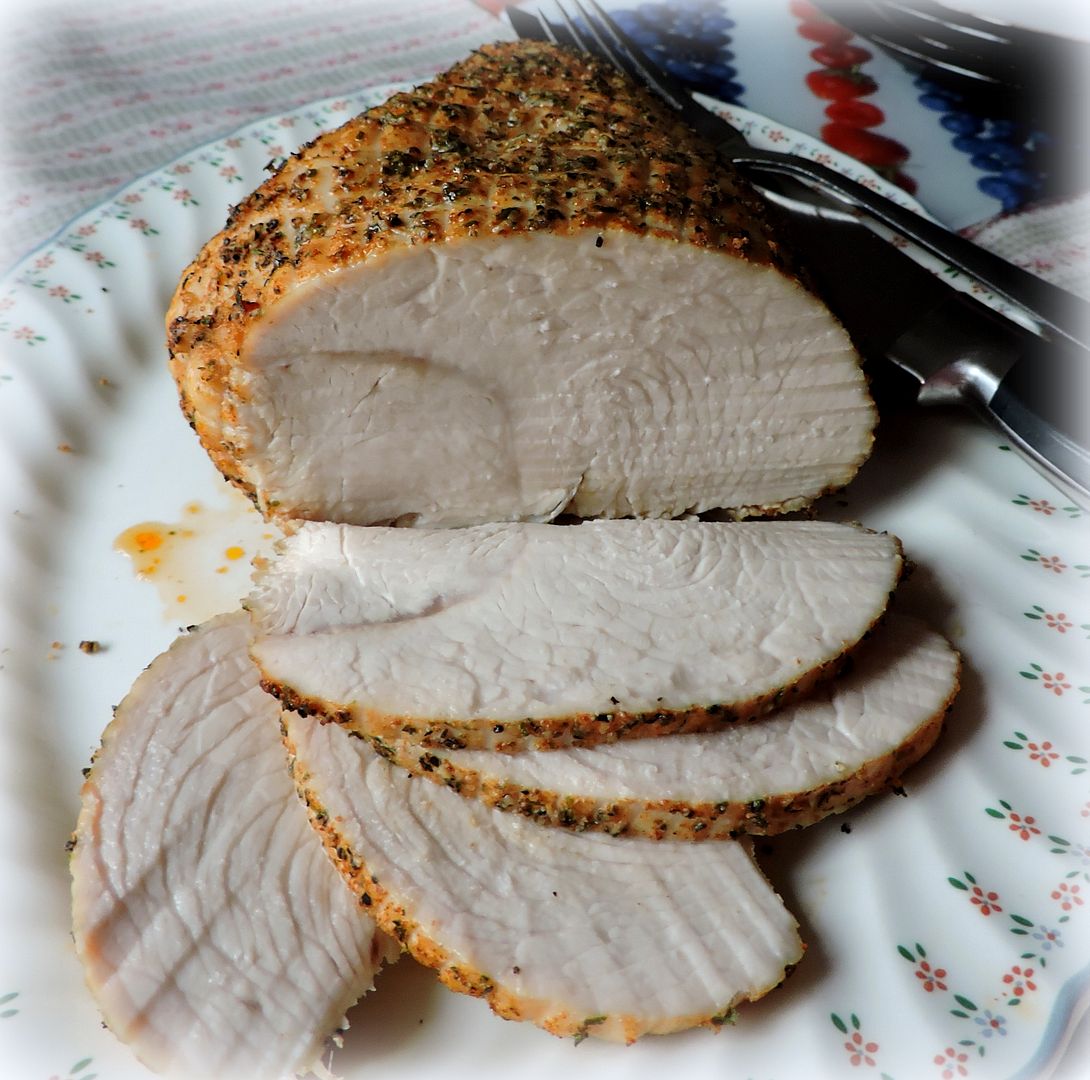 Have you checked out the price of roasted turkey breast meat at the deli lately????? It's very expensive for just a tiny bit and this tastes so much better! Why not give it a go! We enjoyed it quite simply with some baked potatoes, vegetables and gravy on the day. It went down a real treat!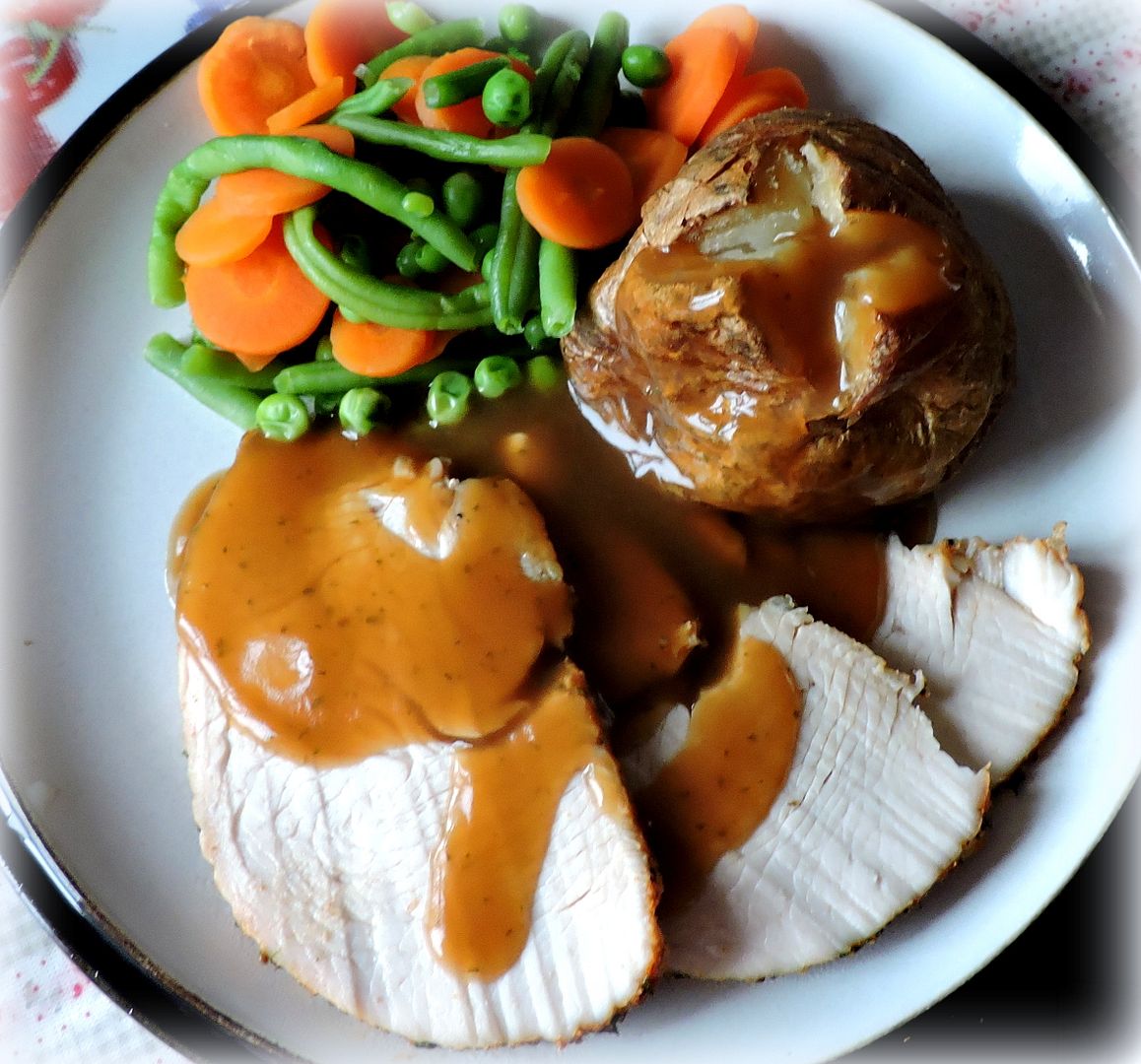 *Oven Roasted Boneless Turkey Breast*
(Suitable for one 2 to 3 pound piece of meat)
This is a very flavourful and easy way to cook a boneless turkey breast which results in perfectly cooked and moist meat!
one two to 3 pound boneless turkey breast
2 TBS olive oil
1 tsp seasoned salt
1 tsp sweet paprika
1/2 tsp garlic powder (not salt)
1/2 tsp onion powder (not salt)
1/2 tsp dried parsley flakes
1/2 tsp dried marjoram
1/2 tsp dried sage
1/2 tsp dried thyme
1/2 tsp coarse black pepper

Preheat the oven to 180*C350*F/ gas mark 4. Have ready a baking dish with sides large enough to hold your piece of meat. Mix together the olive oil and all of the seasonings. Rub this mixture all over your turkey breast and place into the baking dish, bottom side down. Cover tightly with foil. Roast for 90 minutes, covered.



Uncover and and roast until the meat juices run clear. My turkey breast was about 2 1/2 pounds in weight and it took 2 hours in total time. Let stand for 10 minutes before carving. Serve hot with your favourite vegetables and gravy.


Note - wrap and chill any leftovers to use sliced in sandwiches or in casseroles.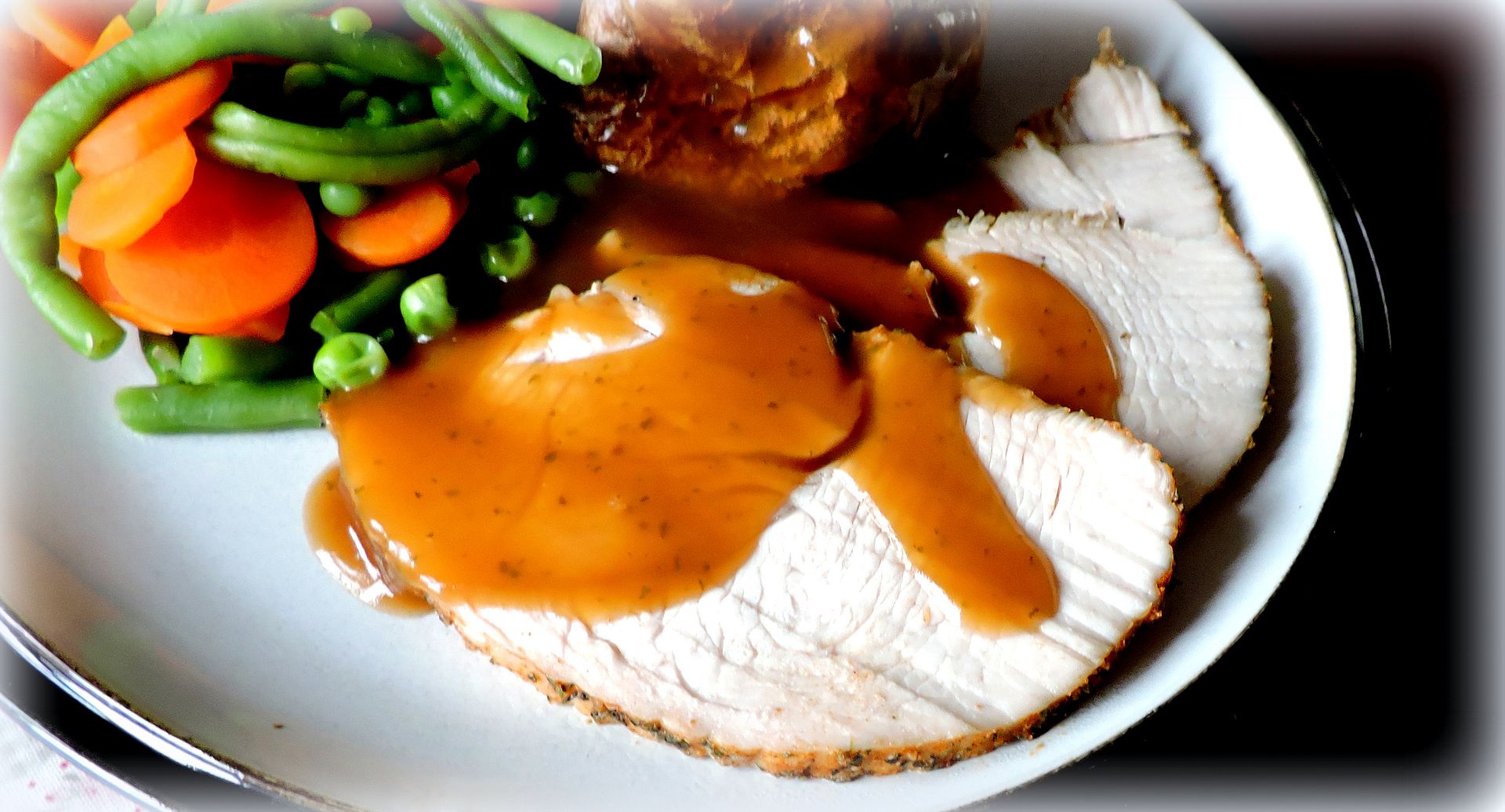 Come back tomorrow to see what deliciousness I cooked up with some of the leftovers!