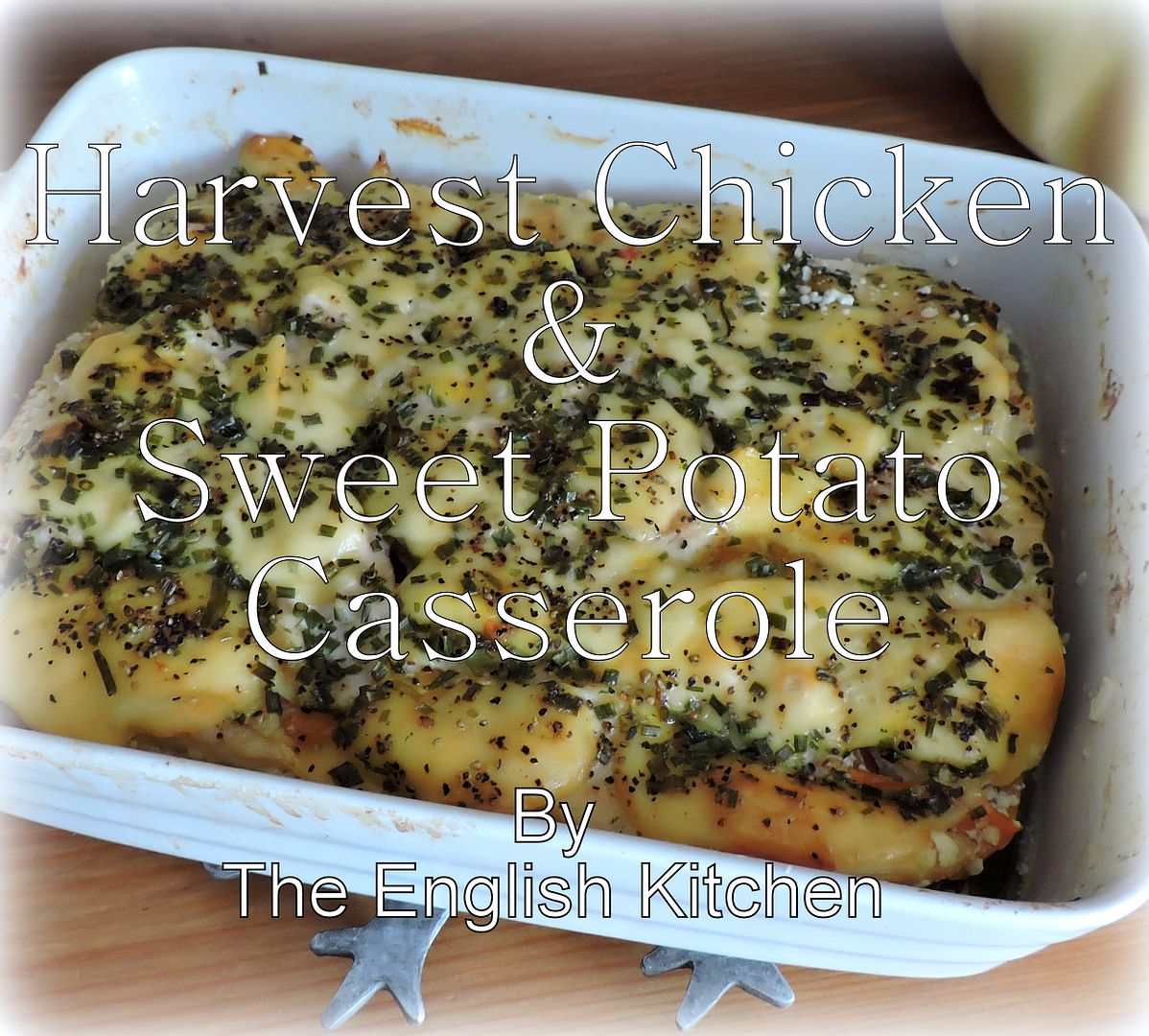 I love chicken and I love sweet potatoes and I love the two of them put together. Often when I roast poultry I will bake some sweet potatoes on the side, so it seemed a really natural thing for me to put them together into a casserole. A very delicious casserole, I hasten to add.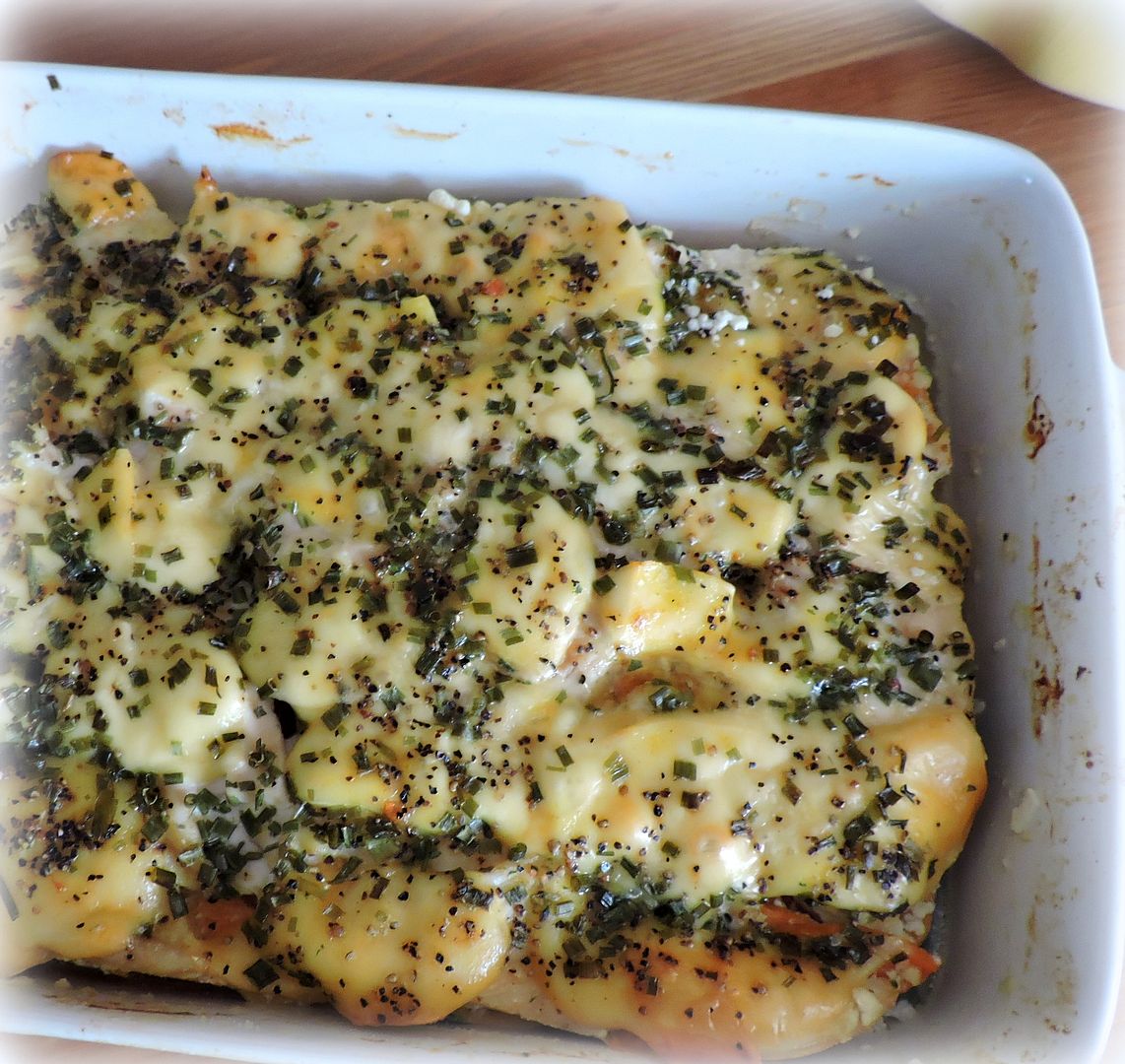 This casserole makes a little bit of chicken go a very long way. You slice chicken breasts through the middle horizontally to make three thin cutlets of each, which you then pound just a bit to tenderize.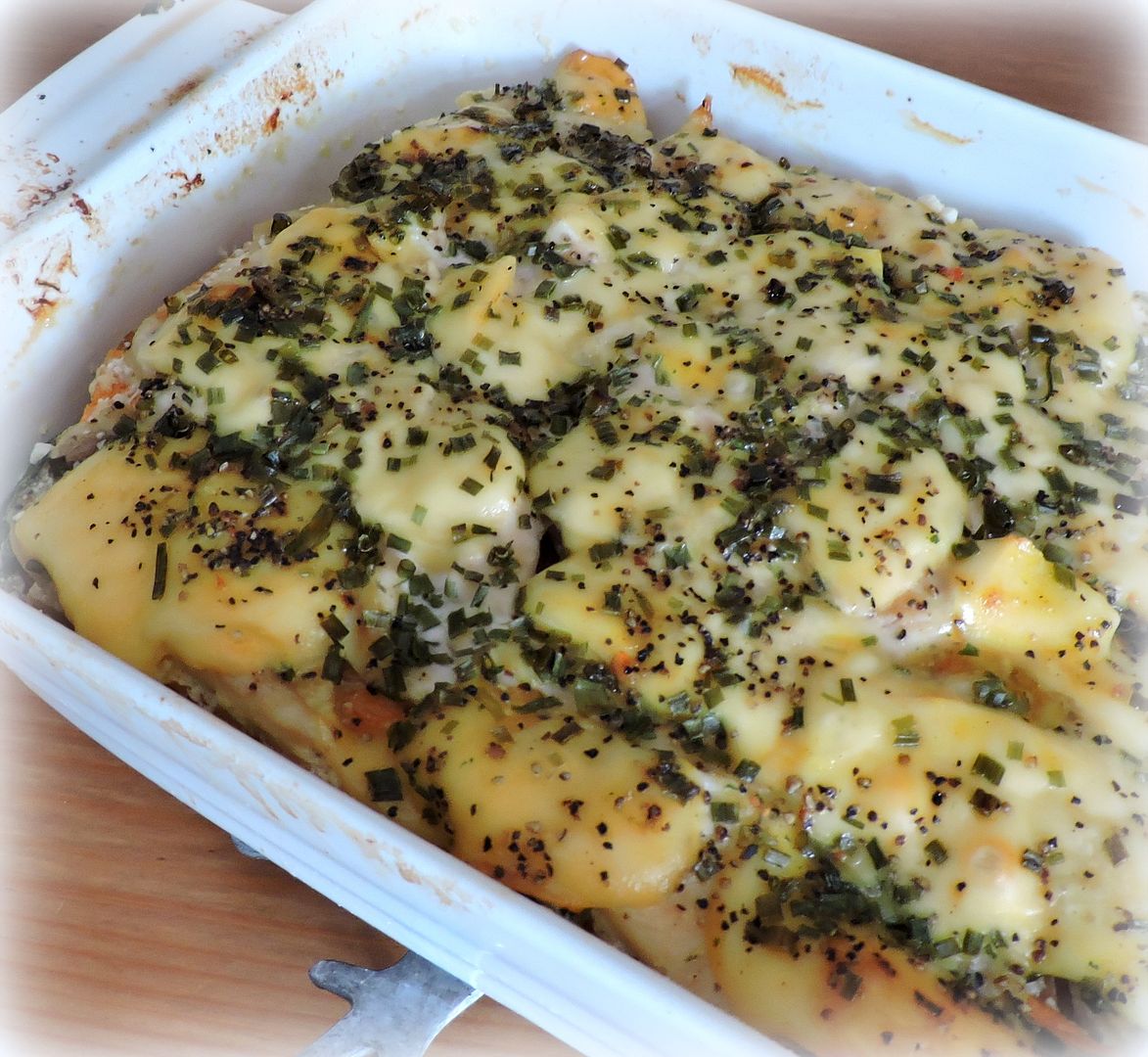 They are then seasoned and layered in a baking dish with thinly sliced sweet potatoes, fresh baby spinach leaves and cheese . . . just for a touch of richness. Swiss/Emmenthal cheese, which is sweet and nutty and goes so well with all of the other ingredients.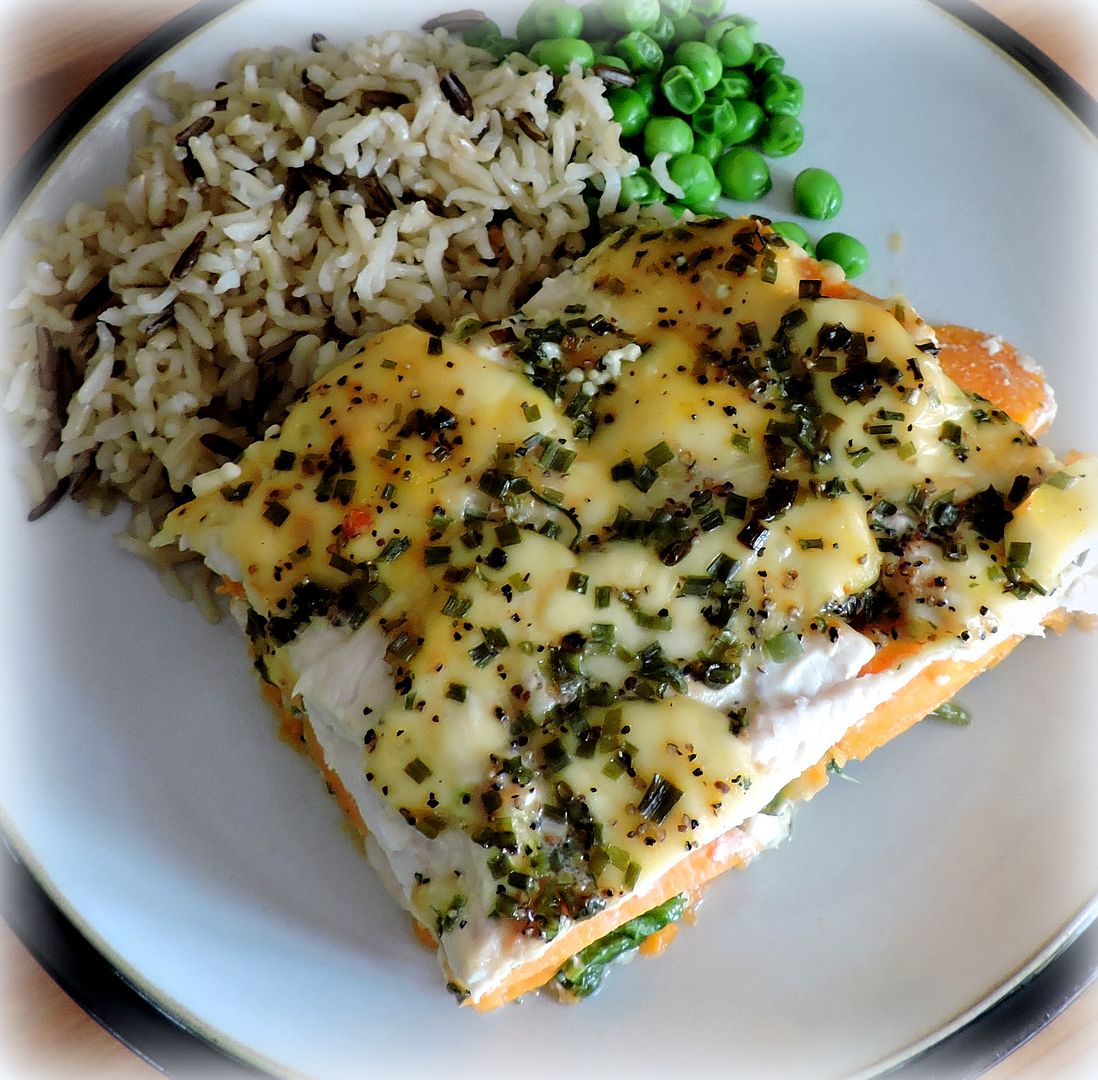 Kind of like a layered lasagna, minus the noodles . . . once baked the flavours meld into a deliciously unctuous casserole that you can easily cut into squares for serving . . . again, like a lasagna.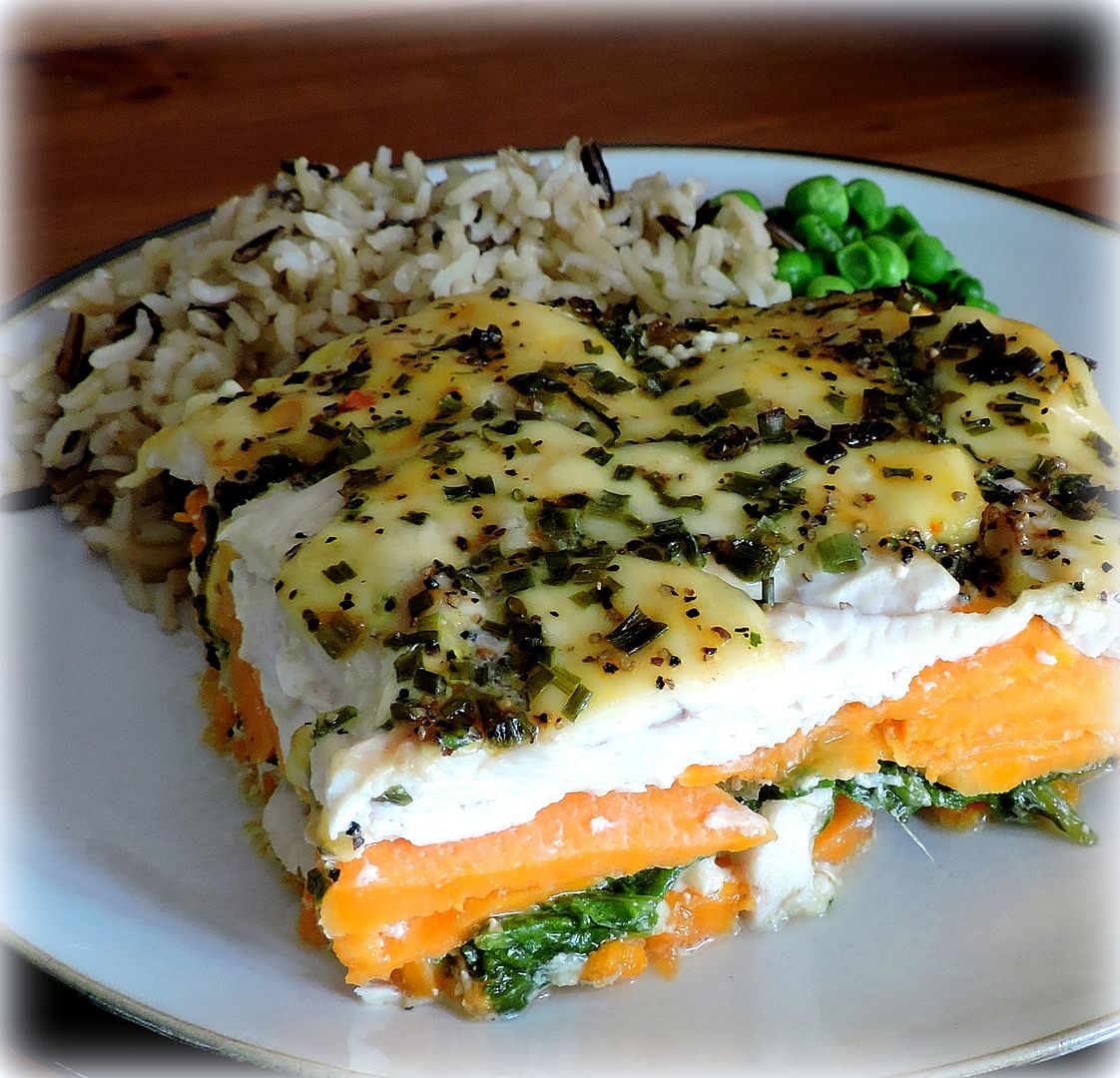 Look at those beautiful layers . . . so colourful and tasty looking. The chicken is moist and tender . . . the sweet potatoes . . . sweet . . . the spinach, adding a very special touch of green, just where you want it. Psst . . . did I mention the cream? Oh how naughty of me. ;-)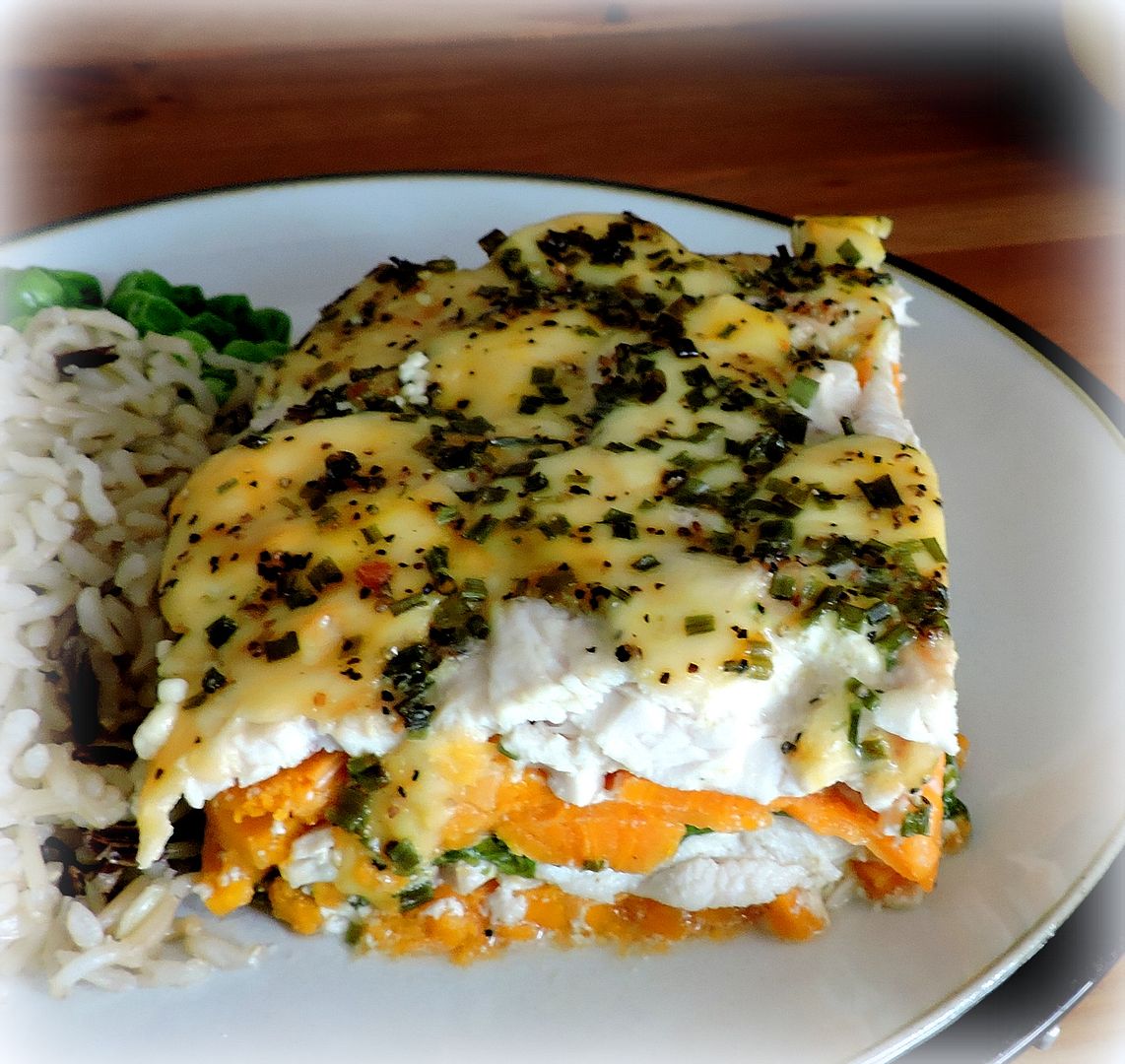 This is easy enough to make that you won't mind making it for the family and yet delicious and special enough you will want to make it for company. I served it with a rice/wild rice mix and some tender English peas. It went down a real treat.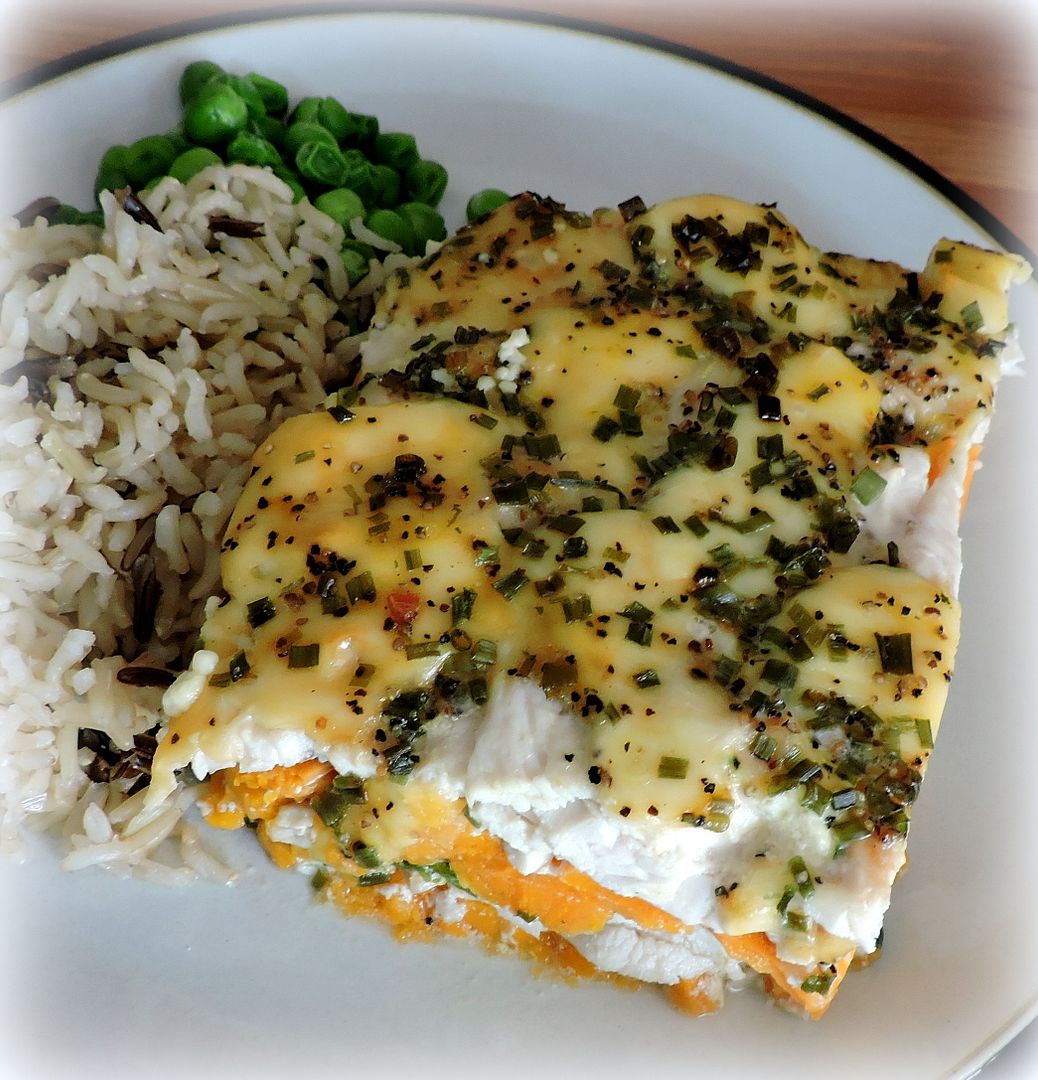 *Harvest Chicken and Sweet Potatoes*
Serves 4 to 6
This is an incredibly easy casserole to throw together once you have all of the components prepared. Pop it into the oven and let the oven do the magic. Your family will love it. Its delicious. I would serve this to company!
4 boneless, skinless chicken breasts
4 sweet potatoes
1 pound emmenthaller cheese (Swiss)
1 200g bag of fresh baby spinach leaves (1o ounces)
6 fluid ounces of white wine
4 fluid ounces of cream
2 TBS chicken bouillon powder
2 TBS dried chives
1/2 tsp salt
1 tsp coarse ground black pepper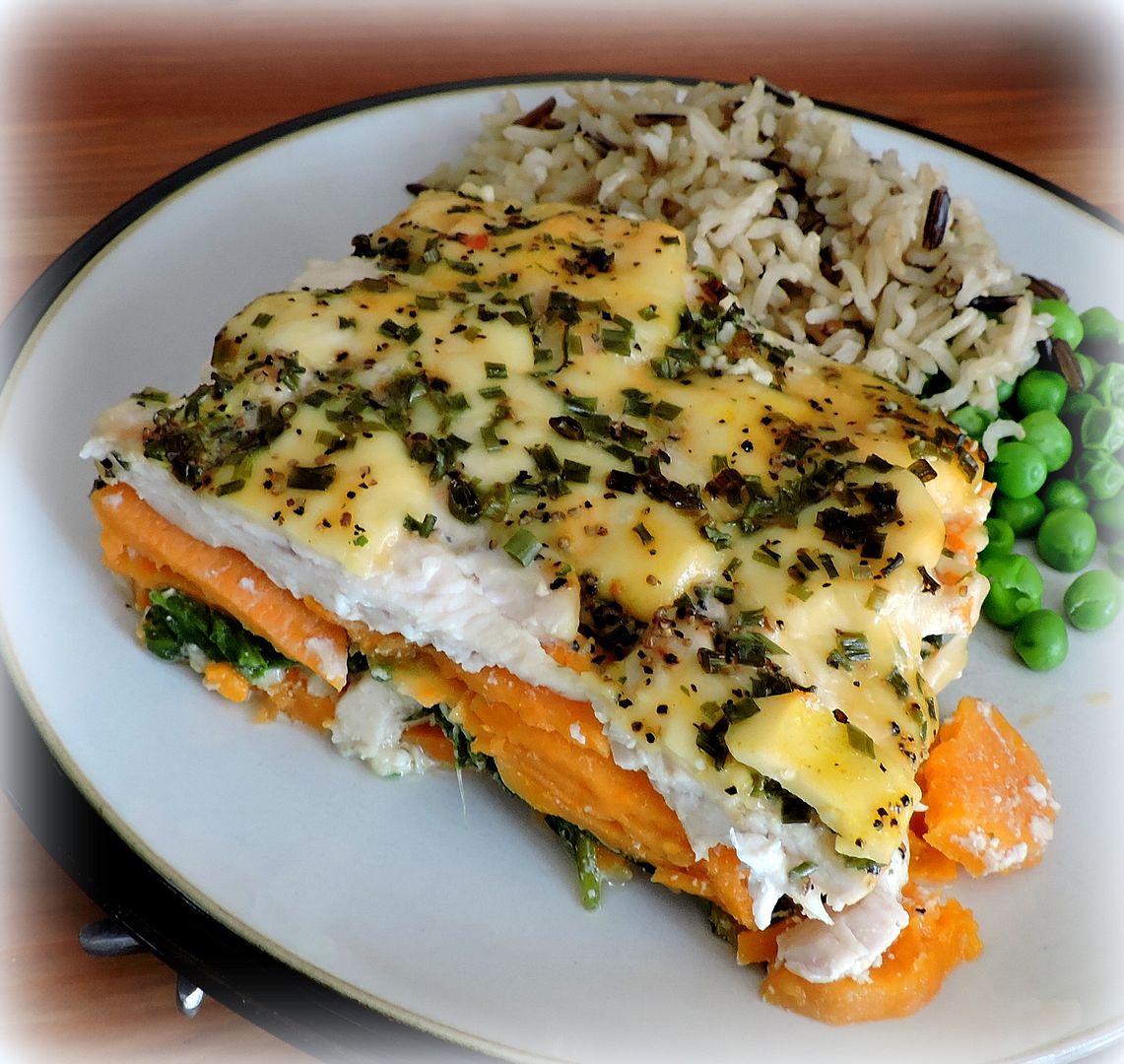 Preheat the oven to 165*C/325*F/ gas mark 3. Butter a 9 by 13 inch baking dish.
Slice each chicken breast into three thin slices. Place each slice between two sheets of plastic cling film and bash to tenderize. Season with some salt and pepper. Set aside. Cut the cheese into thin slices. (I cheat and buy it already sliced) Peel and slice the sweet potatoes thinly into rounds. Wash and drain the spinach.
Begin to layer in the baking dish as follows, 1/2 the sweet potatoes, 1/2 the chicken, half of the cheese, all of the spinach, the remaining sweet potatoes, then the remaining chicken, topped with the remaining cheese. Press down lightly. Sprinkle with the chicken boullion powder, salt, pepper and chives. Whisk together the cream and wine. Pour this over the casserole. Butter a sheet of foil and place buttered side down over the dish. Seal tightly. Bake for 50 minutes. Uncover and bake for 10 minutes longer. Cut into squares to serve.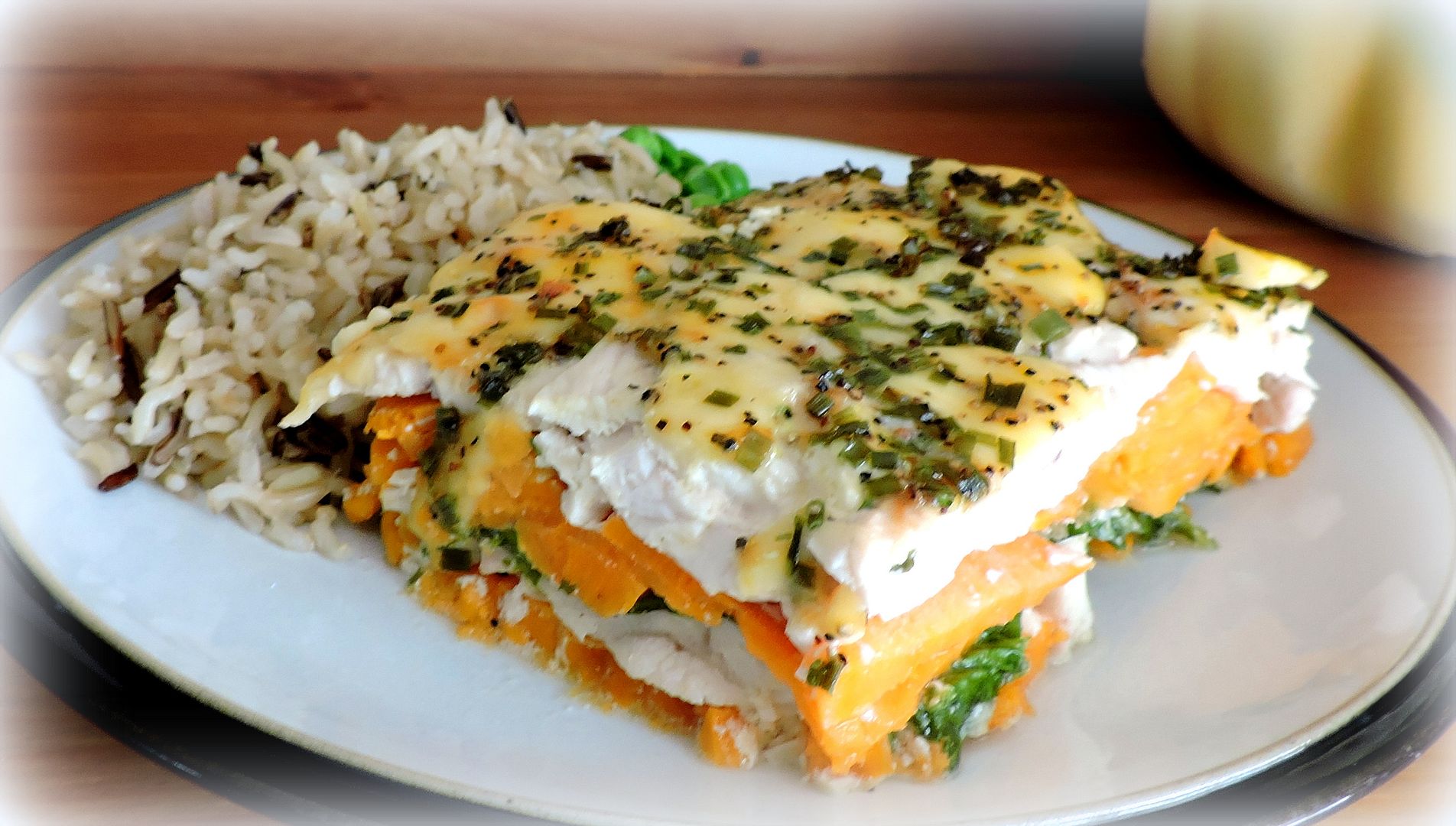 I hope you will try this and enjoy it as much as we do. Bon Appetit!