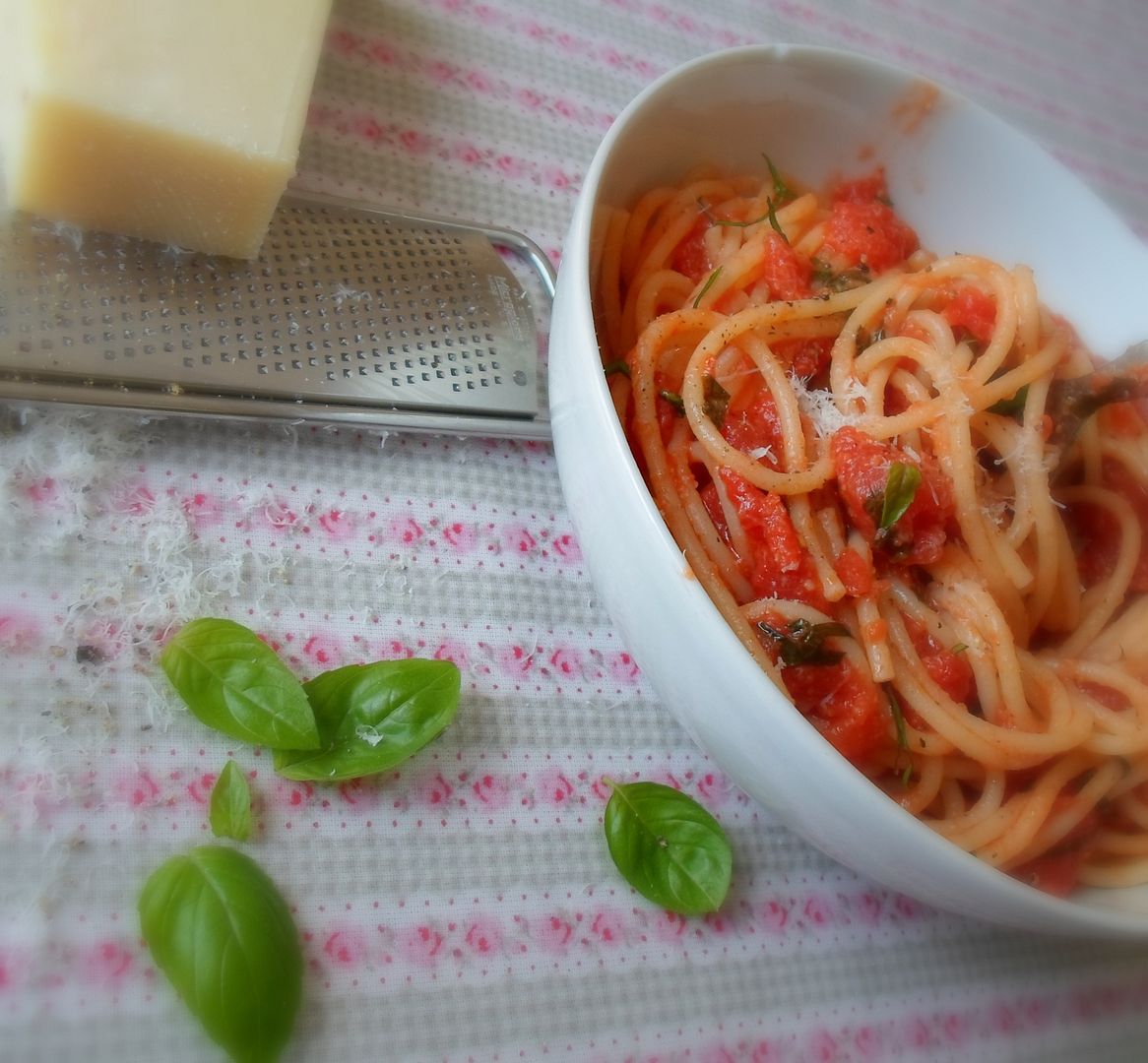 As you probably all know by now, the Toddster is not a huge fan of pasta. In our almost sixteen years of marriage I have not been able to convince him that is it anything other than yuck., although in all fairness he does tolerate it a bit better now. Its still not his favourite and he will be the first to tell you he doesn't like Italian food. I haven't yet been able to convince him that they eat a lot more than pasta and pizza in Italy, but I'm working on it.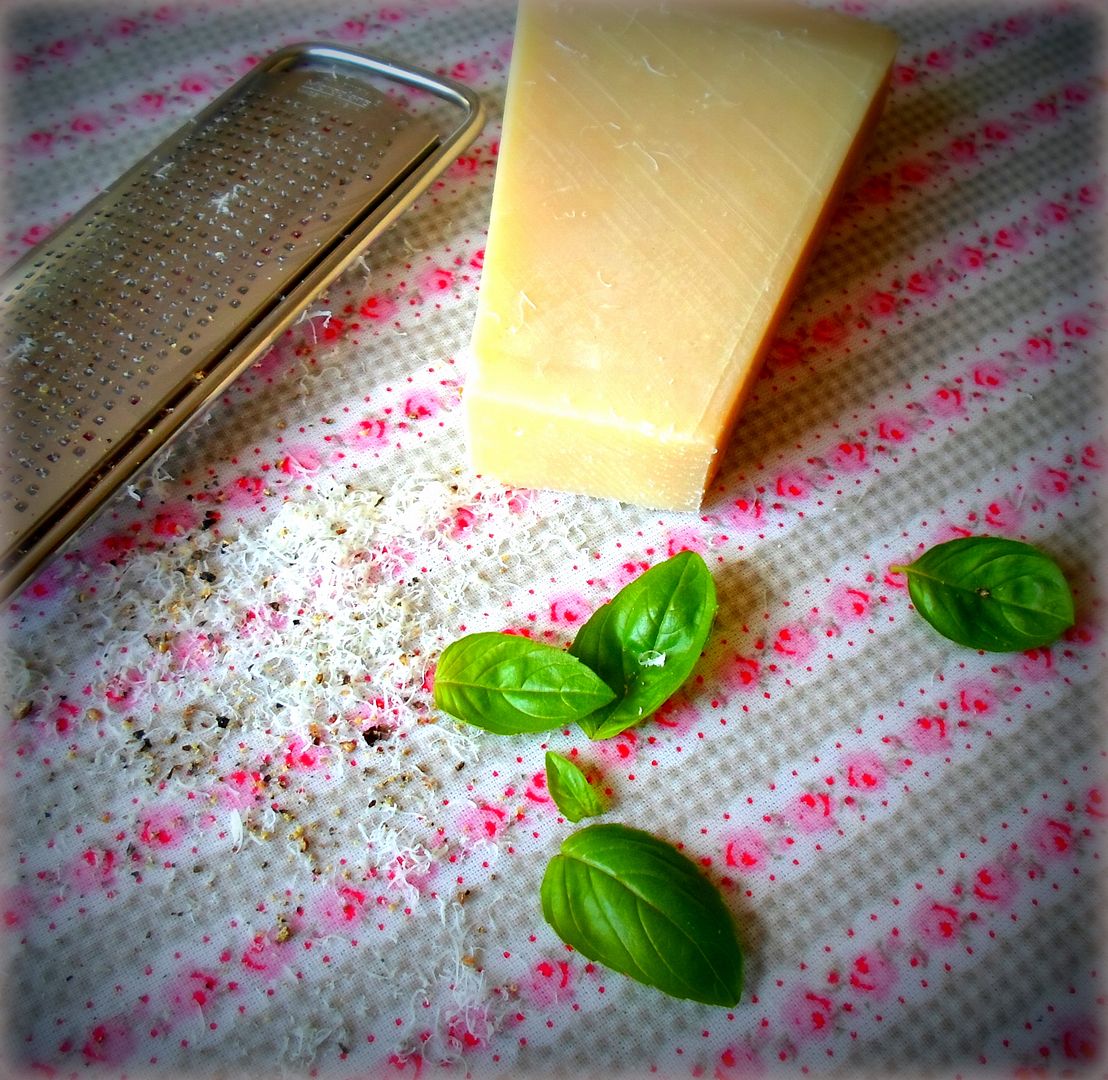 I, on the other hand, LOVE pasta. I have been known to just sit and eat a bowl full of buttered pasta with salt and pepper on it. Todd was away for dinner today and so I took what I had to hand and created my own simple and tasty pasta dish. Coz that's what you do when the cat's away. You play.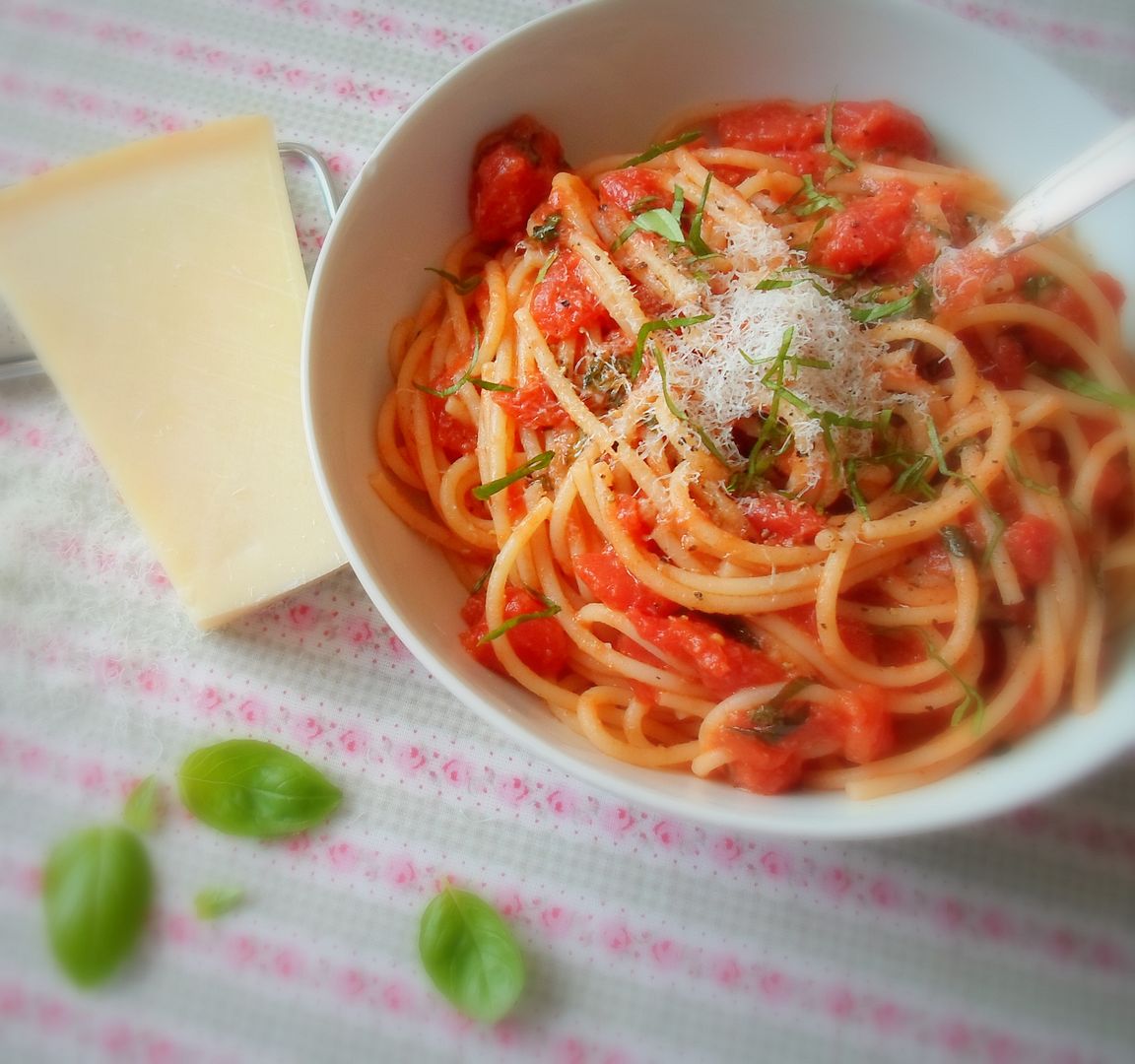 It's nothing complicated. You may not even see it as actually being a recipe per se . . . but i
t was
incredibly delicious, easy and satisfied my hunger for pasta in a most wonderful way. I fell off my diet wagon big time here, because I think I actually
kind
of ate 1 1/2 helpings of it . . . okay . . . I
DID
eat 1 1/2 helpings of it, I confess . . . yes, it was
that
good. (I did use whole wheat pasta, if that helps. And I think it does.)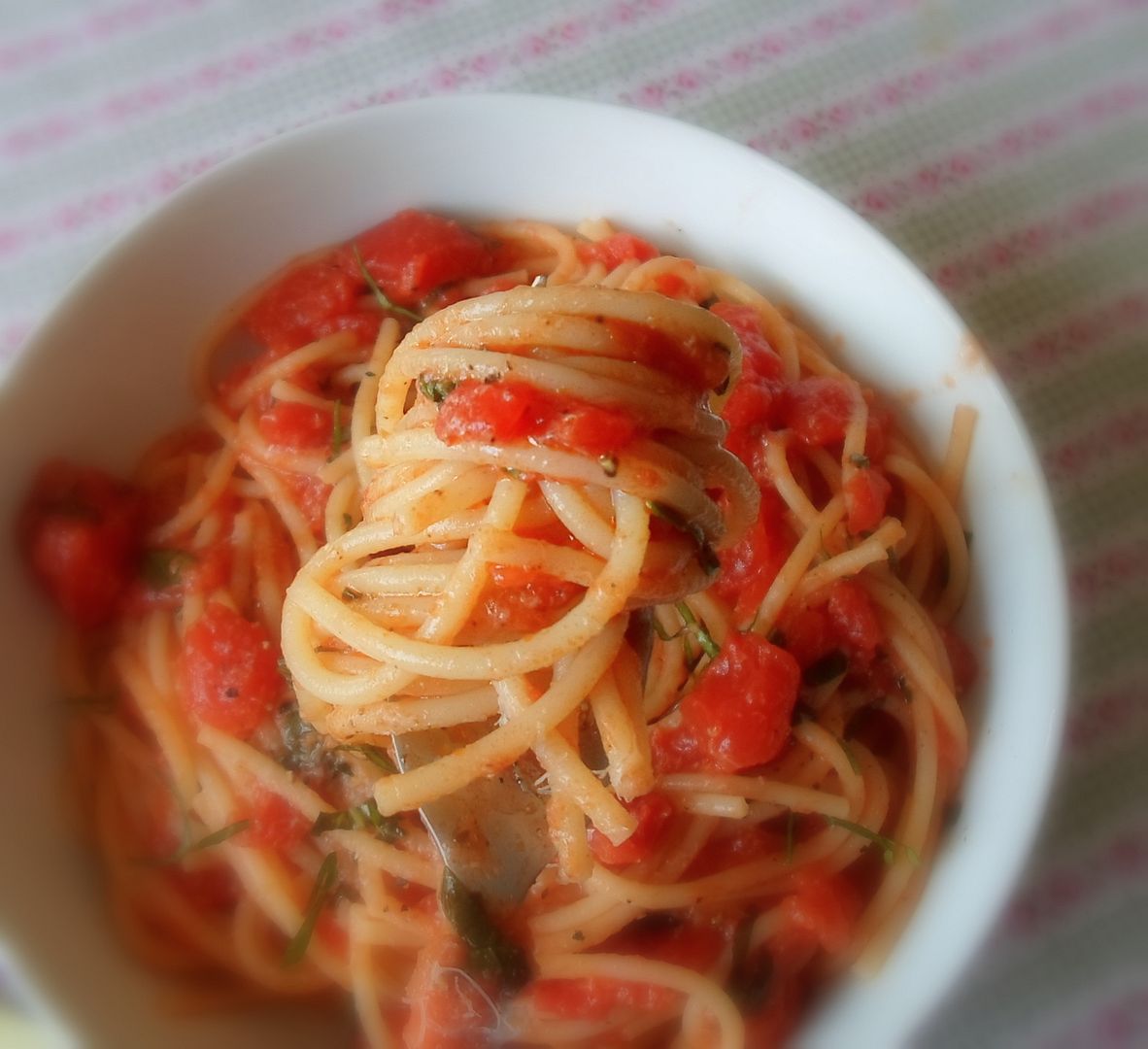 It was quick, quick, quick . . . it took me 8 minutes to boil my pasta and 2 minutes later I had a lovely, bowl of this wonderfully tasty dish sitting in front of me. I am rather lazy sometimes and quick and easy always works for me.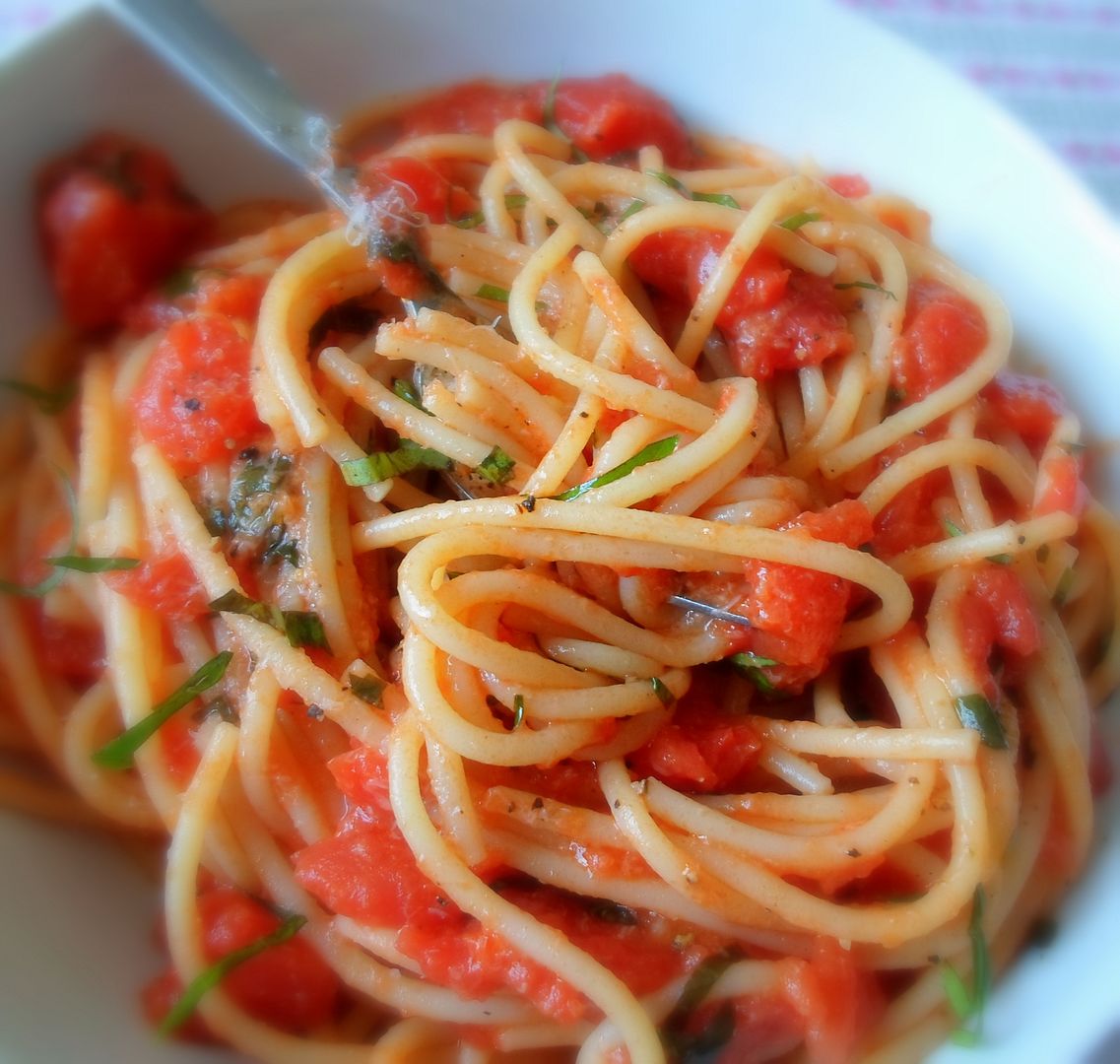 I am a great fan of good quality tinned Italian tomatoes. They are soooo good! I don't know if it's the air in Italy, or the sunshine, or the earth . . . but Italian tomatoes are heavenly . . . fresh or tinned, sun dried, etc. They're just the best. In a dish where tomatoes are going to be the main ingredient, I always use a good quality Italian tinned tomato for this. The basil came from my garden and I also always have good quality Parmigiano Reggiano in my fridge.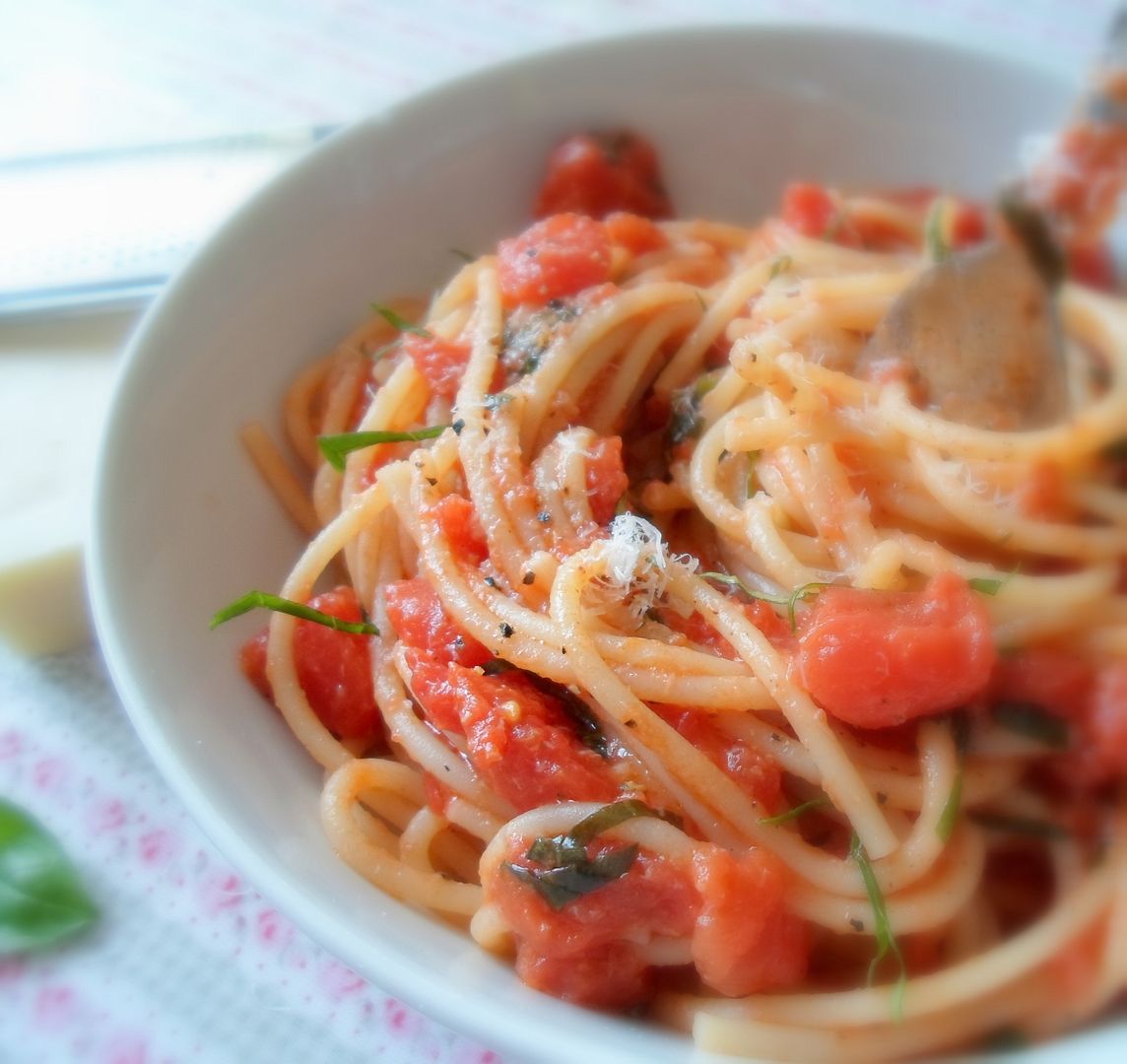 here is a simple truth . . . you don't have to go to Italy or spend a fortune to get good dried pasta. I use a supermarket's best brand, and it's as good as any Italian brand in my opinion. The only way I would splurge and buy an
actual
Italian brand of pasta would be to get a special shape that I couldn't find otherwise . . . like buggatini. (I was actually watching America's Test Kitchen the other day and they were testing out pasta brands and the clear winner was NOT an Italian brand at all . . . so don't be taken in and spend extra money when you don't really need to. I wouldn't buy the saver's brand . . . but I wouldn't pimp for the so-called best brand name types either.)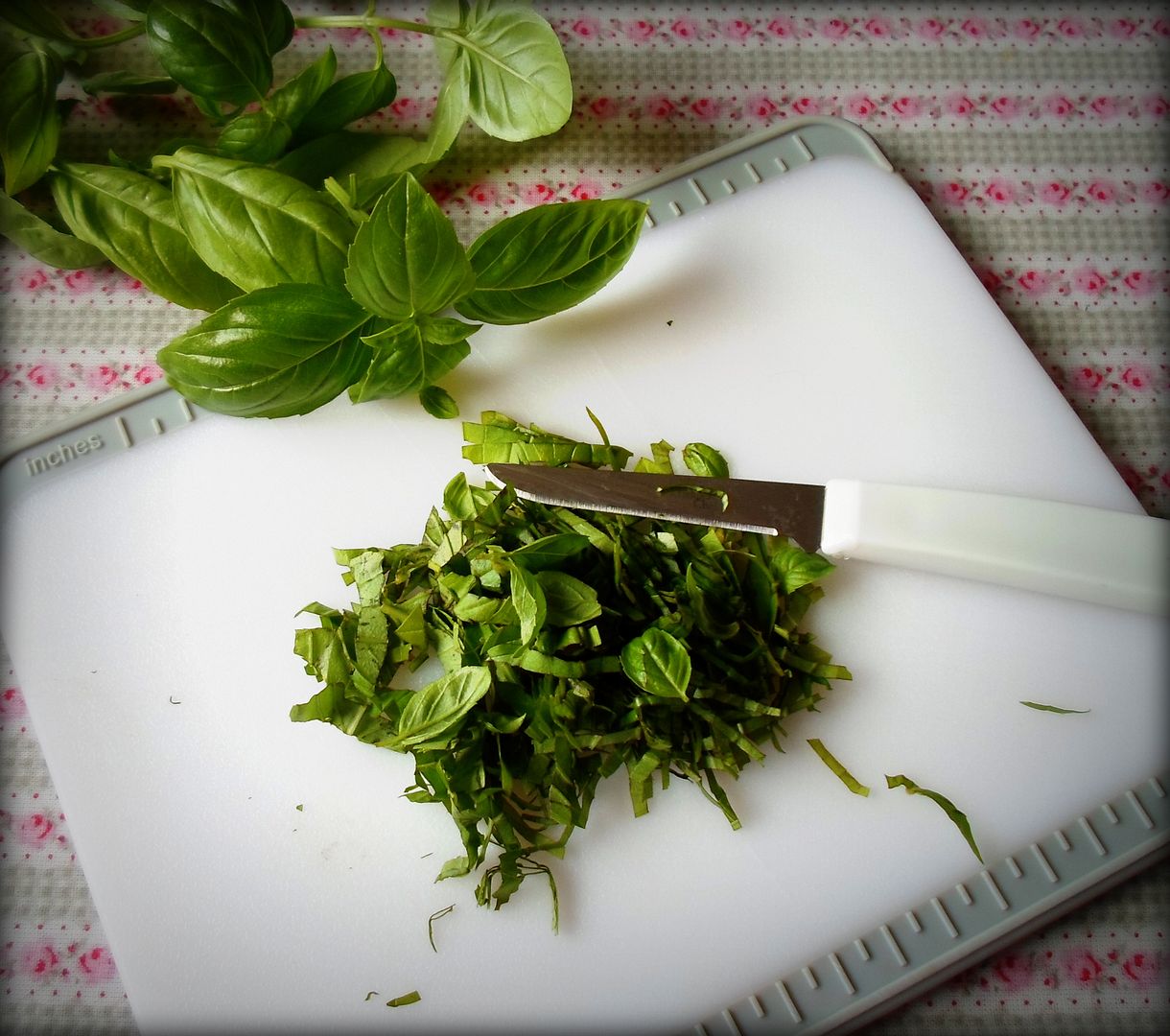 The most important elements of this dish are the cheese, the tomatoes, the basil and the garlic. I infused the butter with the flavours of garlic and lemon, which went a long way towards flavouring this "fresh" sauce. The only herb I used was fresh Basil which I cut in the chiffonade style. (Very easy, just roll up into a cigar and cut into thin slices with a sharp knife. That's chiffonade.)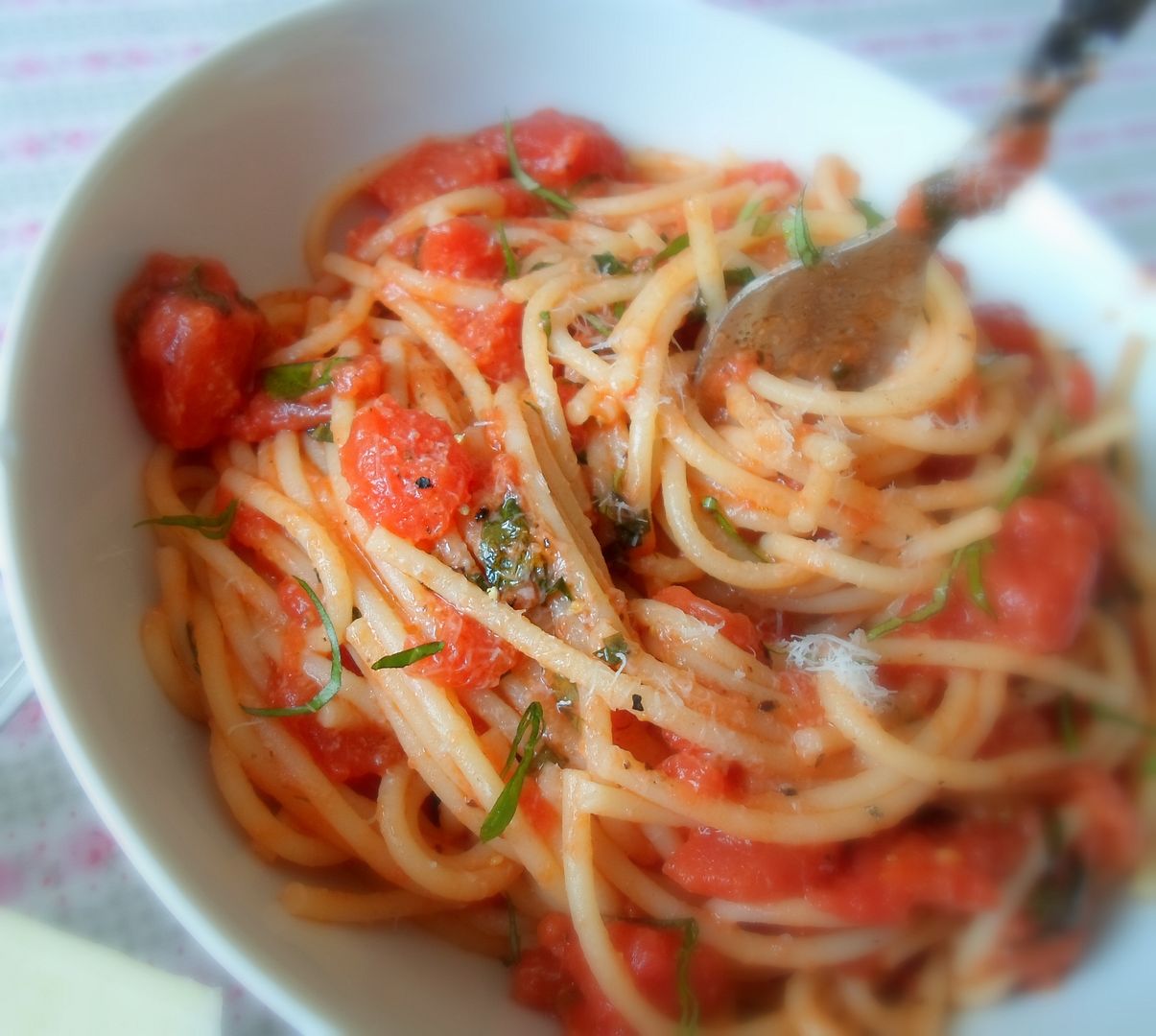 Anyways, to make a long story short . . . good and simple ingredients . . . put together in a simple way . . . quick to make . . . delicious to eat.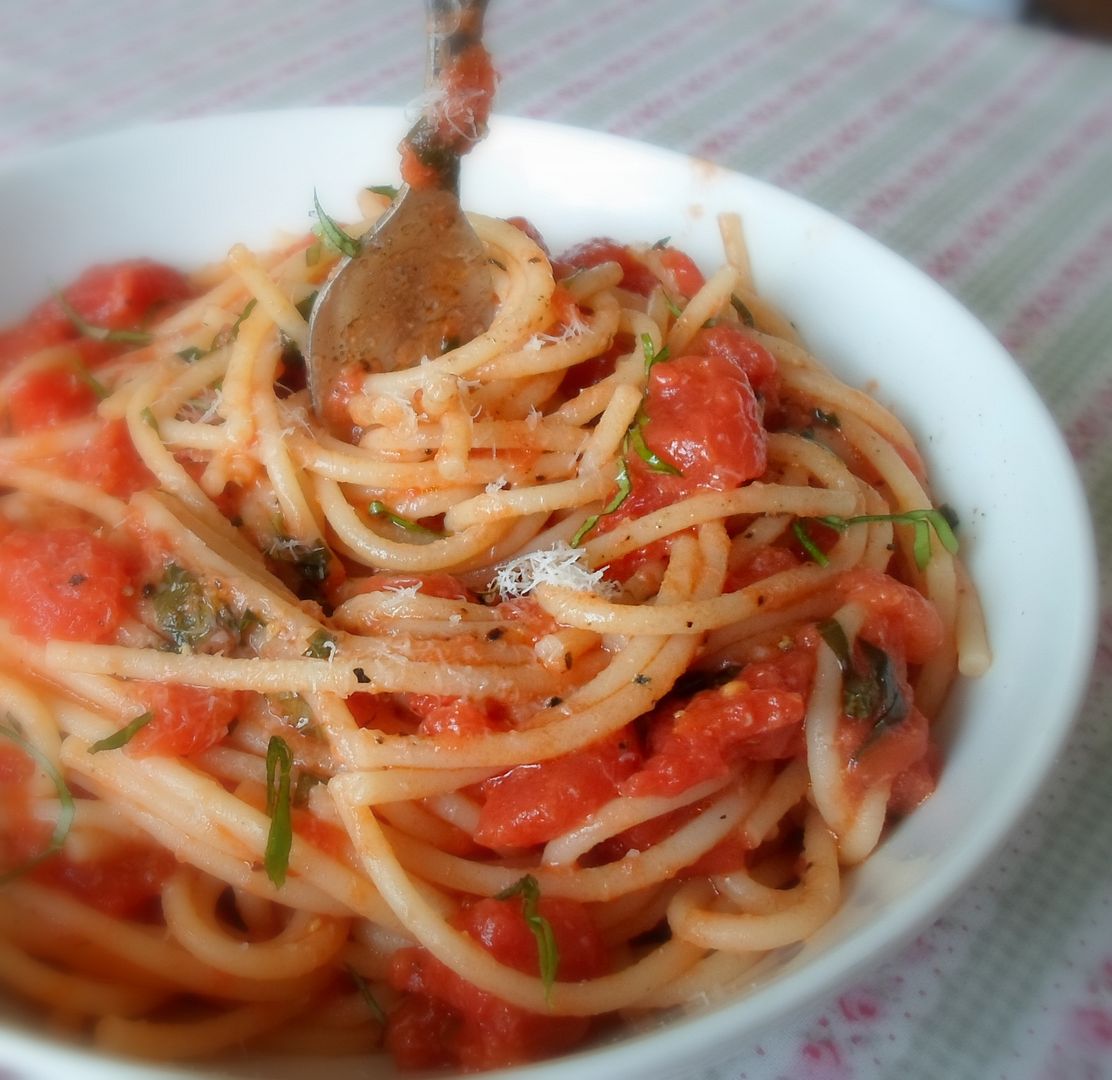 Make some.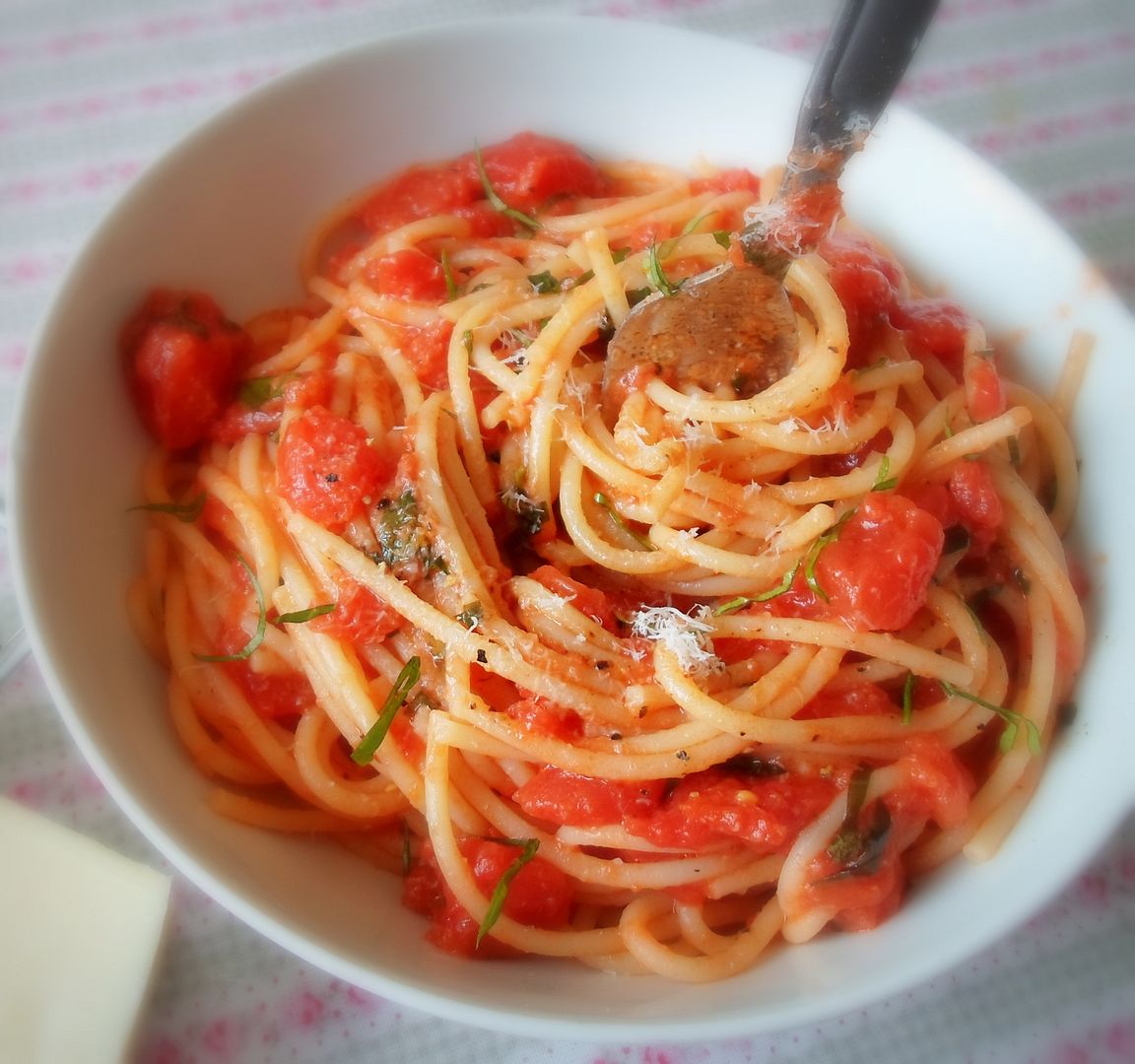 *Comfort Spaghetti*
Serves 2
Printable Recipe
I didn't know what else to call this. Spaghetti with a comfort sauce. Plain and simple ingredients put together beautifully. Grab your spoon and fork, you're going to love this
4 ounces dry spaghetti (1/4 pound)
50g of finely grated parmesan cheese (about 1/4 cup)
2 tsp unsalted butter
the juice of 1/2 lemon
1 fat clove of garlic, peeled and degermed and bashed
1 tsp finely grated lemon zest (from an unwaxed lemon)
a small handful of fresh basil leaves, chiffonade
1 425g tin of chopped Italian Tomatoes, drained
fine sea salt and freshly ground black pepper to taste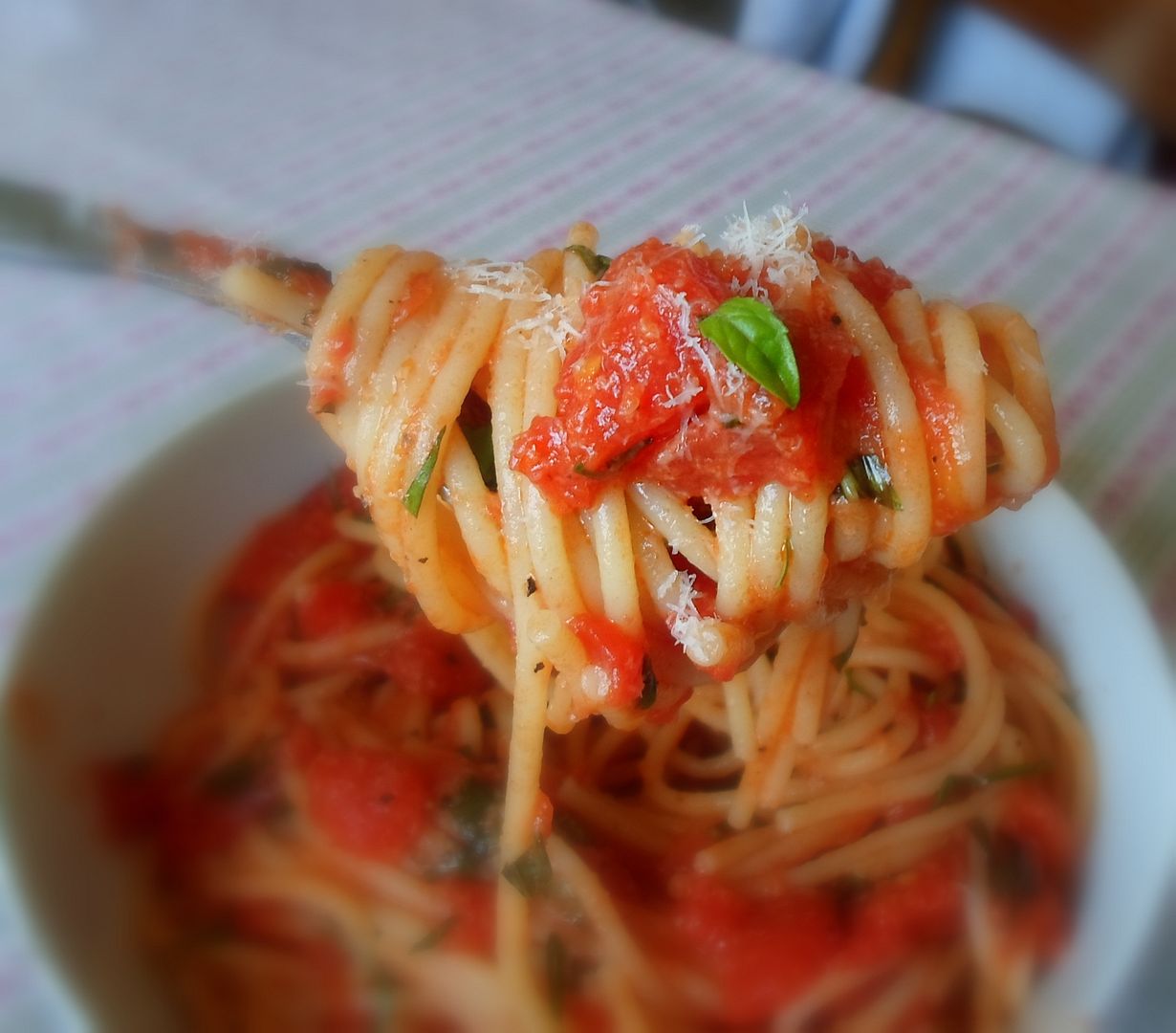 Place your butter into a microwaveable dish along with the garlic clove. Nuke in the microwave for about 30 seconds, until the butter is melted and you can smell the garlic. Stir in the lemon zest and juice, and set aside.
Bring a large pot of lightly salted water to the boil. Add the spaghetti and cook according to your package directions for al dente. Leave the drained tomatoes in the strainer. Once the pasta is done, pour it over the drained tomatoes in the strainer and drain well. (This helps to heat up the tinned tomatoes.) Return the spaghetti and tomatoes to the saucepan. Tip in the garlic butter, the cheese and the basil leaves. (To chiffonade, roll the leaves into a tight cylinder and then slice them crosswise into thin strips.) Toss together to coat the spaghetti. Season to taste with sea salt and freshly ground black pepper. Divide into two pasta bowls and serve. I like to pass more parmesan cheese at the table. (You can never have too much parmesan!)
I know you get tired of me telling you about these tomatoes, but when I find something which is great I just need to talk about it whenever I can.
I love, LOVE
these tomatoes
. I have been known to just sit and eat them out of the tin . . . with a spoon. Seriously. These are the next best thing to fresh tomatoes in my opinion, and trust me when I say when tomatoes are the main ingredient in any dish . . . you only want the BEST.
Comiendo Feliz!