I baked us a lovely quiche at the weekend. Who says real men don't each quiche! Todd loves them. This version was adapted from a recipe I found in a cookery book entitled Comfort Food Makeovers, put out by America's Test Kitchen.
It is a compendium of comfort food recipes defatted and made healthier. I'm all for that! Healtiher is a good thing, having it tasted delicious at the same time, is even better!
I never eat quiche when I don't think about that joke about the two older ladies in the restaurant who were perusing a menu which happened to have quiche on it.
That sounds good one of the women thought to herself and when the waiter came, she said . . . "I'd like to have a 'Quickie'!" Obviously, her pronunciation needed some work on it. ☺ Back to the recipe.
I know . . . don't quit my day job!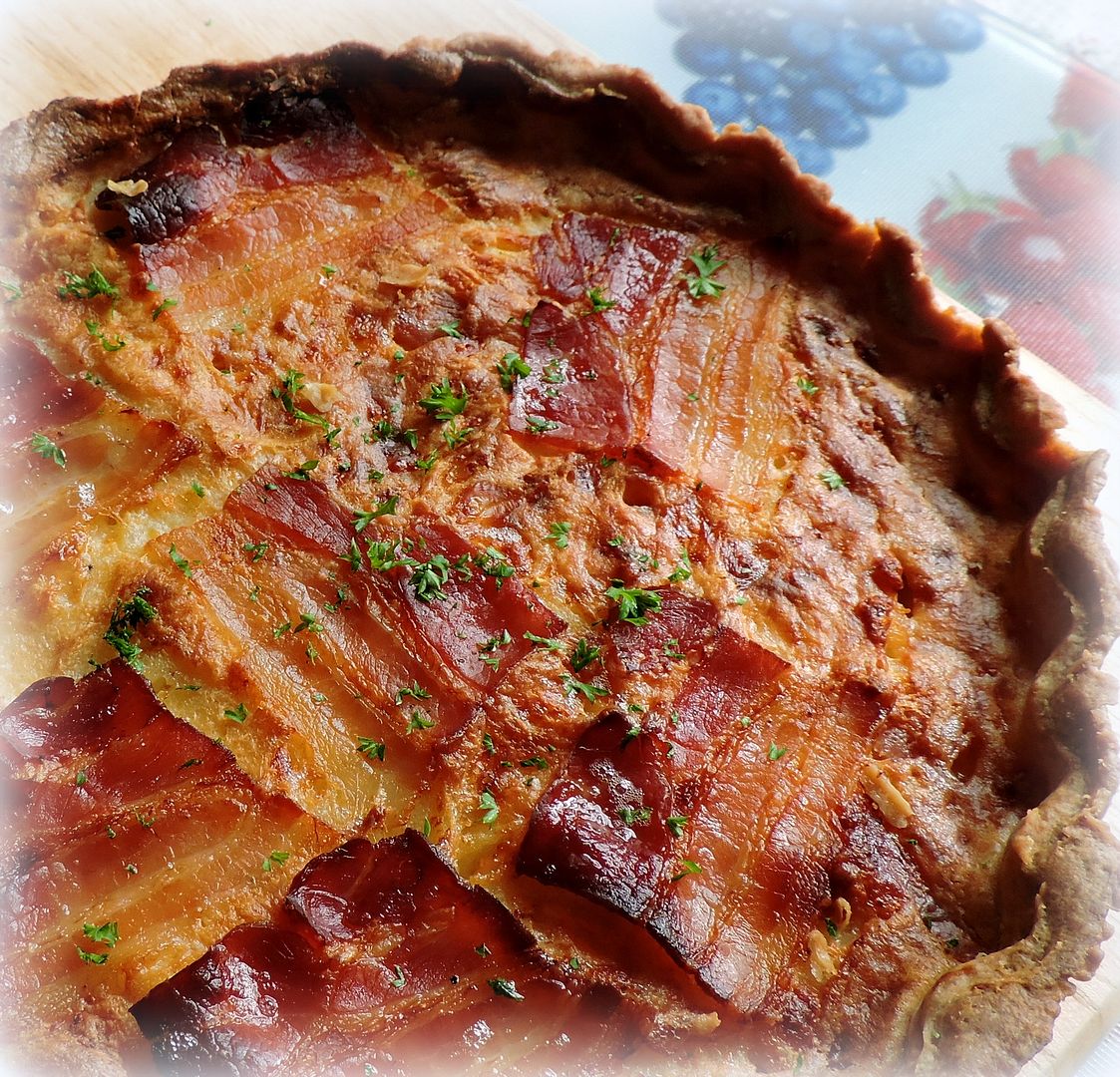 A lot of calories and fat are saved in this recipe through the use of some very flavorful cheeses. Parmesan which is used both in the crust and as a base for the filling. Parmesan is one of those cheeses where a little bit goes a very long way.
Gruyere is another cheese like that and by using it in the filling, you need relatively little of it when compared to other cheeses. I love the sweet, nutty flavor of Gruyere. A good substitute is Swiss cheese.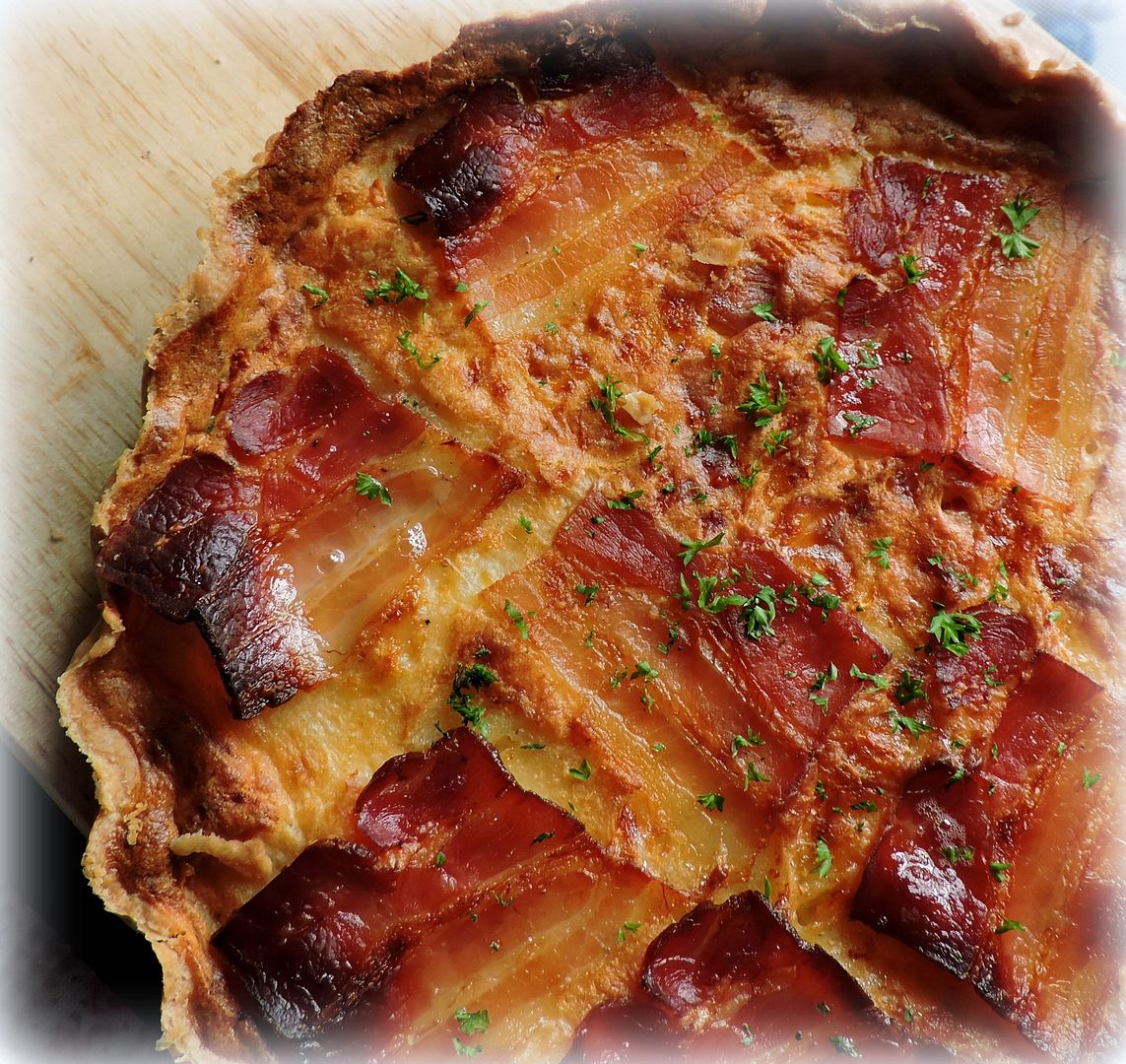 Buttermilk has also been used in the filling, which adds a richness to the custard without the calories of the usual cream which is normally used.
The use of corn flour also helps to set the custard.
The crust also gets an additional flavor boost from the use of a tiny bit of bacon fat, which you reserve when you cook the bacon.
The original recipe called for crispy cooked bacon and then crumbling it into the filling. But I opted to only partially cook it and then lay it on top of the tart prior to baking.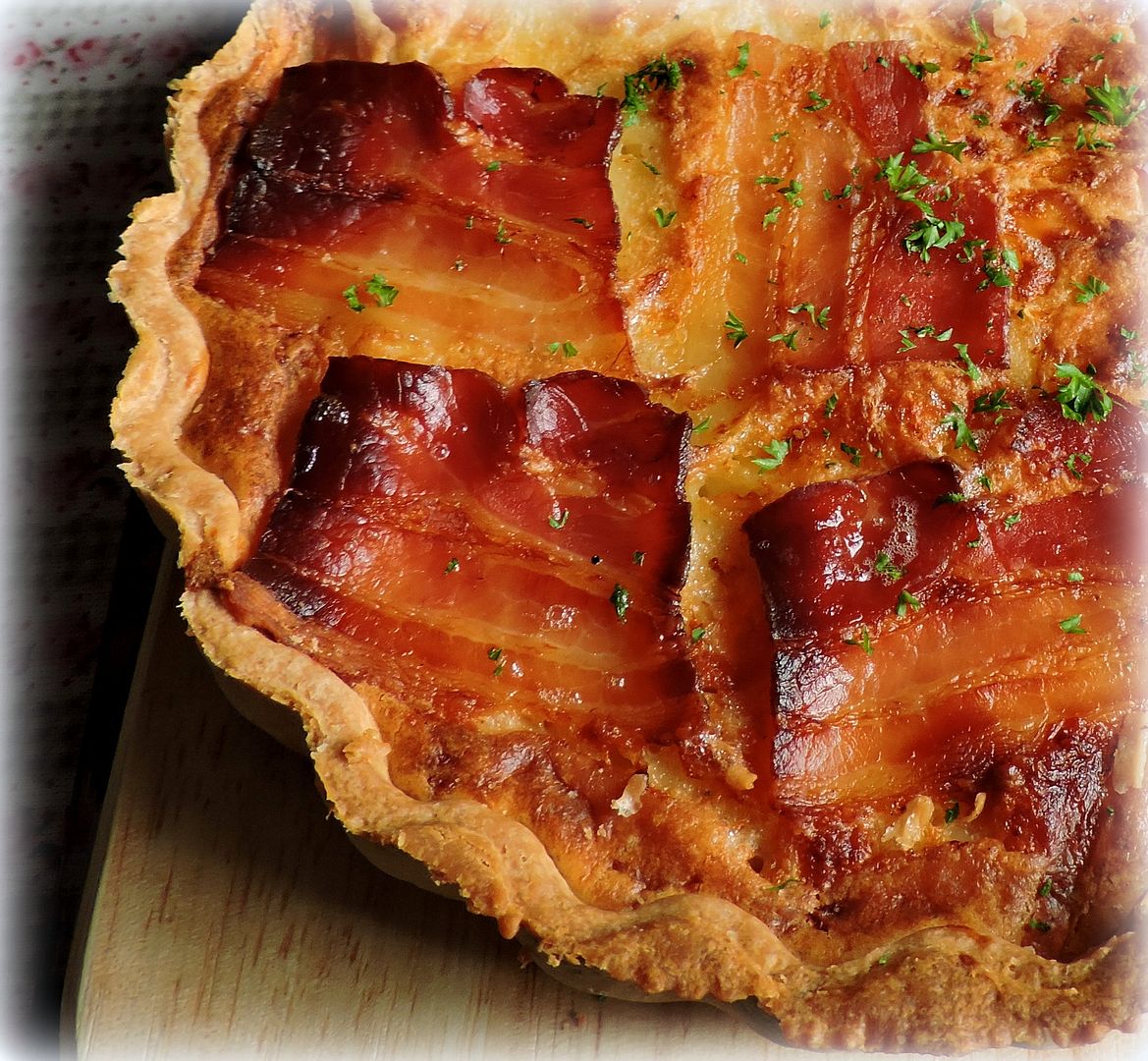 The end result was a very attractive and delicious Quiche that I did not feel very guilty about eating! I love it when that happens!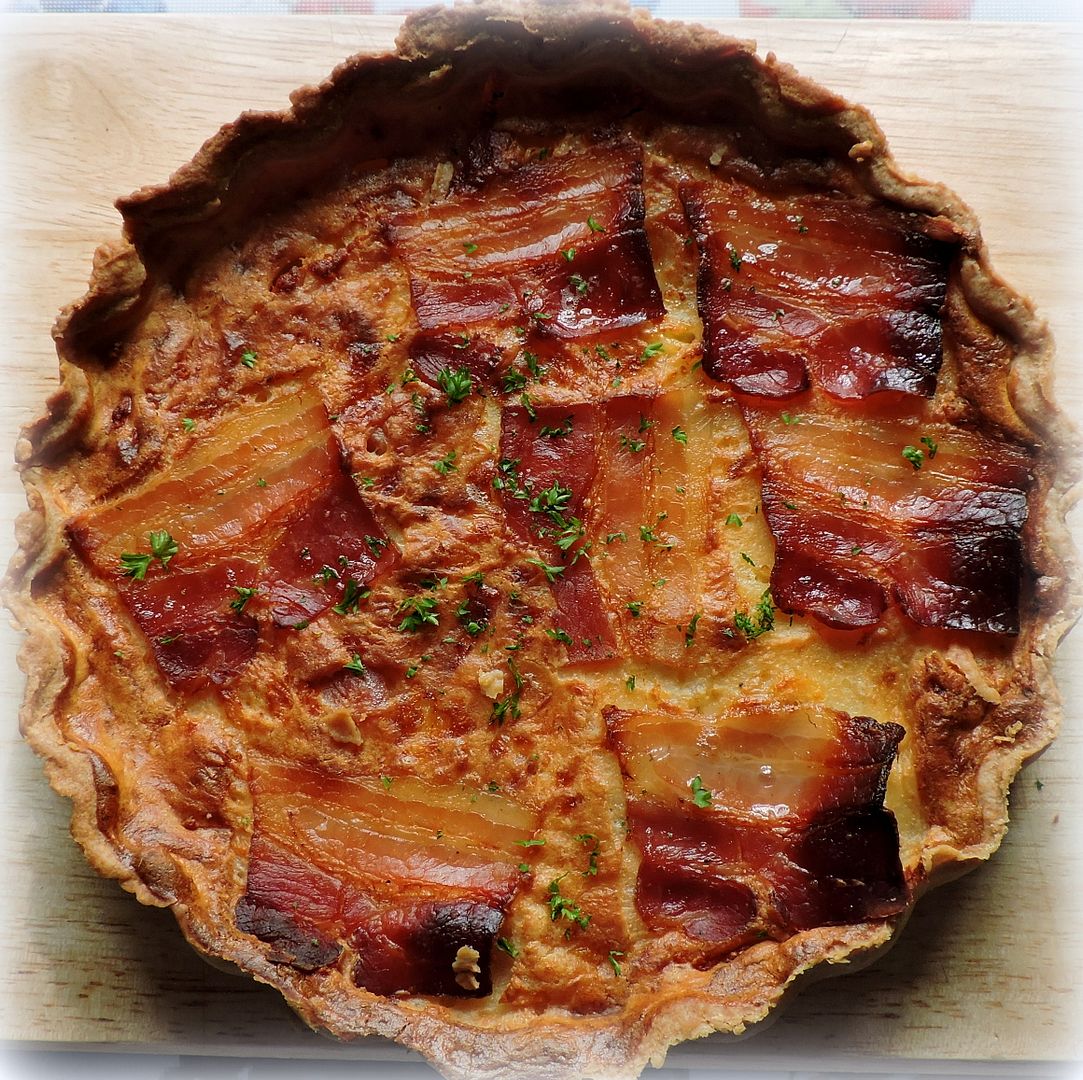 *Gruyere and Bacon Quiche*
Serves 8
Delicious through and through, but with only half the calories and a third of a fat of a regular quiche!
For the crust:
4 slices of streaky bacon
175g of plain flour (1 1/4 cups)
45g of finely grated Parmesan cheese (1/4 cup)
1 TBS sugar
1/2 tsp salt
1/2 tsp black pepper
3 TBS olive oil
60ml ice water (1/4 cup)
For the filling:
312 ml of buttermilk (1 1/3 cups)
70ml whole milk (1/3 cup)
5 large free range eggs
4 tsp corn flour (cornstarch)
1/2 tsp salt
1/4 tsp black pepper
30g grated Gruyere Cheese (1/4 cup)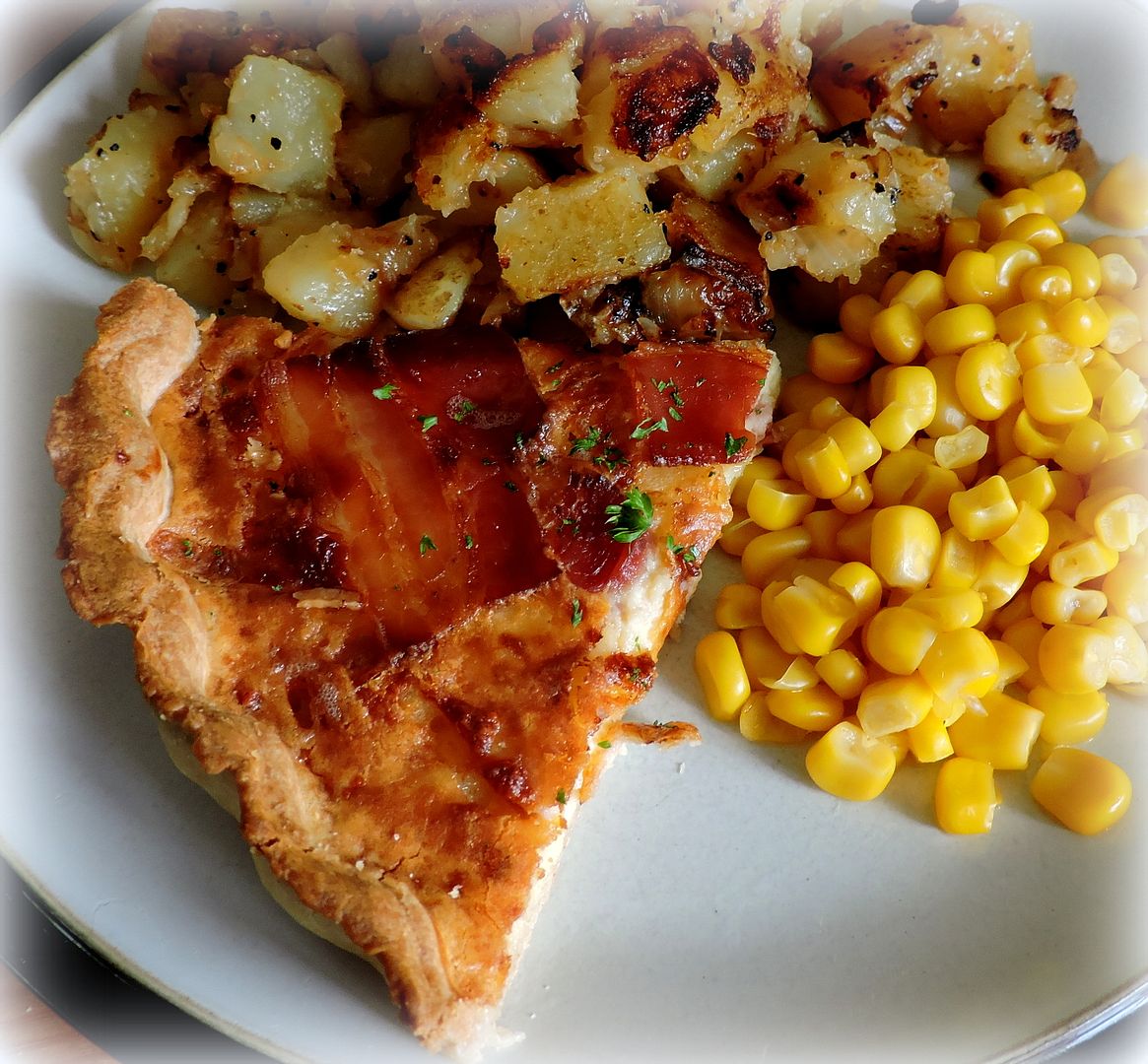 First make the crust. Cut the bacon slices in half through the middle. Cook in a medium skillet until semi crisp over medium heat, about 3 to 4 minutes. Remove and set aside on a plate lined with paper towel. Measure out and reserve 1 TBS of the fat.
Place the flour, 1 TBS of the Parmesan cheese, sugar, salt and pepper in a food processor. Blitz to combine. Add the oil and reserved bacon fat. Pulse until the mixture resembles coarse polenta, about 12 pulses.
Add the water and process just until the dough begins to clump into large pieces. Spray a 9-inch tart tin (with a removable base) with low fat cooking spray. Add the dough and press it evenly over the bottom and up the sided of the tin, Crimp edge. Wrap loosely in cling film and freeze for 30 minutes.
Preheat the oven to 180*C/350*F/ gas mark 4. Line the crust with a square of buttered aluminum foil and fill with pie weights, baking beans or rice. Bake until the top edge of the crust just begins to color, about half an hour. remove the foil and weights from the crust and sprinkle evenly with the remaining Parmesan cheese. Bake about 5 to 7 minutes longer to melt. Remove from the oven.
Whisk together the buttermilk, whole milk, eggs, cornflour, salt and black pepper until smooth. Stir in the Gruyere cheese. Place the tart tin on a baking sheet and carefully pour the egg mixture into it. Lay the bacon pieces over top in a decorative manner. Transfer the baking sheet to the oven and bake for 40 to 45 minutes, until just set and a knife inserted 1 inch from the edge comes out clean. Let stand for 15 minutes prior to serving.
Calories per serving - 250
14g fat, 4.5 g saturated fat
I really hope you will give this a go. It's delicious! Bon Appetit!