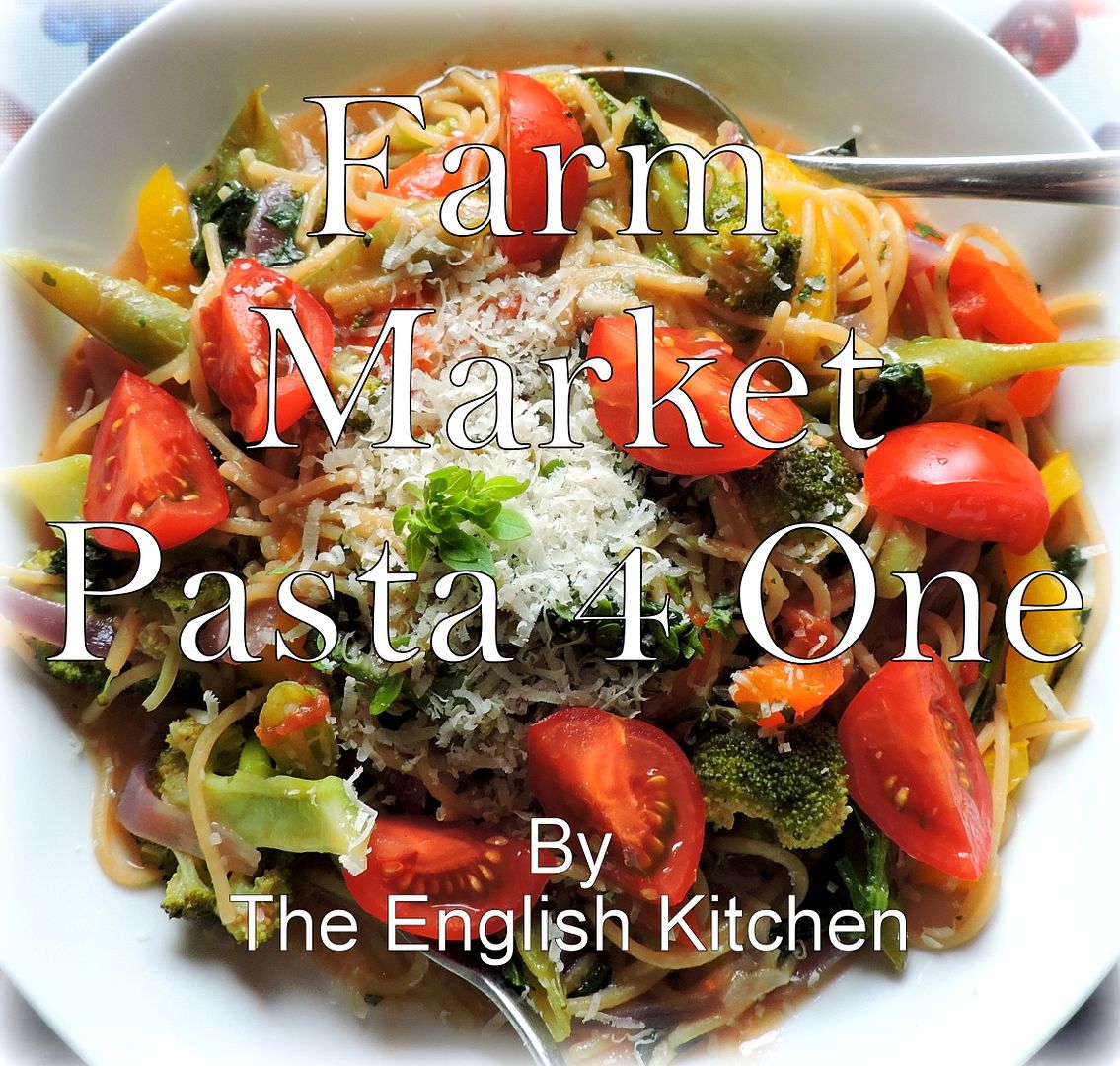 When I saw this recipe for a One Pan Farmers Market Pasta on
The View from The Great Island
, I knew it was something I wanted to make. It looked so fresh, delicious and healthy. Just one problem. Hubby loathes pasta and isn't overly fond of a lot of vegetables either. He was brought up on School Dinners and rationing and our modern vegetables/combinations/pasta dishes don't excite him in the least.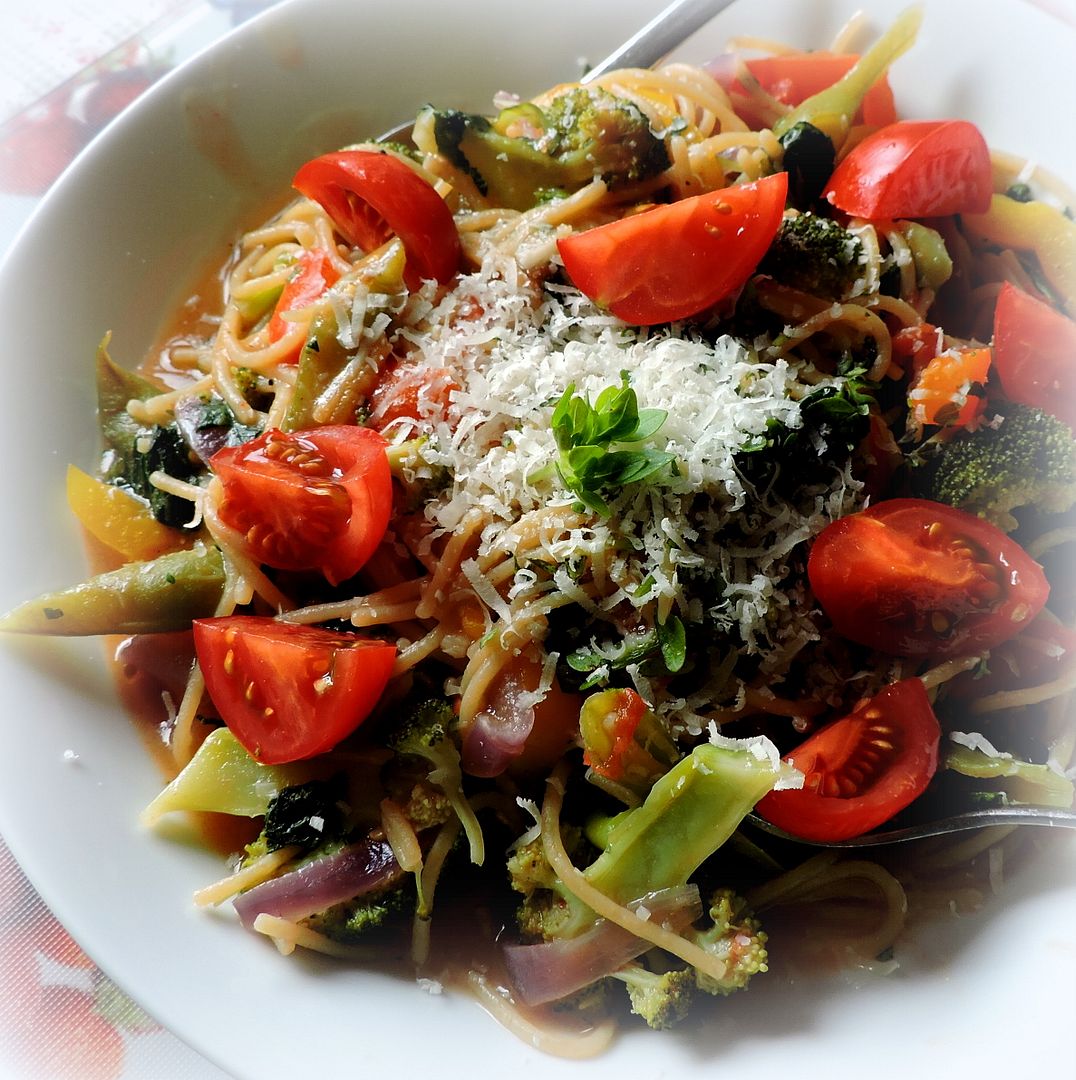 Myself, on the other hand . . . I adore fresh veg and combinations of veg and of course pasta. I thought I would never get to try this fabulous looking dish, but then today I decided that I would see if I could cut the recipe back to feed just one and HOORAY! I managed to do it and quite successfully as well!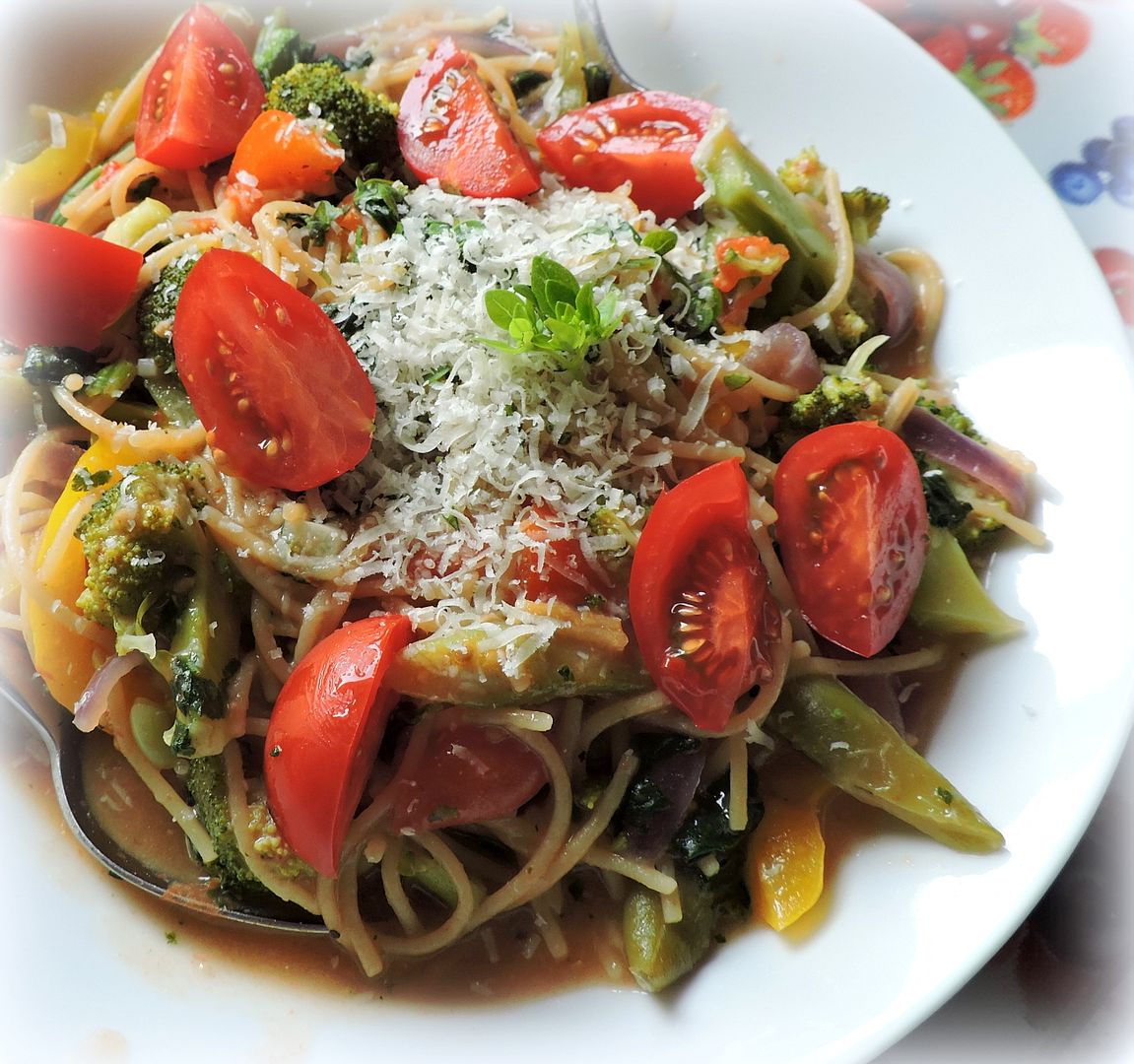 I wasn't able to use the exact vegetables that the original cook used, but I substituted them with what I did have and I am sure you could just use an equal combination of whatever vegetables you have to hand and what works for you, always taking into consideration of course, which flavours go well together. Cougettes would be nice, as would aubergine, cauliflower, cabbage, etc. One thing you won't want to skip however is the tomatoes. I think they are pretty integral to the dish.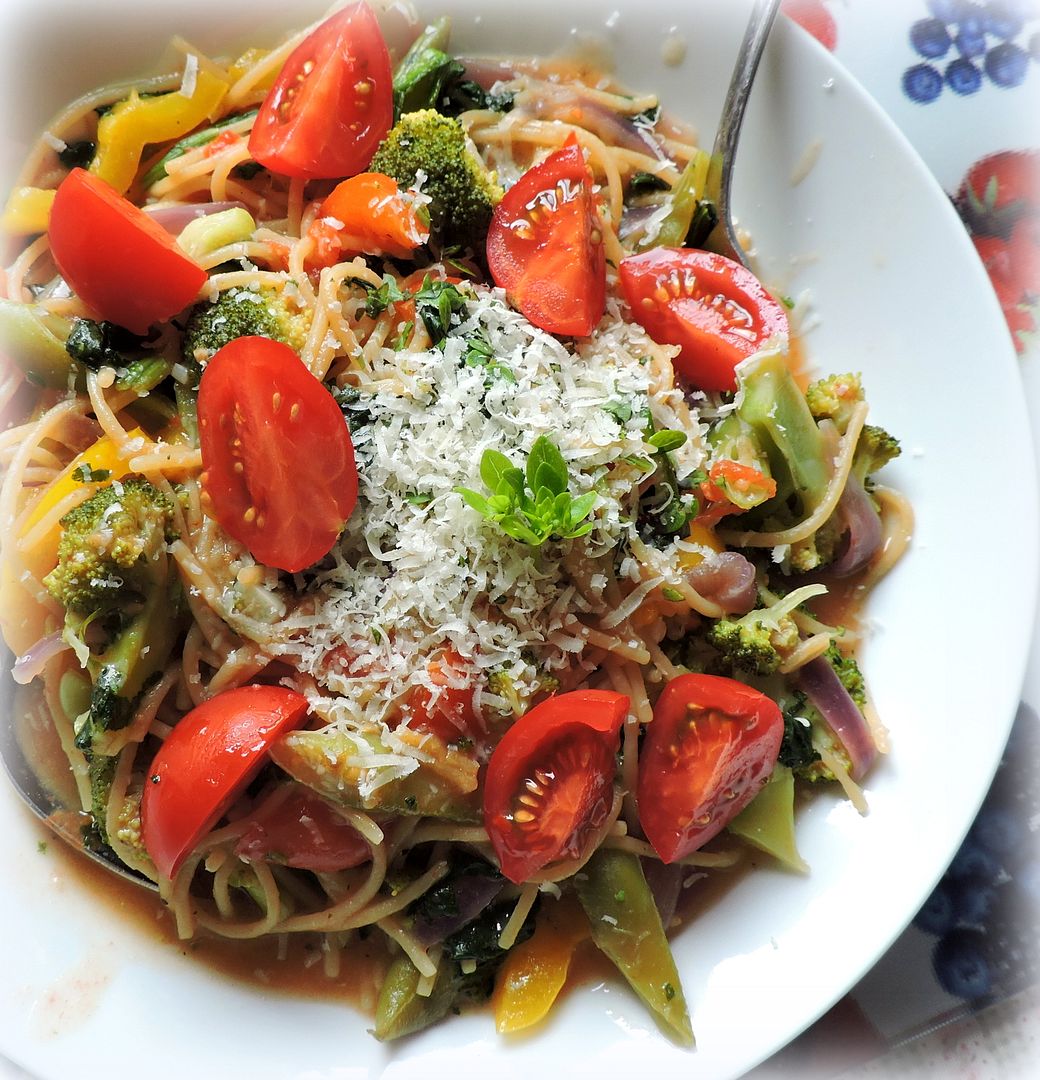 I used beans from the garden (runner beans, but you could use romano beans which are similar), two kinds of bell peppers (red and yellow), broccoli florets, red onions, and baby plum tomatoes.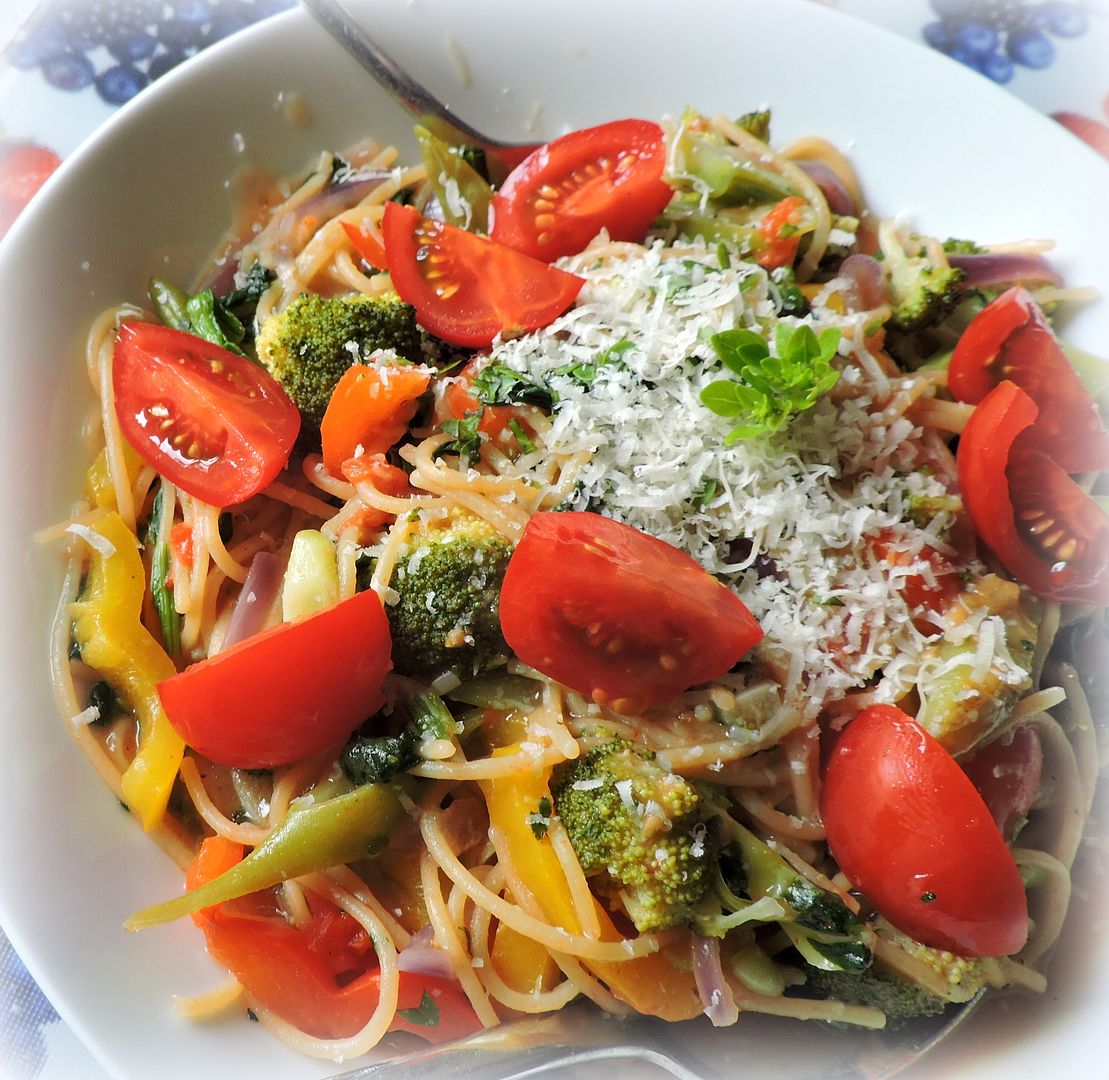 I also chose to use whole wheat spaghetti, because it is healthier and lower GI than regular spaghetti. The Big Island used a combination of white wine and water. I used white wine and vegetable stock.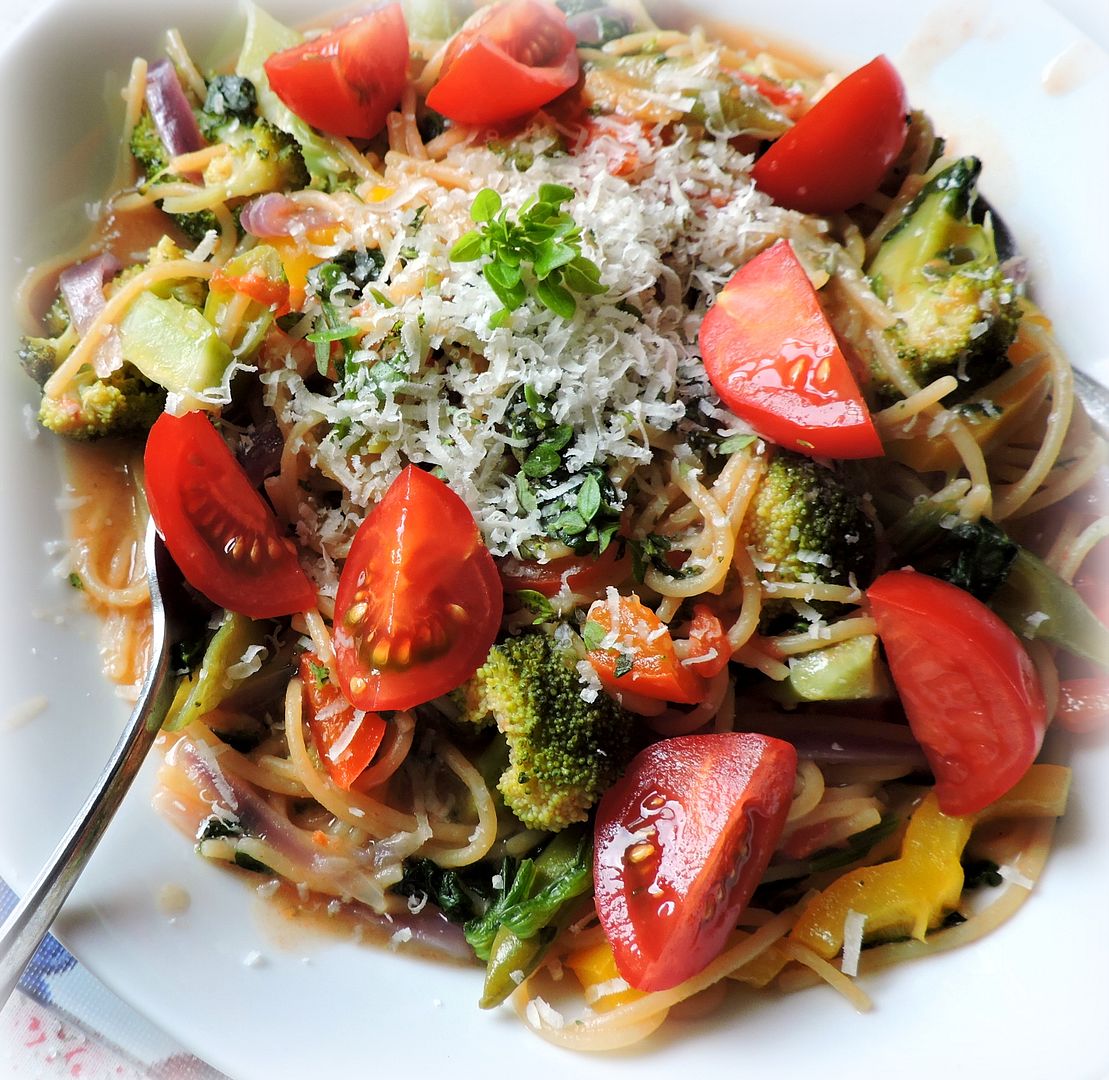 She used regular basil . . . I used some of my bush basil which I grew this year. Tastes the same, except the leaves are very tiny. Works beautifully in dishes like this.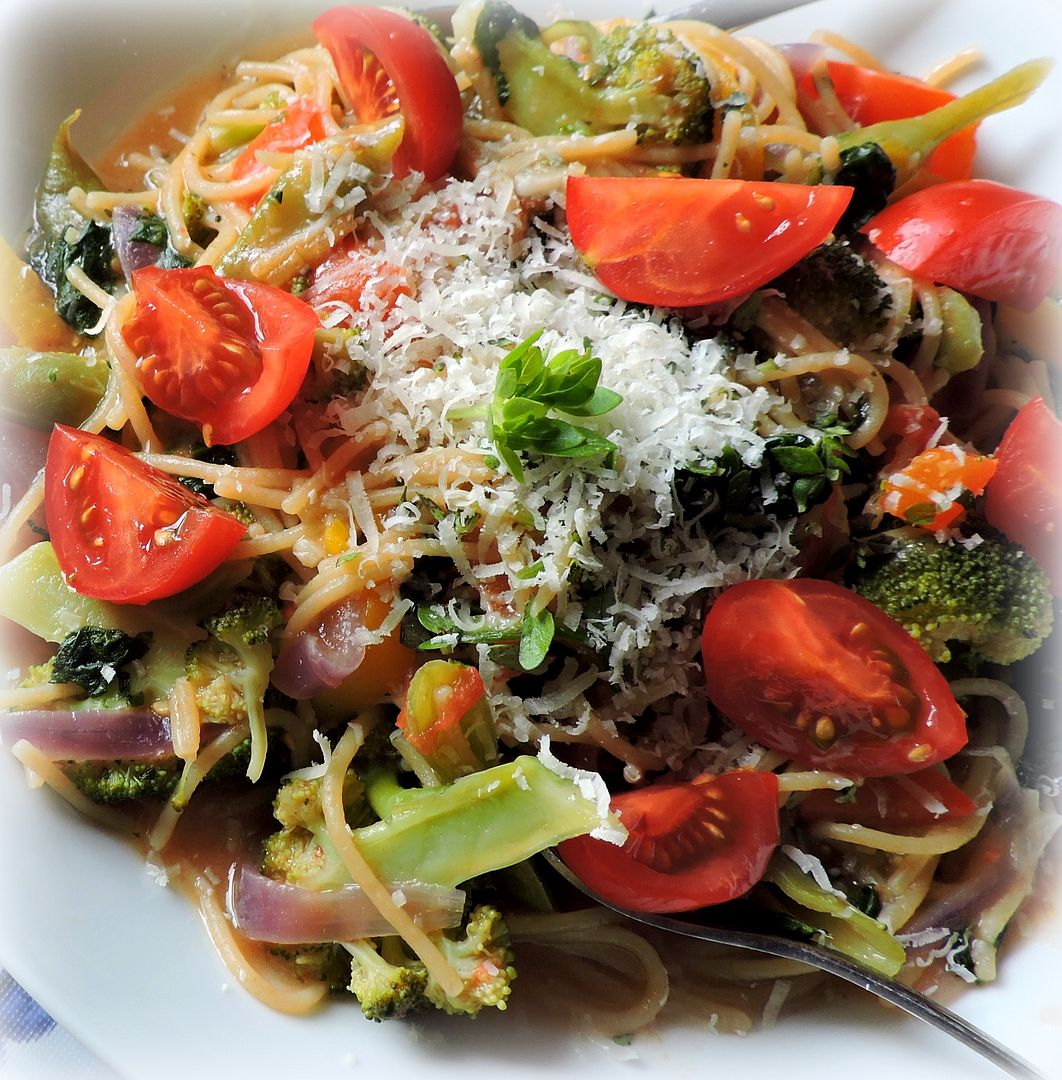 The end result was fabulously delicious and sized right just for me . . . well, maybe a bit on the generous side, but I just saved the vegetables which didn't get eaten to put in with Mitzie's supper. Everybody was happy!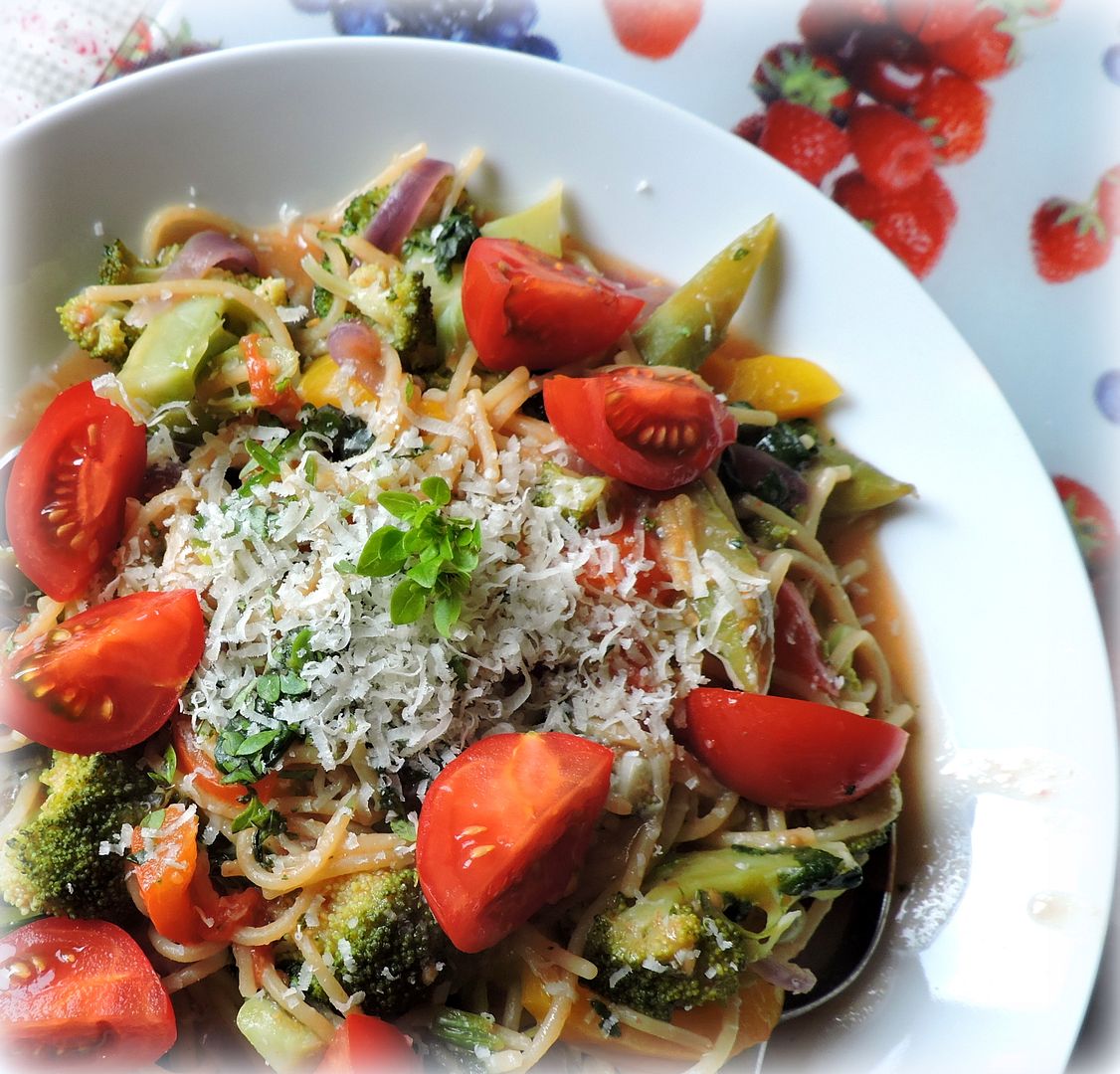 Todd had his leftover stew. Miztie had her tasty veg with her dinner and I got my pasta! Everyone's a winner!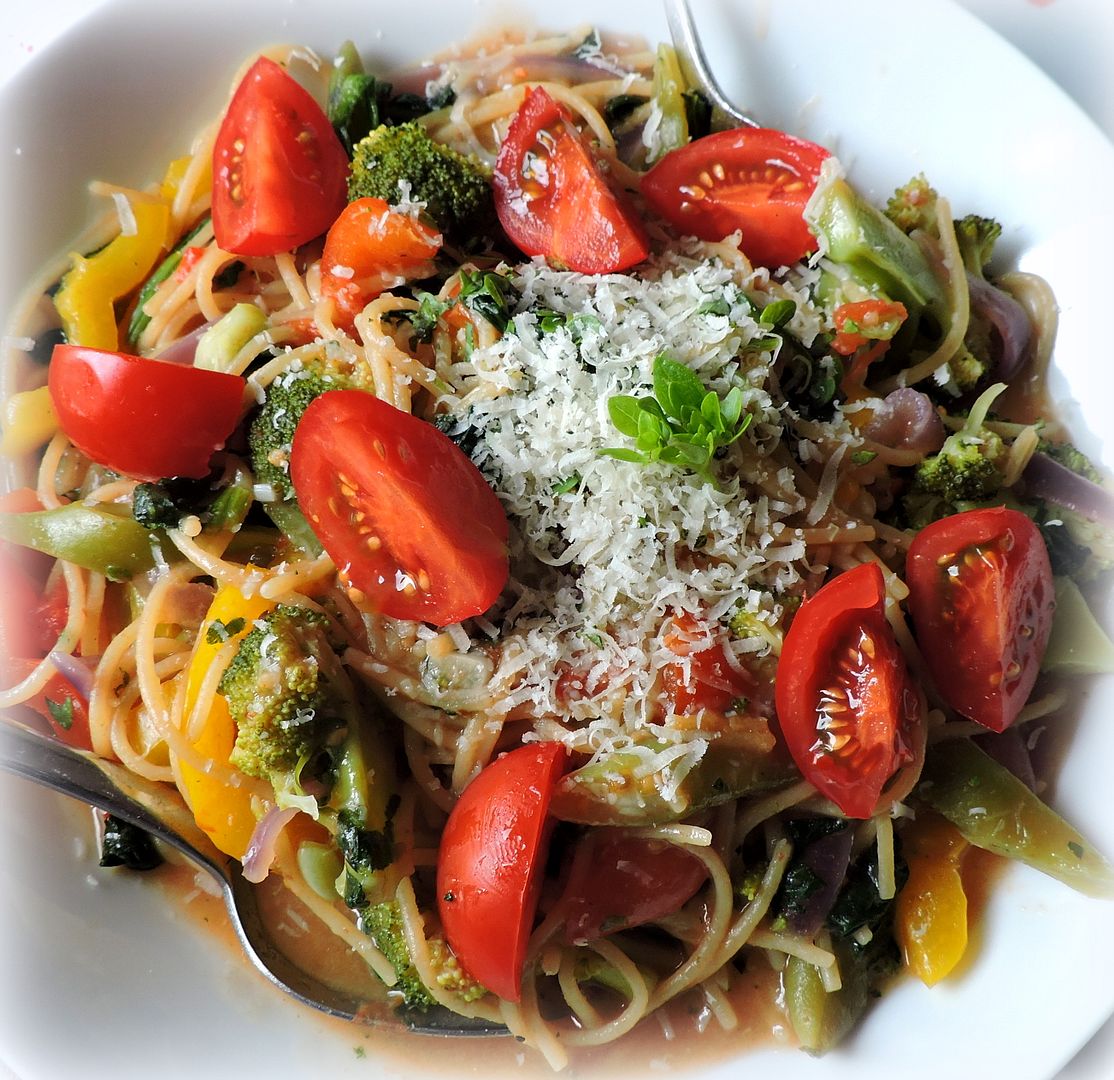 *Farm Market Pasta 4 One*
Serves 1 generously
Because I am the only pasta lover in my house, I adapted this healthy and delicious pasta recipe to serve only one person. It worked out beautifully!
3 ounces of whole wheat spaghetti, broken in half
1/2 small red onion, peeled and thinly sliced
1/4 each red and yellow bell pepper, cut into thick strips
1 runner bean trimmed and cut on the diagonal into 1/2 inch pieces
(You could use Romano beans if that is all you have)
4 broccoli florets, halved
5 cherry plum tomatoes halved
1 small clove of garlic, peeled and finely chopped
Pinch of hot pepper flakes
60ml dry white wine (1/4 cup)
180ml vegetable stock (3/4 cup)
1 tsp sherry or white wine vinegar
3 cubes of frozen whole leaf spinach (1 large handful of fresh)
salt and black pepper to taste
To serve:
grated Parmezan cheese to serve
halved cherry tomatoes to serve
chopped fresh basil to serve
Quite simply put the broken pasta into a large saucepan and top it with the fresh vegetables. Add the pepper flakes, garlic, wine, stock and vinegar. Cover and bring to the boil, then uncover and simmer, stirring frequently and making sure that the pasta doesn't stick to the pan for 7 to 9 minutes until the vegetables are cooked and the pasta is tender. (Note you may need to add a tiny bit more water, but be judicious as the liquid becomes the sauce and you don't want it too thin.) Add the frozen spinach, or leaf spinach if using. Stir in to melt the spinach, or wilt the fresh spinach. Taste and adjust seasoning with salt and black pepper. Pour into a pasta bowl to serve and top with the extra cherry tomatoes, fresh basil and Parmesan Cheese to taste.
Note - I am not overly fond of cooked tomato skins, and so I fish them out and discard, but if you are not bothered, fill your boots.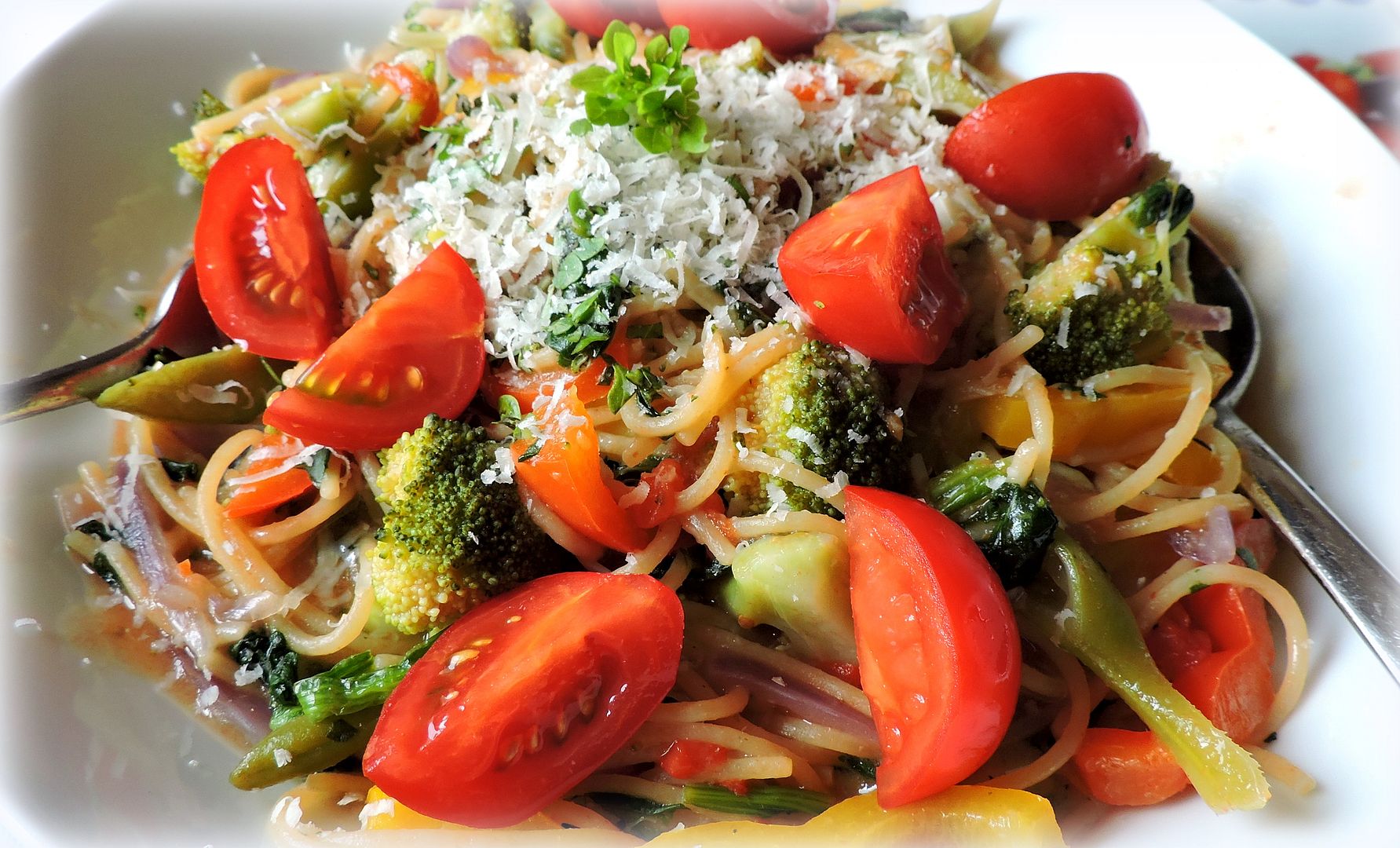 If you want to make the recipe to feed more people do check out the
original one here
, which feeds between 4 and 6 depending on appetites. I highly recommend this tasty dish! Nom nom!!
Bon Appetit!
PS - How can it be Thursday already??? Wasn't it
just
Monday??? And how on earth can we be heading into the last week of September just about! The time is going too fast!