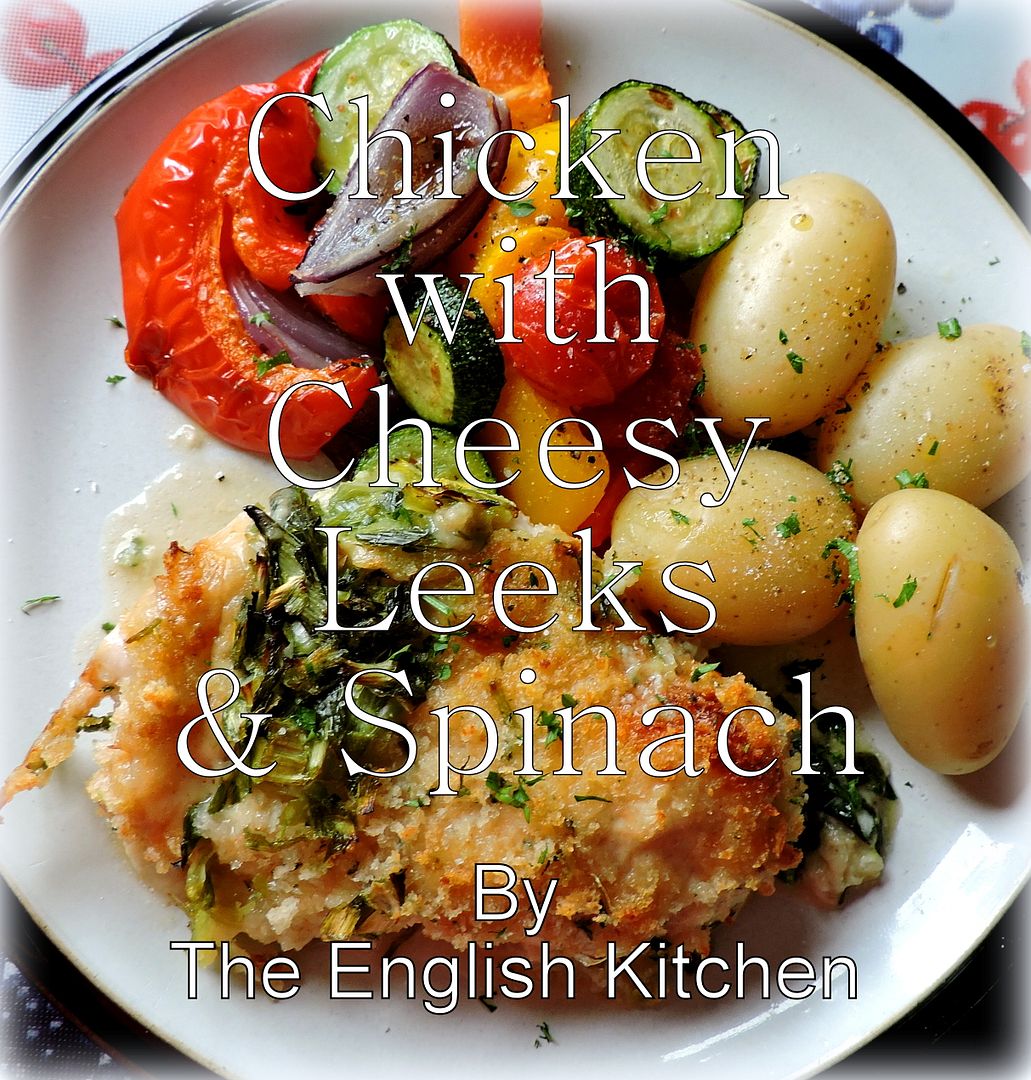 We do eat a lot of chicken in this house. You've probably noticed. That's because it is pretty economical and very versatile. Especially chicken breasts. They are a virtual canvas for many flavours and textures. I love to play with them and come up with delicious ways of preparing them. This turned out to be one of our favourites! Chicken with Cheesy Leeks and Spinach!
Todd just adores leeks, and I confess I like them too. They are such a wonderful ingredient and add a lovely oniony flavour to just about any dish. They can have a tendancy to be somewhat gritty and sandy, so do be sure to clean them very well prior to using them. I just cut off the very fibrous tops and remove the outer leaves which can be tough. Then I cut a slit down one side with a sharp knife, fan them open and run them under cold water. It works really well. Give em a good shake dry and they are good to go!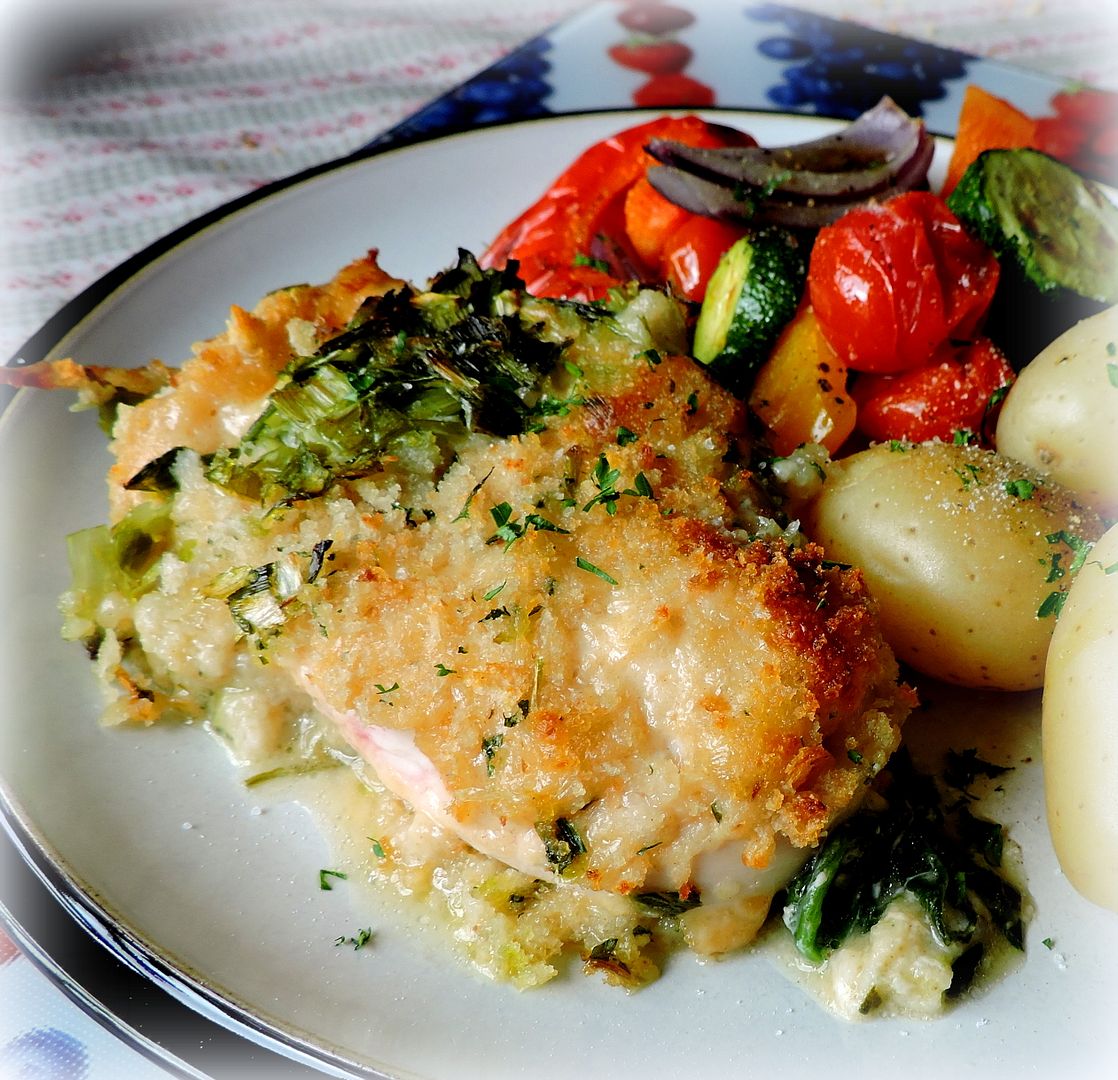 I wilted them in the microwave for this dish, but you could also saute them in a bit of butter if you aren't bothered about fat and calories. Spinach gets laid in the bottom of a baking dish and then seasoned chicken breasts are laid on top. The wilted leeks are placed on top of those . . .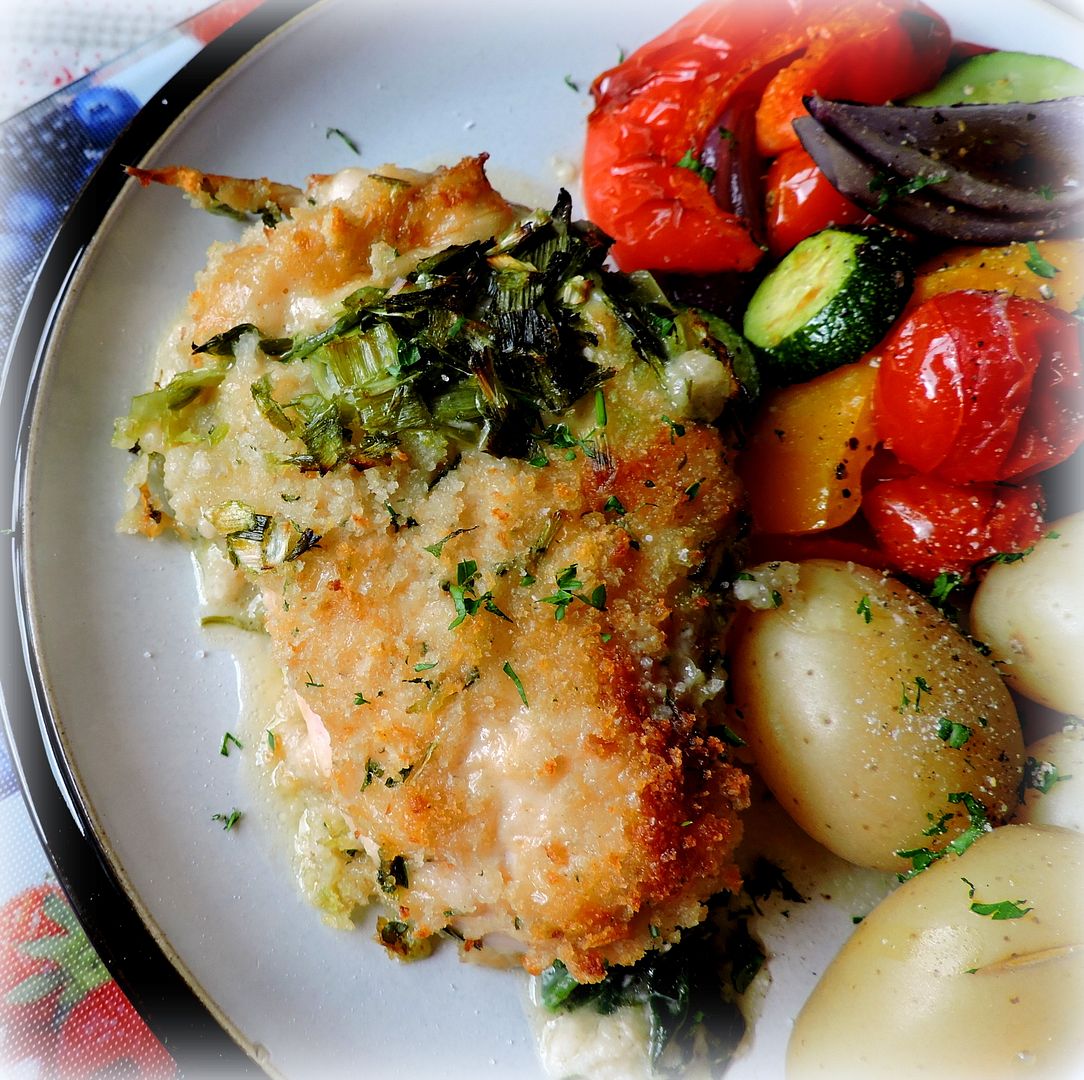 I then created a cheese sauce to pour over the leeks and topped with buttered crumbs before baking until the flavours had all melded together, the chicken was moist and tender and those lovely crumbs browned. Oh boy but this was some delicious! I served it with some steamed baby potatoes and roasted peppers, red onions, courgettes and tomatoes. SOME GOOD!
I highly recommend!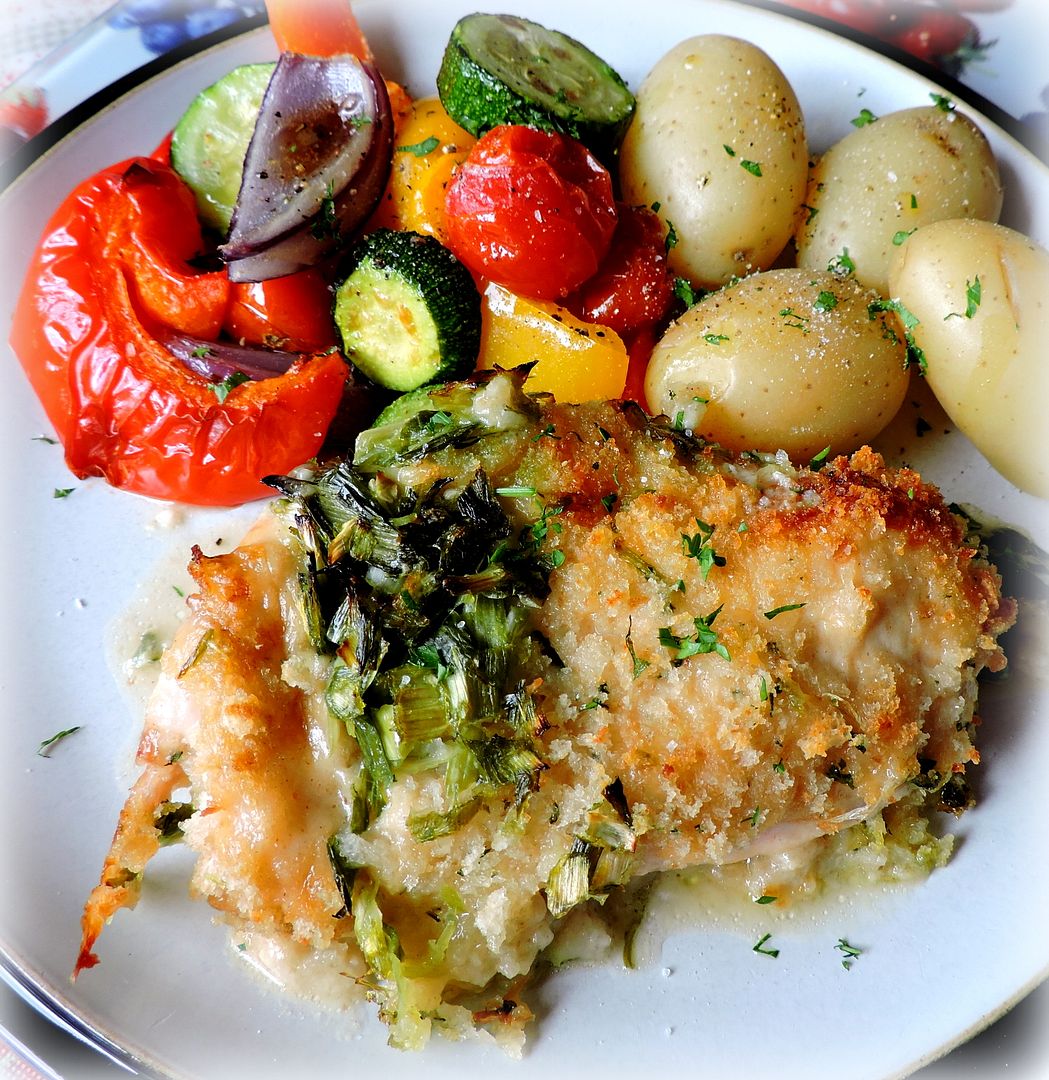 *Chicken with Cheesy Leeks and Spinach*
Serves 4
This makes for a delicious supper, midweek. All you need on the side is some rice or potato and a vegetable, or salad. Simple and hassle-free, my kind of cooking. Use good quality chicken breasts for this.
4 boneless skinless chicken breasts
2 leeks, washed and thinly sliced
(White and light green parts)
a small bag of baby spinach leaves
2 TBS butter
2 TBS flour
1/2 tsp dried mustard powder
salt and pepper to taste
300ml semi skimmed milk (1 1/2 cups)
125g grated strong cheddar cheese (a generous cup)
To Top:
2 sliced of stale bread made into crumbs
1 TBS melted butter



Preheat the oven to 200*C/400*F/ gas mark 6. Butter a shallow baking dish. Set aside.
Make the cheese sauce by melting the butter in a saucepan. Whisk in the flour and mustard powder. Cook for a minute, whisking constantly, then slowly whisk in the milk. Cook, stirring constantly until the mixture bubbles and thickens. Remove from the heat and whisk in the cheese to melt. Season to taste with salt and black pepper.
Put the leeks into a large bowl with 1 TBS of water. Cover with cling film. Microwave on high for 1 minute until well wilted. Set aside to cool. Melt the butter and toss with the bread crumbs. Set aside.
Place the spinach into the baking dish. Lay the chicken breasts on top. Divide the wilted leeks equally between the chicken breasts, laying them over top. Pour the cheese sauce evenly over all. Top with the buttered crumbs.
Bake for 25 to 30 minutes, until golden brown and the chicken is cooked through. The juices should run clear. Delicious!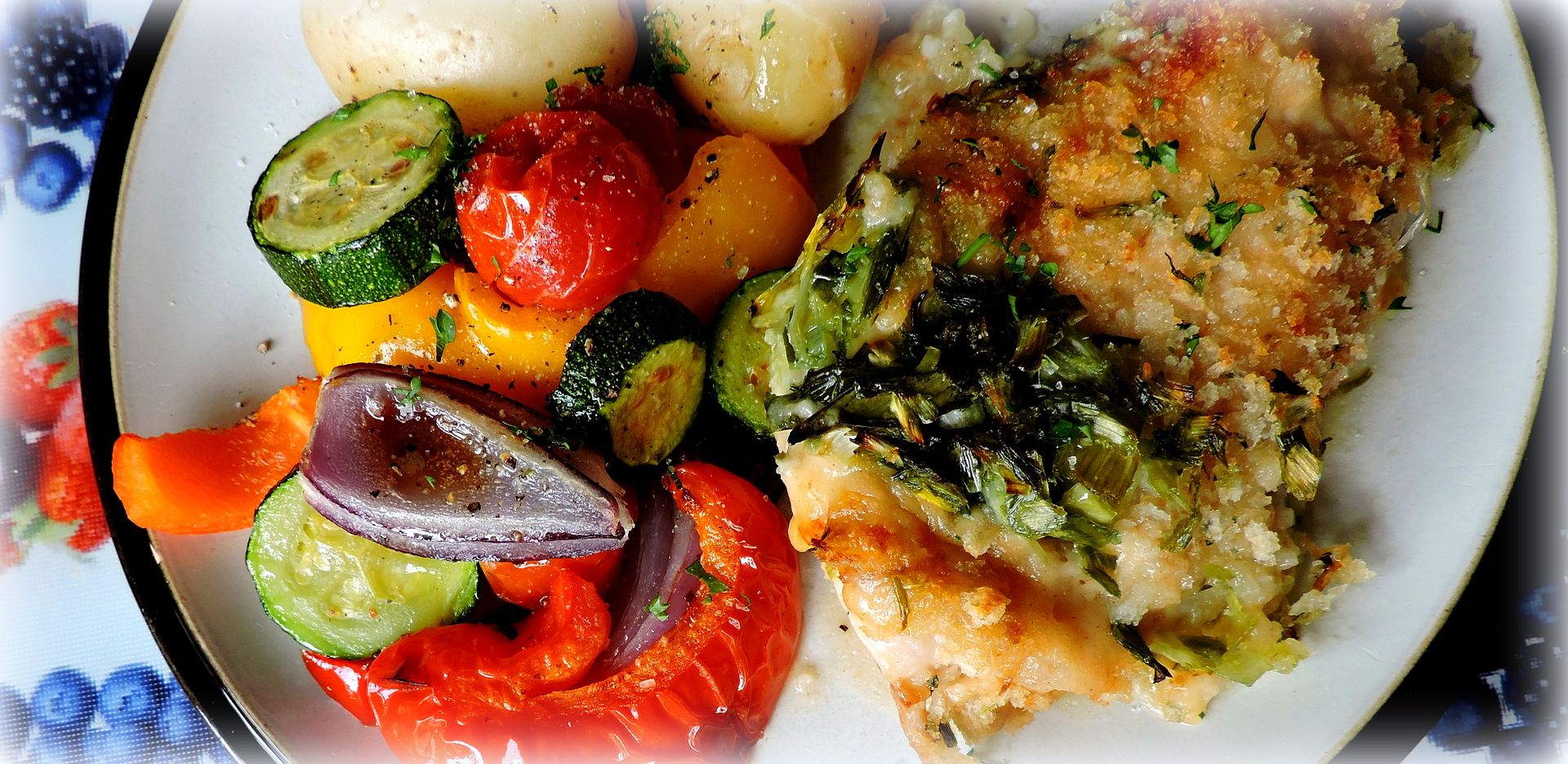 I hope you will give these a go. If you do I am sure you will agree that they are fabulous. I would serve this to company! I was very happy with how they turned out! Bon Appetit!