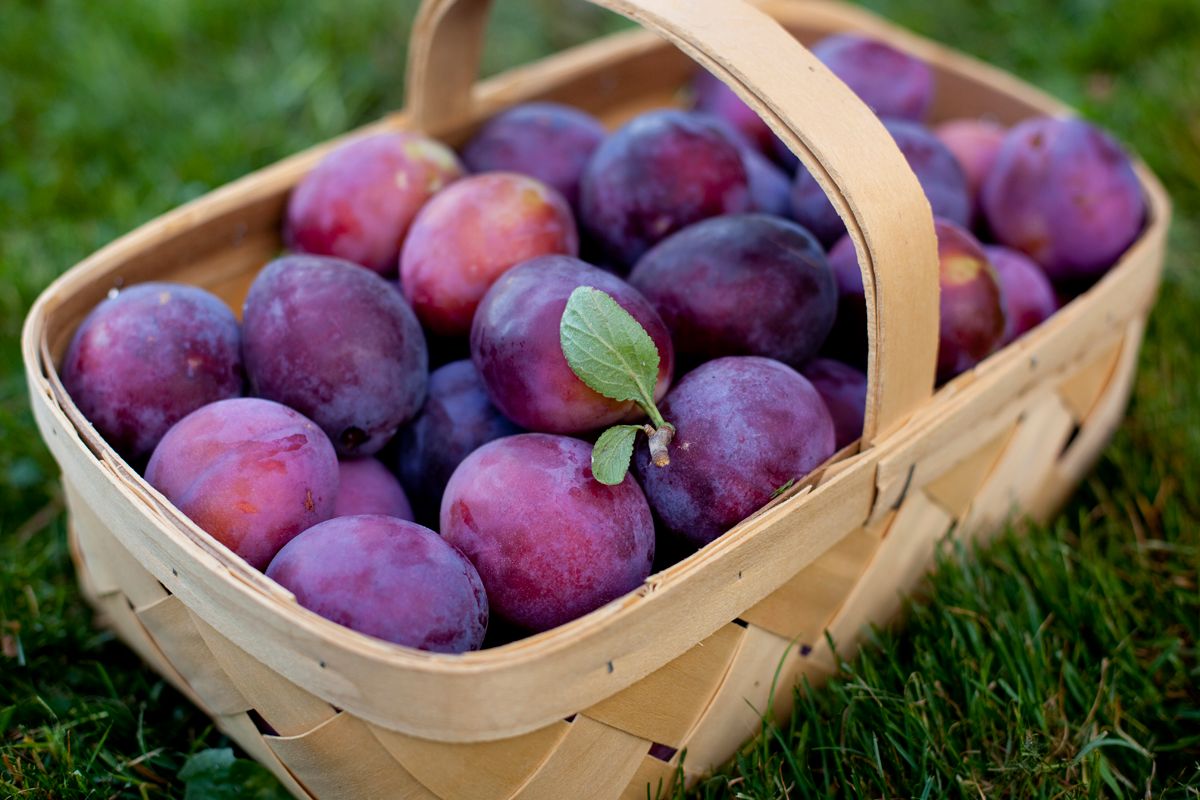 One of the things I love most about this time of year is PLUMS! Yes the plus are ripe and for a change this year we have had a bumper crop of them. Although Todd for the life of him can't figure out what he did that was any different than any other year. Last year we had two plums, exactly. No more, no less, but at least we each got to enjoy one.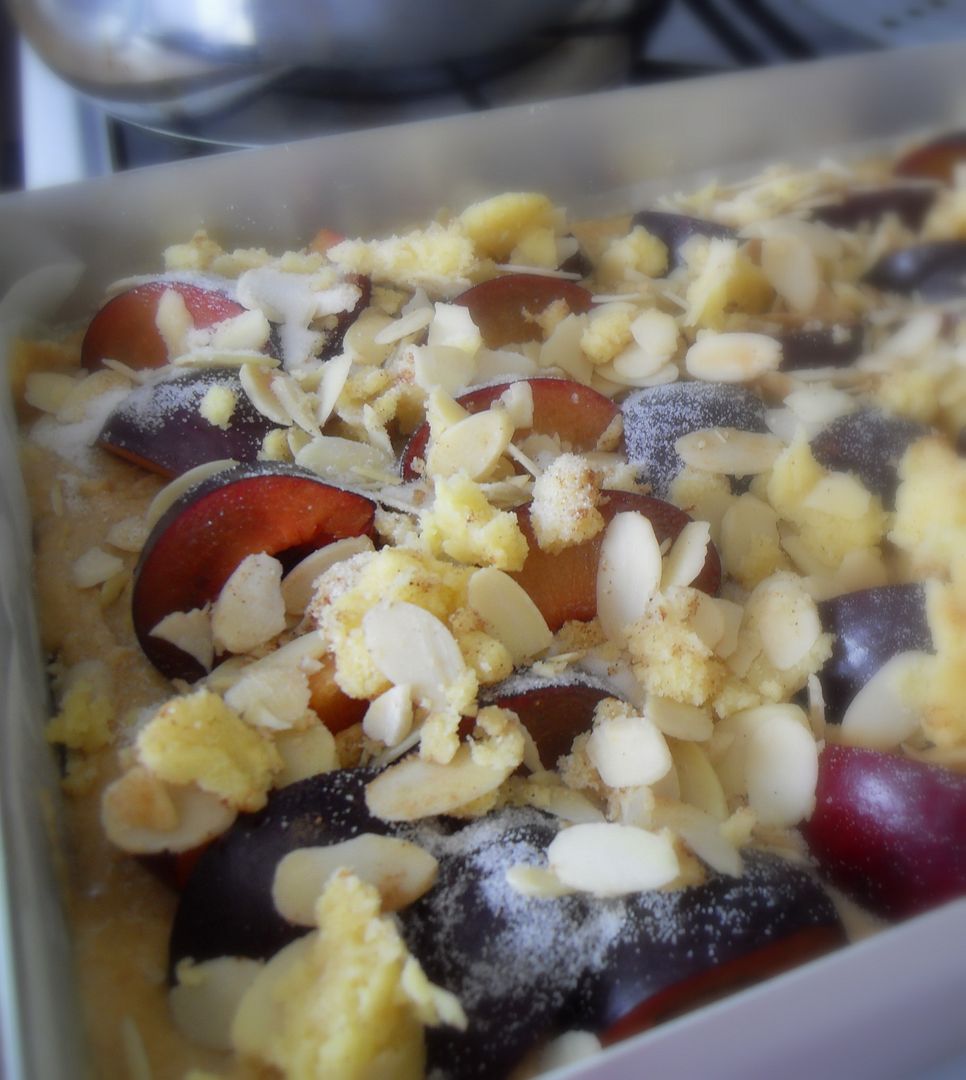 I do so love frangipane cakes. I adore almonds and its a flavour that goes really well with plums. You will want somewhat firm plums for this, so don't wait until they are over-ripe. Make this before that happens!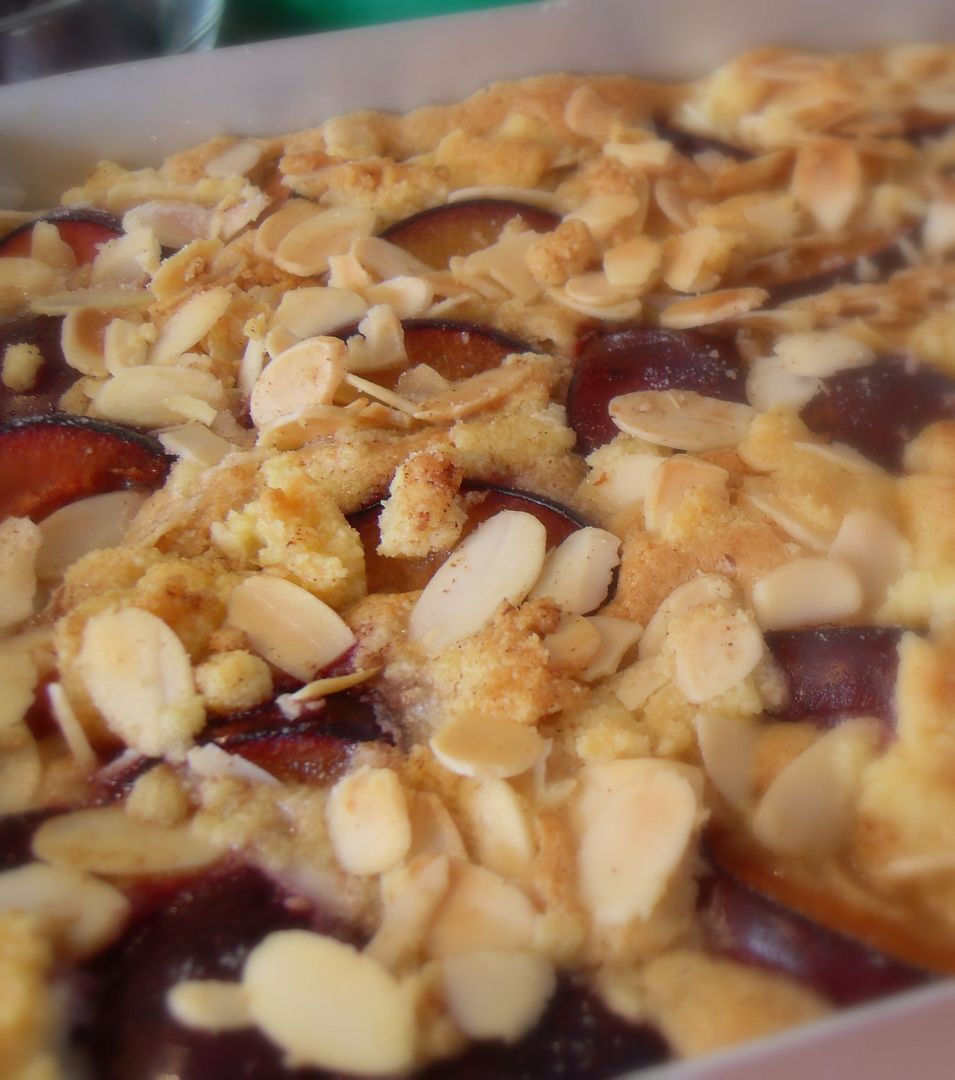 This is what I would call a crumb cake. You make a crumb mixture in the food processor, which you then use in the base, filling and topping.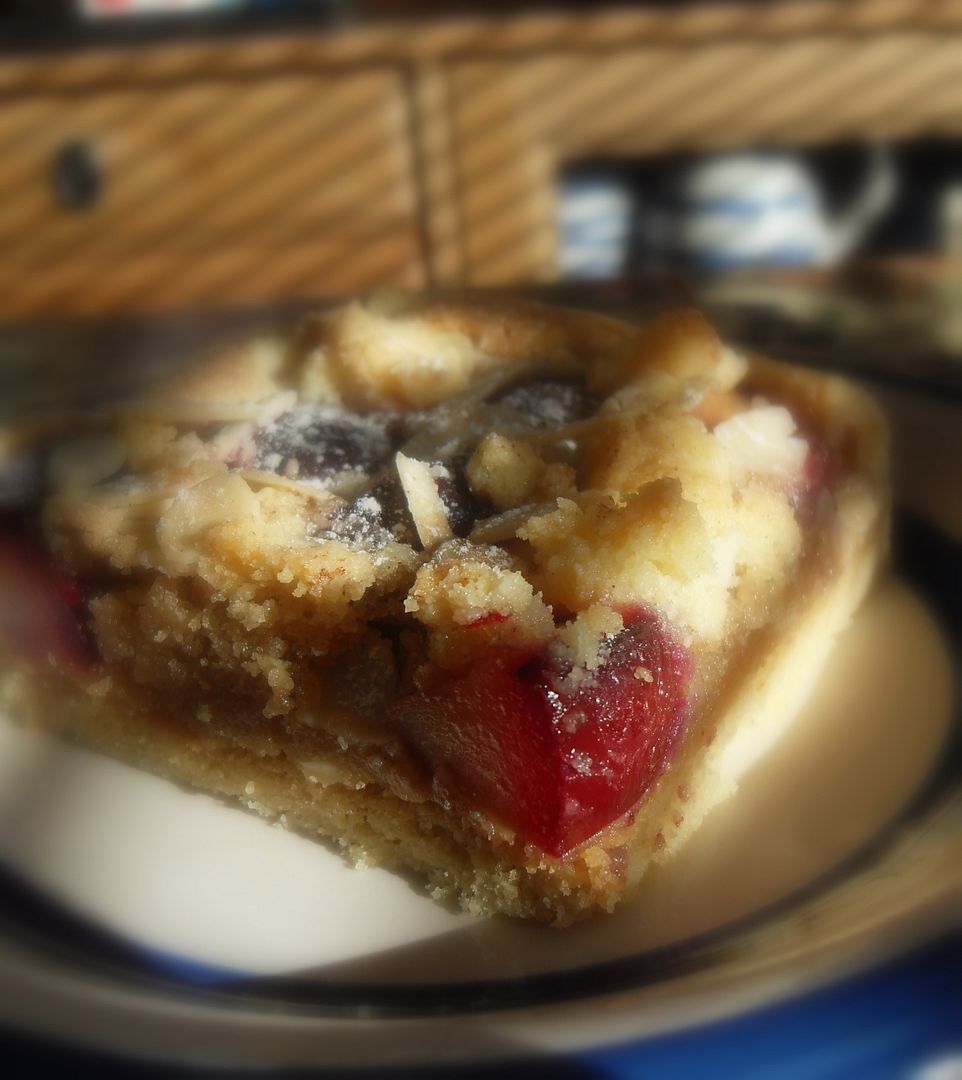 Some of the crumbs get pressed into a baking tin and baked into a lovely buttery crust. Oh boy that is some good . . . but that's not all . . .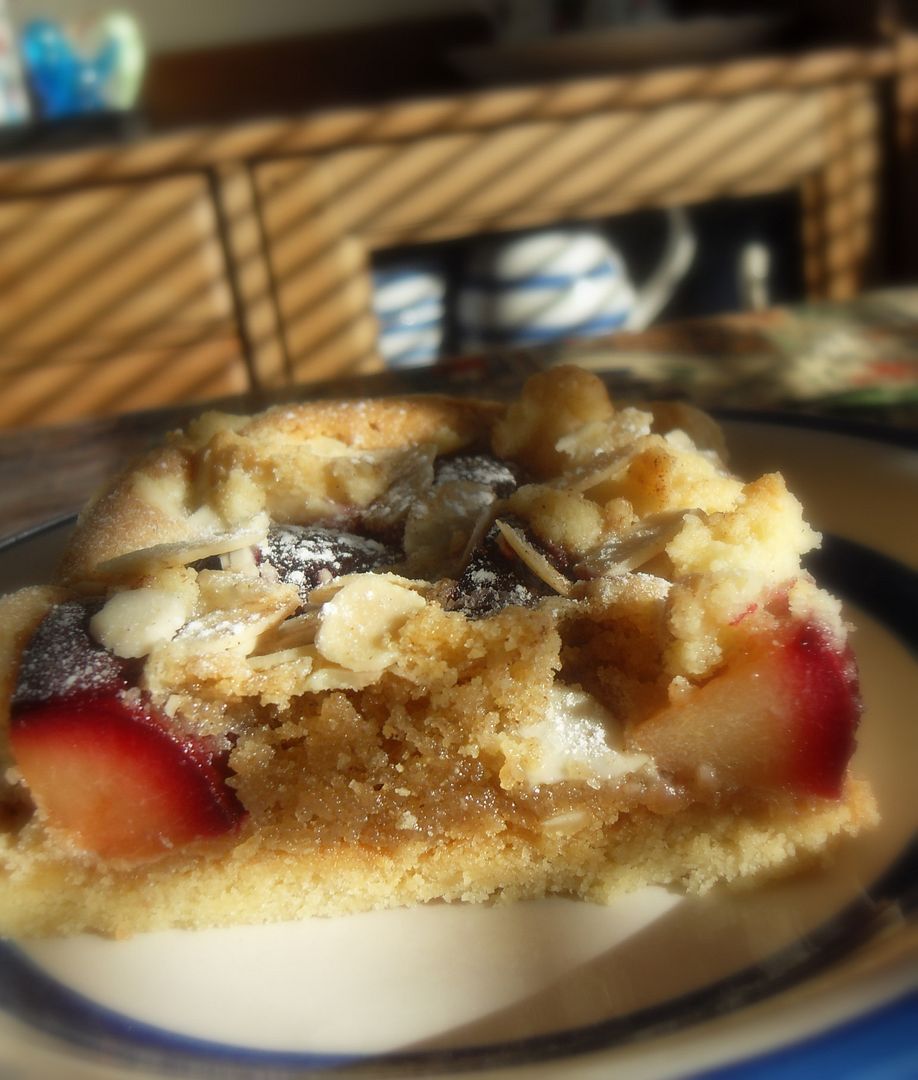 Then you make a frangipane mixture with more of the crumbs by beating in some eggs and stuff. This you spread over the buttery baked base, which you then top with some sliced plums . . . and then you bake it some more. (Are your tastebuds tingling yet?)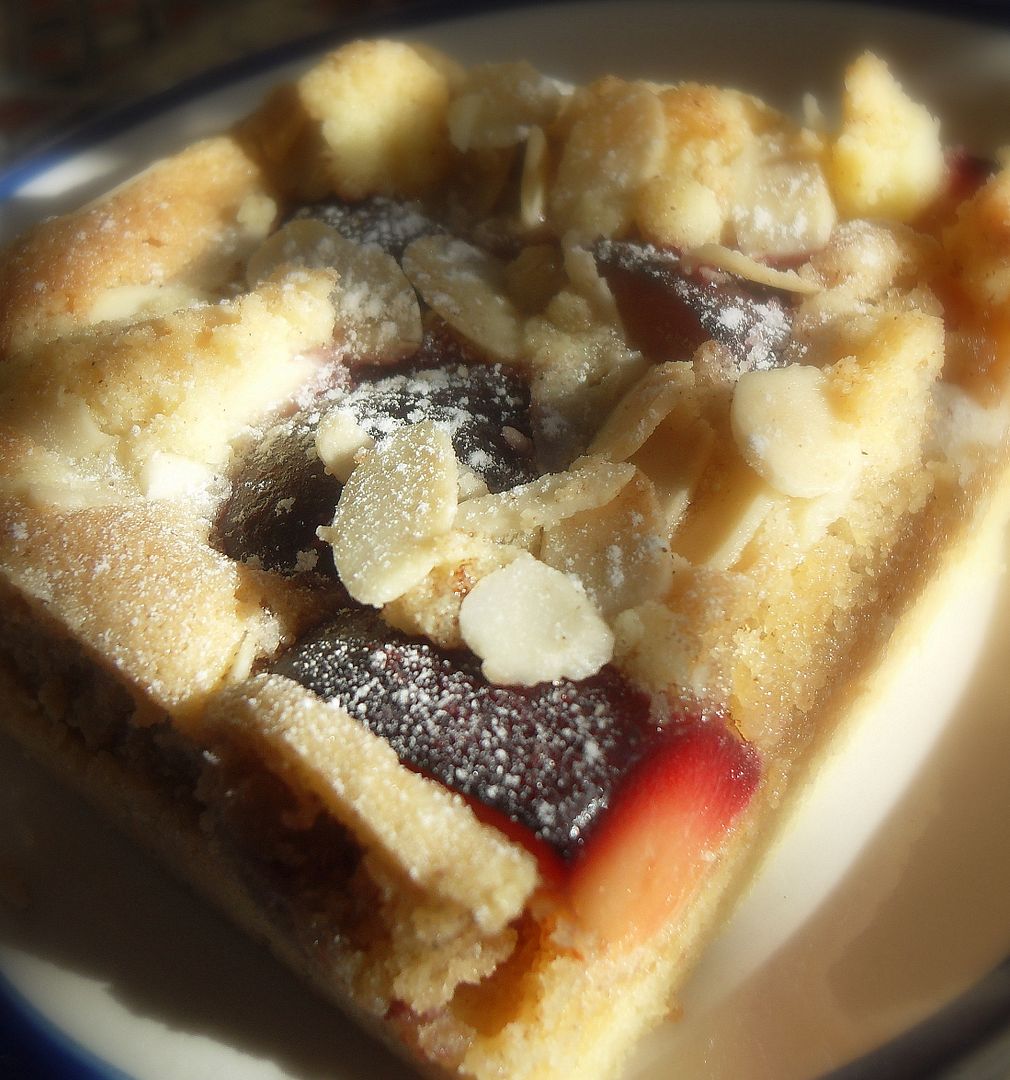 The plums get all soft and sweet and the frangipane mixture bakes up around them. Finally, you add a scrummy topping of the last of the crumbs which you have mixed with some flaked almonds and then you bake it a little longer til golden brown.
It's all you can do to wait until it cools to dig in . . . but wait. It's worth it. Trust me on this. It tastes so much better lukewarm than it does hot. (And it tastes pretty good hot!!)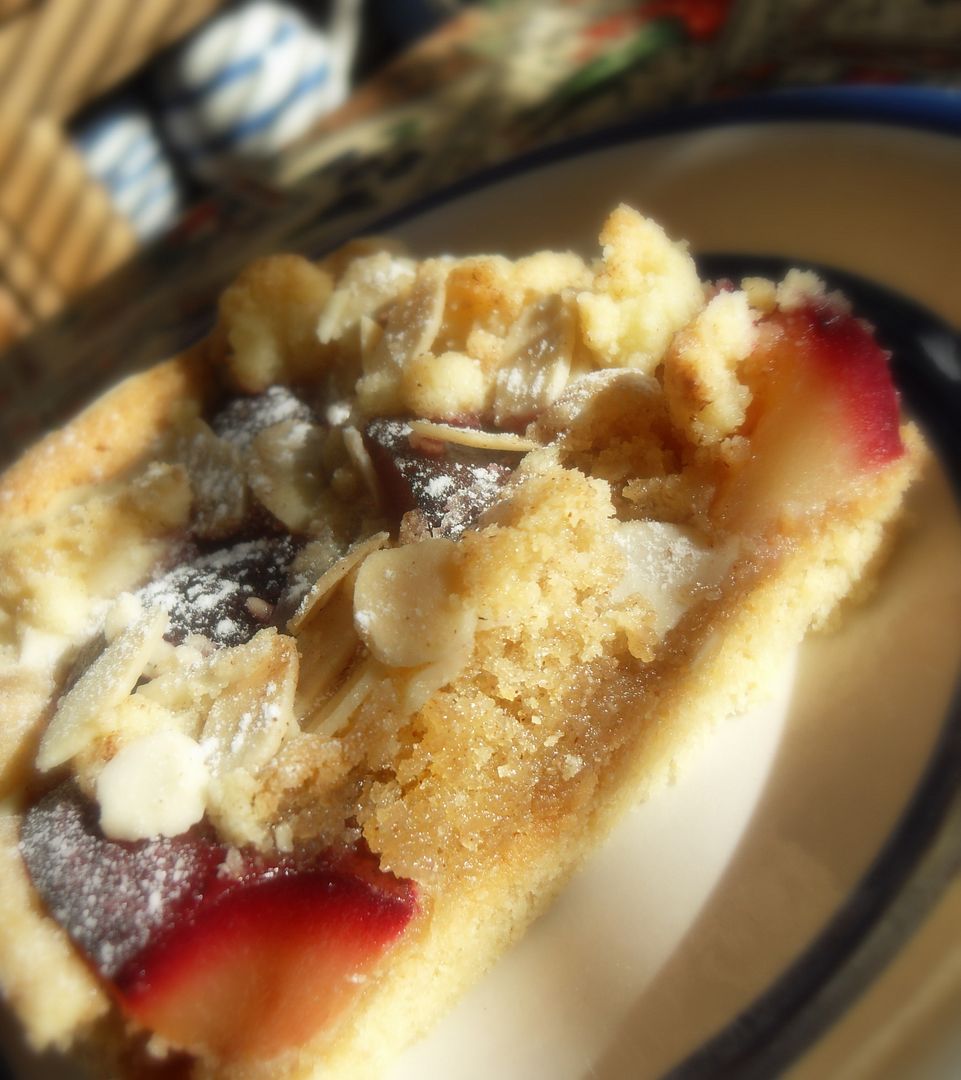 It is like a mix of tart/cake and crumble!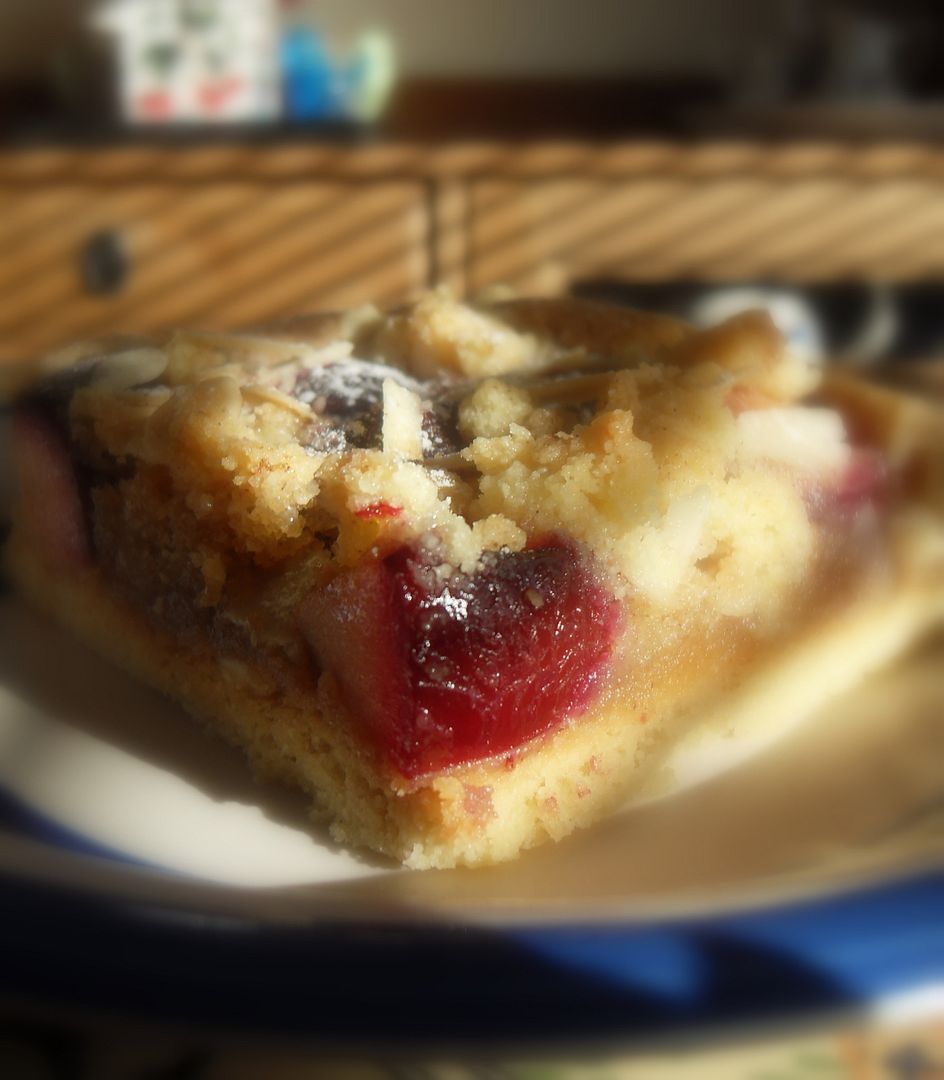 It's a
ll
three rolled into one scrummily moreish buttery bake! Oh my but this is some good!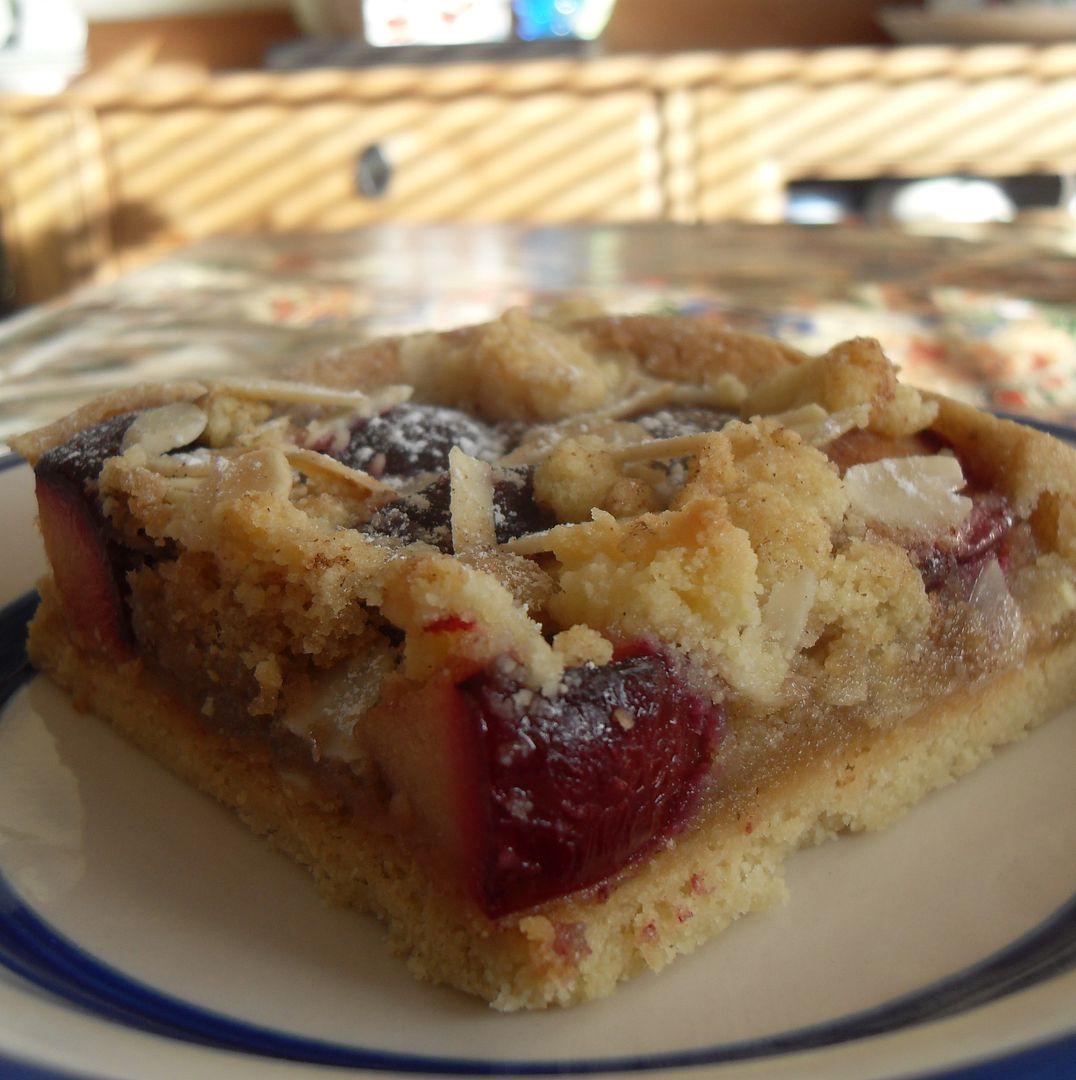 *Plum and Almond Frangipane Bake*
Makes 16 servings
Printable Recipe
It's scrummy almond crumb cake loaded with tasty plums and a crumble topping!
250g COLD butter ( 1 cup plus 1 1/2 TBS)
227g castor sugar, plus a bit extra for sprinkling (1 cup plus 3 TBS)
284g ground almonds (3 cups plus 6 TBS)
210g plain flour, plus 4 1/2 TBS extra flour (1 1/2 cups plus 4 1/2 TBS)
2 large free range eggs
1 tsp ground cinnamon, plus extra to sprinkle on top
1 tsp baking powder
6 firm plums, stone and cut into sixths
60g flaked almonds (2/3 cup)
Preheat the oven to 180*C/350*F/Gas mark 4. Butter an 8 by 12 inch baking tin and line the bottom with parchment paper.
Place the butter, sugar and ground almonds in a food processor. Pulse them together until the mixture resembles a rough crumble. Remove half of this mixture to a bowl and set aside. To the remaining mixture in the processor, add the 210g (1 1/2 cups) ounces of flour and whiz this together until it forms a dough. Tip this into the prepared baking tin and press it out evenly, pressing it down well. Bake for 20 minutes until golden brown. Remove from the oven and set aside to cool.
To make the filling, tip the remaining crumble mixture back into the food processor, reserving 2 TBS aside for the topping. Add the remaining 4 1/2 TBS of flour, the baking powder, the eggs, and the cinnamon. Whiz until it forms a soft batter. Spread this batter over the cooled base.
Top the batter with the prepared plums and sprinkle with a little extra sugar and cinnamon. Bake for 20 minutes.
Mix the remaining crumbs with the flaked almonds. Sprinkle this over top of the baked plums and return to the oven to bake for a further 20 minutes, until golden brown and the batter and plums are thoroughly cooked. Remove from the oven and allow to cool completely before cutting into slices to serve.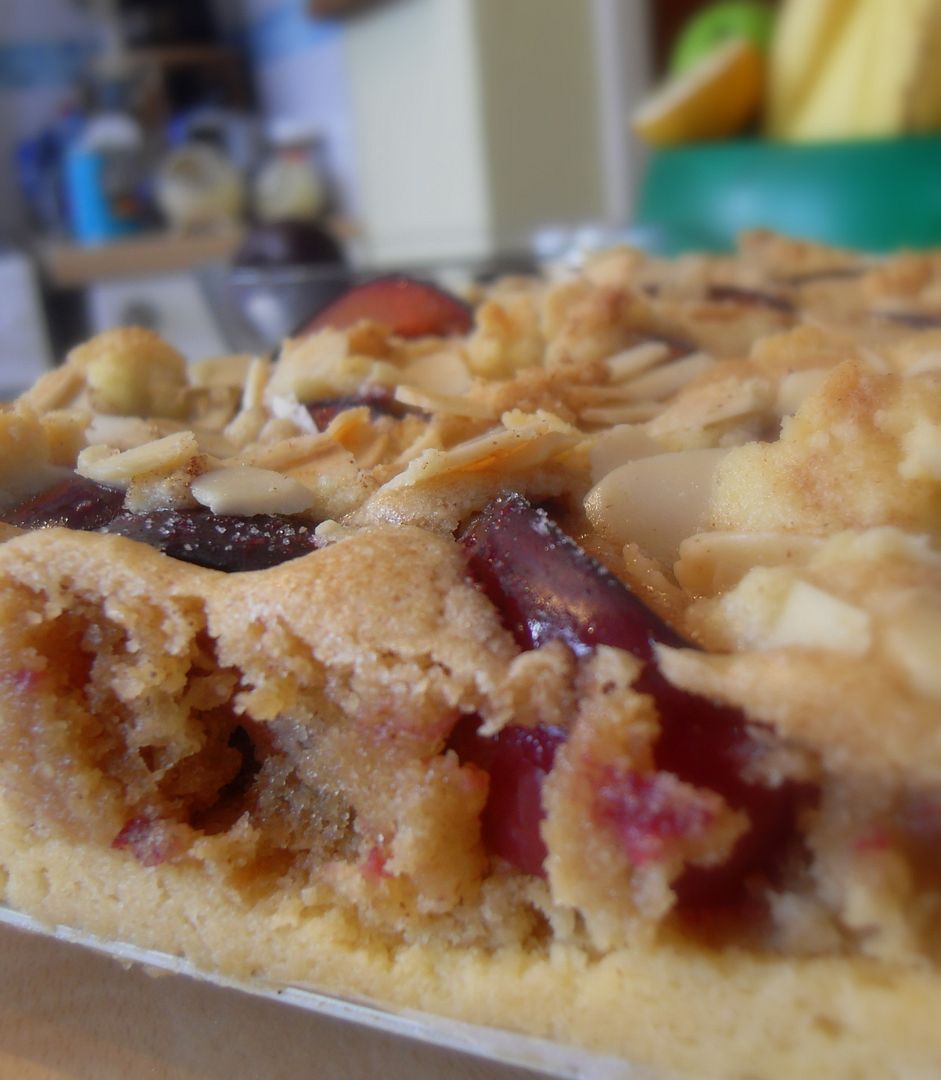 I do apologise for my photos today. I waited until too late in the day to take them . . . I really struggle with getting use to the changing light with the seasons. It means I have to do my baking earlier in the day, either that or wait to take my photos the day after, which is probably what I will do from now on! Don't let my bad photos put you off from baking this however. It's fabulous!
Bon Appetit!