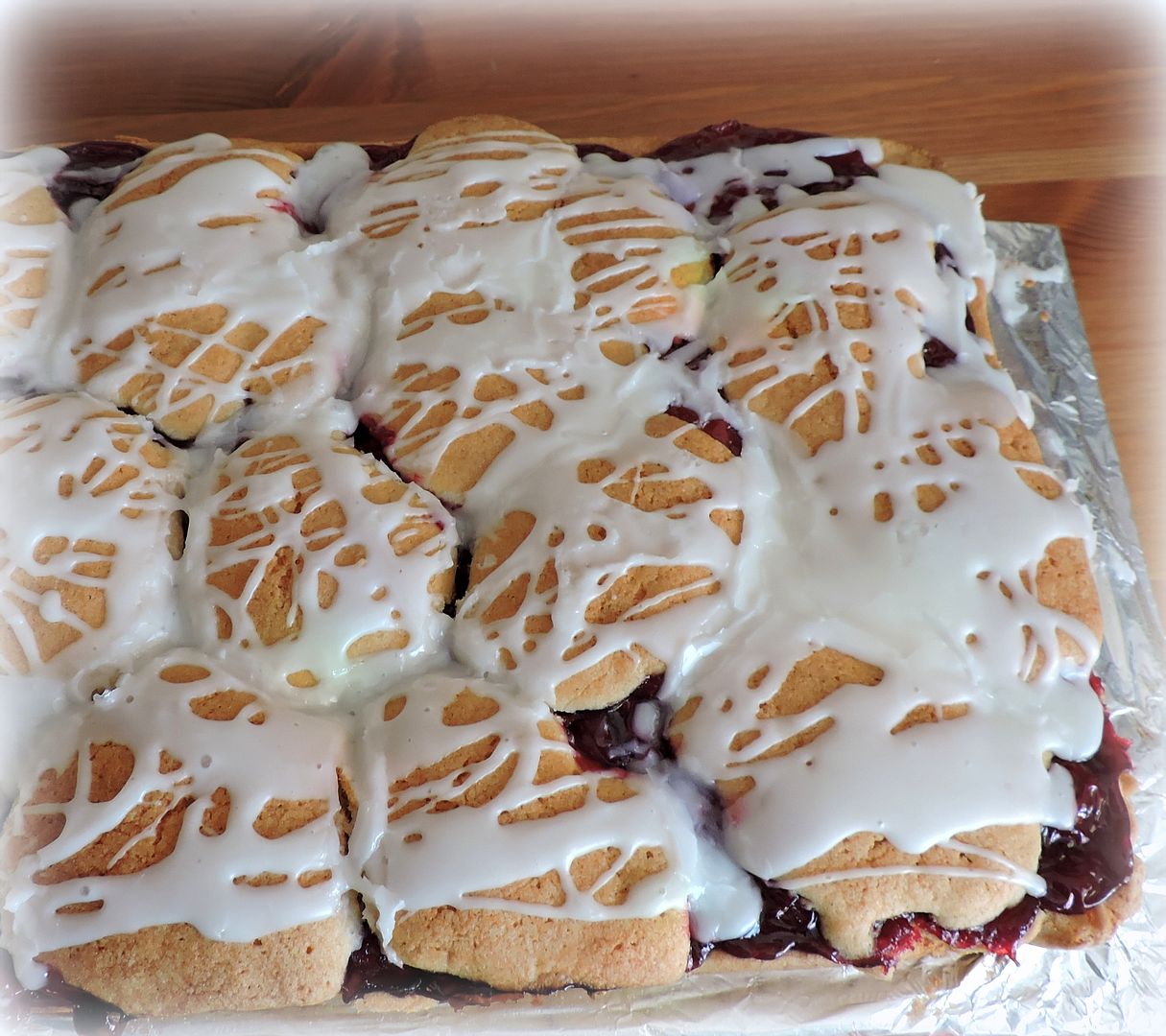 They have some lovely frozen cherries at the grocery shops and I often pick up a pack and stick them in the freezer so that I can bake a pie or something when the mood strikes. The other day I decided to bake a delicious Cherry Kuchen with some. We both love Kuchen/cake.
Kuchen is German for Cake. In any language it is delicious. This recipe is loosely based on one which is in my old red plaid covered BHG cookery book. I have adapted it to make my own cherry filling. You can use a tin of cherry pie filling instead of the freshly made filling, but I love the homemade cherry filling best of all.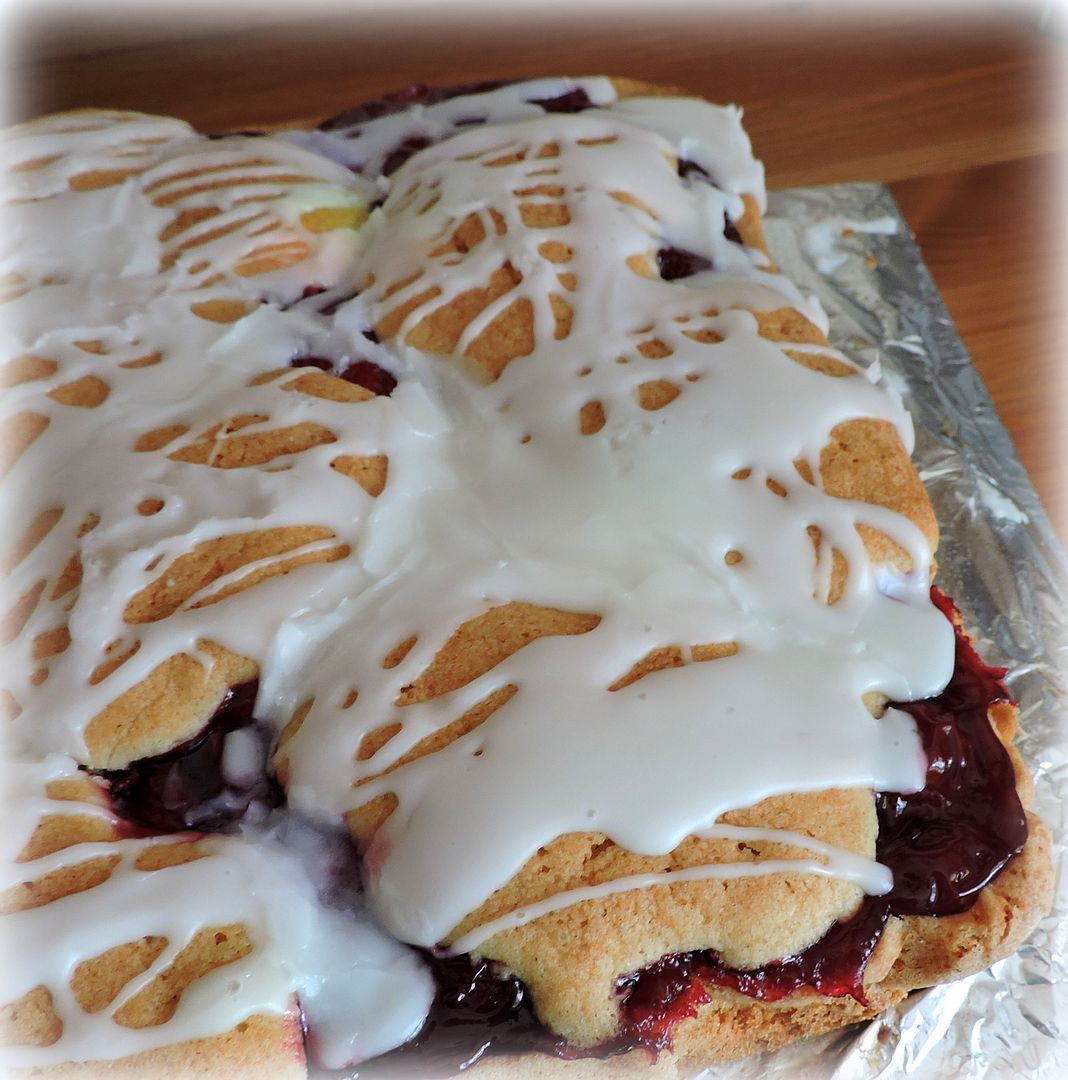 I almost didn't get to show you this.
The photos for this fabulous recipe were on my old broken laptop, but I have figured out a way to take photos off and upload them to an online storage spot without needing to use the keyboard. Whew! Lucky break.
I still have to try to get all of my art off . . . wish me luck.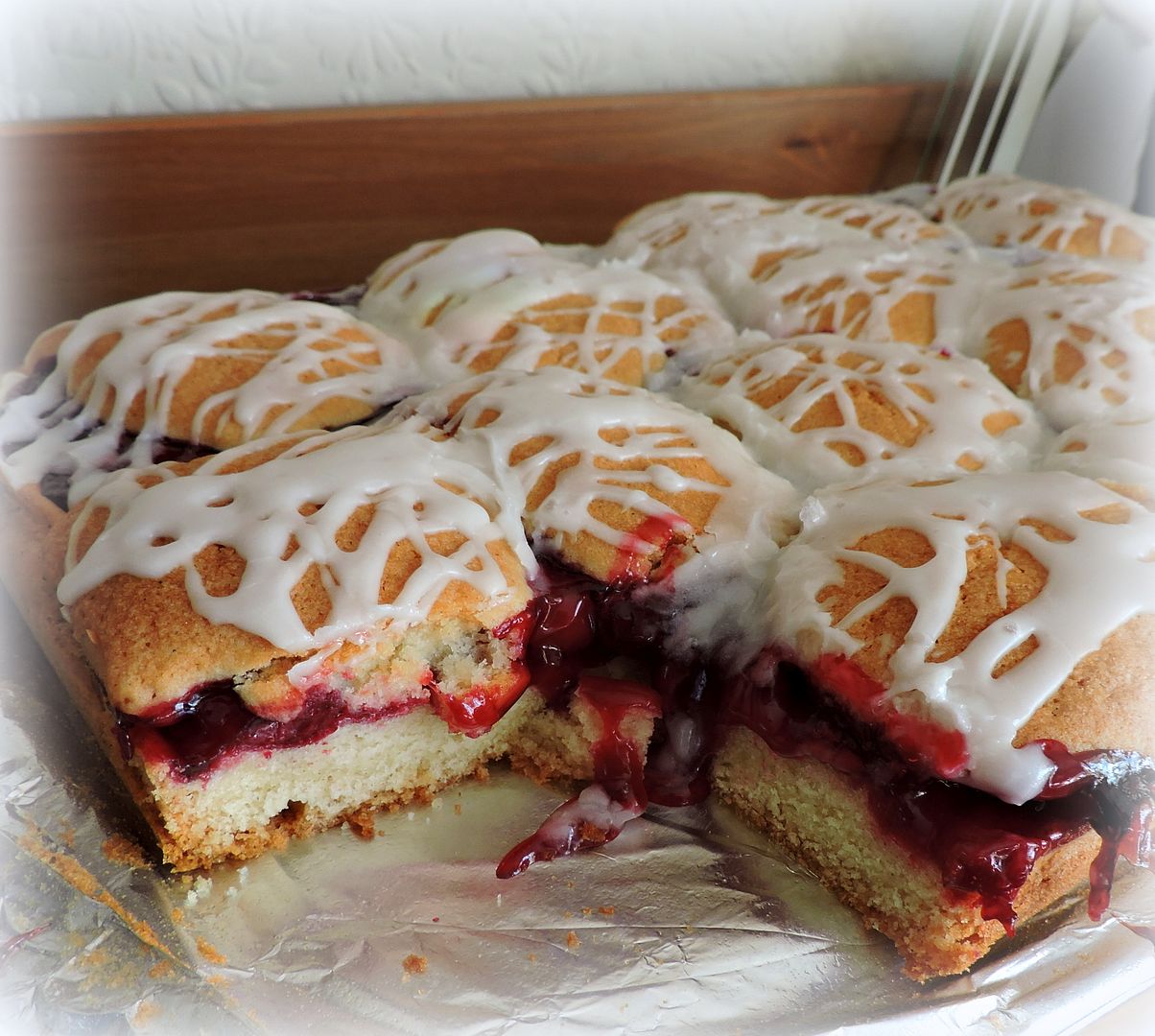 I was really sad when I thought that I had lost the photos for this recipe as it is sooooo tasty and something which I really wanted to share with you all!
So, I am doubly happy that I have them to show you!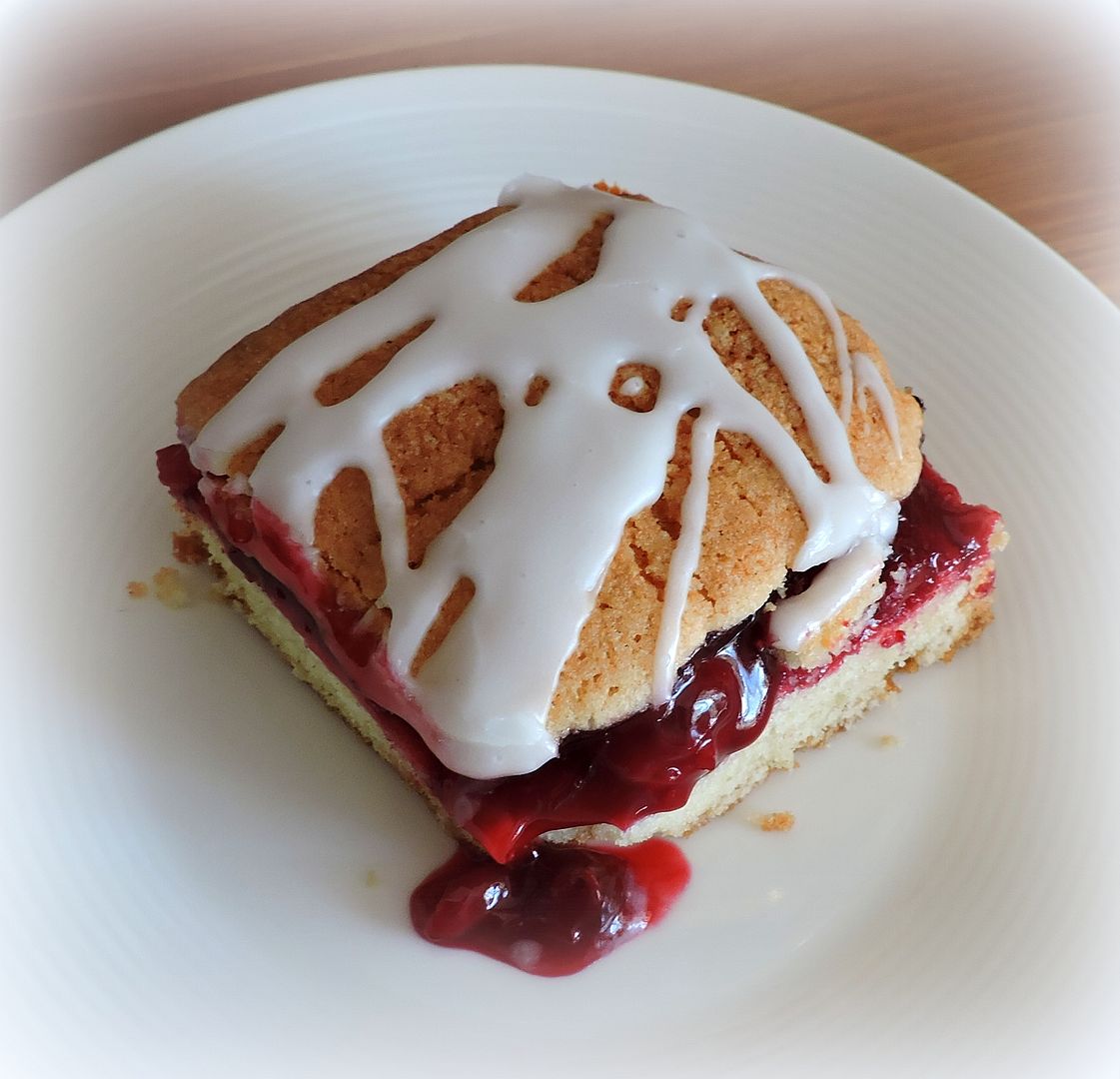 This is quite a sturdy cake . . . more like a tart really. The batter isn't soft and moist like a traditional cake, but then again you wouldn't want it to be.
The sturdiness of the batter is what keeps that lovely cherry filling in the middle of the cake. You spread about 2/3 of the batter in the pan and prebake it . . . only for ten minutes or so . . .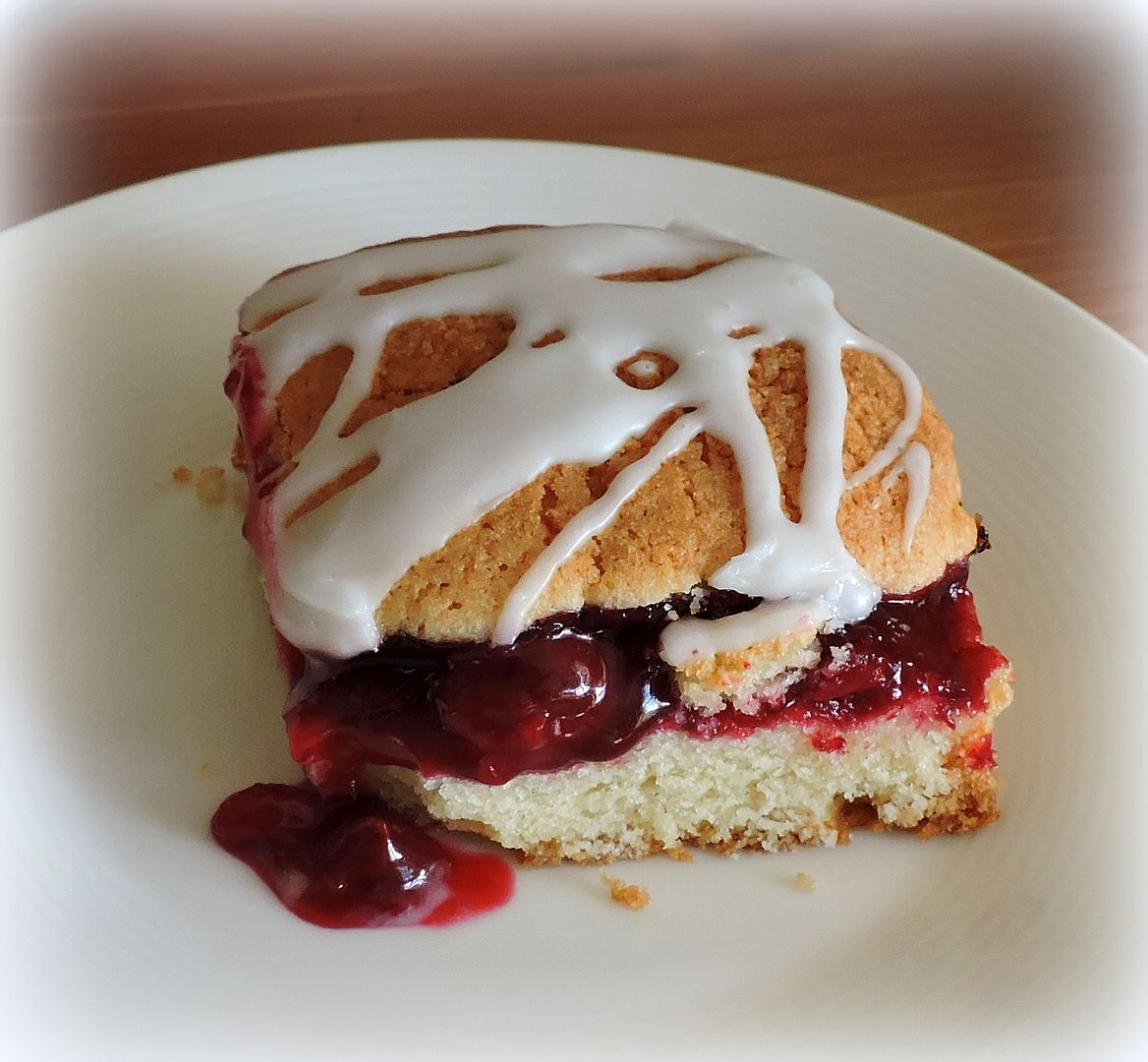 Then you spread the filling over top and dollop the remaining cake batter over that. It's baked until done and then glazed with a delicious vanilla icing glaze. I use cardamom in the cake batter for a hint of spice and some almond in the cherry filling.
Altogether this is incredibly tasty. Break out the coffee/hot chocolate/tea mugs because you will want to enjoy this with a nice hot cuppa!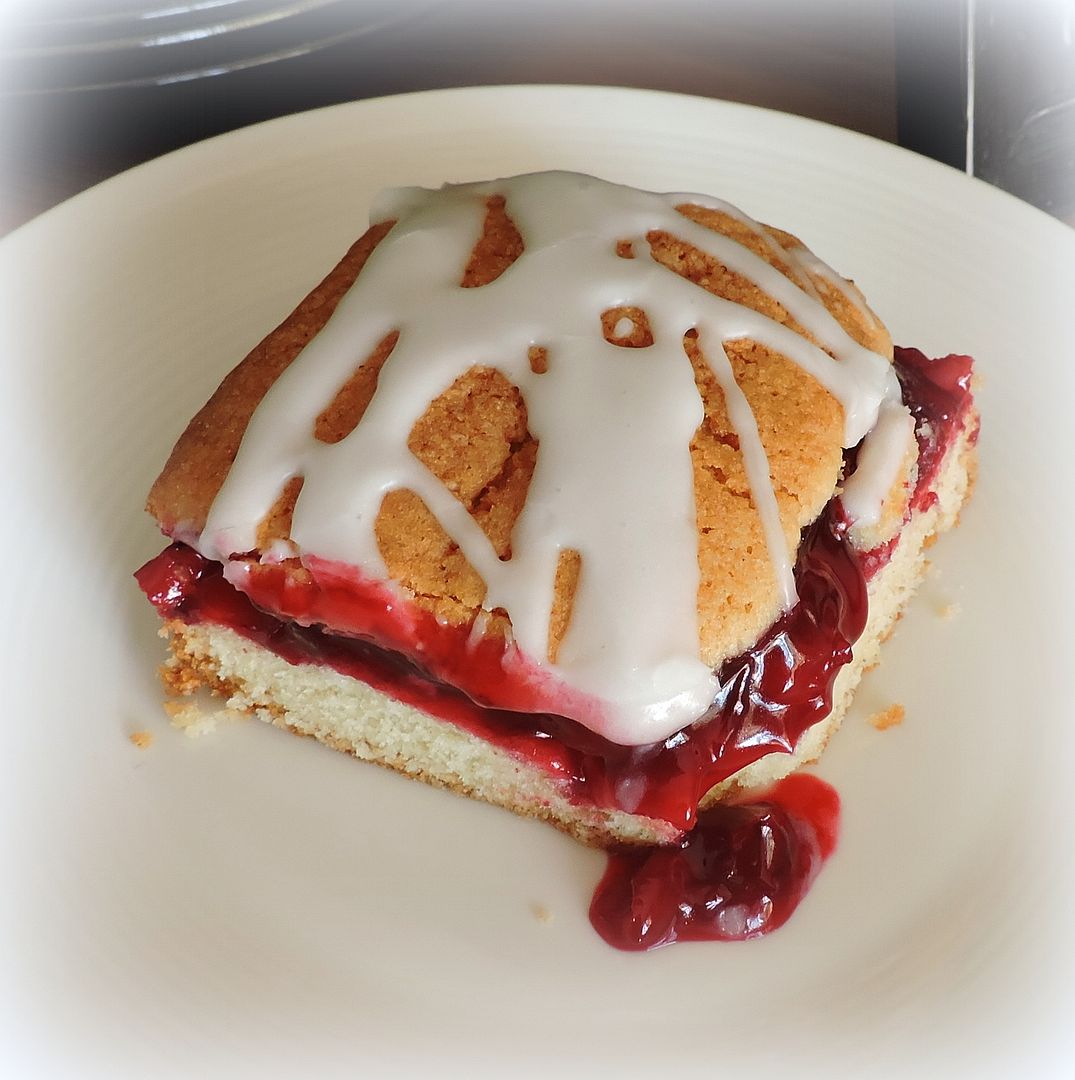 If you are a fan of breakfast cakes you might also enjoy these:
PINEAPPLE COCONUT BREAKFAST CAKE
-
OH, I do so love cake for breakfast.
It seems like the most indulgent thing in the world, and after you taste this delicious cake you will wonder where it's been all your life. Pineapple and coconut are the perfect pairing, and they really shine in this super moist coffee cake!
CINNAMON ROLL BREAKFAST CAKE - Not at all difficult to make this cake goes together in a flash. With a lovely scone/biscuit type of base and a scrumptious brown sugar sweet and buttery cinnamon topping.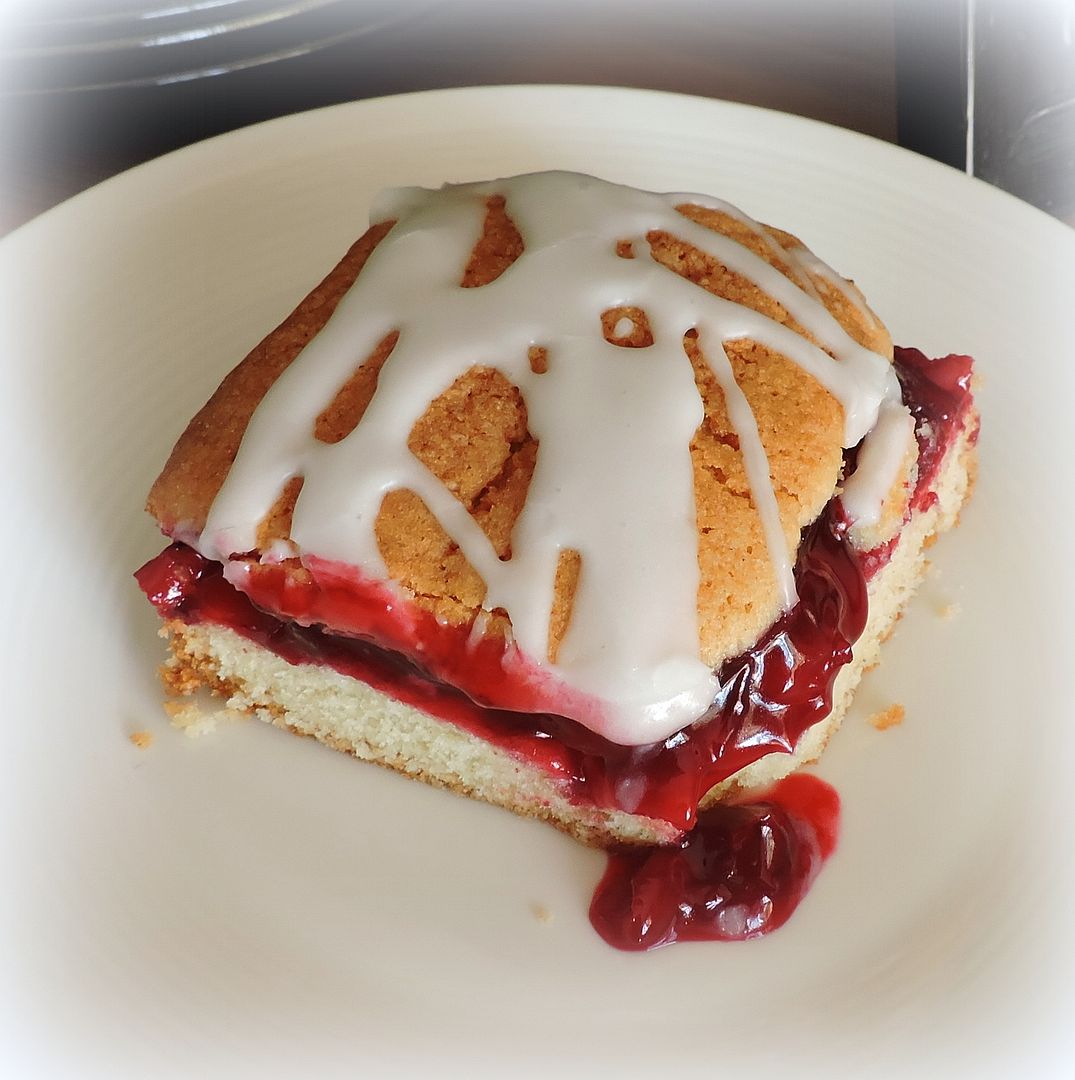 Cherry Kuchen
Prep time: 15 Min
Cook time: 45 Min
Total time: 1 Hour
A delicious cake with a plain batter bottom flavoured with cardamon, a lucious cherry filling and a cake topping. An almond and vanilla glaze finished it off. Serve warm for a real taste treat!
Ingredients
For the filling:
350g frozen sour pitted cherries (about 3 cups)
140g white sugar (3/4 cup)
1 tsp lemon juice
1 TBS cornflour (plus a bit of water to make a paste) (cornstarch)
1/4 tsp almond extract
1 TBS butter
For the batter:
120g of butter (1/2 cup)
110g of white vegetable shortening (1/2 cup)
335g of sugar (1 3/4 cup)
1 1/2 tsp baking powder
1/2 tsp ground cardamon seeds
1/2 tsp salt
3 large free-range eggs
1 tsp vanilla
420g plain flour (3 cups)
To glaze:
200g icing sugar, sifted (1 1/2 cups)
1/4 tsp vanilla
2 to 3 TBS milk
Instructions
First make the filling. Put the cherries, sugar and lemon juice in a saucepan. Heat over medium heat until the sugar melts and the juices are released from the cherries.
Whisk together the cornflour with water (about 2 TBS) Whisk this into the cherry mixture and then cook, stirring until the mixture bubbles and thickens and turns glossy. Cook, stirring for about 2 minutes.
Take off the heat and whisk in the butter and almond extract. Set aside to cool.
Preheat the oven to 180*C/350*F/ gas mark 4. Butter a 15 by 10 by 1 inch cake tin.
Cream the butter, shortening and sugar together for about 3 minutes until light and fluffy.
Beat in the baking powder, cardamon and salt.
Beat in the eggs, one at a time. Beat in the flour until it is completely incorporated, and the batter is smooth.
Spread 2/3 of the batter in the prepared baking pan. Bake in the preheated oven for 12 minutes.
Remove from the oven and spread with the cherry filling. Spoon the reserved cake batter over top of the cherry filling in dollops. Bake for 30 to 35 minutes longer until set and golden brown. (Start checking at 30 minutes.)
Allow to cool. Whisk the drizzle ingredients together until smooth, using only enough milk to give you a comfortable drizzle icing. Drizzle this over top. Allow to set, then cut into squares to serve.
Notes
You can use tinned cherry pie filling rather than make your own if you wish. A large tin will do the job.
Did you make this recipe?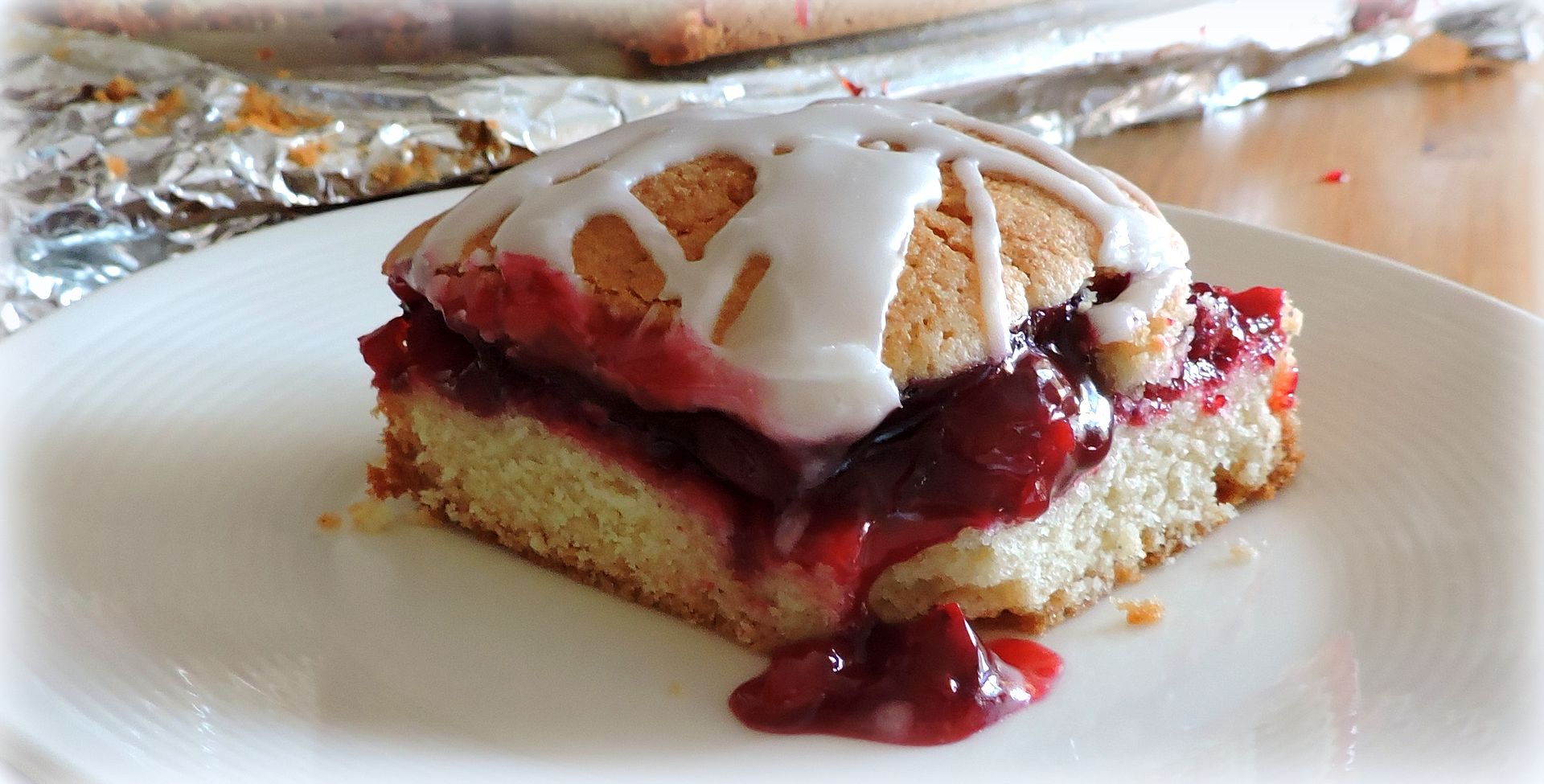 Happy weekend! Bon Appetit!