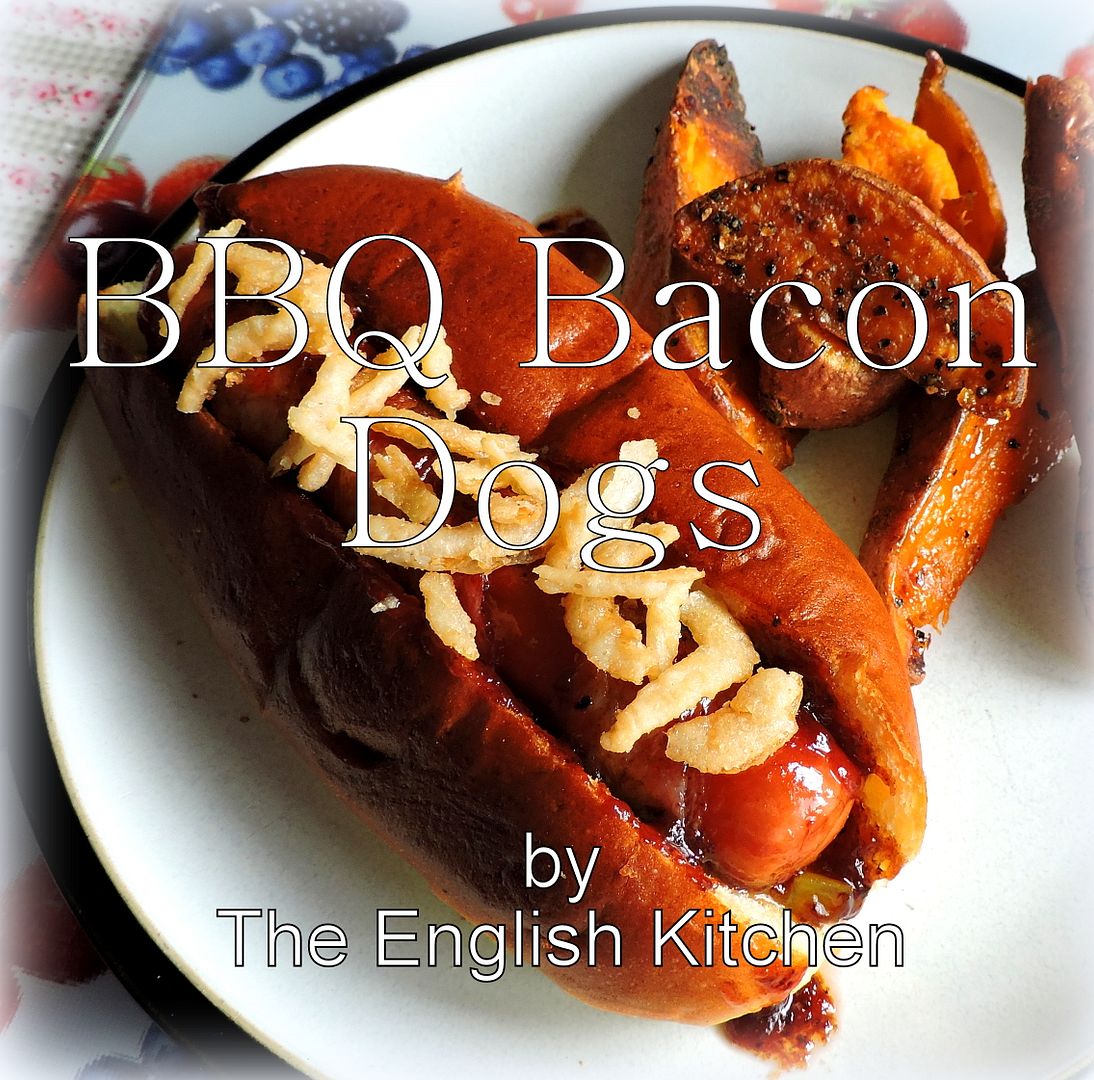 No surprise here, we like hotdogs in this house, and no, it doesn't really matter to us what they are made of.
We don't care and we don't want to know. In all truth knowing probably wouldn't change our minds. We like em and we like treating ourselves to one every now and again.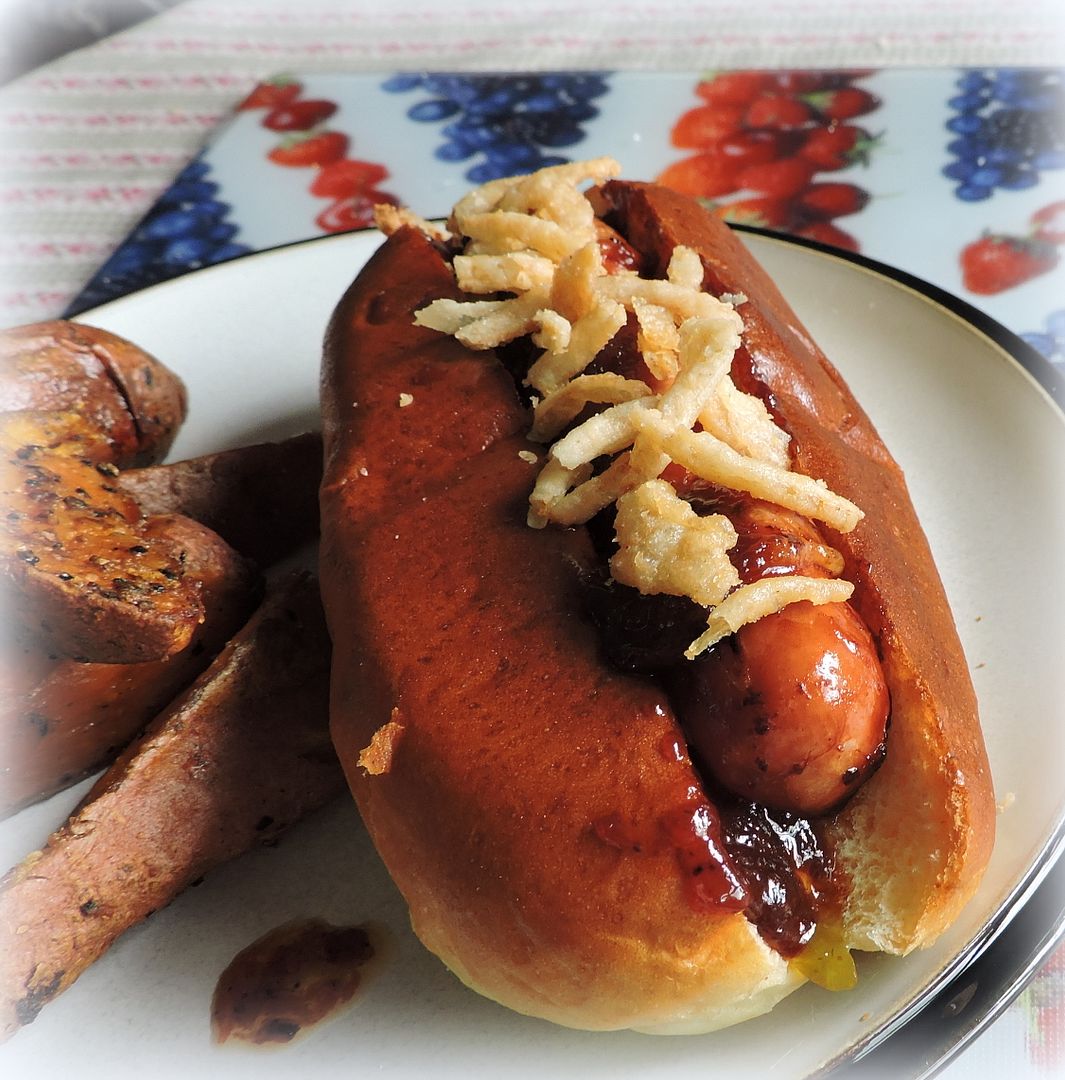 When I was a child we used to be able to buy "Whistle Dogs" at the A&W . . . or I guess I should say we dreamt about having "Whistle Dogs" at the A&W.
There was no A&W near us so it was more a dream than a reality. The closest one was about 30 miles away, so not someplace we ever got to . . .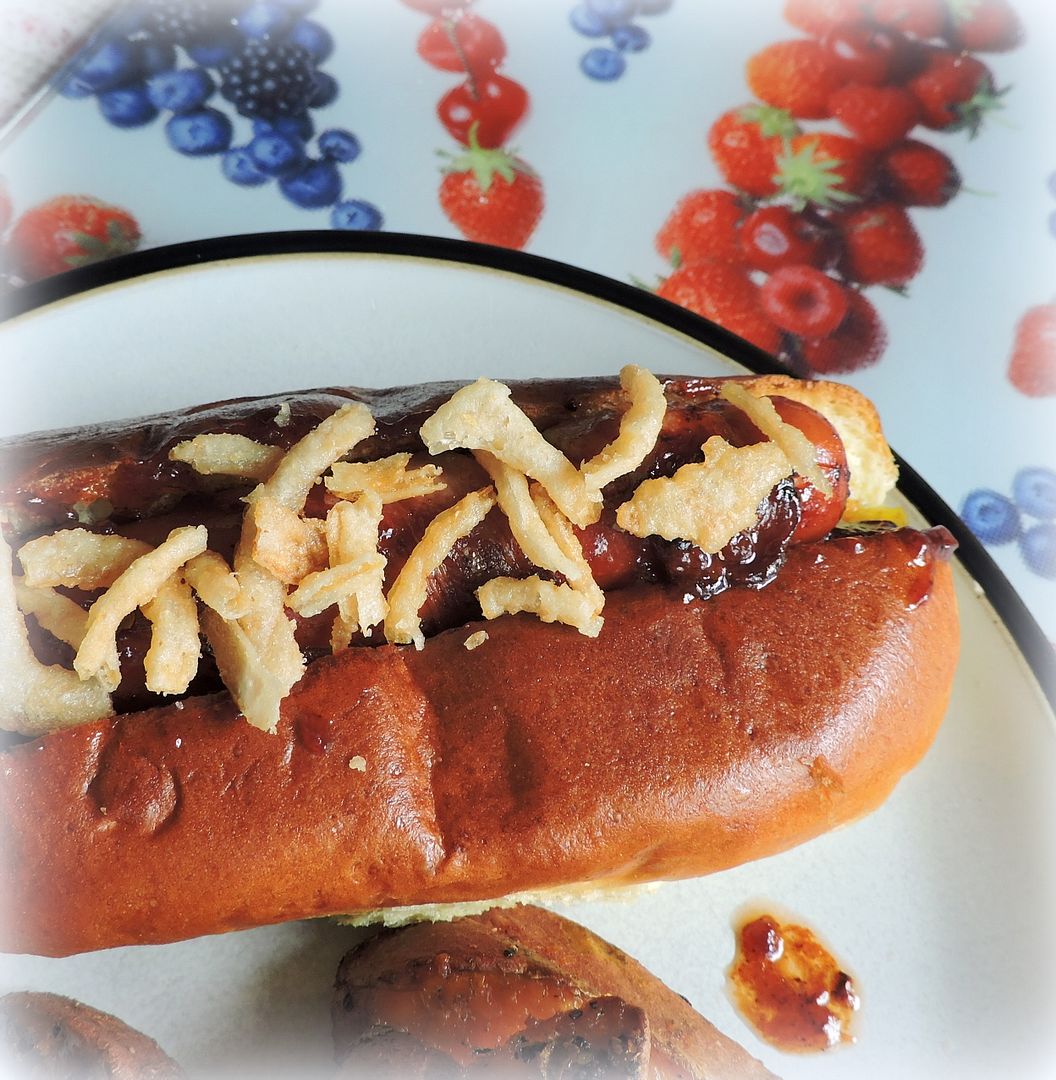 There is one in the local mall back home now and its a pretty popular place.
I don't know if "Whistle Dogs" are still on the menu or not. Its been a while . . .
If you are from the UK, you are probably scratching your head and thinking "Whistle Dog?"
I'll put you out of your misery. Its a hot dog/frankfurter wrapped in streaky bacon and grilled.
This dog knocks the "Whistle Dog" out of the ball park . . . no pun intended.
Not only is it wrapped in bacon before grilling, but its also soaked in BBQ sauce first . . . popped into a Brioche bun, and then topped with homemade Onion Strings.
To. Die. For. I served it with Sweet Potato Wedges, coz sweet potatoes are healthy, dontcha know!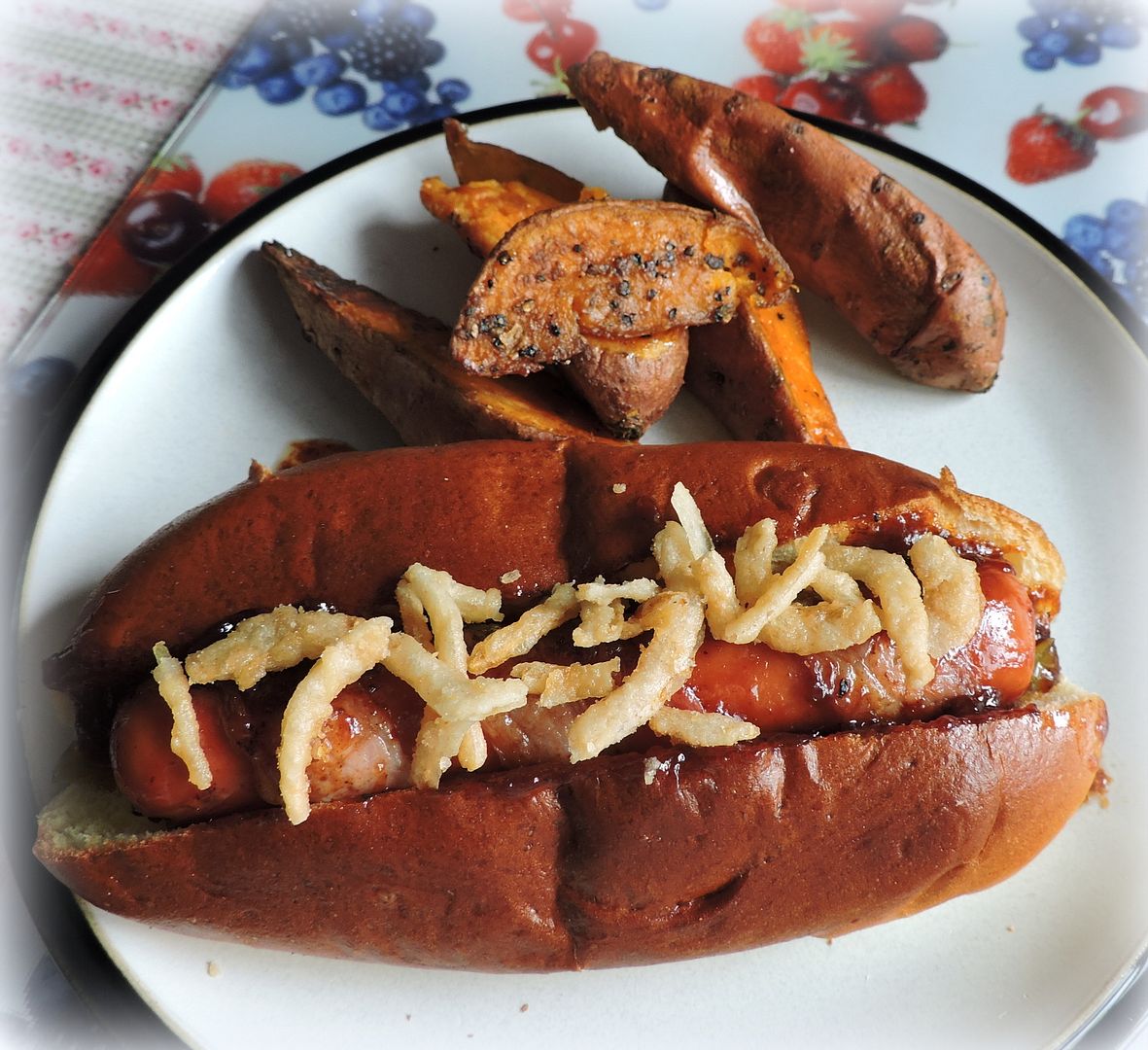 *BBQ Bacon and Onion String Dogs*
Makes 8
These are delicious, full stop. A great summertime treat!
8 smoked frankfurters
8 slices of streaky bacon
8 TBS honey BBQ Sauce
8 brioche burger buns
For the onions:
1 medium cooking onion
225ml buttermilk (1 cup)
210g of plain flour (1 1/2 cups)
salt and freshly ground black pepper to taste
vegetable oil for frying
You will also need:
your favourite hot dog garnishes (mustard, relish, etc.)
To make the onions, peel the onion, cut in half and then cut into thin half moons. Place the sliced onion into the buttermilk and let sit for half an hour. Whisk together the flour, sat and black peper. Take the sliced onions from the buttermilk and shake lightly to remove any excess flour. Drop into the flour and toss together to combine. Heat the oil until hot. Fry the onion strings in the heated oil until golden brown. Scoop out as they brown and drain on paper towelling. Keep warm in a low oven.
Toss the hotdogs in BBQ sauce in a large bowl. Wrap each dog in a streaky bacon slice, securing the ends with toothpicks. Grill until the bacon is crispy and the dogs are heated through. Spoon any BBQ sauce left in the bowl over top of the dogs.
Place the cooked dogs in the split brioche buns (toast or not as you desire) top with the onion strings and any garnishes you want. Serve immediately.
Happy Independance Day to all my American Friends! Enjoy your day and stay safe!
Bon Appetit!