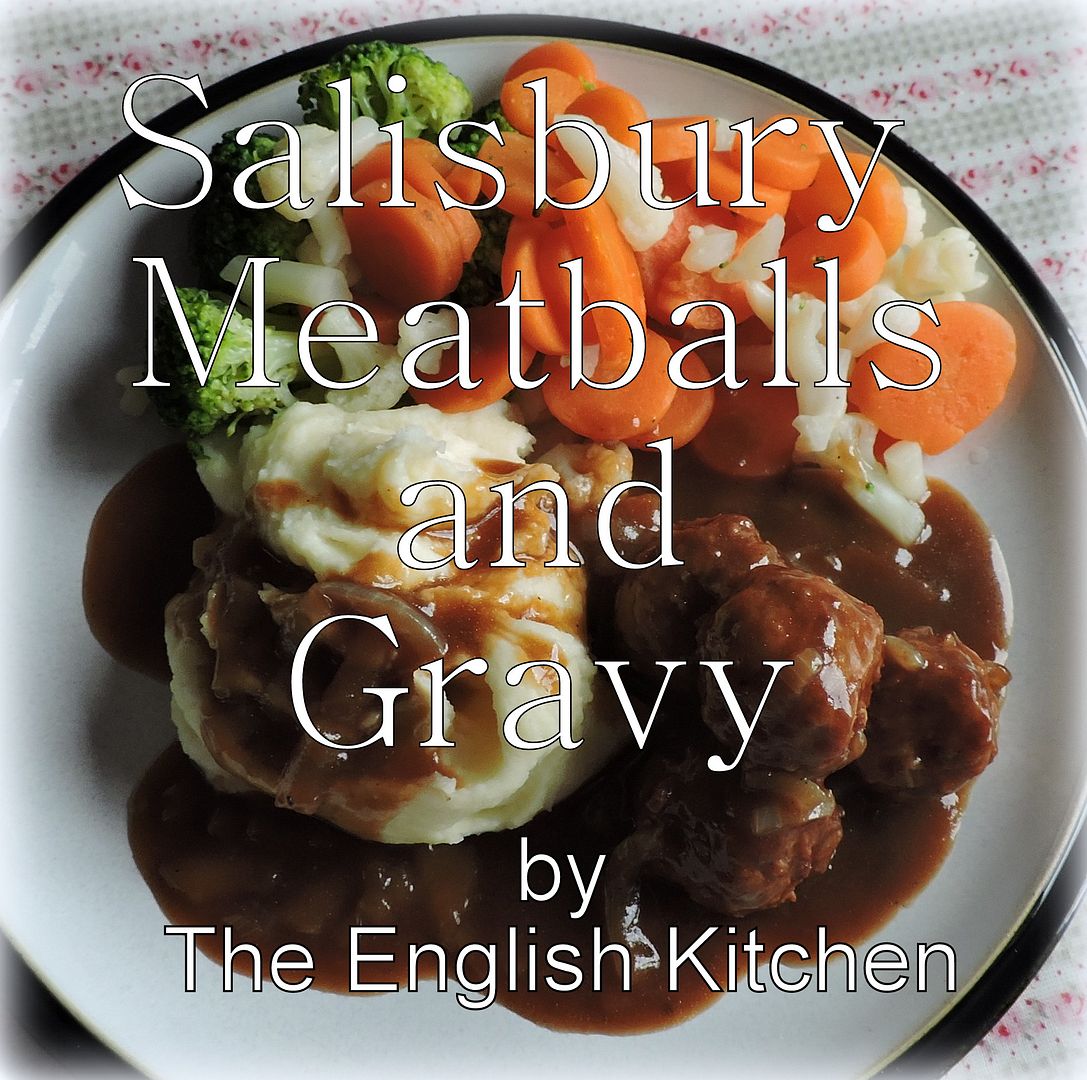 Well, I have to say the weather this summer so far has been absolutely horrible! Rainy and cold, cold, cold. As I write this (Thursday June 30th) we are debating on whether we want to put the heat on or not. My sensible side says no, just put on a sweater, but the wimpy part of me wants to give in!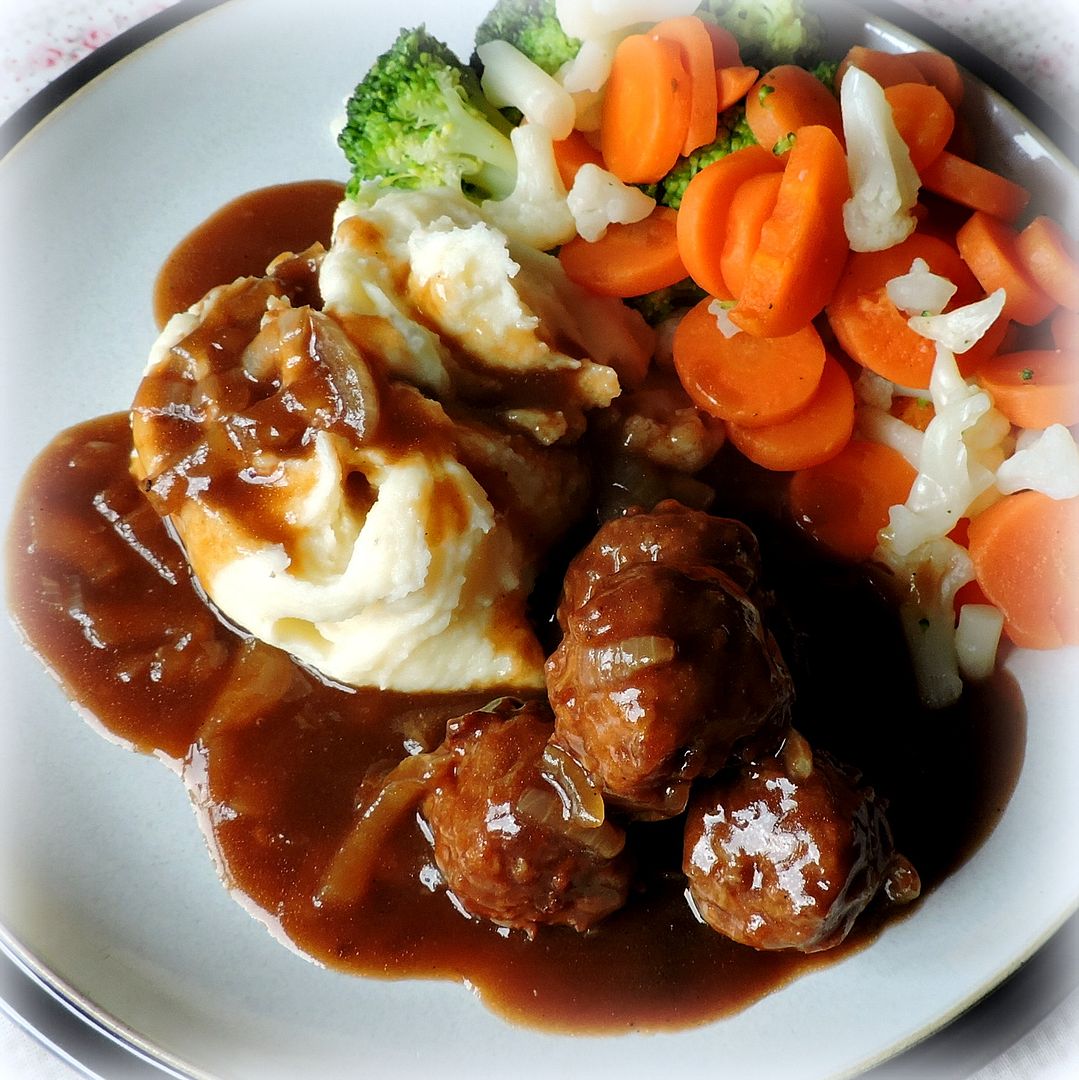 We haven't really wanted to be eating any type of picnic food or much in the way of salads. Today I made us some really delicious meatballs. They were quick and easy to make. Its the gravy which makes them so fabulous.
In all truth you could use frozen cooked meatballs (and I have on other occasions) and they are every bit as delicious. I've even used the ready cooked Swedish meatballs you can buy at the shops with excellent results.
The gravy goes together really quickly and is absolutely delicious. If you are using ready made meatballs, this makes for a great store cupboard meal! You can have it on the table in less than half an hour!
And it doesn't heat up the kitchen at all. In fact, if you use frozen mash (which I do more often than not now. I'll give you my tips below) it has to be one of the fastest and most delicious comfort meals ever.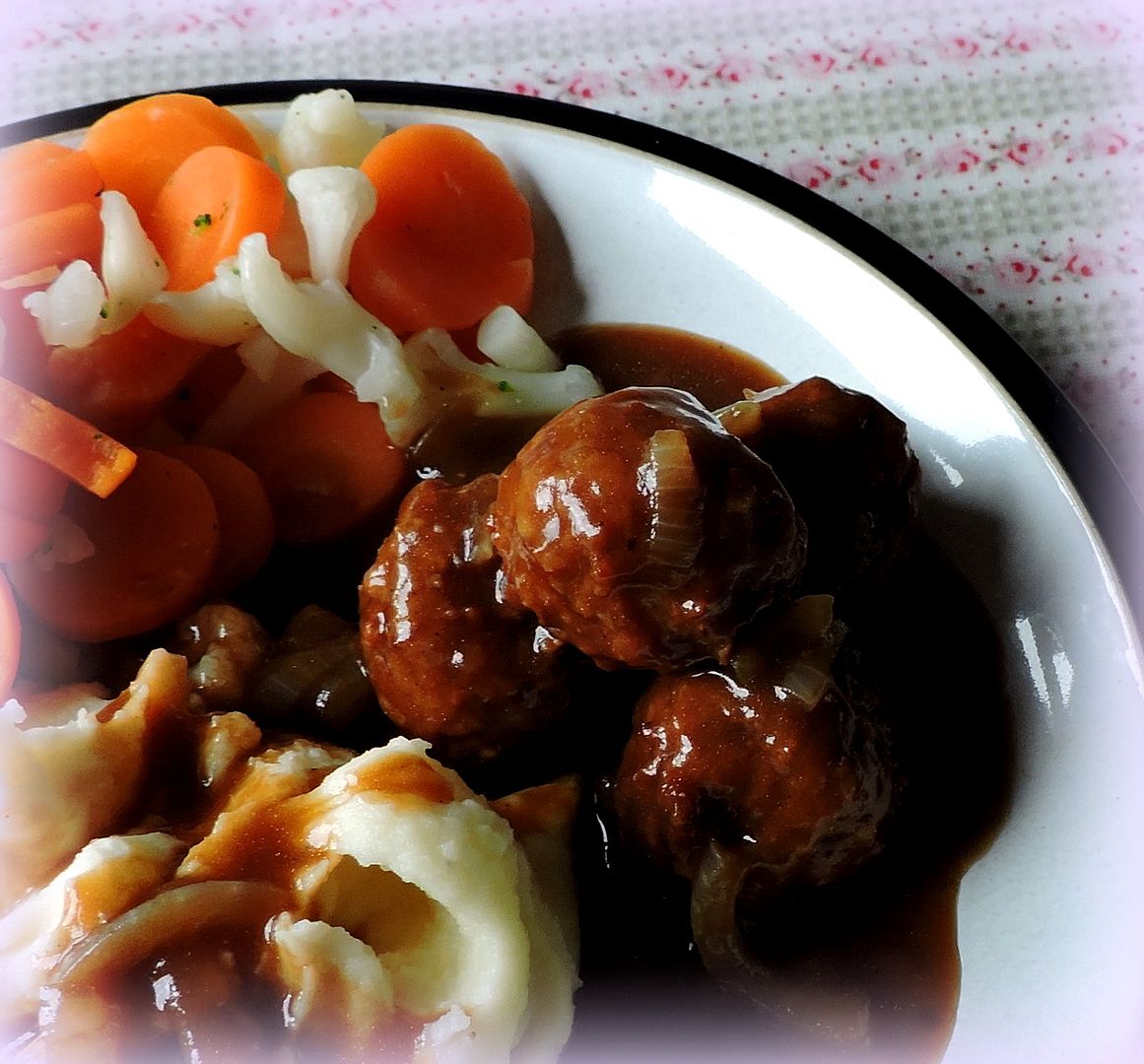 Tender meatballs in a flavourful onion gravy . . . served with creamy mash and veg. Nobody's complaining! Everybody's happy!
*Salisbury Meatballs*
Serves 4
This is a delicious stove top entree that is a real family pleaser. Tender, delicious meatballs in a fabulous gravy. Mashed potatoes go very well.
For the meatballs:
2 pounds extra lean beef mince (ground beef)
2 heaped dessertspoons of dried bread crumbs (about 1/4 cup)
1 TBS tomato ketchup
1 tsp Worcestershire sauce
1/2 tsp salt
1 tsp ground black pepper
1/4 tsp garlic powder (not salt)
1 tsp onion powder (not salt)
oil for frying
(If you want to save calories and fat, you can bake in a hot *220*C/425*F/ gas mark 7 for about 10 minutes until browned.
Just shape the meatballs and place on a baking tray which you've sprayed with some low fat cooking spray.)
For the gravy:
2 TBS butter
1 large cooking onion, peeled, cut in half and then thinly sliced into half moons
1/4 tsp garlic powder (not salt)
2 cups hot beef stock
2 TBS plain flour (all purpose)
1 TBS tomato ketchup
1 TBS BBQ Sauce
black pepper and salt to taste
Mix all of the meatball ingredients together to combine well. Shape into 1 inch balls. Heat a bit of olive oil in a large skillet over medium high heat. Add the balls and brown them on all sides. Alternately they may be baked in the oven. This is what I usually do. (See above in the ingredients list.)
Melt the butter in a saucepan. Add the onions. Cook, stirring frequently, over low heat until the onions are softened and translucent. Season with the garlic power and salt and pepper. Whisk in the flour. Cook for one minute. Add the beef stock slowly, whisking constantly, until the sauce begins to bubble and thicken. Whisk in the ketchup and BBQ sauce. Drop in the meatballs. Simmer for about 15 minutes, until the gravy has thickened nicely and the balls are cooked through and tender.
Serve hot with mashed potatoes or rice.
Frozen mash is a great ingredient to have in your freezer. At £1 a bag in most shops, you can't make mash from scratch for the same cost! And it's real mash made from real potatoes, not instant mashed potatoes. I add a few special things to make it taste even better. You can stir in a bit of sour cream, grated onion and a TBS of butter and you have a mash made in heaven. I like to thin it out a bit with some milk as well, so it's not so thick, but that's a personal preference. You can beat grated cheese into it, whatever. It's a great storecupboard ingredient!
Bon Appetit!