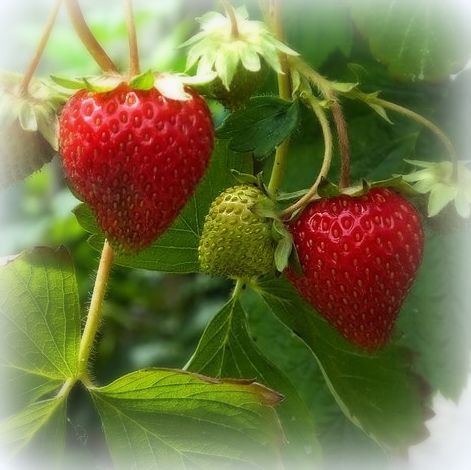 We are getting down to the end of our strawberries for this year. We are only getting about a handful a day now. Not quite enough to make jam or a pie, but good enough for tasty little treats like these fabulous pancakes that I made for our breakfast.
This recipe is an old favourite from one of my favourite cookbooks, The Great British Farmhouse Cookbook, by Sarah Mayor. It's one of my favourite books, and these pancakes are one of the reasons why.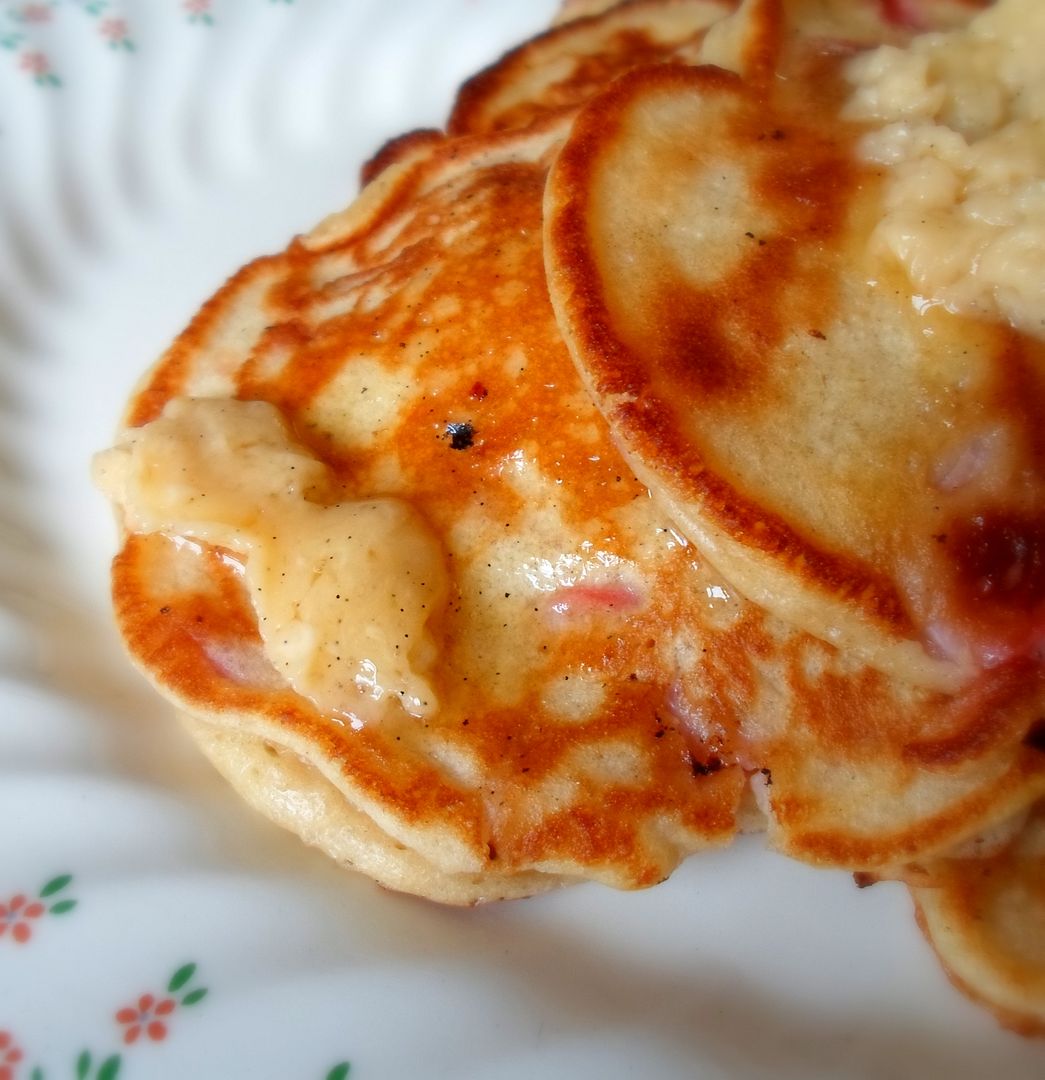 And not the least because of the Vanilla Honey Butter that you make to go along with the pancakes. Oh my . . . is it ever good. I always have a pot of this tasty butter in my fridge because it is so incredibly tasty. We even had it on toast for our supper last night. We just could not get enough of it. Even if you don't make the pancakes . . . you simply MUST make the butter! *slurp*
The original recipe doesn't call for strawberries, they were my idea. You could just as easily use blueberries, or blackberries or whatever berry you have to hand, or no berries. It's your choice!
They were rather scrummy if I don't say so myself. The butter made them even more so. I even crumbled up some meringues in the last few to make . . . dare I say it . . . I must for they were fab . . .
♥♥♥ E
A
T
O
N
M
E
S
S
P
A
N
C
A
K
E
S

♥♥♥
As Lawrence Welk would say . . . wunnerful . . . wunnerful . . .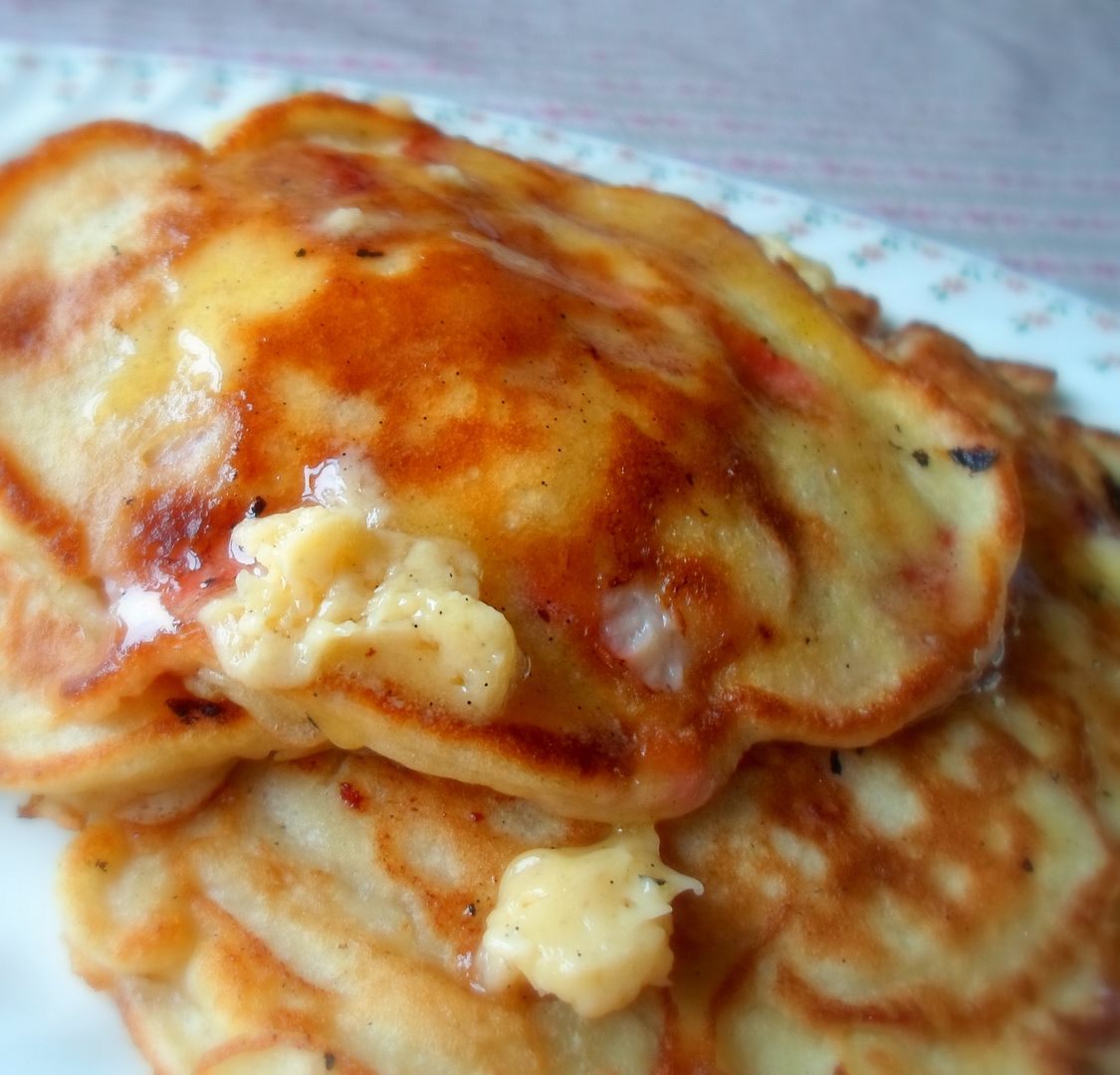 There's a couple of things you can count on enjoying (or not) every July . . . Wimbledon . . . beautiful strawberries . . . and now . . .
These tasty pancakes!
*Strawberry Buttermilk Pancakes with Honey & Vanilla Butter*
Serves 4
Printable Recipe
In honor of fresh berries and strawberry season. Feel free to substitute other berries for the strawberries. Blueberries, raspberries and even sliced banana works well!
100g self raising flour (14 1/2 TBS)
1 tsp baking powder
25g caster sugar (2 TBS)
pinch fine sea salt
2 large free range eggs,separated
175ml butter milk (scant 3/4 cup)
40ml whole milk (3 TBS)
45g sweet butter, melted (3 TBS)
a handful of fresh strawberries, chopped
For the honey and vanilla butter:
100g butter, soft (scant 1/2 cup)
3 TBS clear acacia honey
1 tsp vanilla bean paste
First make the butter. Tip all of the ingredients for the butter into a bowl and simply beat together with an electric mixer until pale and creamy. Spoon into a small bowl and cover. Chill in the refrigerator for about an hour to firm up.
Sift the flour, baking powder, sugar and salt into a bowl. Whisk together the egg yolks, buttermilk and milk. Make a well in the middle of the flour mixture. Tip in the wet ingredients along with 15g of the butter (1 TBS). Whisk together until smooth. Whip the egg whites until they form soft peaks. Fold these into the pancake batter.
Heat a large non-stick skillet over medium heat. Brush with some of the remaining melted butter. Add 3 to 4 large spoonfuls of the batter, spacing them well apart. Scatter the tops of each with a few slices of berry. Cook for several minutes, until the surface is covered with bubbles and the bottom side is golden brown. Flip over and cook for another minute until cooked through and golden brown on the underside as well. Place onto an ovenproof platter, cover with a clean tea towel and keep warm in a low oven until you have cooked them all.
Serve hot at the table with the butter. Delicious. Crisp slices of streaky smoked bacon go very well! (It's that sweet and salty thing you know . . . )
Note: If you really want to be decadent you can add crumbled crisp meringues and then call them Eton Mess Pancakes!