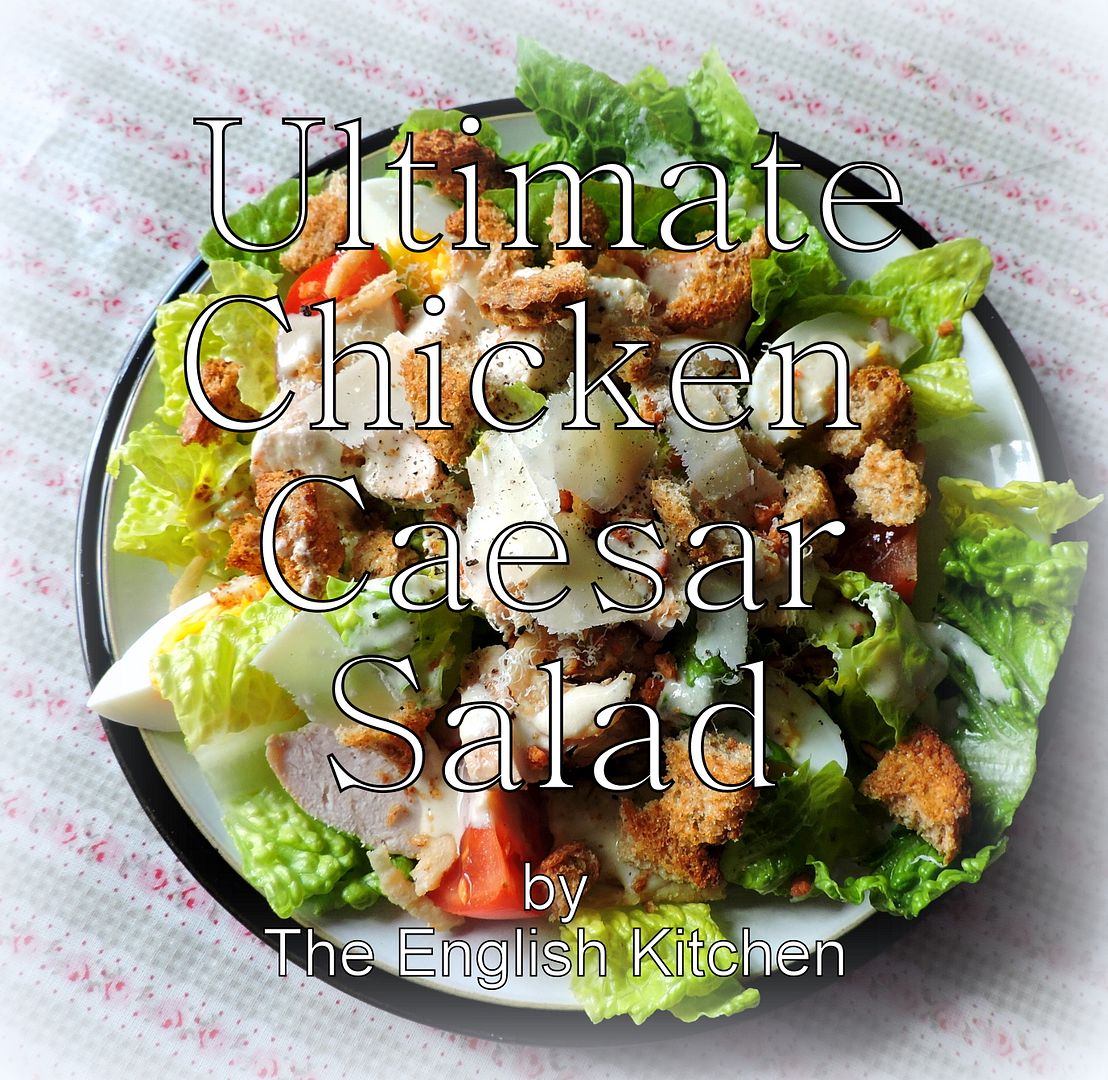 Oh, I do so love a good Caesar Salad, but more often than not, unless I make it myself, I am always always disappointed. Limp lettuce. Stale croutons. Too much dressing. I don't understand why most restaurants get it so wrong, when it is such a simple thing. I refuse to pay a small fortune (and they charge a small fortune) for something which is so poorly executed, but no matter. I just make my own at home, and then I am always,
always
happy with it.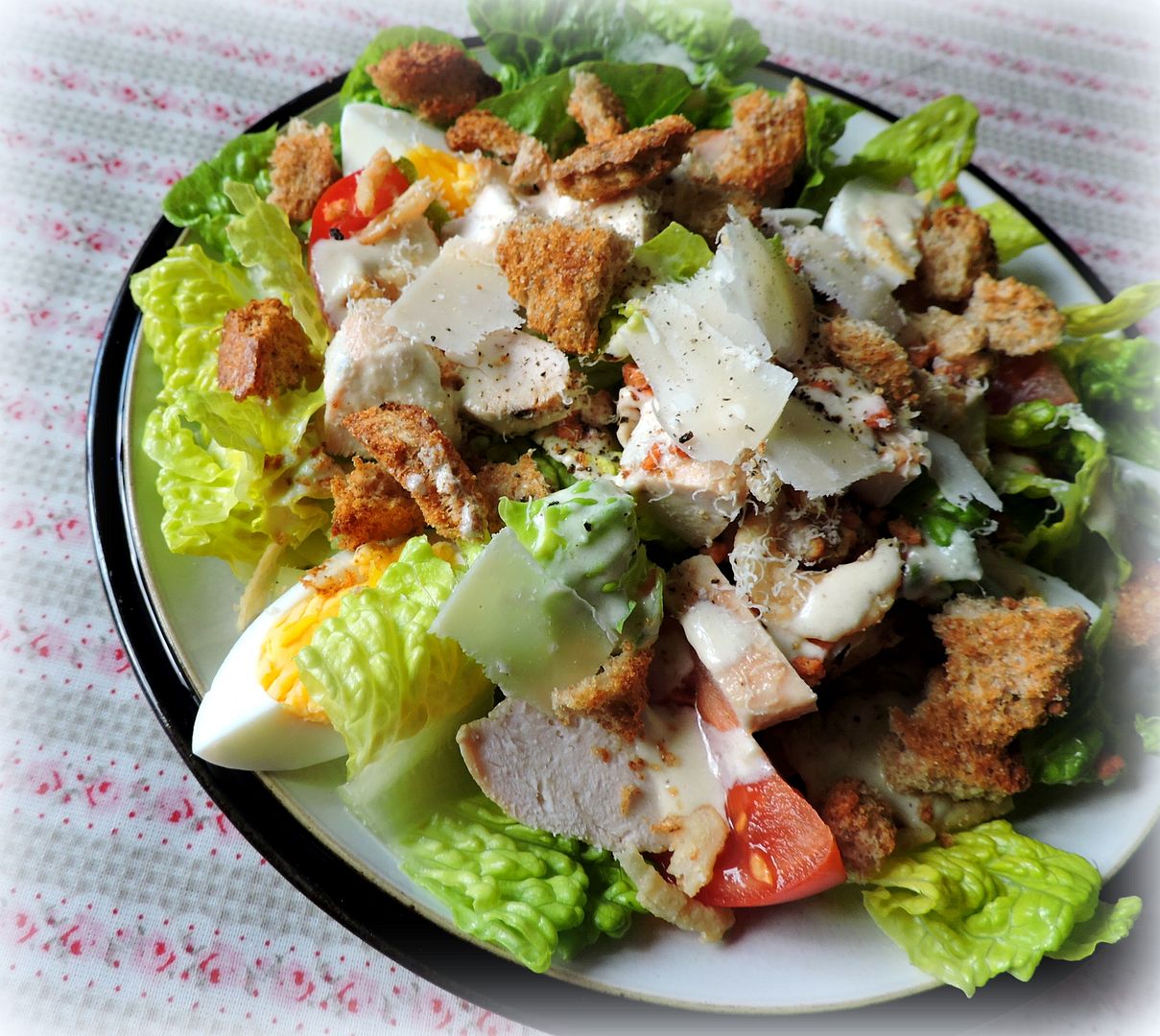 Adding chicken and a few other bits to it, turns it into a meal rather than a side dish and a real treat to eat. Grilled chicken. We eat a lot of chicken in this house and I always cook extra so that we can enjoy this tasty salad for lunch or supper the day after.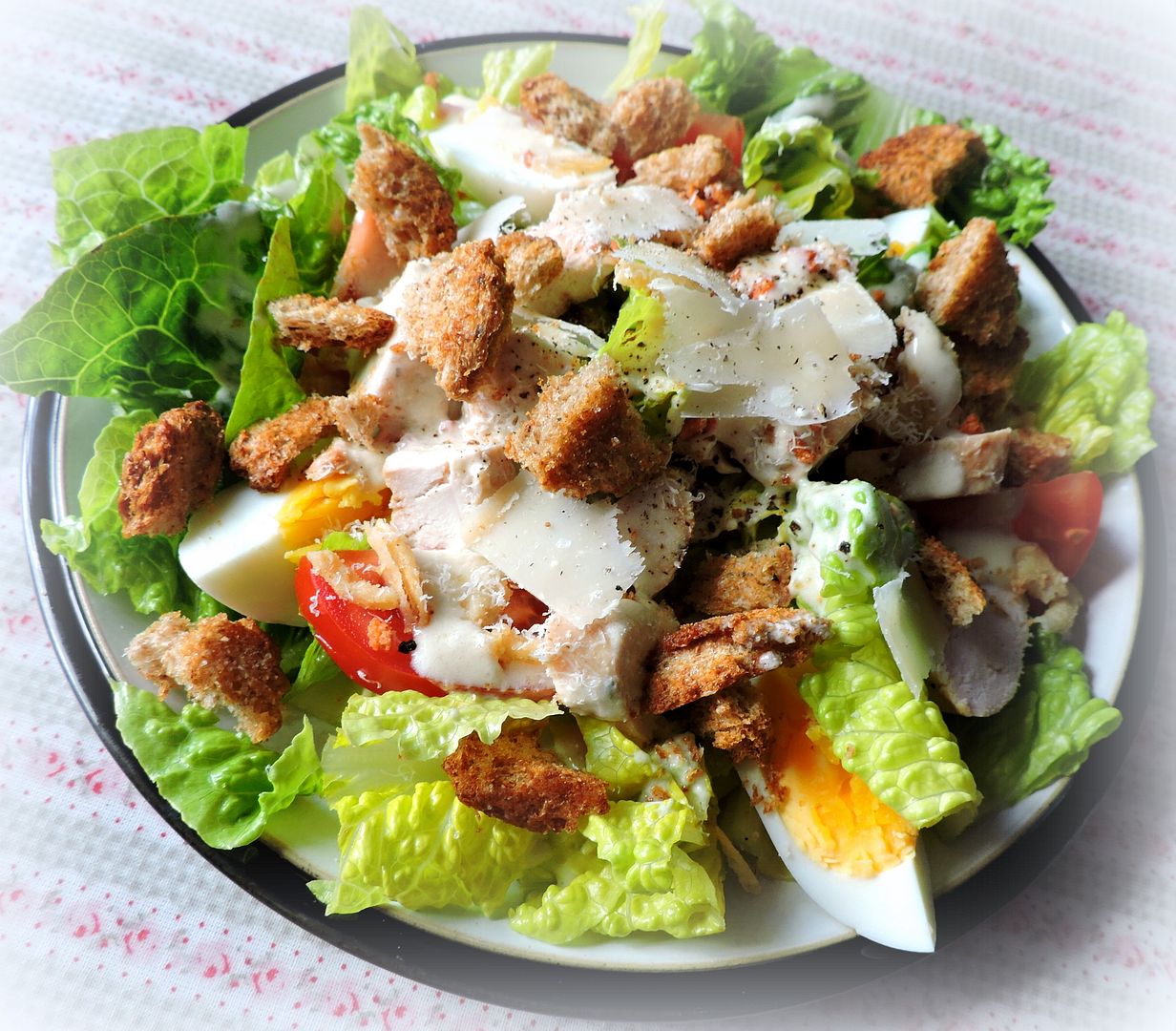 Boiled egg. Also easy to do and I normally keep a few boiled eggs in the refrigerator. They are so handy for snacking on. (If you write the date on them, you will never be confused as to how old they are. Handy tip.)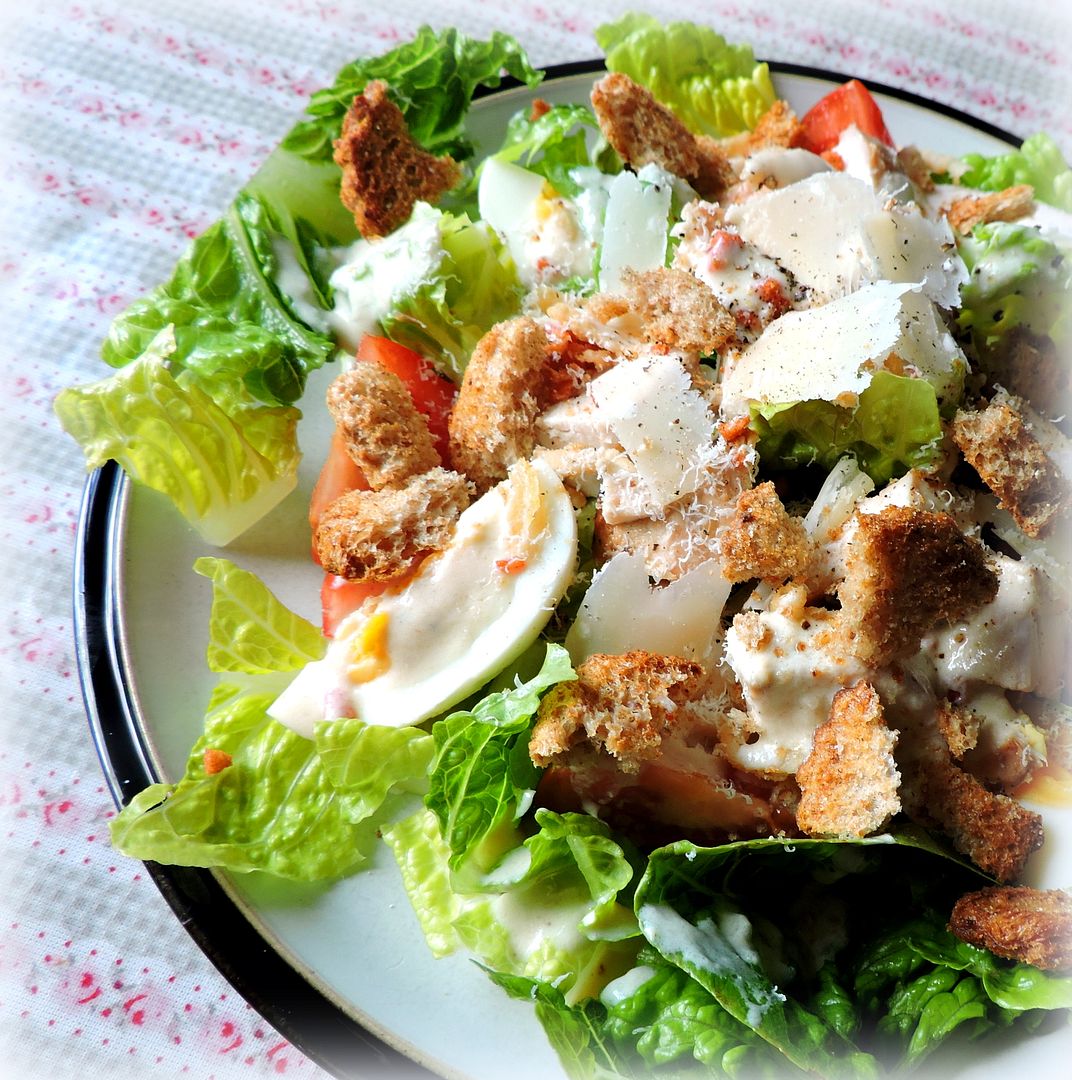 Tomatoes, to help me get in another of my five a day, and filled with vitamin C and other goodies. I make my own low fat croutons and I use bacon bits instead of the real deal, to cut down on cholesterol and fat. I don't have problem with that, but if you do, by all means use real bacon.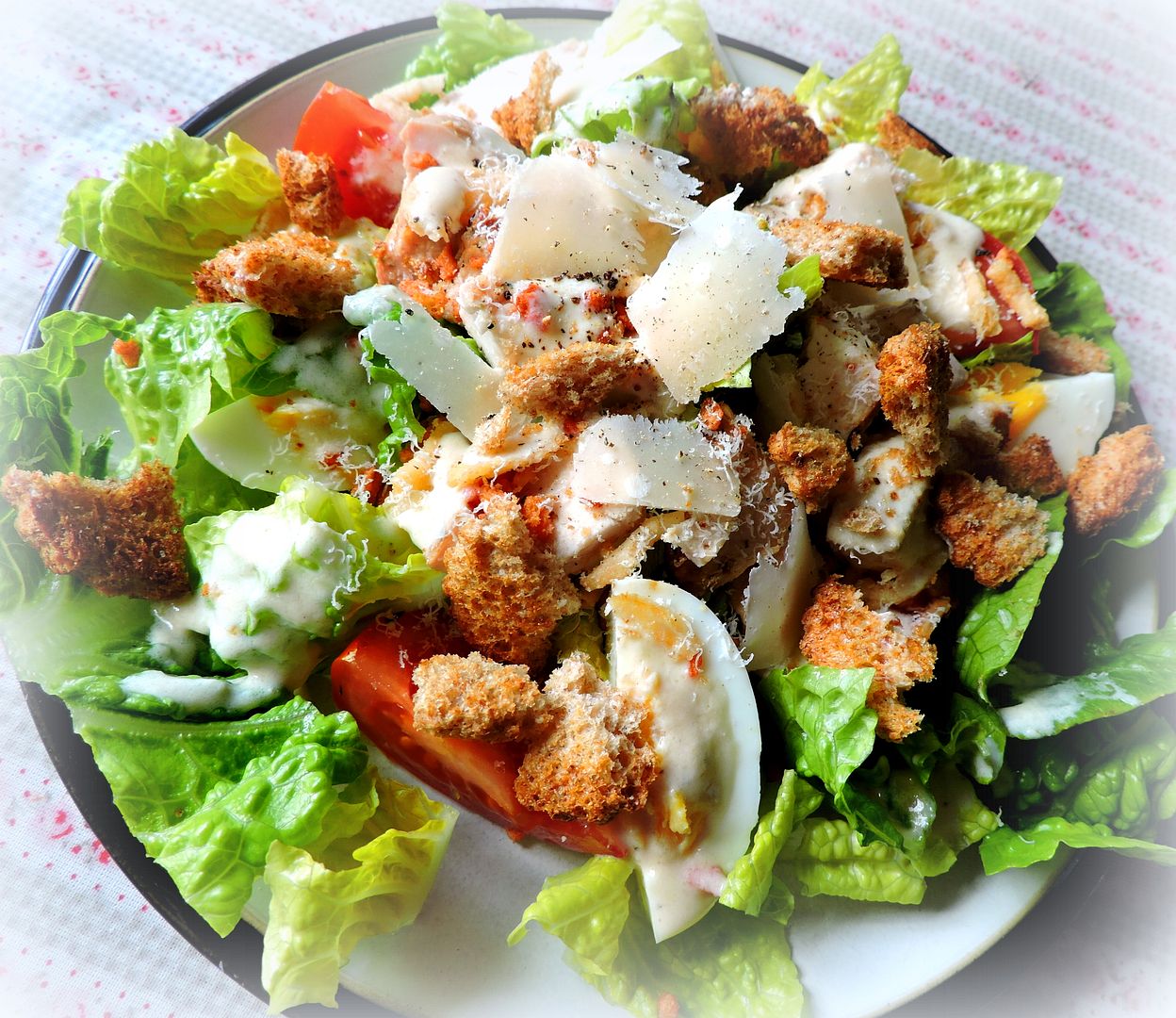 I make my own dressing, and its low low fat, as well as being delicious. I dare you to tell the difference between it and the real deal! But by all means if that's not your thing, you can use already prepared dressing and full fat as well.
With some Parmesan Cheese and plenty of black pepper, I don't mind calling this the Ultimate Chicken Caesar Salad. I hope you will give it a go yourself. It makes a nice light and very delicious supper for those days when you just can't be asked to cook!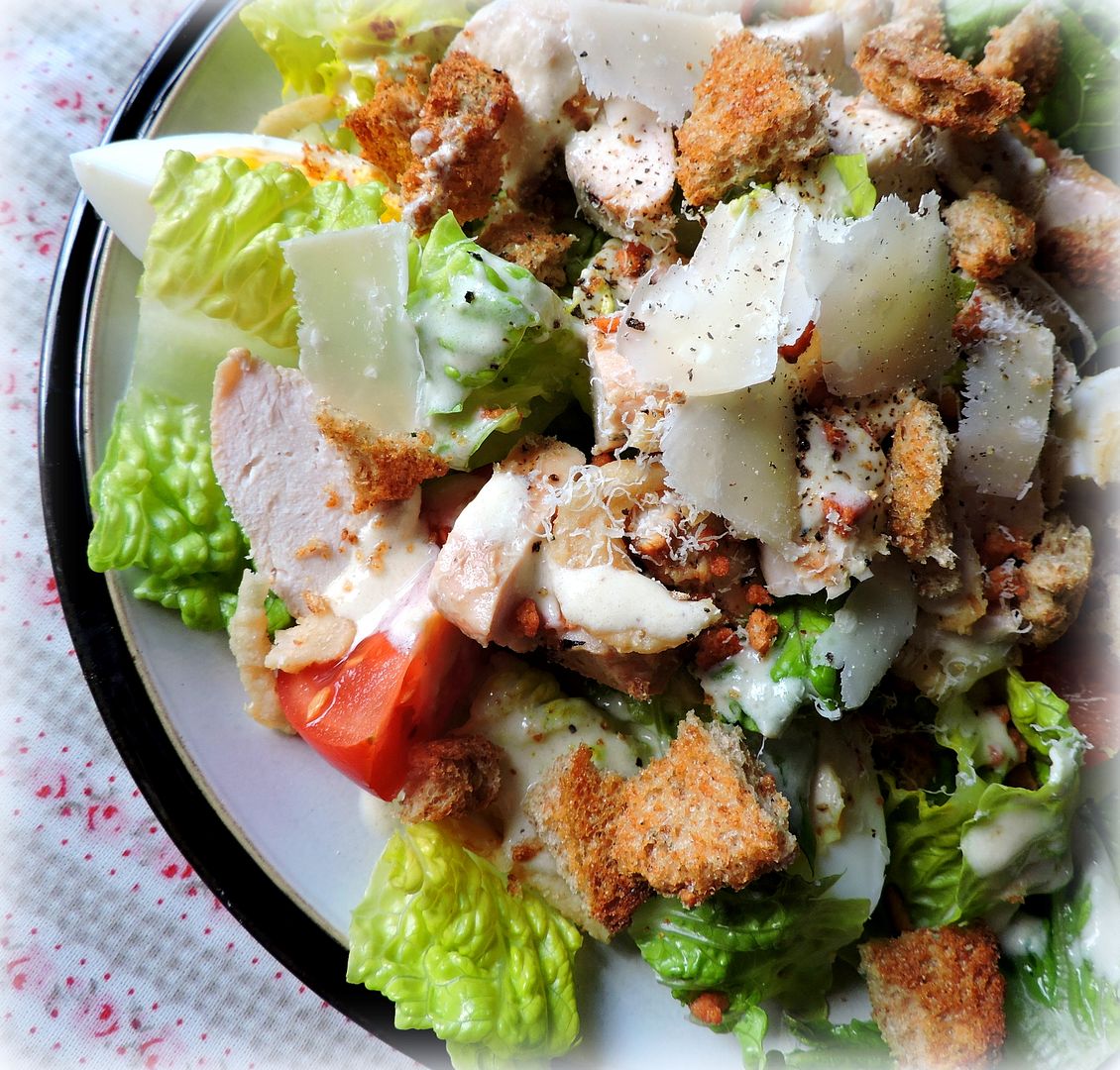 *The Ultimate Chicken Caesar Salad*
Serves 2 generously as a main,
4 as a side
This is a fabulous deliciously light supper for the summer, when the temps are hot and you don't want to heat up the kitchen. It's a great way to use up leftover chicken. I make my own low fat dressing from scratch, and use artificial bacon bits made from soya instead of the real bacon just to make it that little bit healthier for myself, But by all means use full fat whatever if you don't have a problem. I also make my own baked garlic croutons. Easy peasy.
3 slices of cooked streaky bacon, crumbled (or 2 TBS bacon bits)
3 boiled eggs sliced into wedges
2 grilled chicken breast fillets, season and chop
1 cup cherry tomatoes, halved (1 small punnet)
1 cup seasoned garlic croutons (1 slice of whole wheat bread, cut into cubes, spray with some low fat cooking spray,
sprinkle with seasoning and garlic powder, just a pinch, bake in hot oven until crisp)
1 TBS grated parmesan cheese
2 TBS Parmesan cheese shavings
For the dressing:
2 TBS fresh lemon juice
1 small clove garlic, peeled and minced
1 tsp Worcestershire sauce
1 1/2 tsp anchovy paste
1 1/2 tsp Dijon mustard
245g low fat Greek Yogurt (1 cup)
90g finely grated Parmesan cheese (1/2 cup)
salt to taste and freshly ground black pepper
First make the dressing. Whisk all of the ingredients together and then cover and chill in the refrigerator until you need it. This can be done well ahead. You may not need it all, but it keeps well in the refrigerator for up to 3 days.
Divide the salad greens between two large chilled dinner plates, or four small salad plates. Add the slices of egg and tomato to each. Pile an equal portion of chicken in the centre of each. Sprinkle on the bacon and croutons and cheese, again dividing it equally. Pass the dressing at the table, so that each person can use as much or as little as they want. Delicious!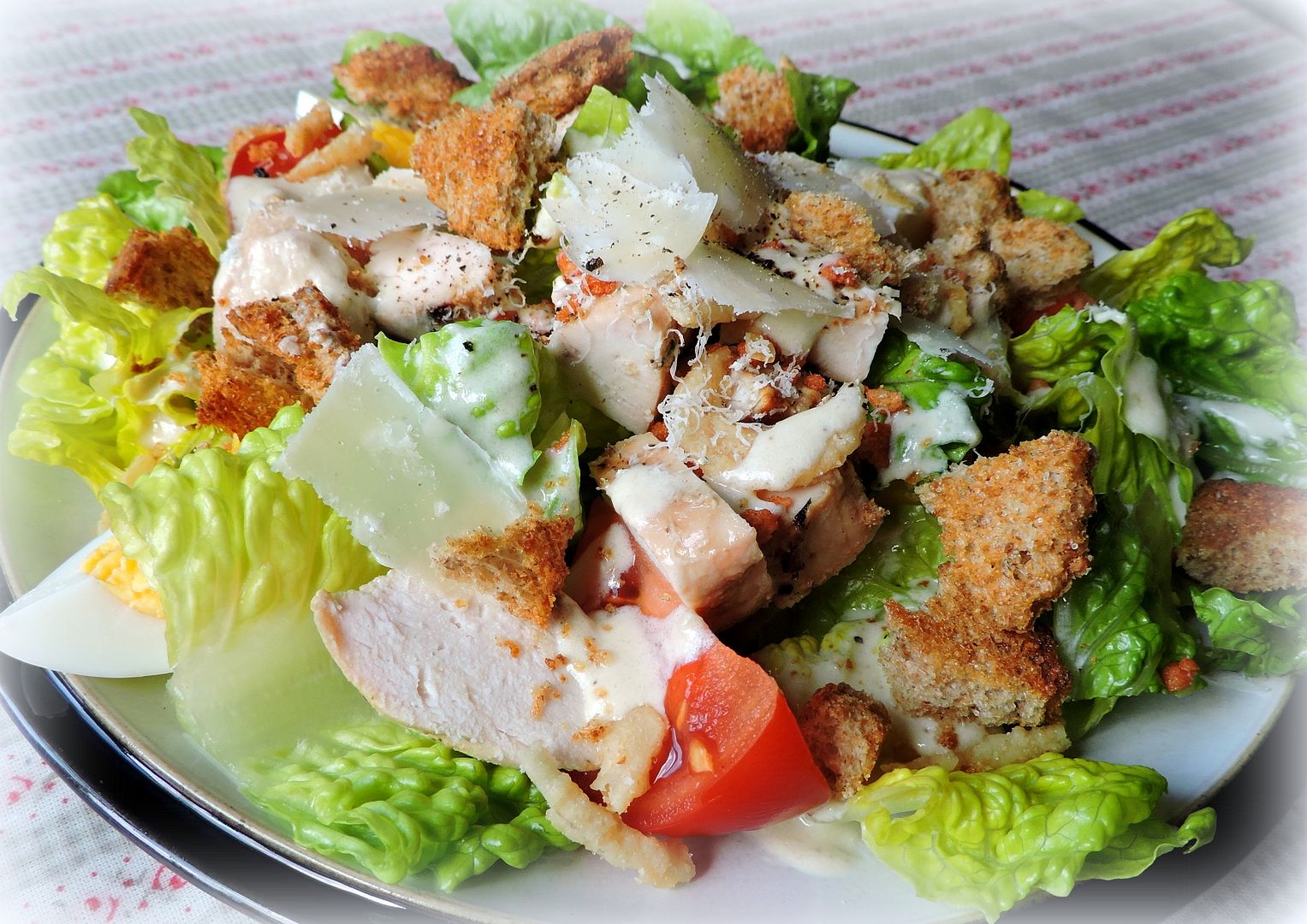 Bon Appetit!