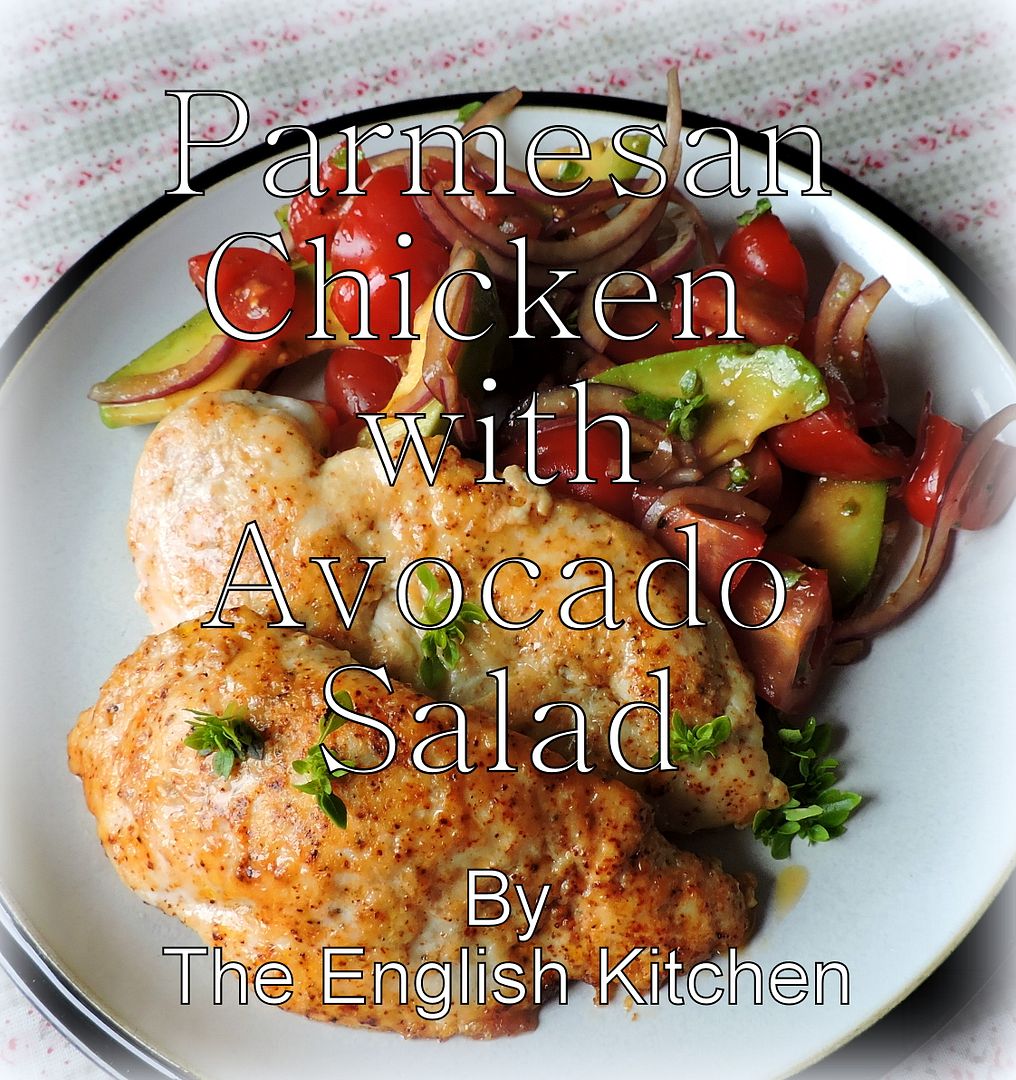 I made us a deliciously light supper tonight of some golden, tender and moist . . . lightly sauteed chicken breasts and a fabulous avocado and tomato salad! It is a recipe meant to feed only two, but could very easily be doubled if you have more to feed, but you might want to use two skillets for sauteeing the chicken. Easy peasy.
Chicken breasts are the perfect canvas for many flavours and these were simply seasoned, dipped in beaten egg white and then rolled in a simple mix of finely grated Parmesan cheese and chili powder for a bit of zip. Chicken and Parmesan are a marriage made in heaven!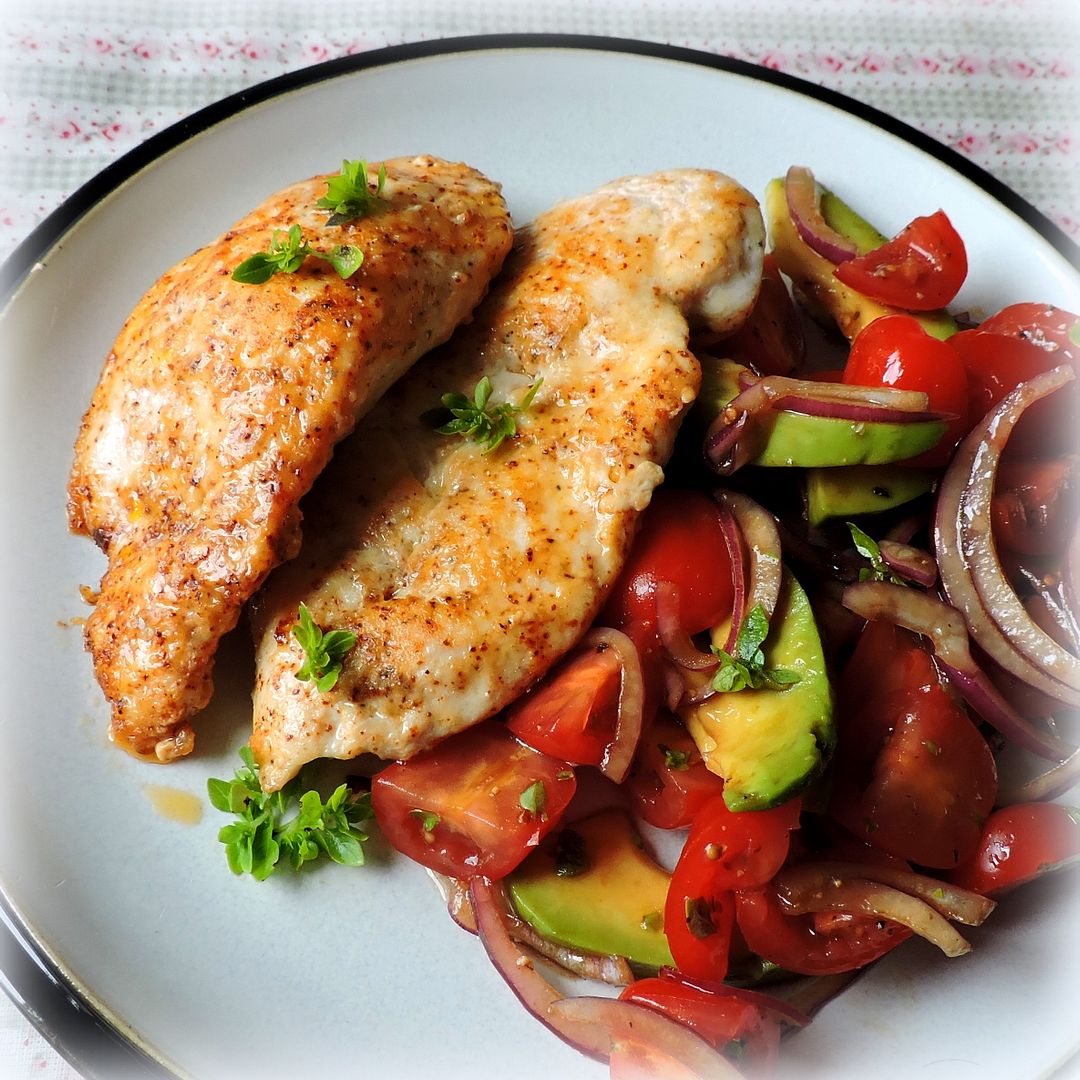 The salad really makes this dish. It's a beautiful mix of colour, flavours and textures.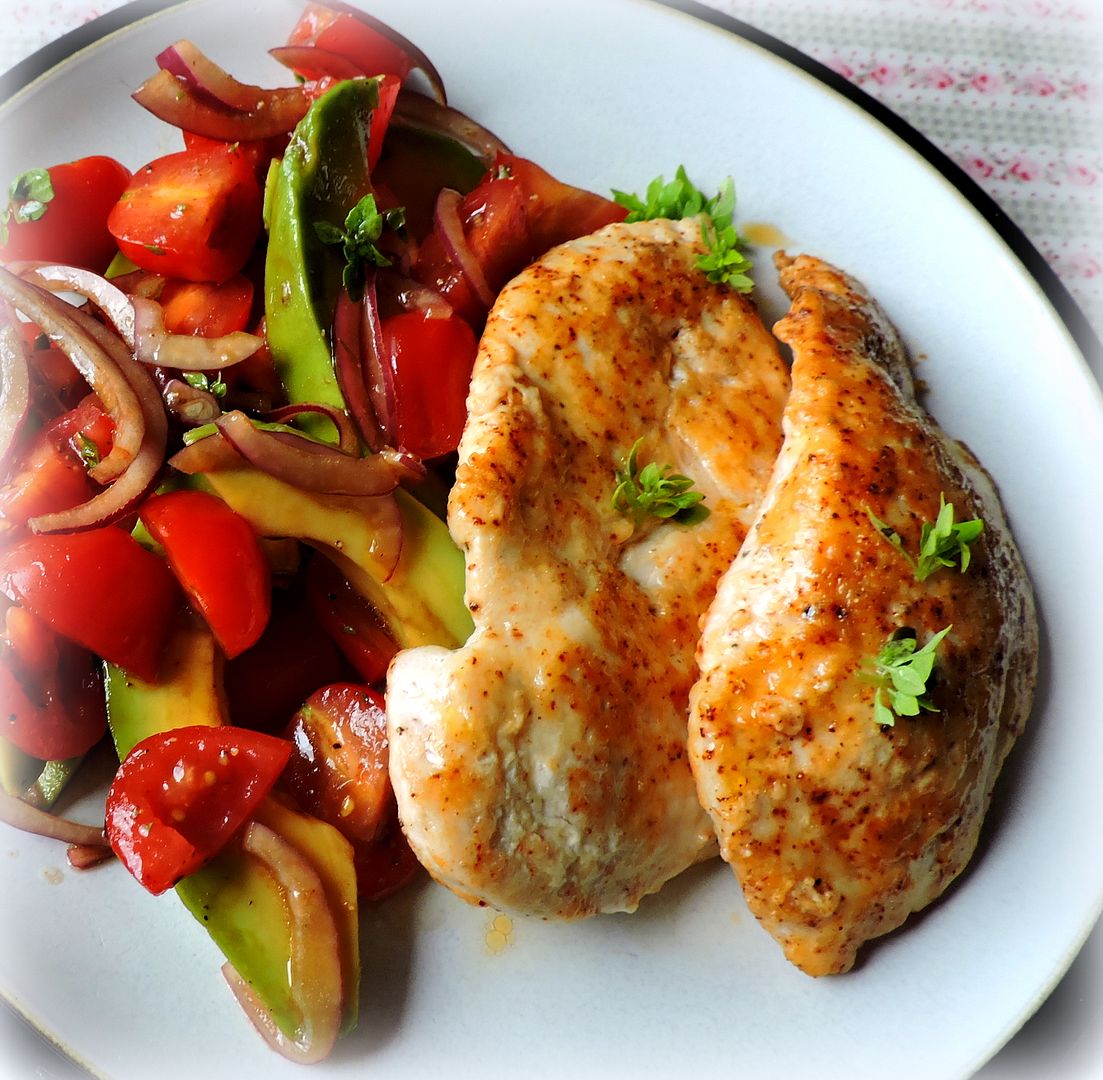 The tomatoes are sweet and juicy. Not quite from my garden yet, but soon . . . the avocado so rich and creamy . . .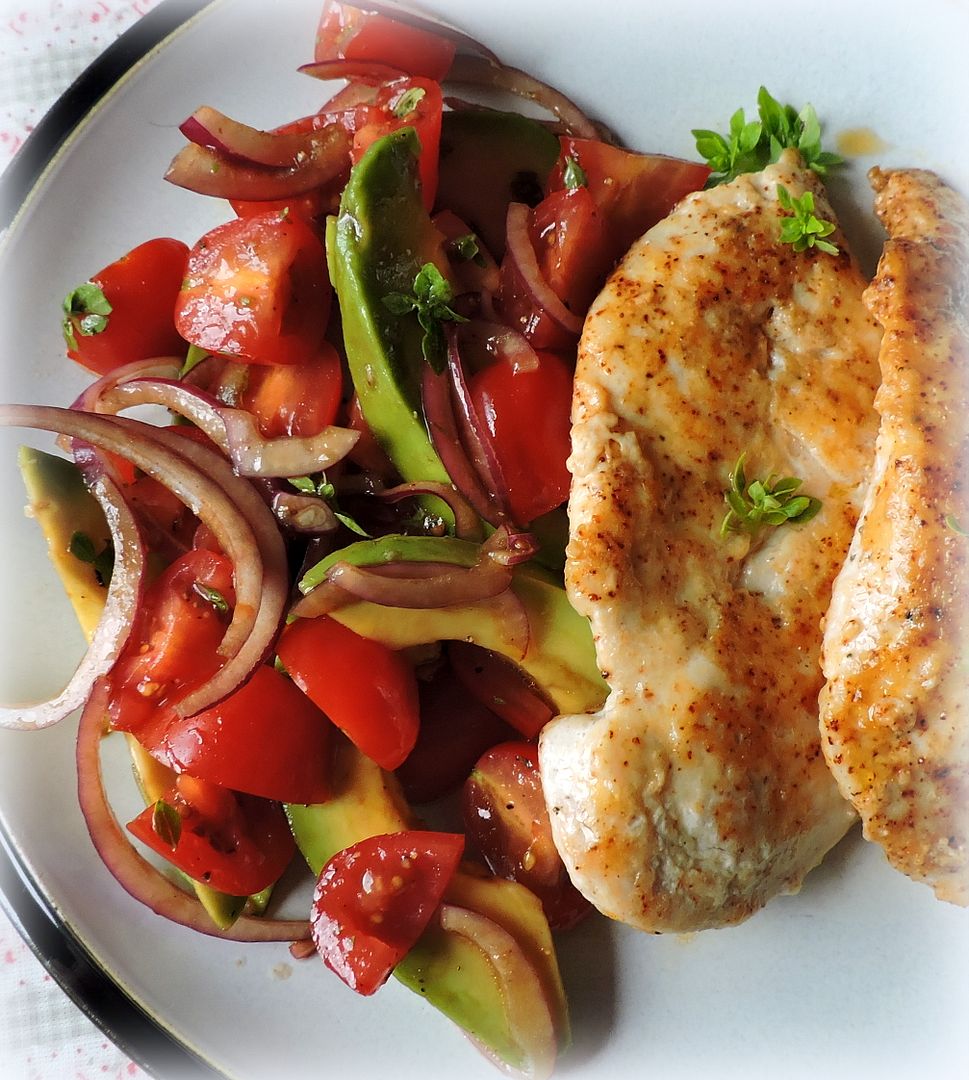 There is also some thinly sliced red onions for a bit of zip . . . much milder in flavour than the white onions . . . but also colourful. I added basil, which goes well with all of those flavours . . .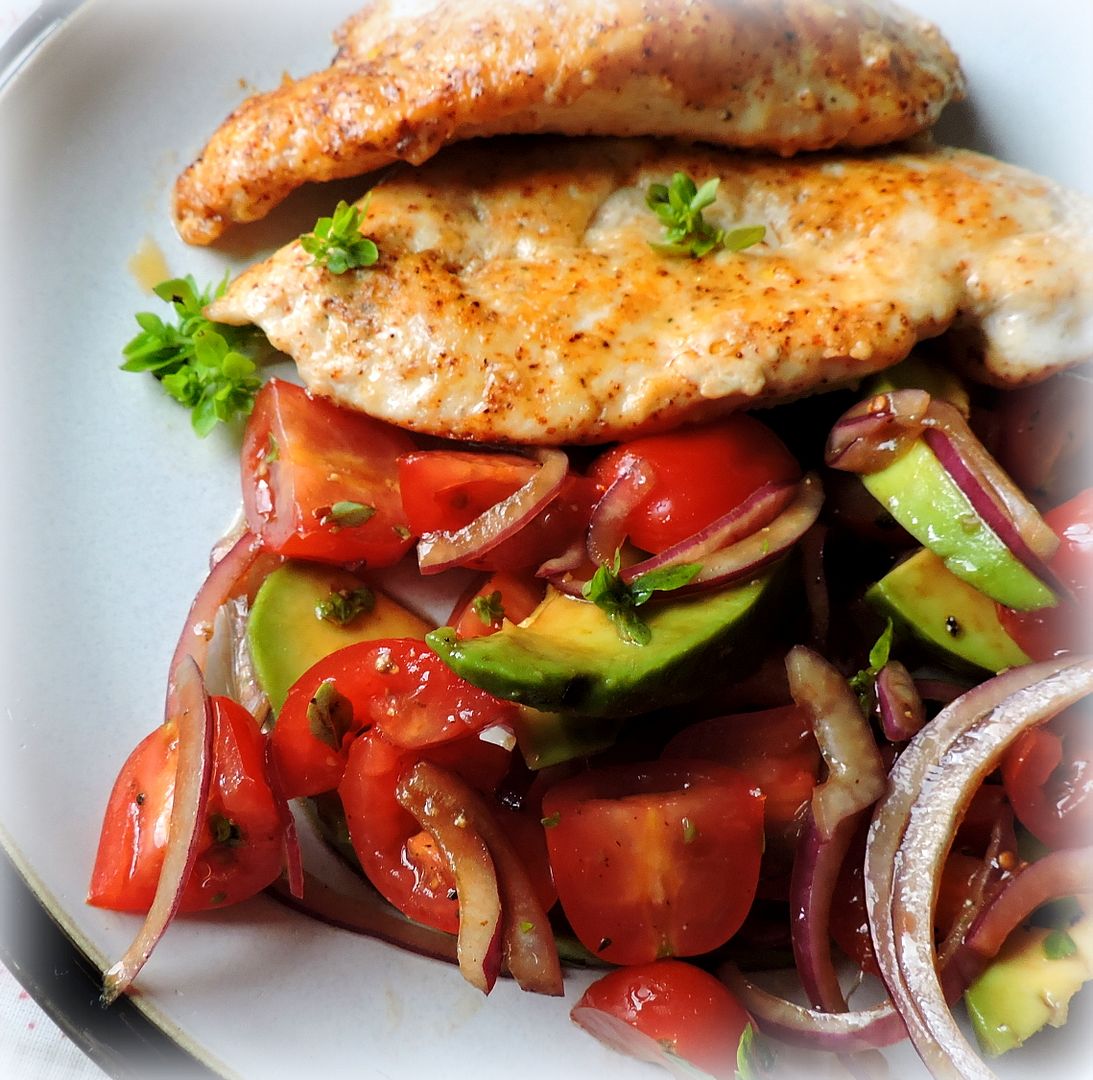 It came from my garden. It's bush basil, which means it has really tiny leaves which grow in small clusters, but it tastes the same as the larger basil. The dressing is simply a good quality Balsamic vinegar and some extra virgin olive oil, salt and pepper.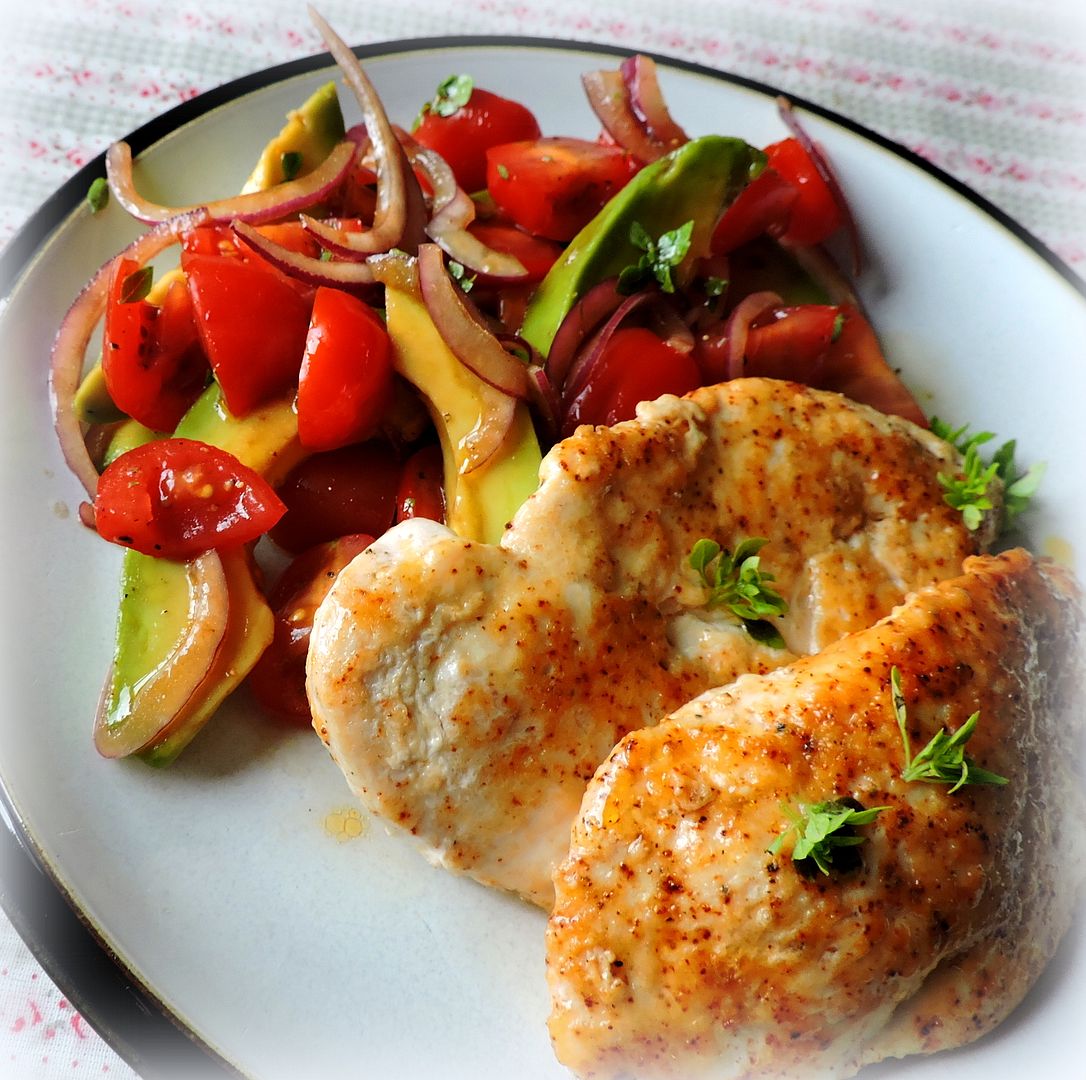 Simple ingredients, but when put together the flavours are just WOW! I love it when that happens. This made for a lovely light supper. I added some crusty bread for Todd.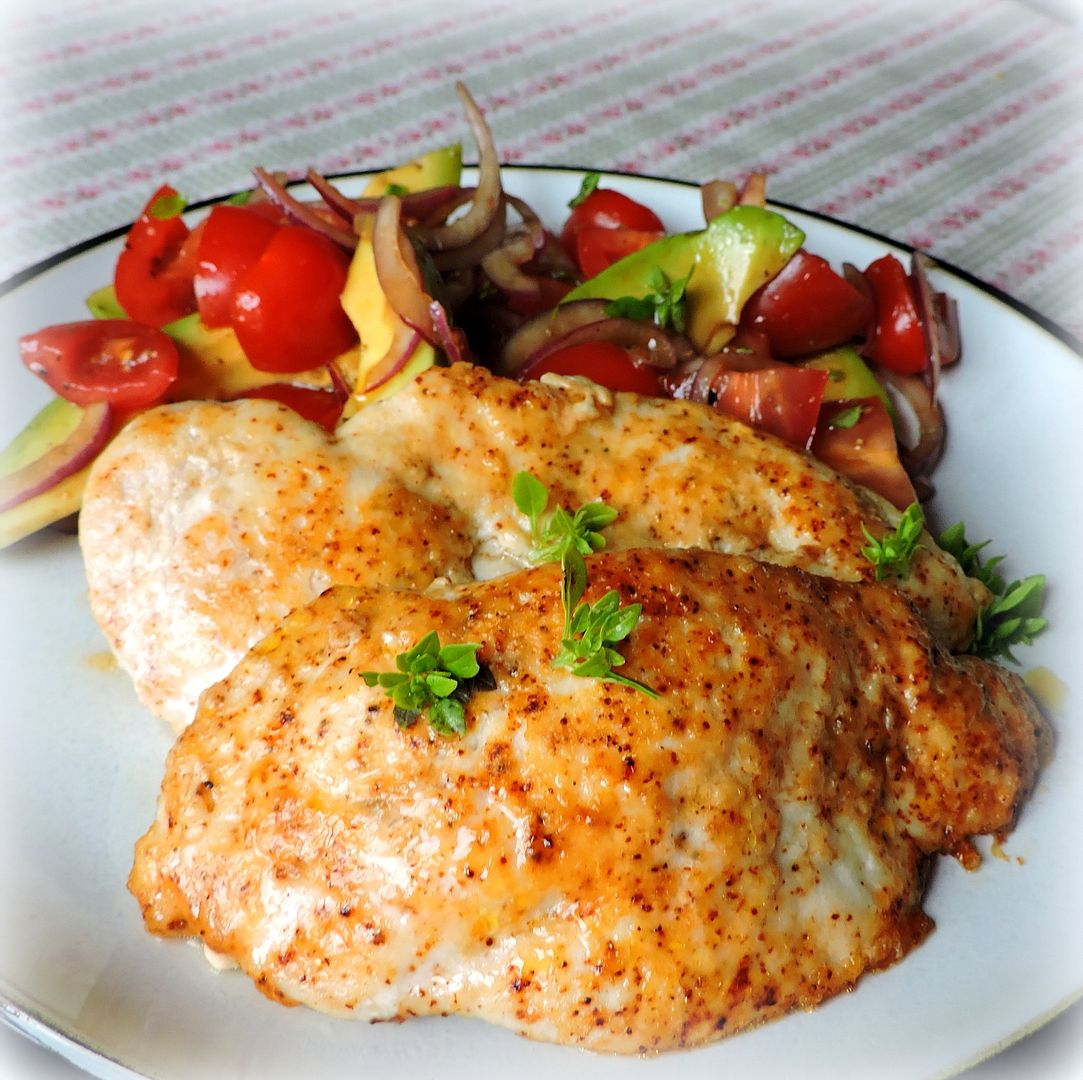 *Parmesan Chicken with Avocado Salad*
Serves 2
I love these quick, easy and delicious recipes that are sized just for two. This is an excellent summer night supper.
For the chicken:
2 boneless, skinless chicken breasts
a pinch of chili powder
50g of finely grated Parmesan cheese (1/3 cup)
1 large egg white, beaten
1 TBS olive oil for frying
Lemon wedges to serve
For the salad:
1 ripe avocado, peeled and sliced
1/2 red onion, thinly sliced
2 handfuls of ripe cherry tomatoes, halved
1 tsp balsamic vinegar
1 TBS extra virgin olive oil
a small handful of basil leaves, cut chiffonade
(Rolled into a tight roll and slice thinly)
fine sea salt and freshly ground black pepper to taste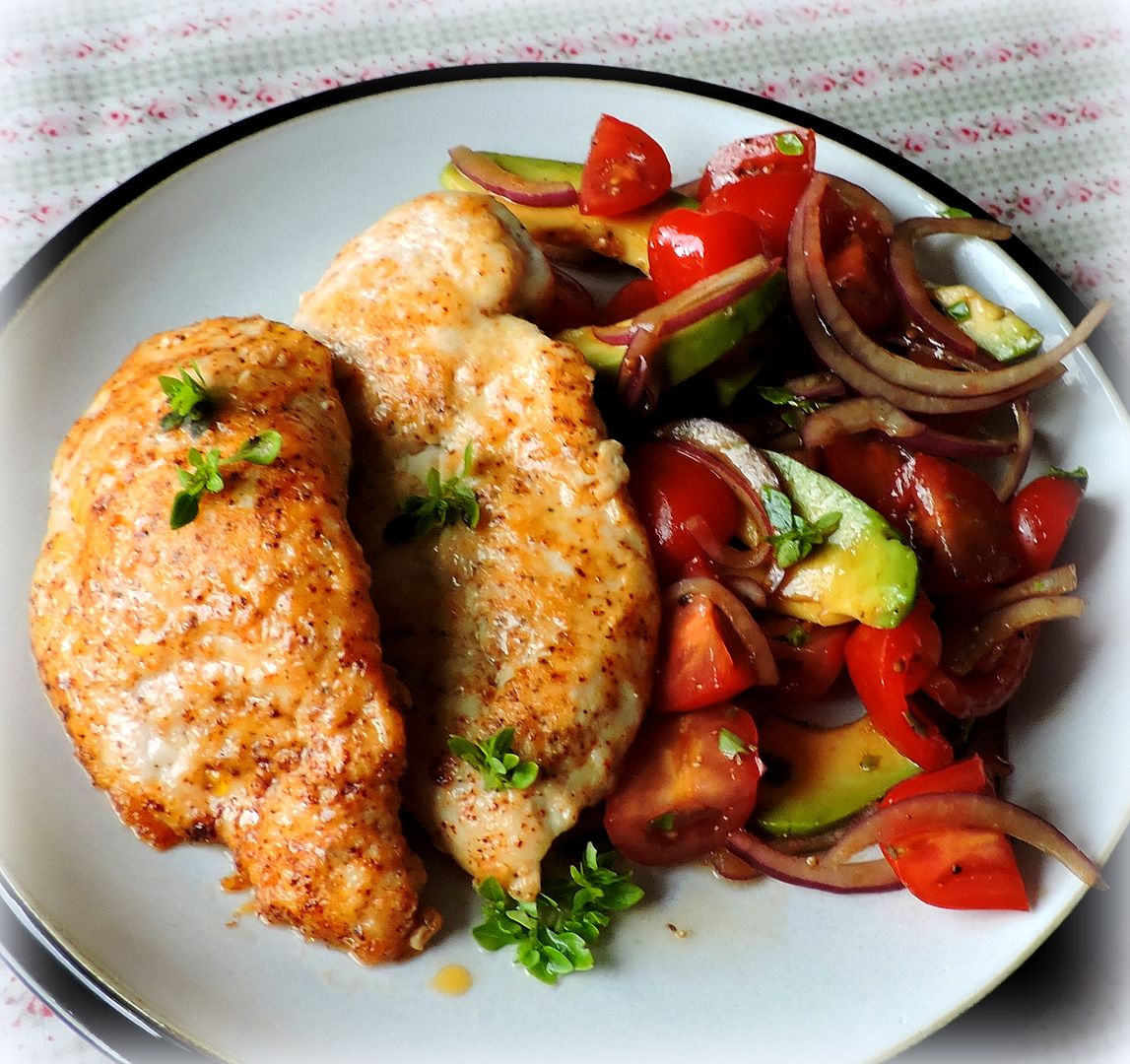 First make the salad. Mix all together gently and then set aside while you do the chicken.
Mix together the parmesan cheese and chili powder in a shallow bowl. Set aside. Lightly whisk the egg white in another shallow bowl.
Cut the chicken pieces in half, horizontally through the middle so that you have two thin escallopes. Pound a tiny bit to even out their size. Season lightly. Dip one at a time into the beaten egg white and then the parmesan to coat. Lay aside while you heat the oil over high heat in a skillet. Once the oil begins to shimmer, add the chicken breast pieces and cook quickly for 2 minutes per side, until crisp and golden brown. Lay two fillets on each of two plates along with a portion of salad and a lemon wedge for squeezing. Delicious!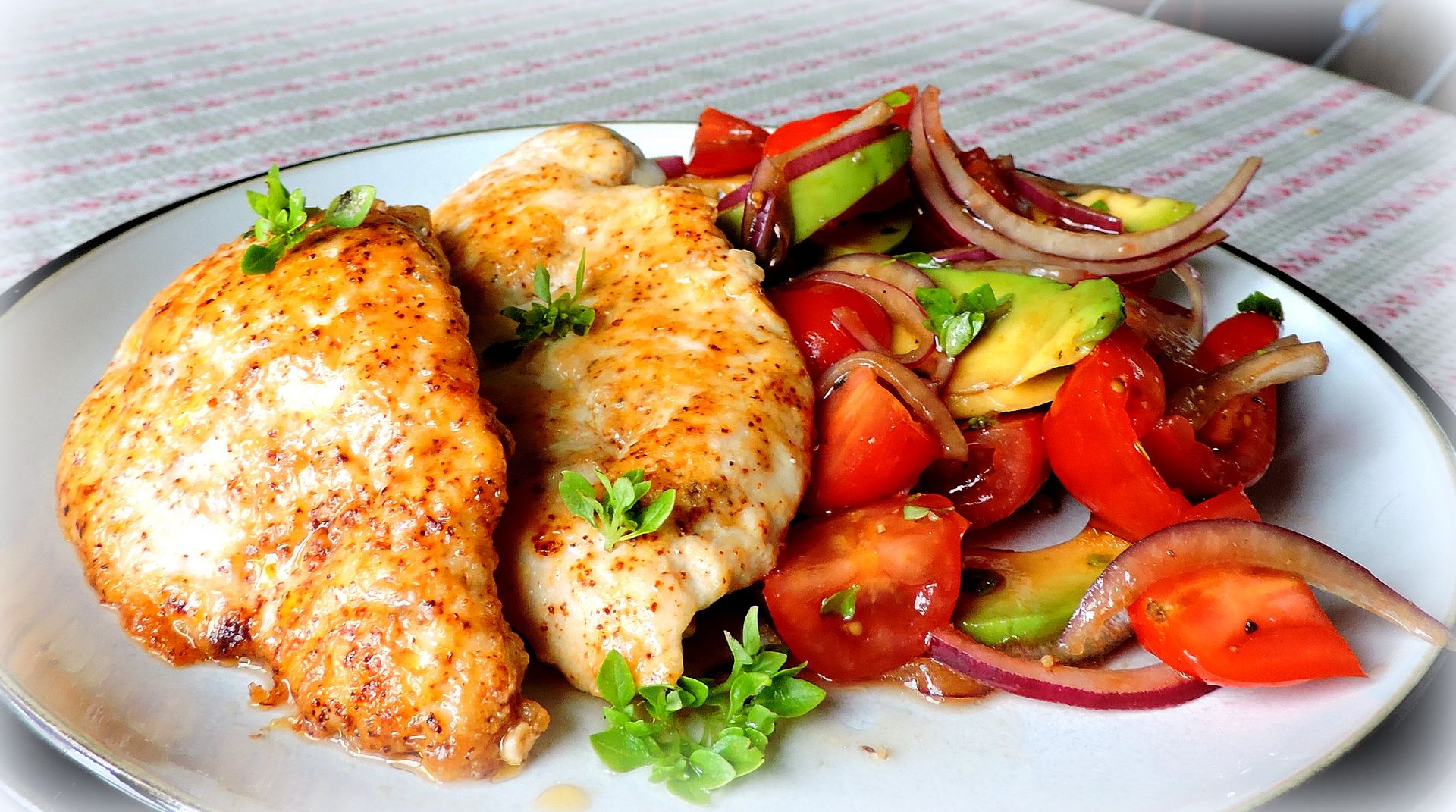 I do hope you will try this. It's really healthy, simple, quick and
very
tasty! Bon Appetit!