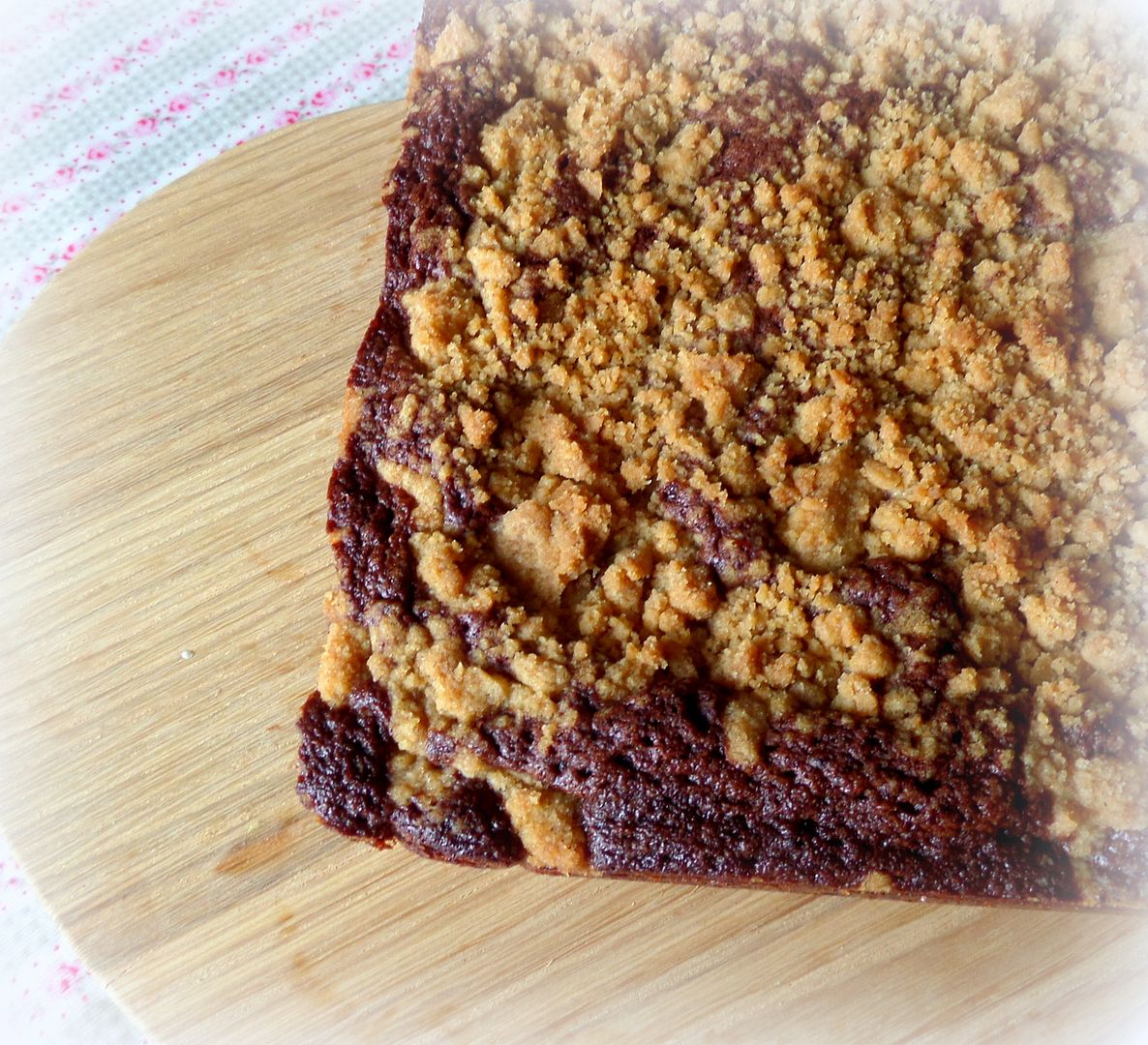 I confess to having a certain fondness for Brownies. Little fudgy bites of chocolate gooey-ness that I have a difficult time to resist. The Toddster could take them or leave them. (He's not human!) I don't make them very often as a result of that because if I do, then I am the only one in the house that will eat them, and I don't need to be eating them! I do often bake them if we are having company.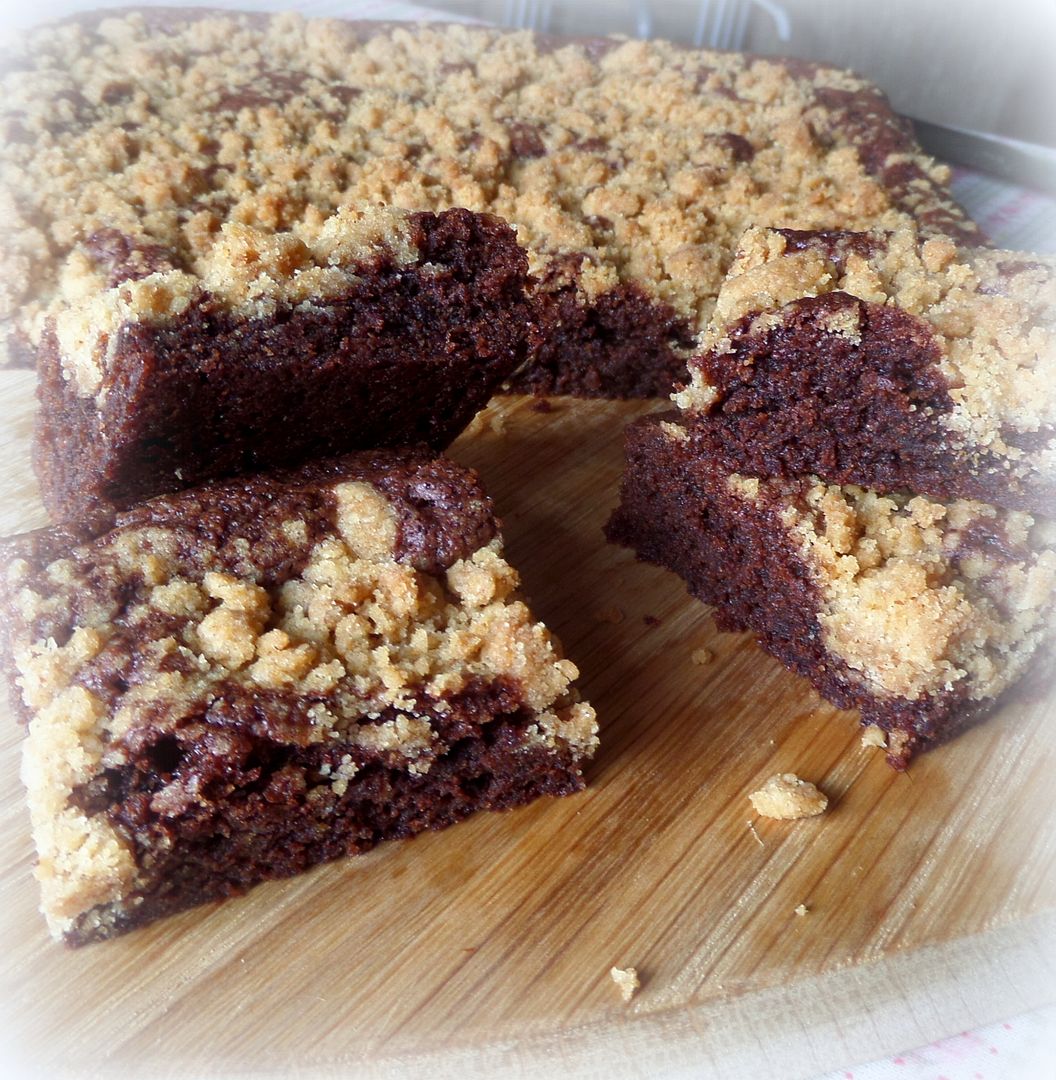 We had the zone leaders for tea last night and so I decided to bake some of these delicious Streusel Topped Brownies for them to enjoy.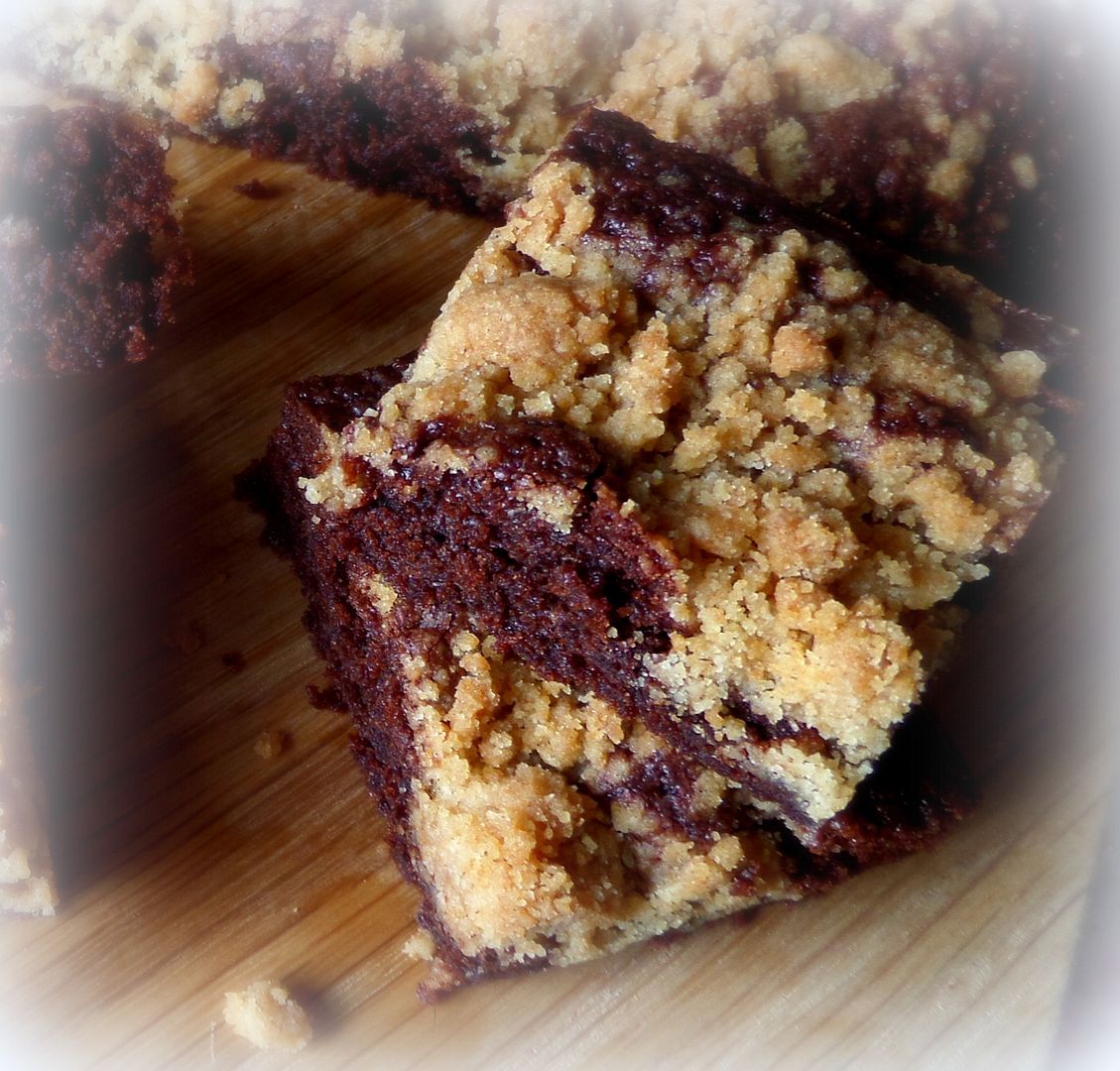 This is a deliciously different version from normal brownies. You have an almost bar cookie bottom . . . chewy and chocolaty . . . topped with a deliciously crunchy and buttery cinnamon streusal topping. It is a very simple recipe . . .
Easy to make and even easier to eat I'm afraid. I confess I could eat more than one of these. Its a good thing that I had the lads around to help me with that! I sent them off with the rest of them to enjoy at their leisure. Its best that way. ☺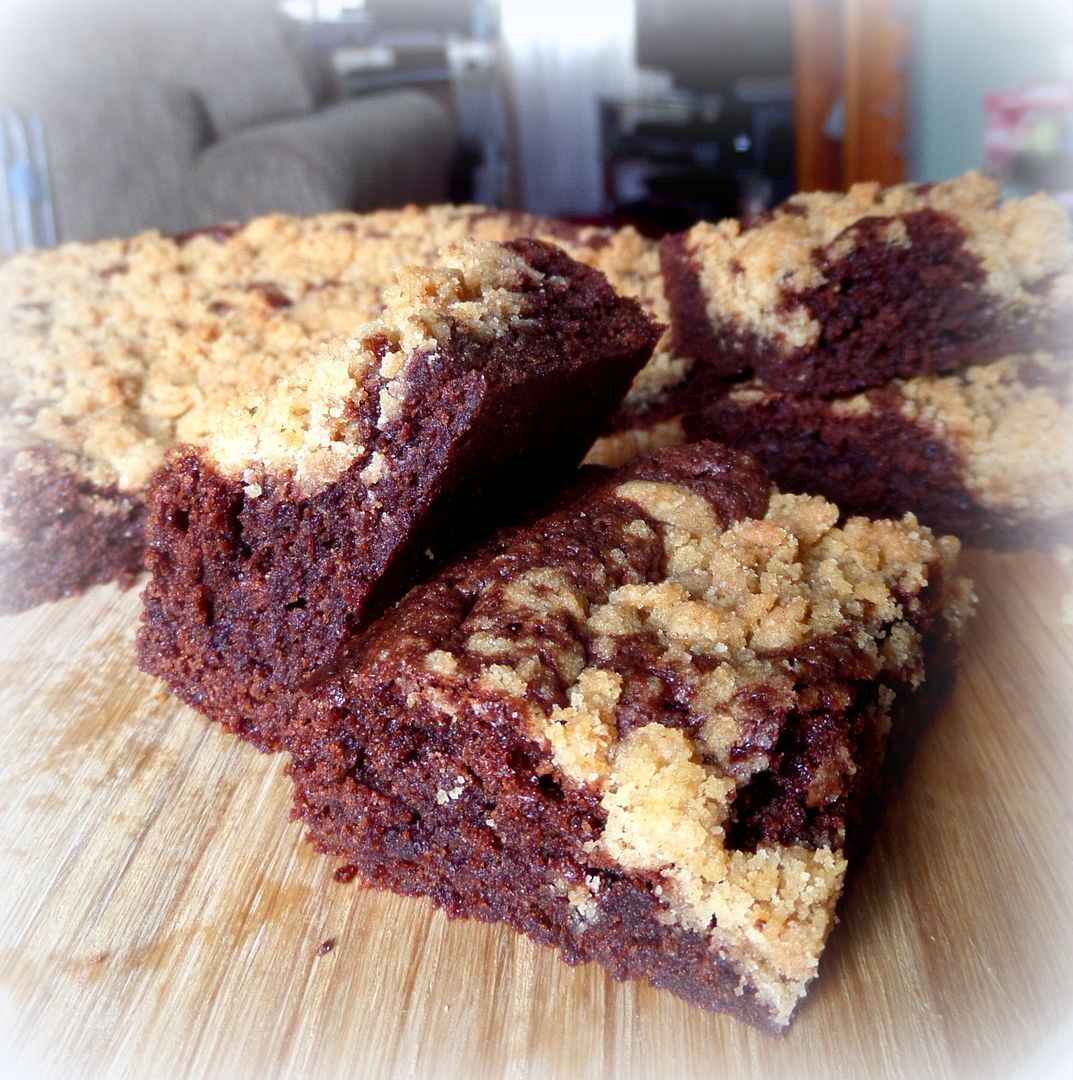 *Streusel Topped Brownies*
Serves 8
Moist delicious brownies, with a rich fudge

-like

base and a crunchy sweet brown sugar streusel topping.
If desired drizzle melted chocolate over top prior to serving.
For the base:
115g of butter, melted (1/2 cup)
190g of caster sugar (1 cup)
1 tsp vanilla extract
2 large free range eggs, beaten
70g plain flour (1/2 cup)
37g of unsweetened cocoa powder (1/3 cup) (not hot chocolate powder)
1/2 tsp baking powder
pinch salt
For the topping:
3 TBS butter, melted
25g of soft light brown sugar (1/8 cup packed)
25g of granulated sugar (1/8 cup)
1/2 tsp ground cinnamon
70g of plain flour (1/2 cup)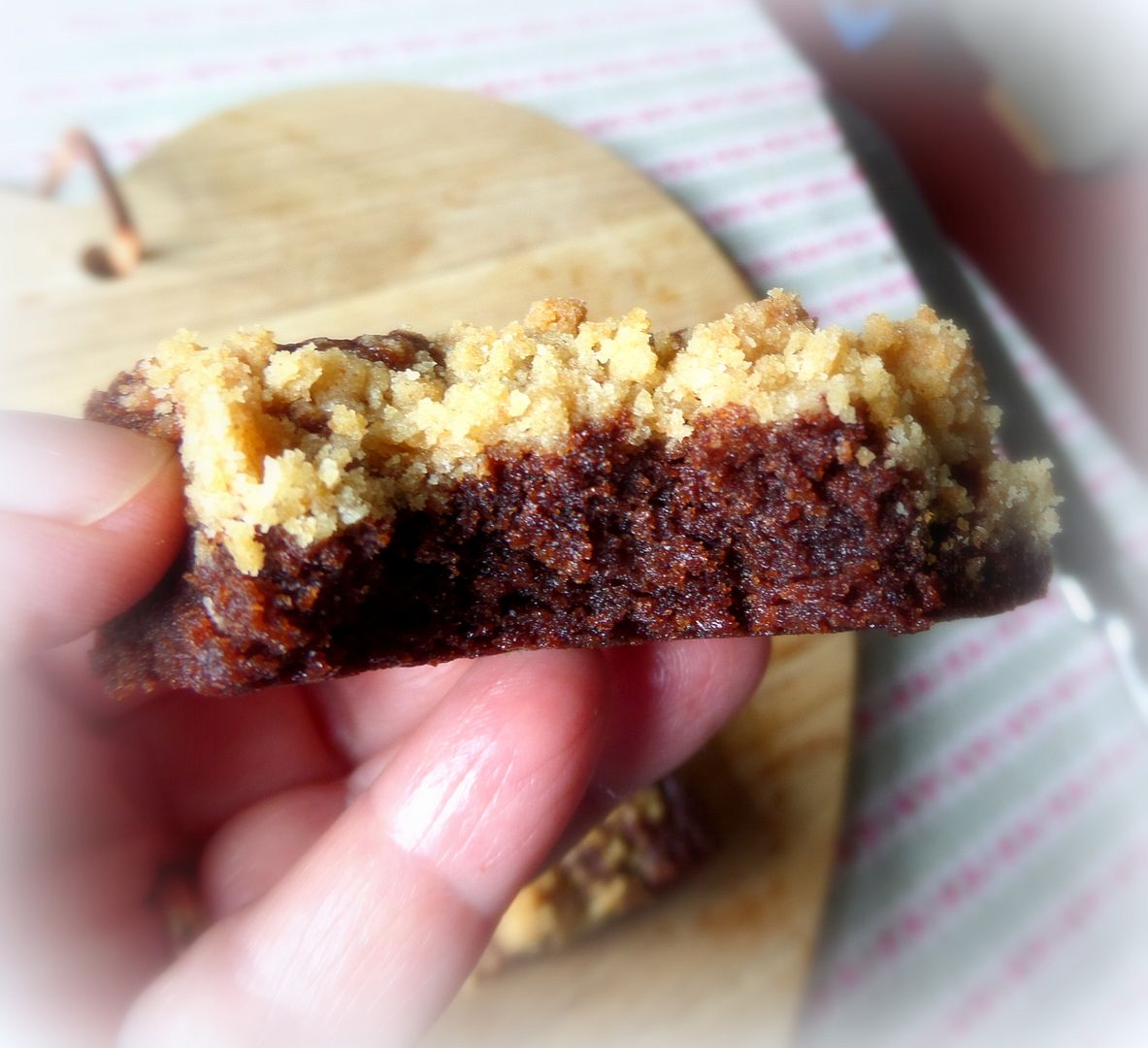 Preheat the oven to 180*C/350*F/ gas mark 5. Butter a 9 inch square pan and line it with foil, leaving an
overhang to lift out the brownies when done. Butter the foil. Set aside.
Beat together the eggs, sugar, butter and vanilla. Sift together the flour, cocoa powder and baking powder. Add to the egg mixture along with the salt. Mix together until well combined. Spread in the prepared pan.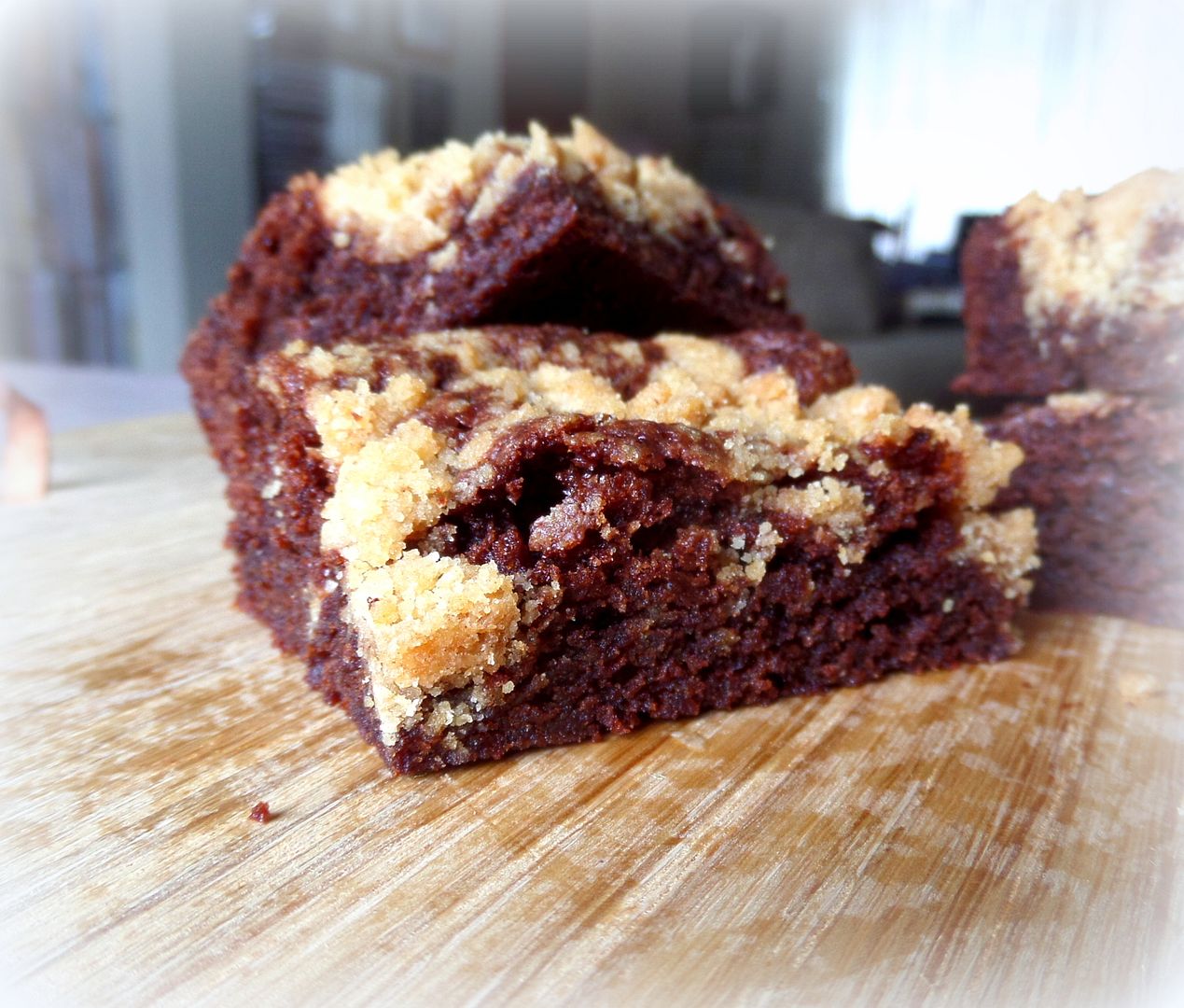 Whisk together the melted butter, both sugars and cinnamon for the topping. Stir in the flour gradually with a fork, until the mixture is crumbly. Sprinkle over top of the brownie batter.

Bake for 30 to 35 minutes until a toothpick inserted in the centre comes out clean. Allow to cool for at least 10 to 15 minutes before lifting out of the pan. Cut into squares to serve.
Note: If desired you can melt some chocolate chips and drizzle them over top prior to cutting. Allow it to set. before you cut into them.