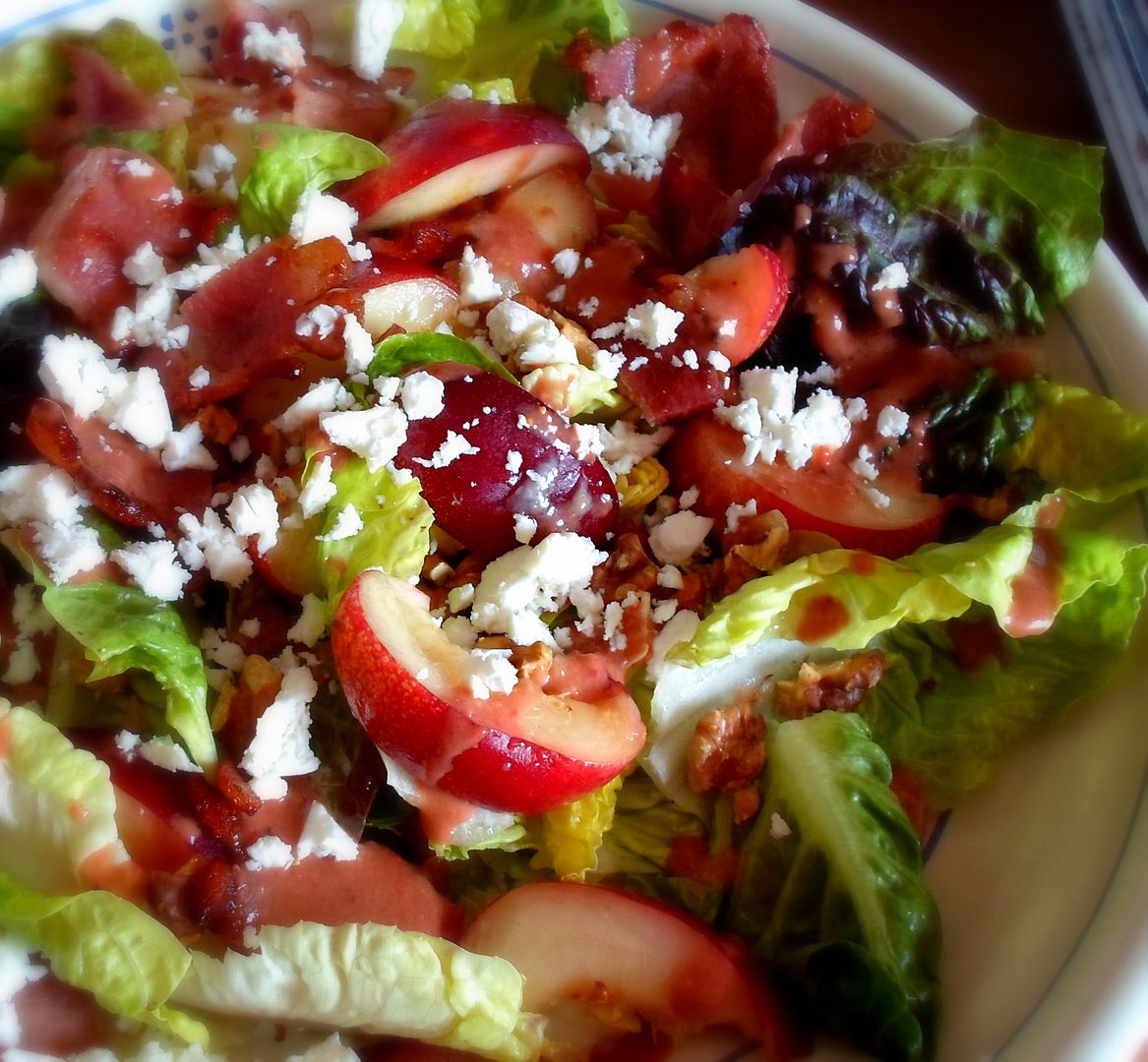 Oh, I do so love the lighter meals which we eat in the summertime with all of the fresh fruit and vegetables that are available. My salad loving heart has been having a hay day!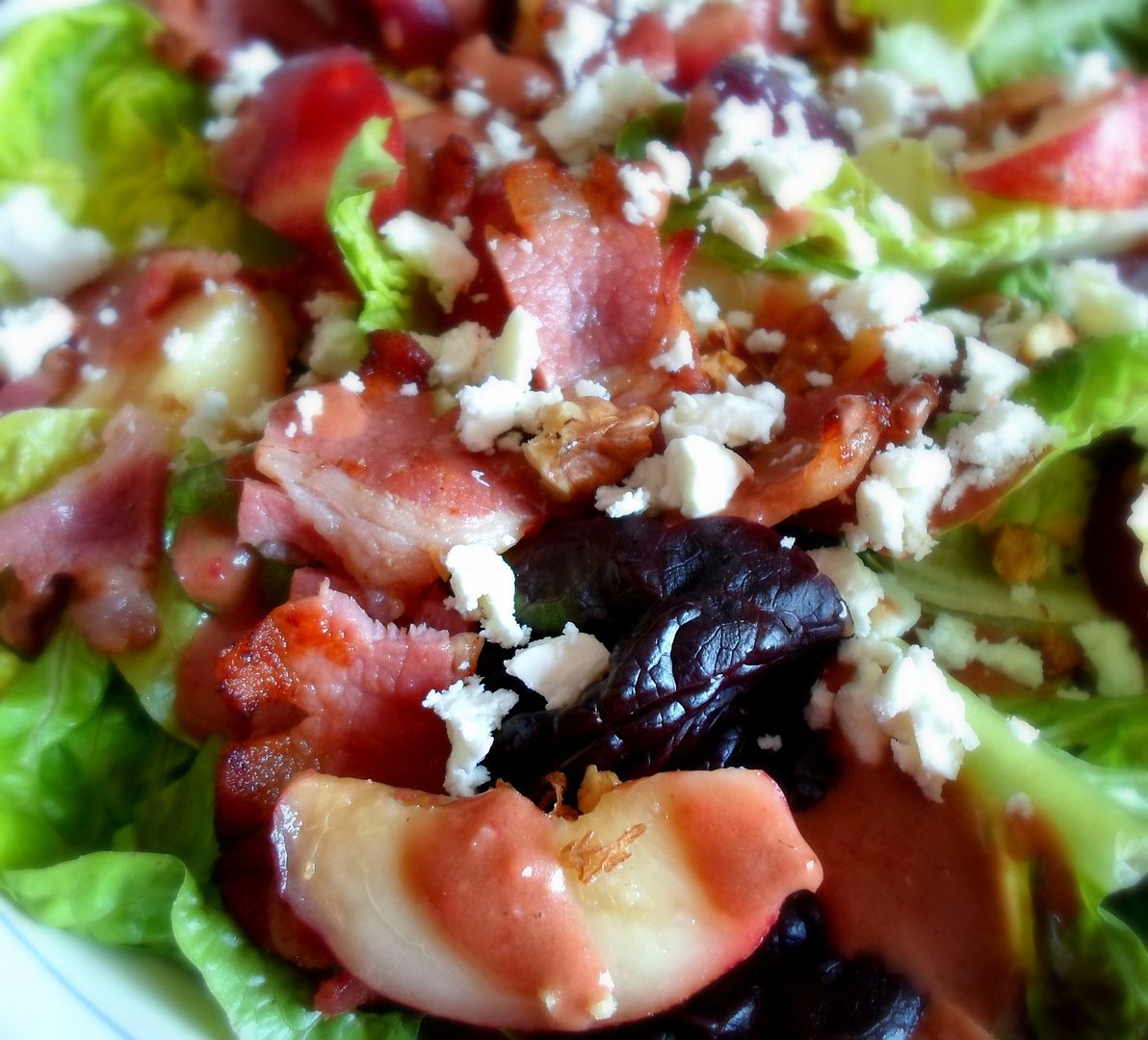 I had a few ripe white nectarines in the fridge today that needed to be eaten pronto and my strawberries are ripening in spades, despite our having such lousy weather of late! Today I wanted something for supper that I could use both in . . . and I didn't want it to be a dessert.
I remembered a salad I had made a very long time ago using fruit, ham and Gruyere cheese so I thought I would try to recreate something similar to that salad, using the nectarines . . . and creating a strawberry balsamic dressing to drizzle over it.
Strawberries and balsamic vinegar go so well with each other. They go together like rama rama lama ka dinga da dinga dong! (Don't you just love Grease?) And so I took two heads of baby gem lettuces . . . with their slightly bitter edge, a red leaf and a green leaf . . . and tore them into a bowl. On top went the nectarines and a scattering of torn ham . . .
Sprinkled with toasted walnuts (Do toast them, the flavour is so much nuttier!) and a smattering of crumbled salty and tangy feta cheese, it went down a real treat. Not boring at all, and that dressing ♥♥♥ Love. Sigh.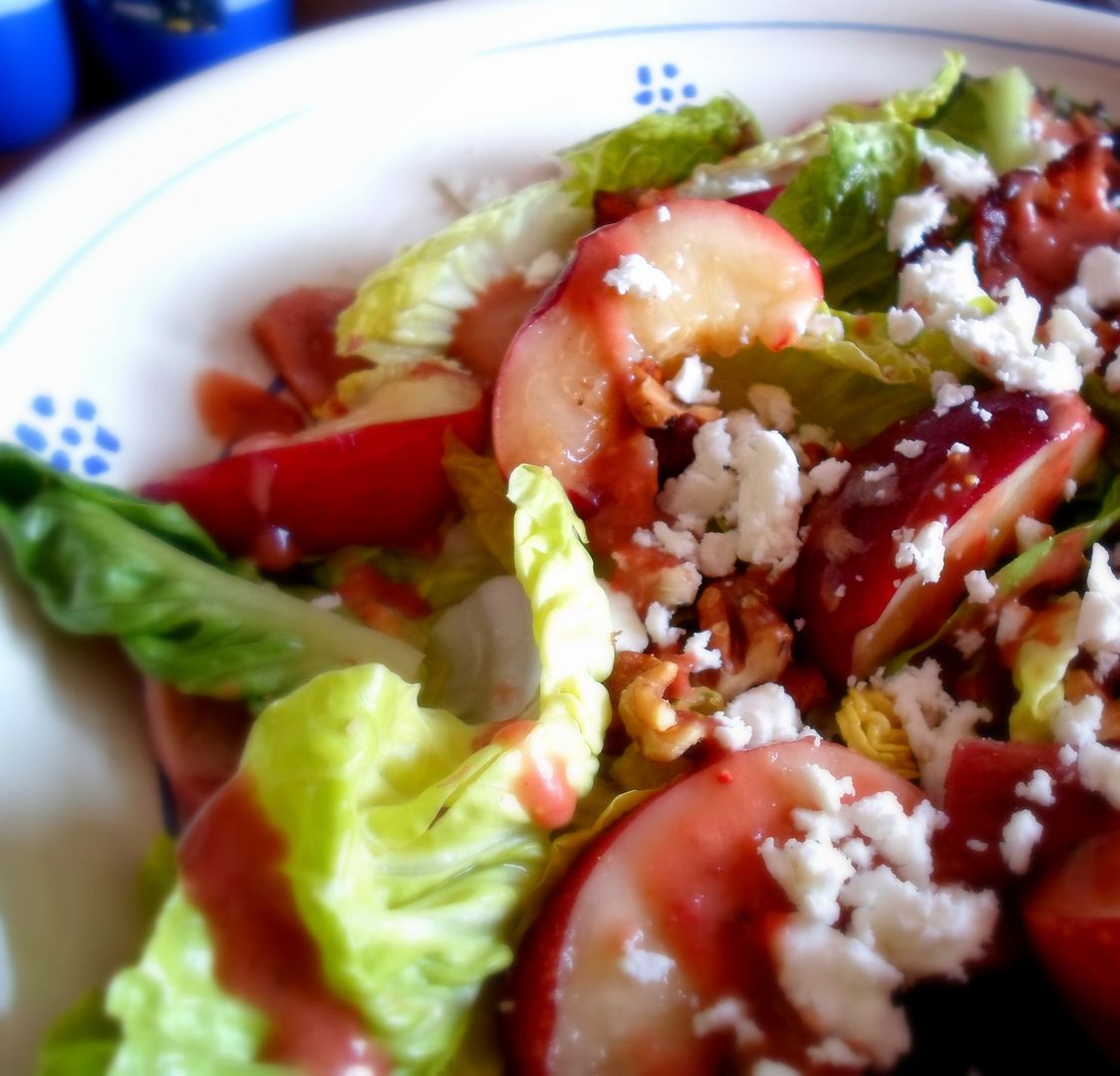 Well . . . I could just eat that . . . with a spoon, drizzled over ice cream even . . . seriously. Now THAT would be very good too . . .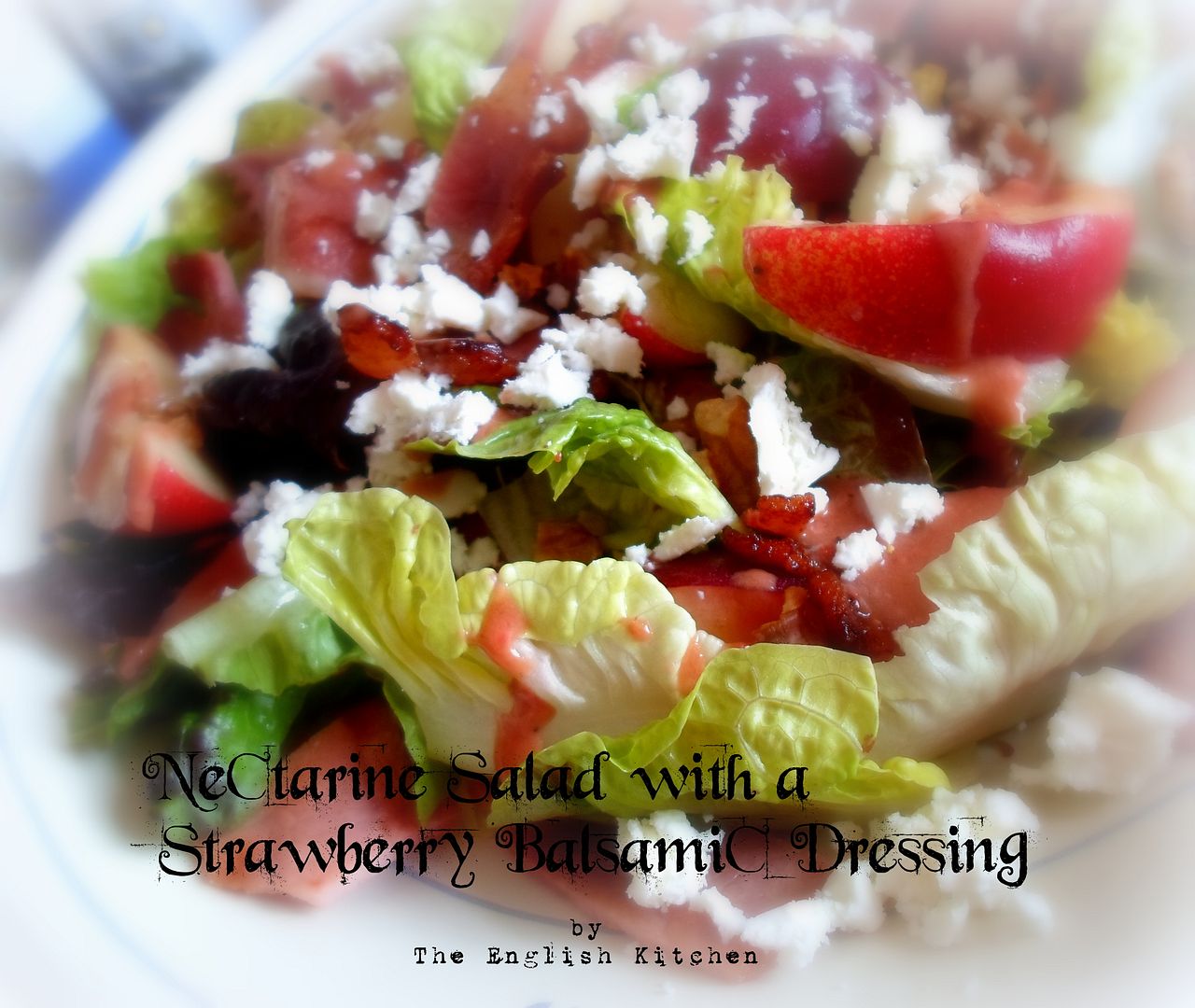 *Nectarine Salad with a Strawberry Balsamic Dressing*
Serves 4
Refreshingly different. If you can get white nectarines use them. I think they are much sweeter than the yellow ones. The dressing is a pleasant mix of sweet and sour with a bit of a bite.
For the Dressing:
125ml olive oil (1/2 cup)
a handful of ripe strawberries sliced (about 1/2 cup)
1 tsp Dijon mustard 2 TBS balsamic vinegar (good quality please!)
fine sea salt and freshly ground black pepper to taste
1 TBS runny honey
For the Salad:
1 cup chopped toasted walnuts
2 baby gems, separated into leaves, washed and spun dry
(I used a mixture of red baby gems and green)
2 ripe nectarines
1/2 cup crumbled feta cheese
a few slices baked ham, torn into bits (optional)
Put the dressing ingredients into a small food processor or blender. Blend until smooth and emulsified. Set aside.
Tear your lettuce into a large bowl. Cut the nectarines in half, discard the pits and then slice into wedges. Scatter over top of the lettuce. Tear the ham and scatter it over top. Drizzle with some of the dressing. Sprinkle the feta cheese and toasted walnuts over all. Serve immediately and pass the extra dressing at the table.